10 Smart Ideas to Help Make Your Bedroom Look Bigger
In the modern age of compact living, many homes and apartments have small bedrooms. But just because you have limited space in your bedroom doesn't mean it should look crowded and uncomfortable. Since not everyone can remodel to add more floor space to their bedrooms, it's best to use some hacks that can help maximise space in a small bedroom. Simple tricks like the use of light colours, space-saving furniture, mirrors, and built-ins can open up the compact space and give it a more spacious feel. Here are our top ten picks to make your bedroom appear bigger.
Declutter
Though this is the most obvious trick, many people ignore it. When your bedroom is clutter-free and organised, its minimalist look will make it feel bigger than it really is. You should make decluttering your bedroom a habit. Make your bed every morning, declutter and organise your closets or wardrobes, and remove extra items or furniture that belong to another room. You should also steer clear of crowding your walls with a lot of paintings or photographs.
Paint your walls in light colours
: As soft shades reflect light, you should paint your bedroom walls in light colours to make the space appear airier and bigger. However, light doesn't necessarily mean going all-white. Light shades of gray, turquoise, or even pastels can work wonders for small bedrooms. You could even mix and match bright and soft shades, like sky blue with white. It's best to steer clear of darker shades because they will absorb light, thus making your bedroom appear smaller and more compact.
Add some mirrors
Mirrors can help create the ultimate illusion of space. If your bedroom has a bare door or wall, positioning a mirror with a clever angle can maximise the light in your bedroom and even add depth or height to the space. Though floor-to-ceiling mirrors would be the best, not everyone may like them. If you too don't prefer such large mirrors, you could consider mirrored closet doors or placing one near a window (if you have one) to create the illusion of a wider space.
Use wallpaper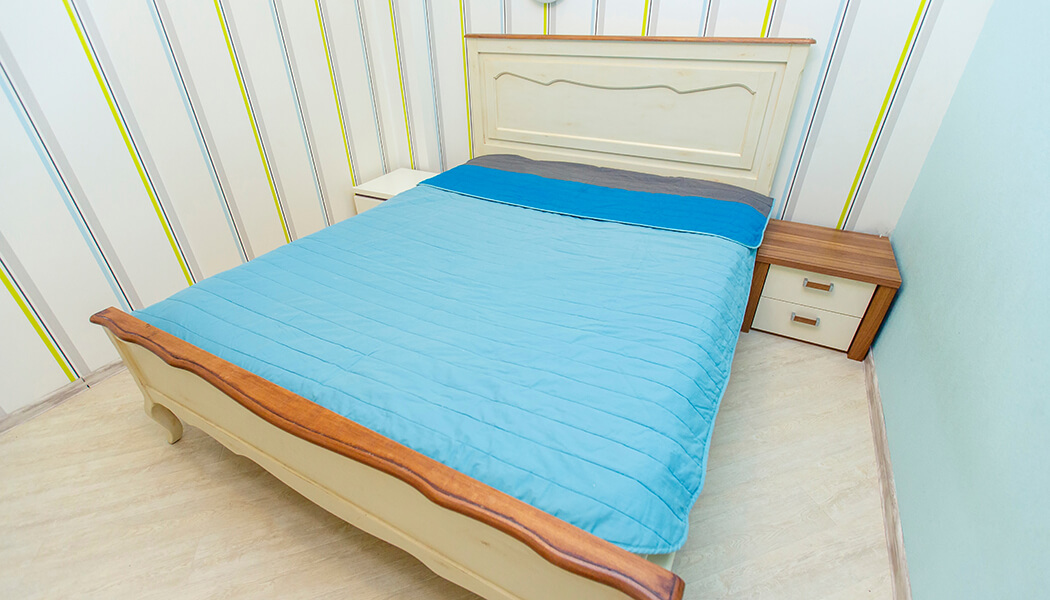 If your bedroom doesn't have a high ceiling, there's nothing to worry about as you can use wallpaper having vertical stripes or panels to create an illusion of height. You could even opt for wallpaper that has horizontal stripes if you want to exaggerate the room's width and make it appear wider than it really is.
Select a tall and elegant headboard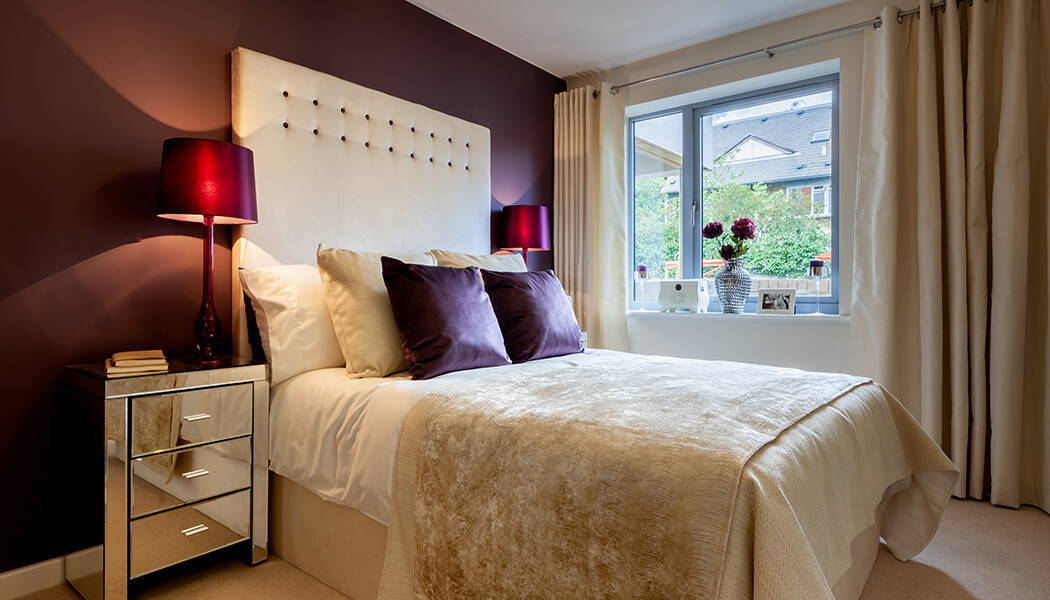 Large, chunky headboards don't go well with tight spaces. You should opt for a tall and elegant headboard instead. By leading the eye upwards, it will create the illusion of a taller space. If your walls are painted in a dark shade, you can offset their effect by choosing a light colour for your headboard that will bring in positive contrast.
Invest in tall or low-slung furniture based on your room's ceiling height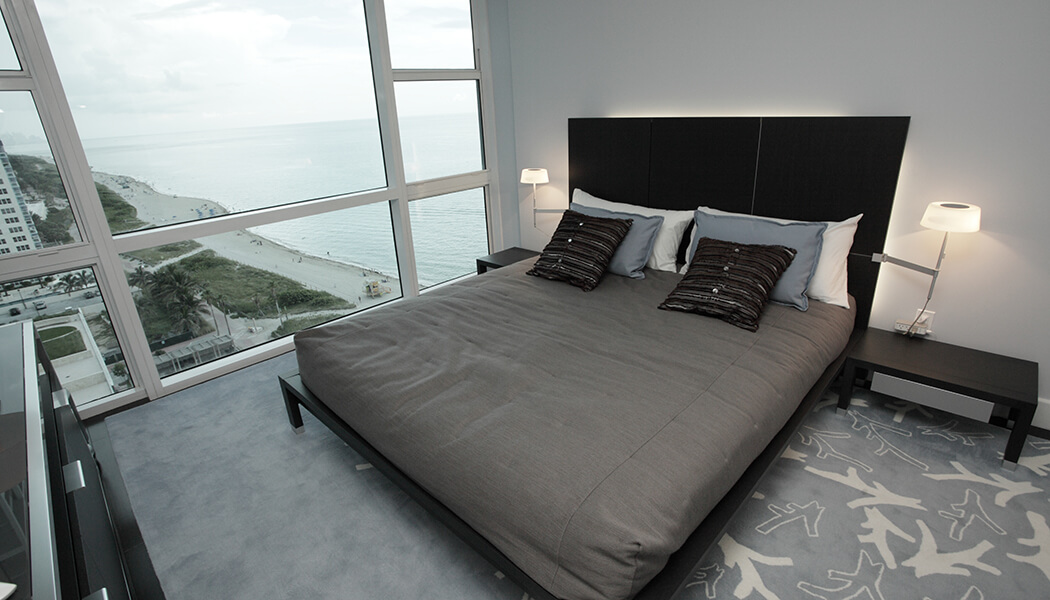 When you can see right under the pieces of furniture in your bedroom, the space will automatically feel bigger. In case your bedroom has a high ceiling, a bed or chair with slim, tapered legs will fit better into the space in terms of proportion. However, if your bedroom has a lower ceiling, bringing home a low-slung bed or furniture for the room will be more apt.
Use wall lights and sconces
Apart from being space-savers, wall lights near your bed can free up the surface on your nightstand. You can even decide not to use a nightstand at all if you have a really tight space. You can also use sconces to light up darker nooks and corners and create an overall glow in the space to make it appear bigger.
Draw the eyes up
You can use ceiling lights or hanging light fixtures (say, a pendant light) positioned atop your bed to draw the eyes up, thus making your small bedroom appear spacious. You could even layer various light sources with style, which will throw a generous amount of light around the room, thus making it appear bigger.
Invest in tall artworks
You can position a piece of art above your headboard, which will help draw the eyes above, thus creating the illusion of a high ceiling and more space. If you have a bare wall in your bedroom, it too can act as the perfect backdrop to your tall artworks to make the room feel spacious.
Create built-in storage space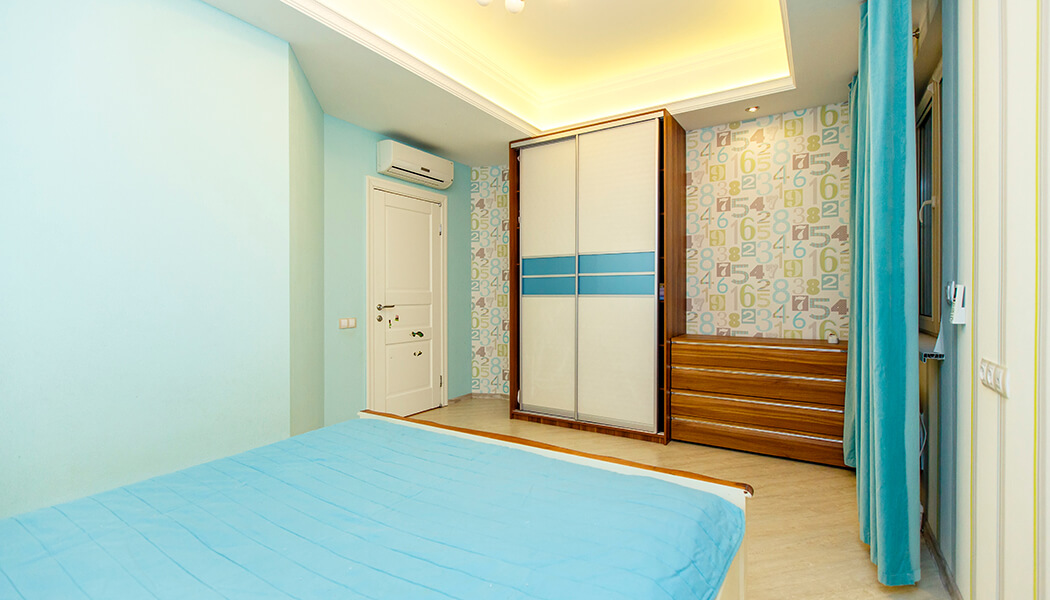 From built-in shelves and closets to a window seat with storage, box beds, headboards with integrated storage, hydraulic beds, and more, there are various built-in storage types to select from. These pieces of furniture don't take excessive floor space. Instead, they occupy minimal floor area to give your bedroom a spacious feel and look.
Instead of complaining about a small bedroom, you should try to maximise the precious real estate you have got. With the space-enhancing tips and ideas shared above, you can do it without breaking the bank and help your sleep sanctuary appear more spacious than it really is.