10 Clever And Actionable Ideas To Organise Your Laundry Room
Handling laundry is a chore you simply can't avoid. But if your messy laundry room makes you feel stressed out, you don't need to pull out your hair in frustration as there are simple ideas to make your space organised, which will help you do laundry with ease and perhaps make the chore much more enjoyable.
Even if your laundry room is on the smaller side, you can use some simple design tricks to make it functional, stylish, and organised. Ready to start doing laundry more efficiently in 2023 and beyond? Read on to get your laundry room organised without much sweat!
Take Stock Of Your Storage Needs
How much laundry do you typically tackle at a time? Are there kids in the family? If yes, how many? Do they play sports or indulge in activities that need you to wash messy clothes often? Open vs. closed – what's your storage preference? Do you need hanging storage more than shoe storage?
All these are questions related to storage you should answer when trying to organise your laundry room. From hooks and hangers for vertical storage to cabinets, shelves, bags, and baskets, you can mix and match a variety based on your storage needs and preferences while keeping an eye on their aesthetic details.
You could also use a wall- or ceiling-mounted or standing drying rack if your laundry room has air-drying space. By using all these ideas, creating a functional space that looks good as well would be a breeze.
Position A Countertop Above Your Washer And Dryer
Countertops atop your washer and dryer are one of the most versatile elements that can make your laundry room appear organised. They can be handy to keep your washing supplies within reach, help you fold your laundry, and position other items until they go to their designated spaces.
If unfolded laundry lay strewn here and there in your laundry room, perhaps having a countertop installed is the solution you desperately need to store your clean clothes neatly folded in their designated spaces, be it in the open or baskets, as the chore would no longer be postponed indefinitely.
Leverage Rolling Carts And Baskets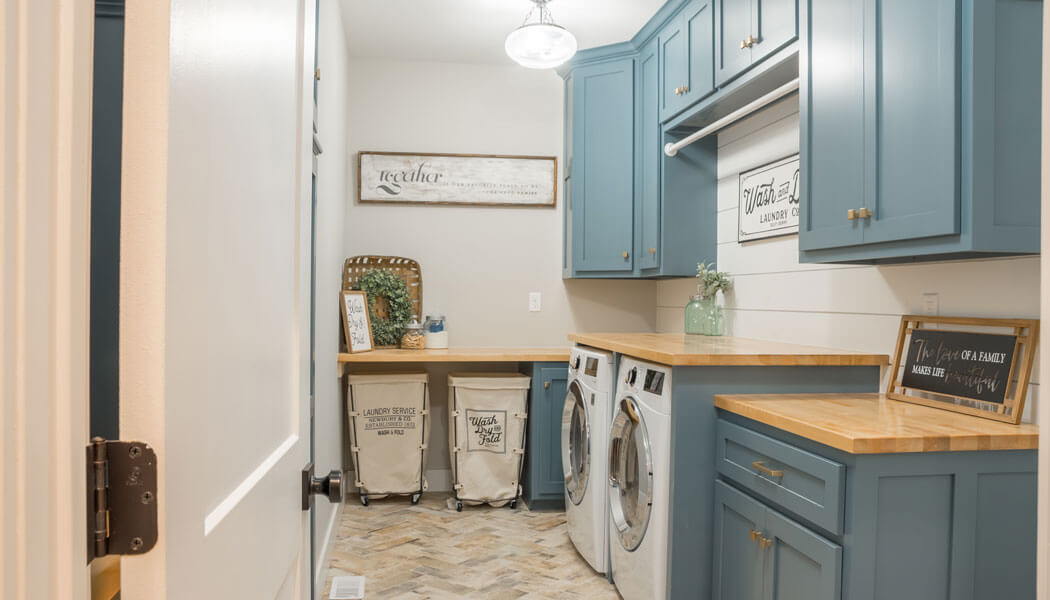 Setting up a system to sort your clothes could make your laundry chores a lot less stressful and much more streamlined process. When setting up a countertop above your washer and dryer, leaving some additional space besides the appliances would mean you can position multiple rolling carts or baskets on wheels.
You can store your dirty items like clothes, towels, delicates, and others in these rolling carts or baskets, which can then be rolled under the counter. This will keep them out of sight and yet make it easy to pull them up to the washer and dryer, when you are ready, to make loading an easy and quick job. And that you won't have to see a dirty pile strewn on the floor or in a corner is a bonus, which will help you keep the space looking organised.
Invest In Open Shelving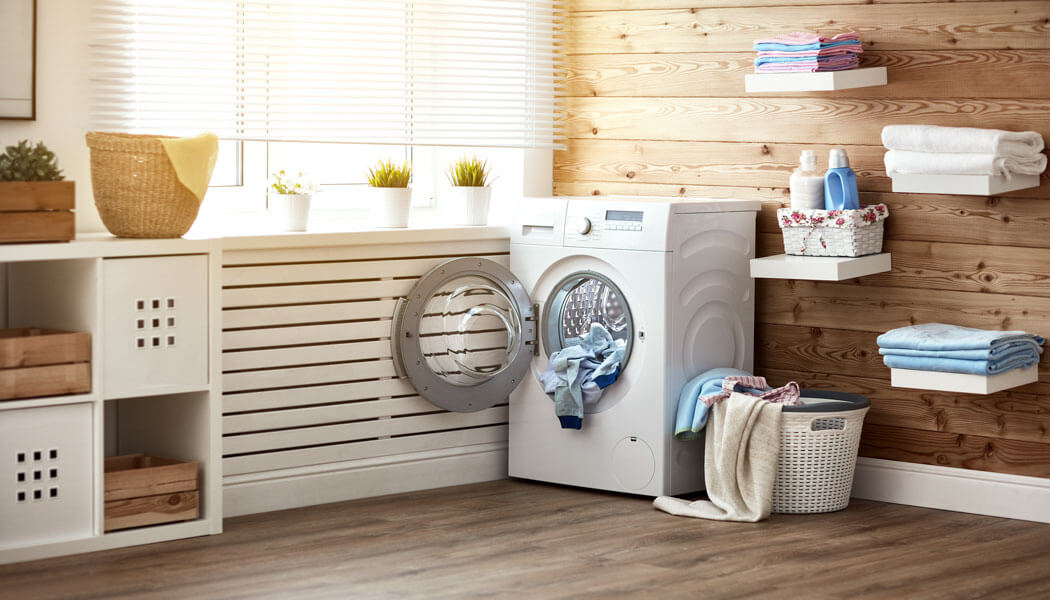 From holding your cleaning supplies, refills, and folded laundry to potted plants, decorative figurines and posters, or framed images, open shelves can make even a small laundry room appear bigger, more organised, and more beautiful.
In the harried and humid setting of your laundry room, cardboard boxes or plastic bottles won't work. The former will get torn up soon while the latter will become sticky with side spills. You should decant your cleaning supplies in easy-to-access and use wide-mouth acrylic bins, jars, bowls, and baskets, which can then be put on the open shelves to streamline your storage.
Just make sure to decide the size and position of your floating shelves so you have adequate space to store whatever you need. You could try labelling the shelves to help yourself and other family members find anything they need and even keep everything in the right place.
Carve Out Space For Cabinets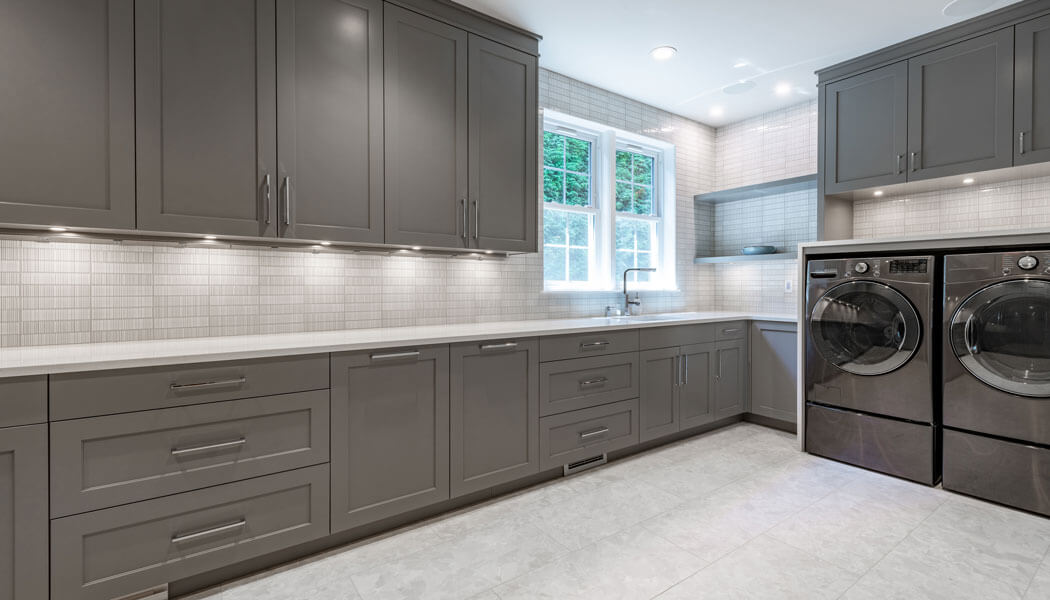 Perhaps your laundry room already has some storage, but creating designated storage areas with cabinets to hold your laundry baskets, ironing board, cleaning supplies, and more can help a lot to keep things organized. If you can have appliances built into the cabinetry, the entire space can be tied together much better to ooze a stylish vibe without compromising functionality.
Cabinets can also be a welcome addition to your space and help in hiding items you don't want to see all the time. They can also facilitate to keep potentially toxic cleaning and laundry supplies out of the reach of pets and children.
Make The Most Of Wall Space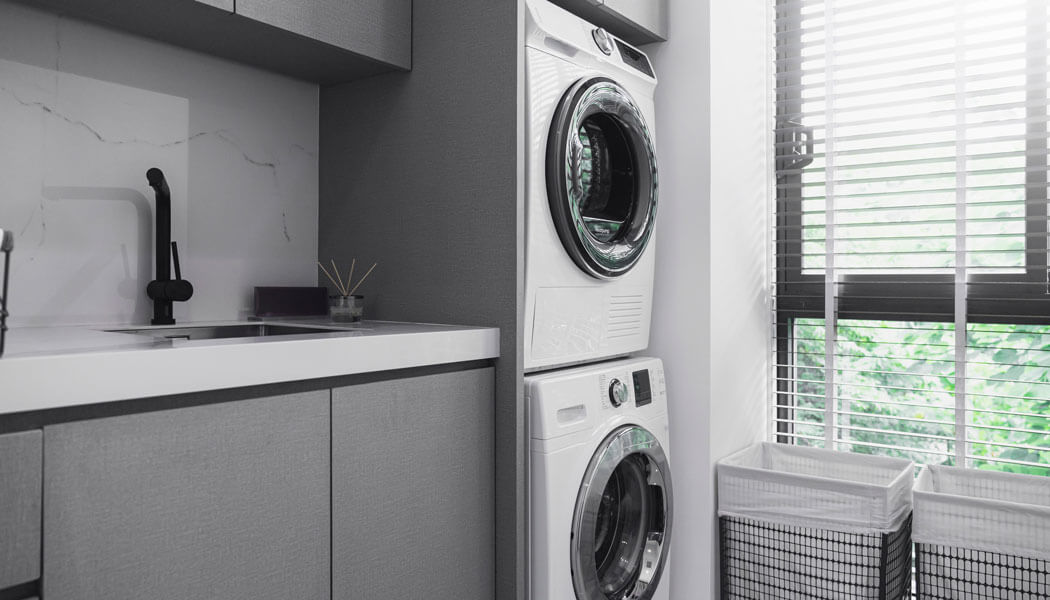 If you don't have a large space to work with, you should use open wall space optimally. Don't forget that your laundry room's walls are under-utilized but wonderful options to increase the storage space. When you start storing items up off the ground and on the walls, your laundry room will look less cluttered.
You can use shelves, drying racks, bottle holders for your soaps and sprays, cabinets, and even hooks and wall tracks to store clothes, iron, mops, brooms, supplies, and more.
Take Advantage Of A Customised Table Or Workbench
If you don't want to invest in cubbies and cabinets to keep your laundry room organised, a simple table or sturdy workbench could help you to a great extent and serve as an effective alternative. Wood furniture looks nice and boosts the visual appeal of your space. If you prefer to have a surface that's easy to clean and doesn't soak up spills fast, you can apply two coats of polyurethane varnish to the top or ask your bespoke furniture maker to do it.
You may even seek suggestions from your furniture designer and maker to learn about better and more durable coatings that dry quickly and make the surface resistant to water and liquid splashes and spills.
Bring Home A Functional and Decorative Room Divider
Even if your laundry room is small, decorative and functional room dividers can do double duty as part-organization, part-décor. Foldable screens work especially well in tight spaces as they give you a convenient place to put or hang lightweight items like your scarves, ties, t-shirts, hand towels, etc., and even separate an unsightly space.
If your room divider has pegs, hooks, or holes, you could even use them to hang fashion accessories or small décor items to beautify your laundry room.
Conceal Your Washer and Dryer
Sliding pocket doors can be handy to conceal your washer and dryer, thus giving your laundry room a cleaner and organised look. You could also get bespoke cabinets created with folded doors that can keep your stackable washer and dryer hidden, irrespective of whether the devices are in use or if you have a heavy load to deal with.
Get Bespoke Vertical Cabinetry
Though cabinets of any size will help keep your laundry room organised, the full-height ones (open or closed) will be of special help. Brooms, vacuum cleaners, and cleaning essentials can all be stored easily in cabinets with heights. Even if you have a small space, building a tall cabinet or two in a corner can suffice. You won't need much depth though as your utility items can be packed into tall cabinets comfortably.