Train And Play In Style With The Best School Sports Shoes for Girls
Confused as to which school sports shoes to buy for your daughter in the new school year? It's ok. Buying sports shoes may seem like a simple task but it can be pretty boring and tedious task. However staying active during school time is somewhat proportional to school sports shoes. While purchasing, what do you want to see in a shoe? comfort or style or performance. Don't go for just one quality, go for everything. It should be comfort + style + performance. Here are some suggestions for best school sports shoes for the girls.
Nike Kids' Pico 4 (PSV) Shoe
Cute shoes for cute kiddies. The Nike Kids' Pico 4 (PSV) Shoes comes in different colours and is designed to be unisex. The shoe features durable leather upper, textile lining, and synthetic outsole. The outsole wraps the toe for improved durability. There is also deep flex grooves at the forefoot for enhanced flexibility and natural range of motion. It has flexible cupsole for lightweight cushioning. As the shoe is made with little feet in mind, it is easy to put on and take off. To help you aid with easy put on, Nike took help from Velcro to make fastener straps. Velcro is a premier manufacturer of hook and loop fasteners. For easy removal it also has built-in kick-off groove at the heel. The shoe offers good traction and grip, delivers a secure and comfortable fit. Altogether it is a great choice to make.
Adidas Altasport Cf K
Another Adidas shoe to complete the complete list. It is the perfect shoe for any indoor sports activity. This kids shoe is easy to wear due to its adjustable dual hook and loop velcro straps. The shoe is equipped with EcoOrthoLite technology that molds into the shape of the feet for added comfiness. This antimicrobial sock liner fits your foot like a sock and offers flexibility. The greatness of this shoe can be explained by other features like high-abrasion non-marking outsole offering traction and grip, easy to clean synthetic upper that is durable as well as lightweight. Added to all these features it also has a textile lining for a soft feeling. It has the Adidas signature brand print on it.
Adidas Youth AltaRun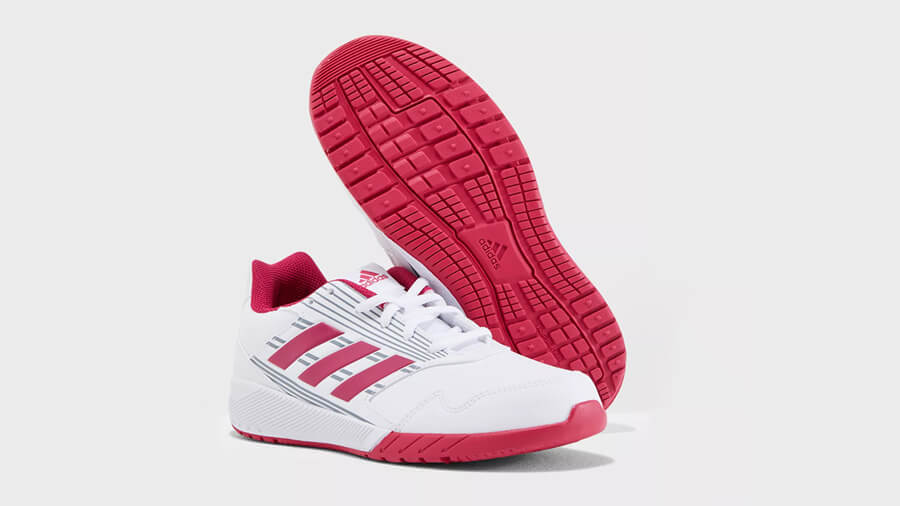 Lightweight and breathability are the two important features that should necessarily be in a shoe. And Adidas Youth AltaRun has both these features. This shoe is designed for the kids. They should be comfortable while walking, running or playing. The shoe has a breathable mesh upper with overlays that provide extra support. The synthetic mesh upper is durable so that the shoe lasts longer at least for the next school year. It also has eyelets with a secure lacing system. If your kid wants to try this shoe in a shop, then it has a removable insole with AdiFit markings to ensure proper fit. An added feature of the shoe is the EcoOrthoLite anti-microbial sock liner which is eco-friendly, anti-bacterial and also inhibits odour that may result due to sweating of feet. The shoe has a patterned sturdy rubber outsole for great traction. This comfy kids shoe has the Adidas signature branding print on it.
Adidas Originals Kids Superstar Foundation Shoe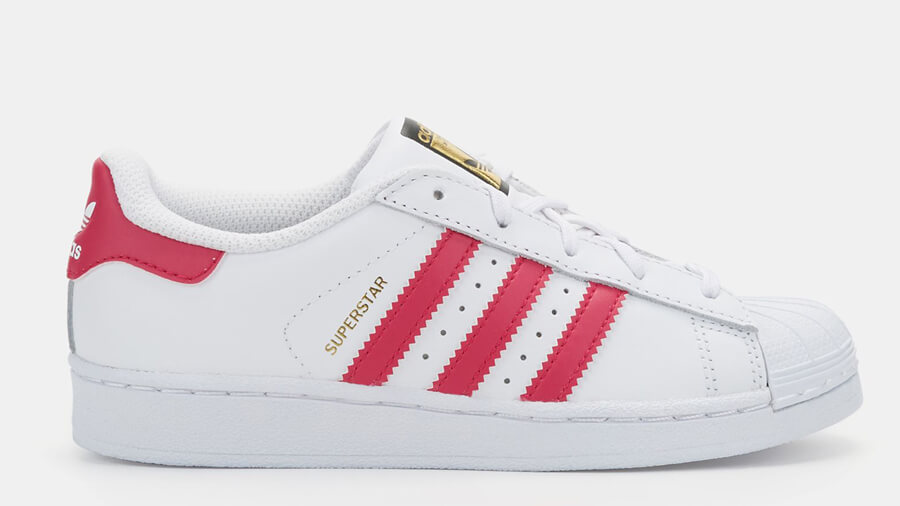 A retro looking basketball sneaker for kids that brings 70s euphoria. Adidas Superstar shoes have always been popular among athletes. These kids' Adidas Superstar shoes from Adidas Originals with a classic unisex design are made of high-quality materials. Constructed with premium grade leather upper and rubber outsole, synthetic fibres, and textiles. It features the iconic and famous rubber shell toe and cupsole. The rubber outsole provides excellent traction and durability. Since many of us doesn't like to change our shoes often, the durable rubber outsole in this shoe is great. Like most of the Adidas shoes, it has a triple perforated stripe design on the upper. They also come with elastic laces plus a set of regular laces.
Nike Revolution 4 Kids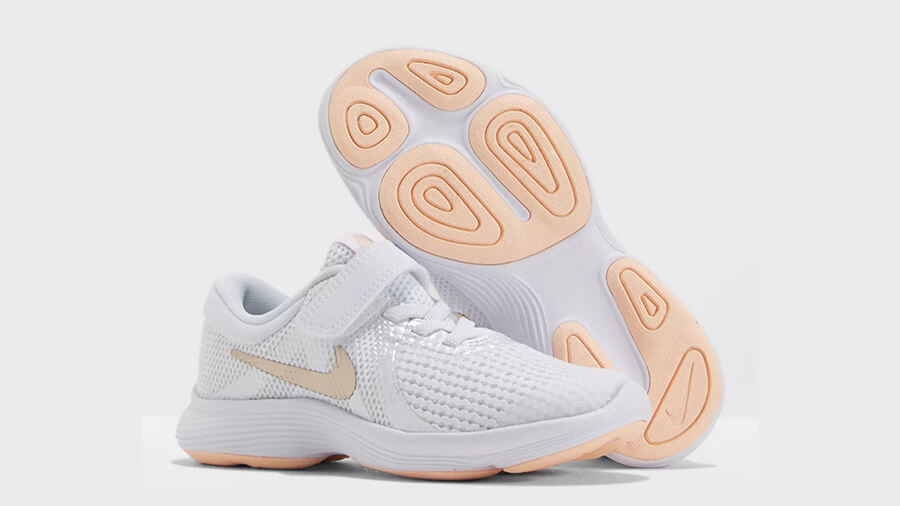 Nike is popular among every generation. There is no doubt about the quality it offers. Nike also has put a lot of effort to provide great quality and performance in this nicely designed shoe. Nike Revolution 4 Kids features a durable textile upper with synthetic overlays and mock elasticated lace-ups and secure velcro strap. It also has padding around the collar which offers extra comfort. Adding to the comfortability factor is the cushioned footbed for happy feet. It also features a well-made and tough rubber outsole with traction pattern providing superior durability and grip. The shoe is built to be durable so you don't have to worry about buying another sports shoe for a very long time. It has the famous Nike swoosh branding print.
Adidas FortaRun X Cool Kids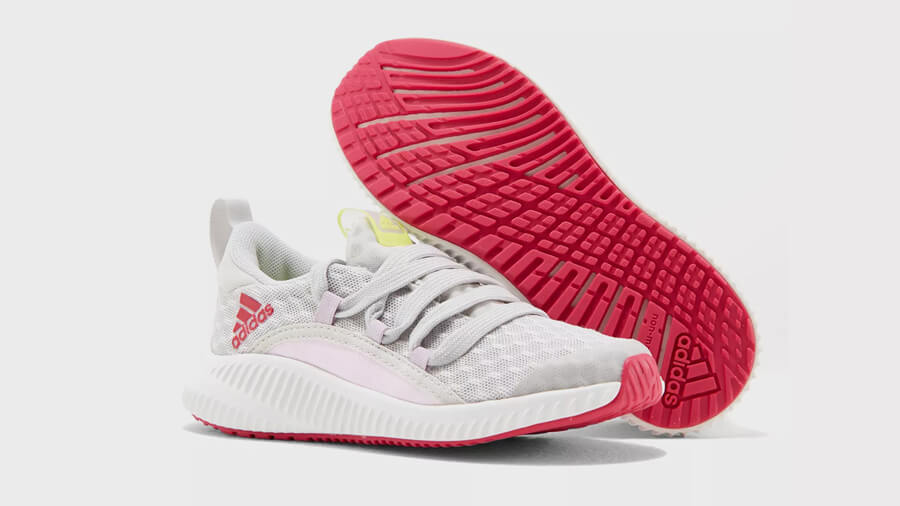 Shoes for the cool kids from Adidas. The main feature of the shoe is its Eco OrthoLite cloudfoam cushioned sock liner. Some of the benefits of OthoLite is the comfortable fit, long-term cushioning, breathability, moisture management etc. It is also lightweight and washable. Moisture management is a major benefit since it draws away moisture from foot thus providing with a healthier and drier shoe environment. Adidas FortaRun X Cool Kids shoe also features a breathable textile mesh upper with synthetic overlays, round toe cap for protection, secure lace-up closure, durable rubber outsole, and comfortable textile lining. There is also embossed Adidas signature and stripes branding on the shoe. Let your girl run her heart out in these running shoe.
Skechers Relaxed Fit Breathe Easy Head Of Class Kids Trainers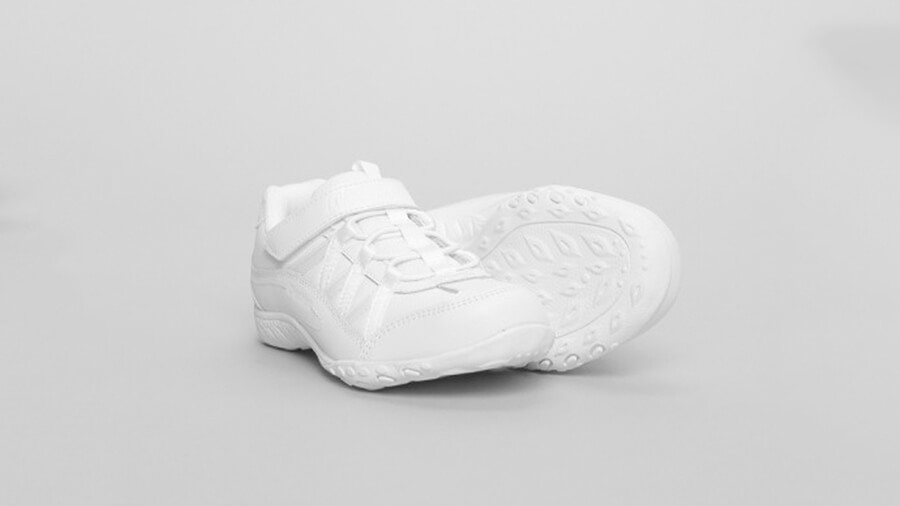 Some schools may have strict rules for sports shoes also. They may sometimes stick to the rule of wearing a solid coloured shoe that conforms to uniform standards. In that case, Skechers Relaxed Fit Breathe Easy Head Of Class Kids Trainers is better. It has that school ready style and is available in all white or all black colour. The shoe is designed with smooth leather and synthetic upper, bungee lace and also with oxford design stitching, perforation and overlay accents. It features a gel Infused memory foam insole, shock absorbing midsole, flexible rubber traction outsole, smooth synthetic front and side panels with a micro-perforated finish, padded collar and tongue. For a perfect and comfortable fit, it has an adjustable hook and loop closure and relaxed fit design. The shoe has the Skechers logo on side and heel panel.
Reebok Royal Glide Syn Youth Trainers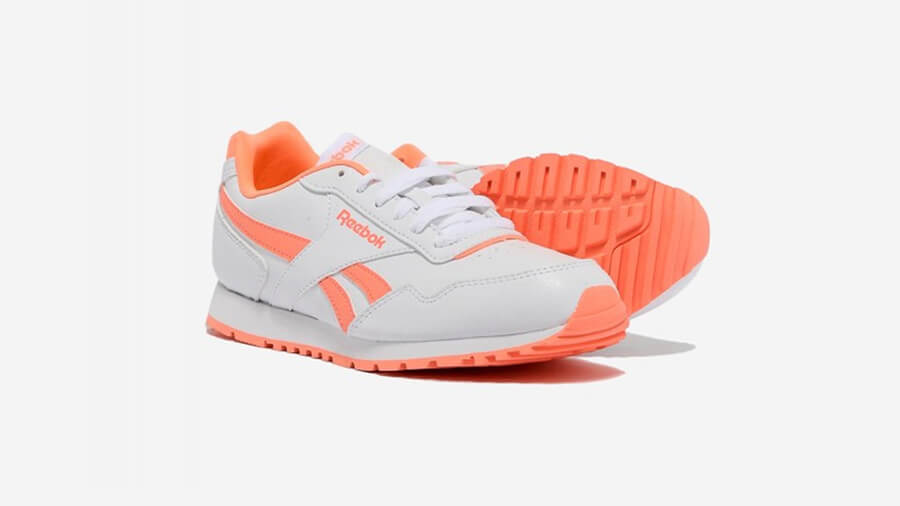 A classic shoe that should be in every kid's wardrobe. Reebok White Royal Glide Syn Youth Trainers is crafted in synthetic leather in a mix of fun and kid-friendly colours. The synthetic leather upper provides comfort, support plus a casual everyday look. This shoe has a low cut design for a sleek look and enhanced mobility. Other features of this shoe include a die-cut EVA midsole offering lightweight cushioning and shock absorption, and high abrasion and patterned rubber outsole offering durability. Last but not least your kid will love the full foot support and comfort this shoe offers.
Adidas Originals Kids' Stan Smith Shoe
A stylish and comfortable kids shoe from Adidas. Kids Stan Smith Shoe from Adidas Originals is made of rich leather upper that gives it a sleek look. It uses OrthoLite technology which uses a sock-like lining. The sole foam material takes up the wearer's foot shape to provide more comfort and cushioning. It doesn't absorb water and is antibacterial so that the little feet will stay odorless. Be it any fun activity your kid gets engaged in, her feet will always be comfortable throughout. The sturdy rubber outsole on the shoe provides great traction and grip. It has perforated 3-stripes along the side provides breathability. The shoe has a contrast heel patch to give it an edgy look.
Adidas Youth RapidaRun Knit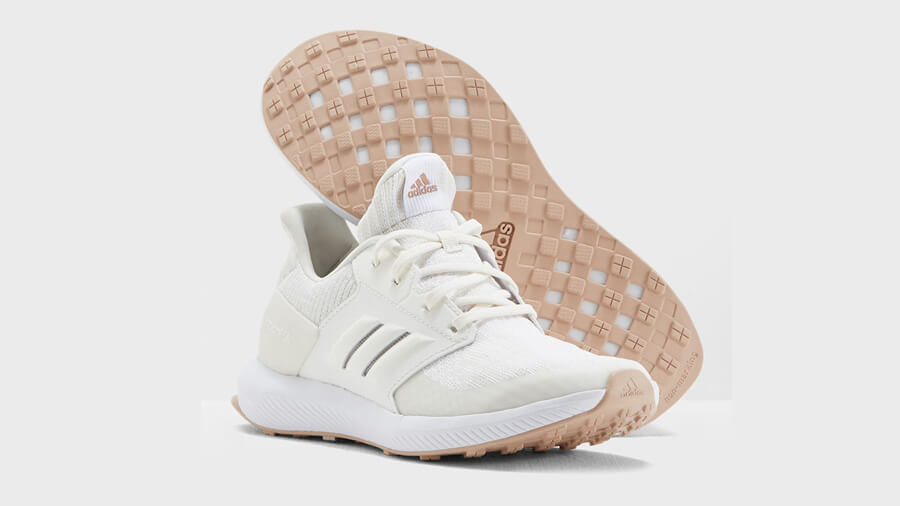 Adidas Youth RapidaRun Knit is the shoe that your kid needs for every day. It offers great performance while in any activity. The upper of the shoe is designed with knit upper for adaptive fit and premium natural feel. It has TPU (thermoplastic polyurethane) midsole that offers shock absorption, pillow-soft cushioning and comfortable wear. The midsole also helps your kid to get support while doing any physical activity. The non-marking rubber outsole is made to be running-specific and also offers great traction and grip. This shoe also has that EcoOrthoLite(environmentally friendly and bio-based formulation) anti-microbial sock liner that helps inhibit odour. AdiFit length measuring tool is also there to ensure a perfect fit. It also has the Adidas signature branding.