These Sports T-Shirts For Women Can Handle Your Intense Training Sessions In Style
Wondering why you need a special running t-shirt? Do you also wonder how a piece of garment makes a change in the process of running? If yes, then I will give you a bit of information. The cloth you wear does make a difference. Stick to comfortable and flexible clothes while running or doing any physical activities. Not just comfortability but to avoid skin irritation, you need running t-shirts. Reward yourself with a stylish running t-shirt or gift it to your loved ones. We have listed some women running collection available online for you, check it out.
ADIDAS WOMEN'S MOTO PACK GRAPHIC TANK TOP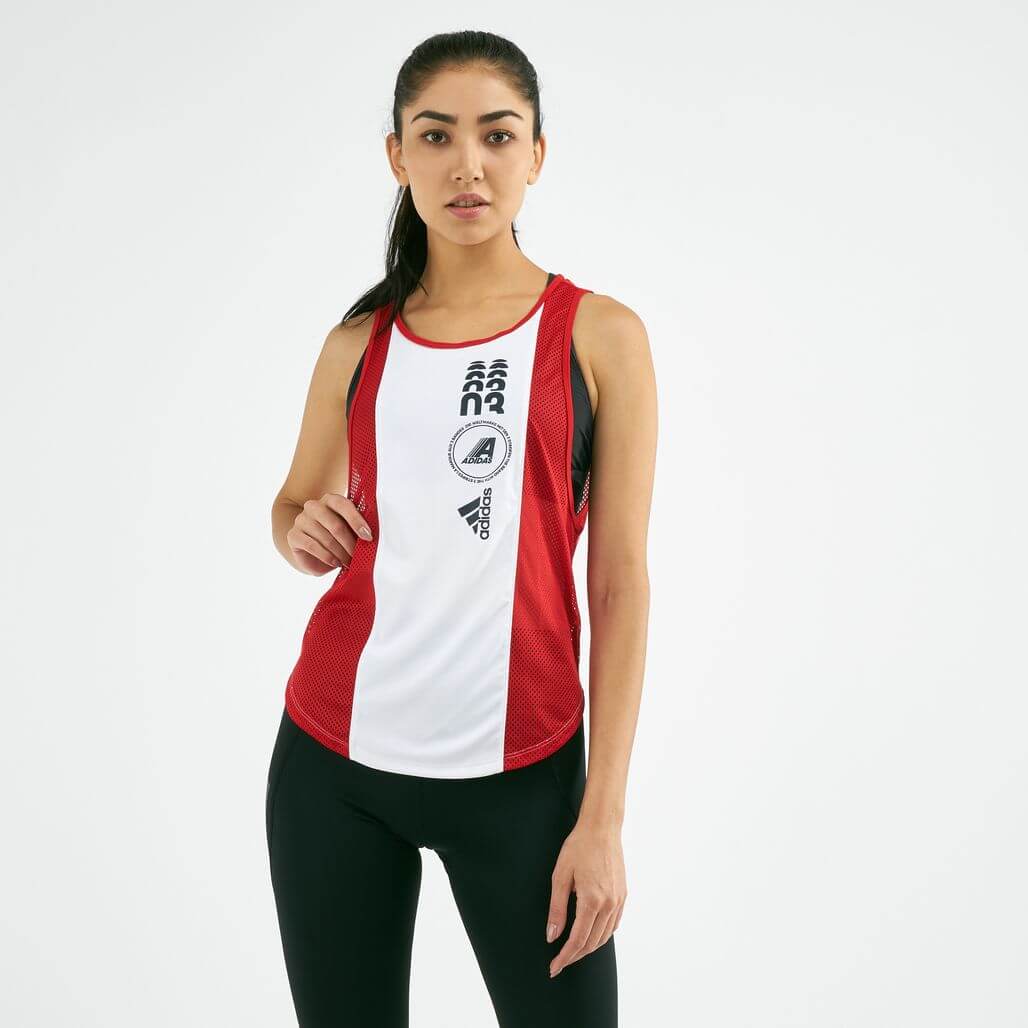 If you detest being a sweaty mess during and after your intense training sessions, this graphic tank top from Adidas brings you the ideal solution. Featuring a crew neck design and made of 100% recycled polyester, this sleeveless tank top comes with breathable mesh that lets you enjoy an airy style during your intense workout or sports training sessions. This super cozy tee has wide armholes to give you a free-moving feel and features a curved hem that not only provides a flattering shape and extra coverage but also boosts your feminine appeal. Since it's available in vibrant colors and graphics, you can break away from your dull daily routine of wearing monotone tank tops and opt for a vibrant, bold design to channel your inner confidence in style. Since this Adidas tank top is made of a stretchable fabric, it supports your movements, no matter in which direction or of what level of intensity they are. Since this tank top provides you with a regular fit that strikes a comfortable balance between snug and loose, you can easily continue your active lifestyle with utmost comfort and even add a dash of style to it. So, bring home this Adidas tank top today!
ADIDAS WOMEN'S BADGE OF SPORT T-SHIRT
You can show off your love for sports and for Adidas, the world's favorite sports brand, by wearing this t-shirt during workouts and team practice sessions. Since this t-shirt is made of 100% recycled polyester interlock, a lightweight fabric that wicks away sweat, it helps you stay dry. This makes it ideal for training and sports. Since the Adidas Women's Badge of Sport t-shirt is cut in a regular fit, you can sport a casual look when you sweat it out in the gym or on the court playing your favorite sport. Being available in a crewneck design, this regular and relaxed fit t-shirt comes with a straight silhouette. If you detest wearing t-shirts that are loose or run the risk of getting entangled in your gym equipment and hurting you, this Adidas t-shirt that comes with short sleeves and offers you a snug fit throughout the body would be your ideal bet. If you hit the gym regularly, run a lot, or play any sport, this t-shirt is what you seek. With it, you can showcase a classic Adidas badge of sport on the chest and still keep it simple, elegant, and sporty. So, bring this Adidas t-shirt home and play your favorite sport or hit the gym in style.
ADIDAS ORIGINALS WOMEN'S CROPPED TANK TOP
Being inspired by the '90s street style, this Adidas cropped tank top made of 100% cotton takes you back to that bygone era. This crop top features the famous Trefoil that made its debut way back in 1972 and has been hogging headlines ever since. A large double linear Trefoil logo in contrasting colors of black and white is displayed prominently on the chest in order to celebrate the brand's iconic symbol in style. With a crew neck and pull on closure at the back, this sleeveless cropped length jersey comes with a tight fit that hugs your body but is comfortable too. Though it's designed to give you a tight fit right from the shoulders to the hem, it's not restrictive. Thus, if your training sessions include a lot of movement, and that too in different directions and with varying intensity, you can easily sail through them while donning this cotton jersey from Adidas that boasts of a seamless construction to deliver second-skin feel and fit. With the brand's signature 3-stripe style visible on both the sides, this cropped tank top can be your ideal bet if you are looking for a single jersey that comes with a soft and stretchy feel to make your intense training sessions comfortable while adding a dash of style to it.
PUMA Classics Logo T-Shirt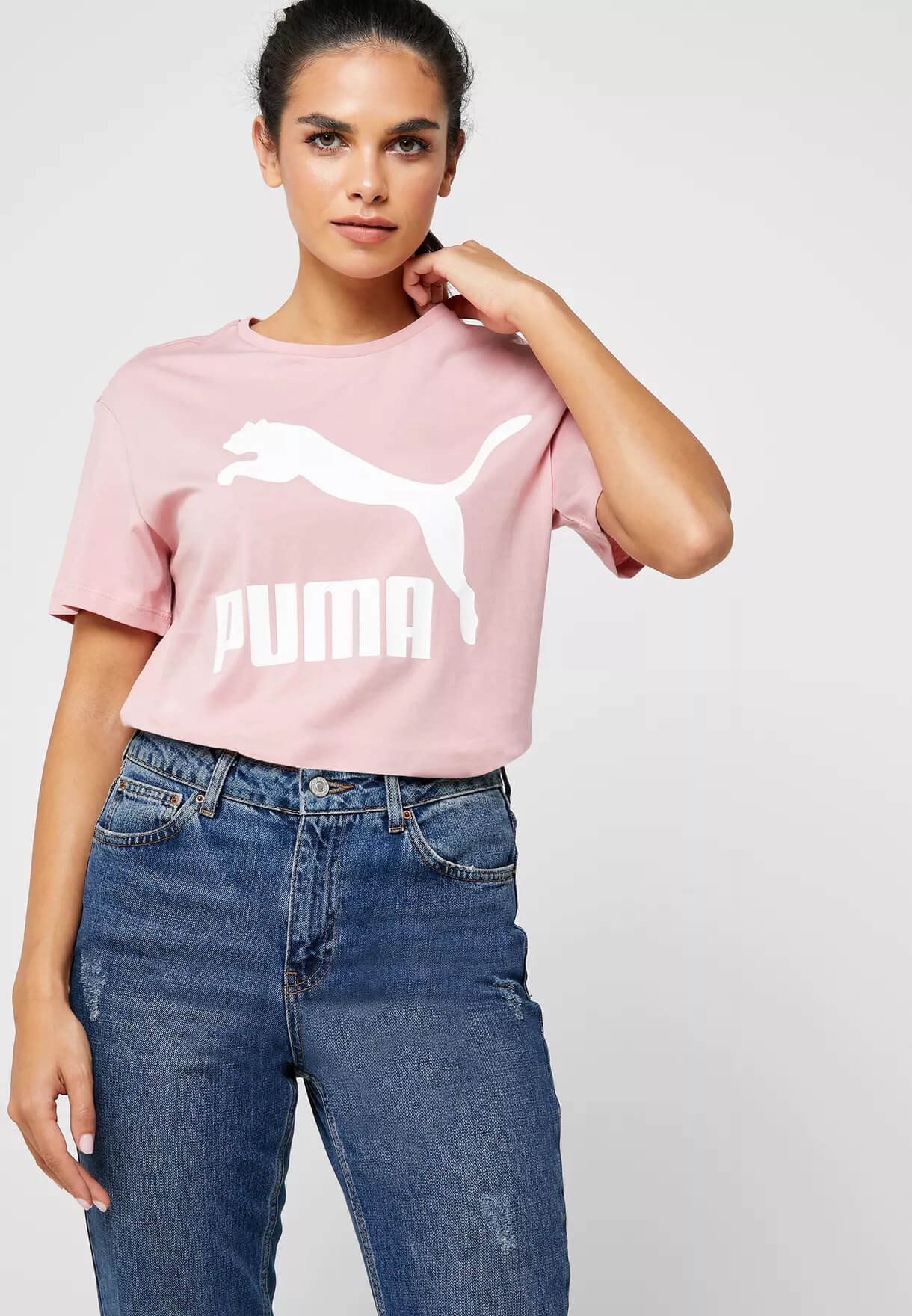 If you plan to sport an easy-breezy style, this classic logo tee from Puma could be just what you need. Featuring a ribbed crew neck and short sleeve construction, this t-shirt is designed to give you a regular fit. Since it's made of a soft and rich cotton fabric, you will enjoy the utmost comfort while donning it, no matter whether you are going to the gym or meet your friends. It even comes with the Puma brand's back neck tape to deliver a comfortable wear for you. With Puma's logo displayed prominently on the front, this t-shirt could even be a good buy for style-conscious people who love to don sportswear from famous global brands like Puma. Since this classic logo tee is available in different sizes, you can find your perfect fit by ordering the right size. If you want to sport this Puma t-shirt for a long time to come, make sure not to get it bleached or dry-cleaned. Instead, keep it clean by using machine wash consistent with the instructions on the Care Label. Wherever you go, make this classic logo tee from Puma your constant companion that lets you stay comfortable and even add a dash of style to your personality in the process.
ADIDAS Must Have Badge Of Sport T-Shirt
Adidas is a leading sportswear manufacturer that's loved by people across the world. Every single product manufactured under this global brand's umbrella delivers immense comfort. If you too want to sport an Adidas tee that gives you a sporty look and feel, this one with the large Adidas Badge of Sport on the chest is sure to let you step out in style while showcasing your toned, athletic look. Featuring a round neckline and short sleeves, this t-shirt available in yellow offers a regular fit, which strikes a comfortable and fine balance between snug and loose. Since it's made of a lightweight poly-cotton blend fabric (which has 50% recycled polyester along with 25% rayon and 25% cotton), it gives you a soft, comfortable feel. As a brand, Adidas supports sustainable development because it believes recycling helps in the efficient use of natural resources. This sports tee is an effort in this direction and by donning it, you too could support the brand's initiative and play your role in the judicious use of the resources present on the earth. If looking good and staying comfortable during your intense training sessions or while playing your favorite sport is the top thing on your mind, bring home this Adidas tee without any further delay!
NIKE Essential Futura Icon Cropped T-Shirt
With its innovative products, Nike inspires athletes all around the world. If you too have been planning to possess a Nike product that matches and complements your active lifestyle, this cropped tee in white could be just what you need. Made up of soft cotton fabric, this t-shirt is extremely comfortable to wear. Featuring a ribbed crew neck and short sleeves, this Nike tee could be your ideal partner for those intense workout or sports training sessions. This is especially true for the summer months when the rising temperature makes you wish for a t-shirt that would keep you comfortable.  But it doesn't mean this tee is good only for summer. You can wear it throughout the year as being made of cotton gives it a natural and comfy feel. This t-shirt also comes with interior taping, which is designed to deliver comfort and durability. Featuring the brand's famous logo in contrasting black color on the front (against the tee's white background), this Nike tee lets you sport an athletic style while enjoying total comfort. To enhance the product's life, you should give it a machine wash, as and when needed, by following the instructions on the Care Label. So, bring home this soft cotton cropped tee from Nike to enjoy your active lifestyle with utmost comfort.
IVY PARK Logo Wrap Back Crop Top
Ivy Park – the activewear label co-founded by Beyoncé, brings products that would fit your active lifestyle pretty well. If you have been on the lookout for a new workout look this season, this Ivy Park crop top could be your ideal bet. Whether you are working out or gearing to sweat it out with your teammates on the field while enjoying your favorite sport, you can look and feel at your peak when donning this white-colored crop top that lets you smash your fitness goals in style. Featuring a crew neck, dropped shoulders, and short sleeves (reaching your elbow), this cropped tee showcases a streetwear-inspired silhouette and gives you a regular fit. Since it comes with a crossover back, it allows easy movement, no matter in which direction or how intense they are. Therefore, you can forget feeling frustrated just because the attire you wear restricts your movement during your workout or training sessions, thus not letting you enjoy or benefit from it completely. If comfort is your priority when choosing a training tee, this Ivy Park crop top made up of stretchable cotton French terry fabric would score well on that count. Featuring the woven logo of the brand on the chest, this crop top is a must-have in your wardrobe.
ADIDAS BY STELLA MCCARTNEY Run T-Shirt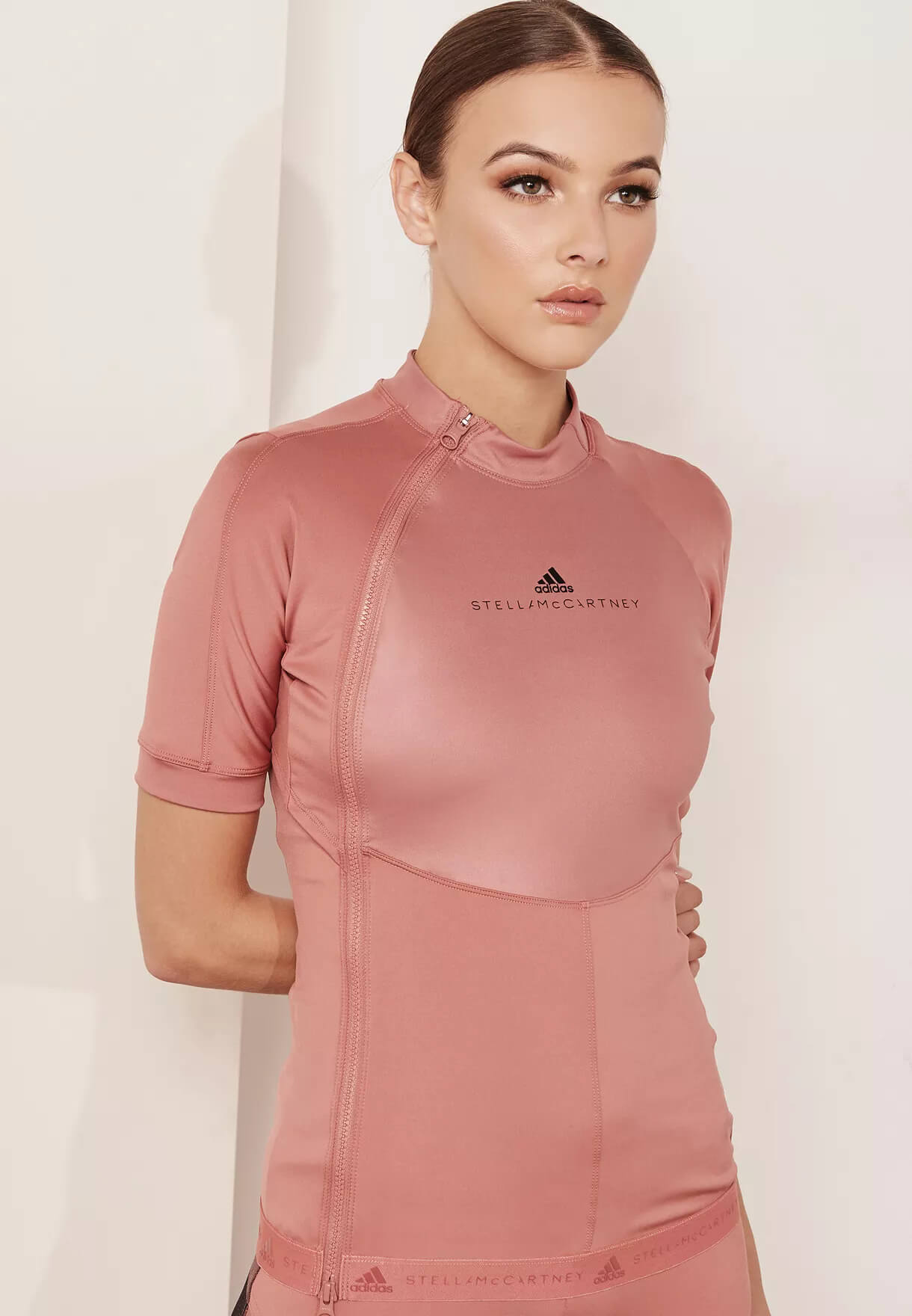 This t-shirt made of a polyester blend fabric (which is 85% recycled polyester together with 15% elastane) that's both stretchable and comfortable is a part of the Adidas and Stella McCartney collection. Available in a dusty pink color, this crew neck t-shirt comes equipped with ClimaCool technology that would help keep you dry and cool in a variety of conditions due to its moisture-wicking property.            If you think this is yet another moisture-wicking fabric, think again because ClimaCool by Adidas is much more than that. You can call it an integrated system of technologies that work mutually to regulate the wearer's body temperature. This happens by conducting sweat and heat away from the body through a combination of moisture-and heat-dissipating materials, ventilation channels, and fabrics that let air to circulate near the skin. In fact, this t-shirt features mesh panel inserts, which support enhanced breathability. Thus, be it your morning jog, a run, or your favorite sport, you can indulge in all of them without breaking into a sweat. In case you are an evening/night person and prefer to jog or run in the evening or at night, the reflective elements used in this t-shirt that help visibility in low-light would keep you safe.