Look Smart And Active With The Best Sports Polo T-Shirts For Men
During the summer, polo shirts are an essential style wear for men. Thanks to its short sleeves, collared neck, and classic style, the Polo T-shirts are always cool and comfortable. If you think choosing a T-shirt is an easy task, then you are mistaken. Here, we have made a list of the top most fashionable Polo T-shirts for men that ooze style and comfort at the same time. Pick your favorite and get ready to shine on your next casual party.
SUN AND SAND SPORTS MEN'S CORE POLO T-SHIRT
Whether you want to wear it on formal occasions or when moving around the town, this Men's Core Polo T-shirt from Sun & Sand Sports has got you covered for everything. You'd be able to wear this quality product all-day long comfortably. If you've got a toned body to flaunt, this product lets you step out in style as it comes with flattering, standard fit together with short sleeves. Made from 100% cotton which is a breathable fabric, this t-shirt would keep your body dry while keeping your skin being able to breathe. It ensures to keep you cool even on the warmer days. You can also wear this product throughout the year comfortably as the fabric generates a thin layer of air which would help to keep you warm during the colder days. This product features button placket that not only keeps your t-shirt looking smart and working properly but also lengthens its lifespan. Additionally, it prevents the buttons from rubbing against your skin and being uncomfortable. This is available in trendy black color, which is the mark of sophistication and elegance. And you'd be able to wear it on every occasion – from a party to any special occasion to a casual night out or a date, forgetting about wasting time on thinking what to wear.
THE NORTH FACE MEN'S PREMIUM POLO PIQUET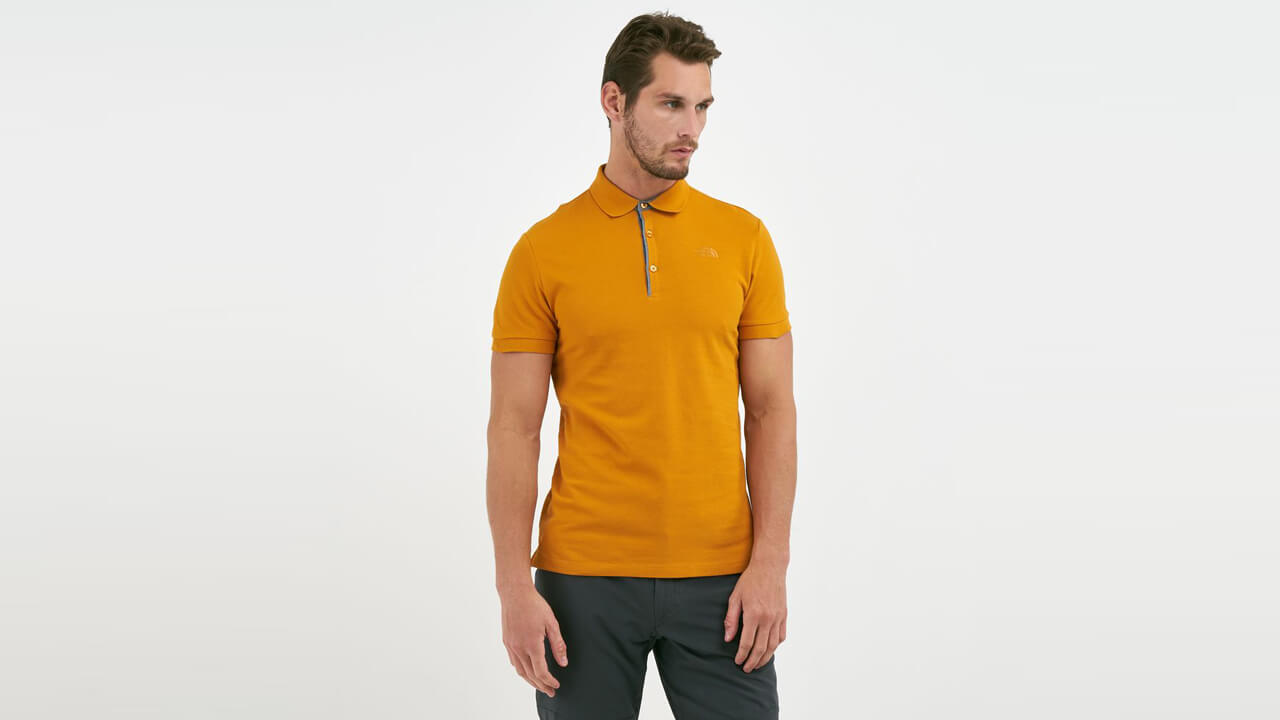 Are you looking for a great t-shirt that would help you stay stylish while keeping cool on summer days? Then you shouldn't look beyond this Men's Premium Polo Piquet from the house of North Face, one of the most popular outdoor brands and has been designing exclusive clothing items for more than fifty years. This short-sleeved, fitted Polo Piquet t-shirt is a must-have item for every wardrobe. If you're thinking of buying a t-shirt that you'd be able to throughout the year, this product has got that aspect covered as well. Made of 100% cotton, this product is capable of developing a thin layer of air which not only keeps you cool in summer but keeps you warm during the colder months as well. Additionally, with this t-shirt, you can be completely sure of having a fresh and crisp t-shirt throughout the entire day. This product is both practical and stylish, which means you'd be able to wear it on any occasion – from formal to informal. And you don't need to worry about its longevity as the fabric gets stronger when it's wet. Finally, the contrasting color on the t-shirt's collar brings a fresh breeze of fashion to your entire outfit.
TIMERBLAND MEN'S MILLERS RIVER PIQUE SLIM POLO T-SHIRT
If you're looking for a t-shirt that not only looks casual but also gives you a great put-together look, you shouldn't look beyond the Timberland Men's Millers River Pique Slim Polo T-shirt. Whether you're planning for a guy's night or out for a drive, you can rest assured of having a clean, finished look with this t-shirt. This product from the house of Sun & Sand Sports would give you slim fit, giving you a smart, casual fit always. Made from 100% organic cotton, you'd be getting a nonrestrictive fit to stay comfortable all the time. If you're concerned about durability, stop thinking anymore as the fabric not only gives you a soft, luxury feeling but remains soft even after repeated washings. Even if you're an allergic person, you can freely wear this t-shirt as cotton doesn't irritate the skin. This product sports a buttoned-down collar style which creates a vertical line from its collar point toward your face, helping you grab your audiences' attention. It features embroidered Timberland tree logo at the undercollar so that you can step out in style, sporting an elegant and trendy appearance. This t-shirt is available in a good range of solid colors to match up with your everyday mood.
NIKE COURT ADVANTAGE TENNIS POLO T-SHIRT
This Court Advantage Tennis Polo T-shirt is designed to keep you cool and comfortable when you're engaged in a high-octane sport like tennis or are participating in a strenuous activity. This slim-fitted t-shirt is designed with Dri-FIT technology that wicks moisture, no matter what the intensity of the activity you've undertaken is. Unlike other t-shirts, this product not only soaks moisture but evaporates your sweat so that you can feel dry, clean, and fresh all the time. To do justice with its world-famous reputation, Nike has offered articulated shoulder seams and underarm gussets so that you can move freely whatever you do. This t-shirt is made of 100% polyester which means you'd be able to enjoy all your athletic activities by wearing this. With this fabric, the chemicals present sweat don't get embedded in fibers that result in those unsightly and weird yellowish sweat stains, meaning you can wear it all day long, without having to worry about getting an unpleasant appearance. This product sports a fresh look containing color-blocking and tie-dye so that you can maintain your style quotient while giving your best performance. So, grab this t-shirt that comes with a unique combination of style and functional punch today.
COLUMBIA MEN'S UTILIZERTM POLO T-SHIRT
If you're looking for a comfortable and stylish t-shirt that you'd be able to actually every single day, you should look beyond this product. This short-sleeve product not only plays well at work but at sports too. This t-shirt comes with advanced sweat management technique that would keep you fresh throughout the day. The best thing about this product is that it comes with built-in UPF 30 sun protection, which means you'd be able to enjoy your outdoor activities for as long as you want, without having to worry about sun damage, sunburn etc. This product can be your best protective clothing in doing activities under the sun. And if you're not into outdoor sports like biking, running, or golfing, this t-shirt can still be a great addition to your wardrobe for any other everyday use. Being made of 100% polyester, this product is extremely resistant to water and wind, which means it would easily wick perspiration away during your sporting activity, helping you stay dry and comfortable. If you're concerned about the durability of this t-shirt because of the high-intensity activities you do, the presence of three-button placket would take care of that aspect effortlessly, no matter what you do.
NIKE MEN'S COURT DRI-FIT TENNIS POLO T-SHIRT
Take control of every match and whatever you do in this Nike Men's Court Dri-FIT Tennis Polo T-shirt as it combines advanced technologies with a classic on-court look. If you're into high-intensity sports like tennis, owning this t-shirt should be an absolute necessity to you. Equipped with Dri-FIT technology, this product is designed for keeping you dry and providing utmost comfort, acting as the best functional clothing for you. It gives you a slim fit, thus contouring your body without obstructing motions whatever you do. Additionally, the presence of a 2-button placket and hem vents ensure you get an adjustable and comfortable fit always. Made of 100% recycled polyester, this t-shirt ensures that sweat gets pulled away from your skin when things heat up. The elements present in sweat don't get embedded in its fibers that lead to those awkward sweat stains, helping you sport a fresh look throughout the day. And if you're concerned about durability, this is one of the most favorite fabrics among high impact athletes as polyester lasts for many years without fading or wearing out. This t-shirt sports the world-famous "Swoosh" logo on the front to ensure you step out every time in elegance and style.