Have Fun With Your Kids With These Stylish Swimsuits For Girls
Take your little girl to a beach or swimming pool, because they love some splish-splash. The point is kids love playing in the water. Before going out for all the splashing, a good swimsuit is essential. In the case of swimsuit for kids, it's more about purpose than fashion. The swimsuit should protect against sun, comfortable to wear and trendy. As a parent, you may not have time to hunt for swimsuits in stores or on the internet. So we have curated the list of some stylish swimsuits for girls. Check out these cute and comfortable swimsuits for your little ladies.
Coega Kids' One Piece UV50 Swimsuit
The Coega one-piece swimsuit comes in pink colour. It provides UV50 sun protection from blocking 98% of harmful UVA and UVB rays as your kid play under the sun. It has back zipper with a zipper pull, so wearing this swimsuit is easy and comfortable even if your kid is too young. It provides convenience as well as comfort and freedom of movement while your kid play. This lightweight swimsuit is made of Polyamide and Lycra which is salt water and chlorine resistant. It also retains its shape and dries off quickly after playing in the water.
Coega Kids' Slim-Kini Full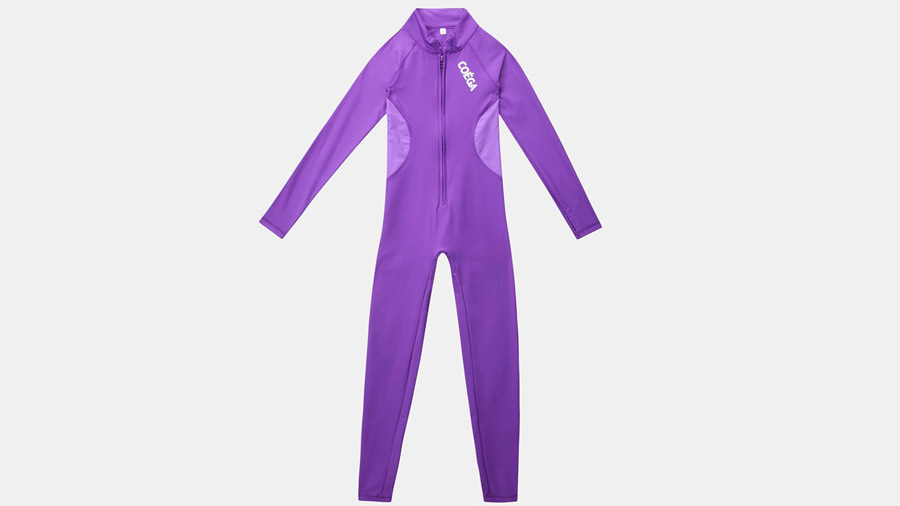 The Coega Kids' Slim-Kini Full is the best one-piece swimsuit which can offer a great amount of sun protection. If you are a parent concerned about modesty, then also this swimsuit is a great choice, since it offers great coverage. With this fully covered swimsuit design, it offers great protection from the sun. It is made of high-quality materials(80% Polyamide, 20% Lycra) which are chlorine and saltwater resistant so that it can be used for years. Moreover, this swimsuit is stretchable, lightweight and quick drying. It has raglan sleeves with thumbholes and has a zippered front. The flat locked seams and soft fabric will keep your kid comfortable in the beach or swimming pool.
NIKE SWIM KIDS' OPTIC CAMO ONE-PIECE SWIMSUIT (OLDER KIDS)
One-piece swimsuits are timeless for style and functionality. This Nike Optic Camo One-Piece swimsuit is designed for young athletes aged between 7-13years old. It is made from high quality and good stretchy material. This athletic swimwear combines a streamlined cut with comfort and flexible design that makes it ideal for practice and competition. It doesn't have any annoying frills that hinder with the natural movements. The flat-seam construction won't cause chafing when she's in motion. Moreover, it fits like a glove and the cross back styling favours freedom of motion. It's cross back styling and camo print gives an uber cool style statement. This super-stylish swimsuit is available in Pink, Black and Blue.
SPEEDO KIDS' SAMBA FEATHERS PANEL LEGSUIT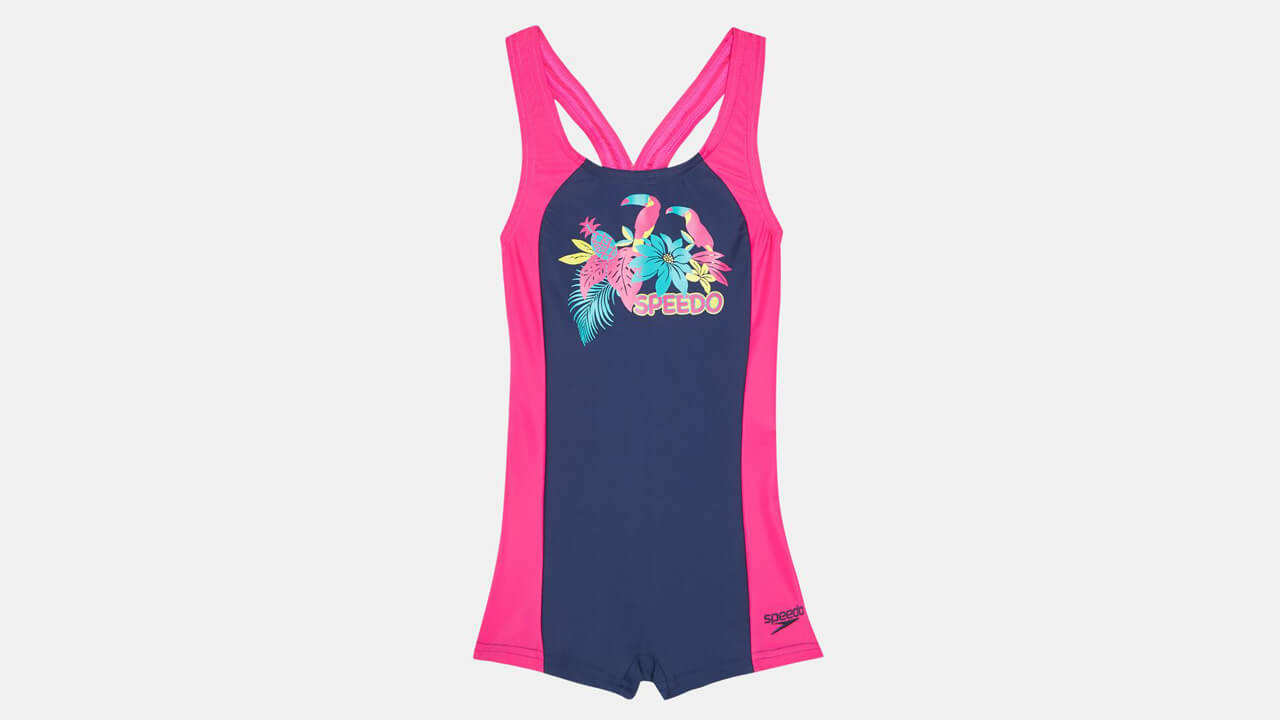 Speedo is an exemplary swimming brand for a reason. They are the most popular distributor of swimwear and swim-related accessories. The Samba Feathers Panel Legsuit is perfect for practice and competing with little more coverage than a standard swimsuit. If your little one is a serious swimmer, she needs more than a regular swimsuit. This Speedo Legsuit made with Endurance 10 fabric which is 100% chlorine-resistant, stretchy, soft on young skin and super resilient against chlorine. It's unique Endurance+ technology is quick-drying as it absorbs less water. Also, this specially engineered fabric fits like new and stay in shape even after daily swim sessions. The legsuit provides modest coverage and the cross-back straps are functional for gliding through the waters. It has a vibrant bird and flower print along with the brand name on the front.
DISNEY Minnie Printed Swimwear 2 Piece Set Laisa5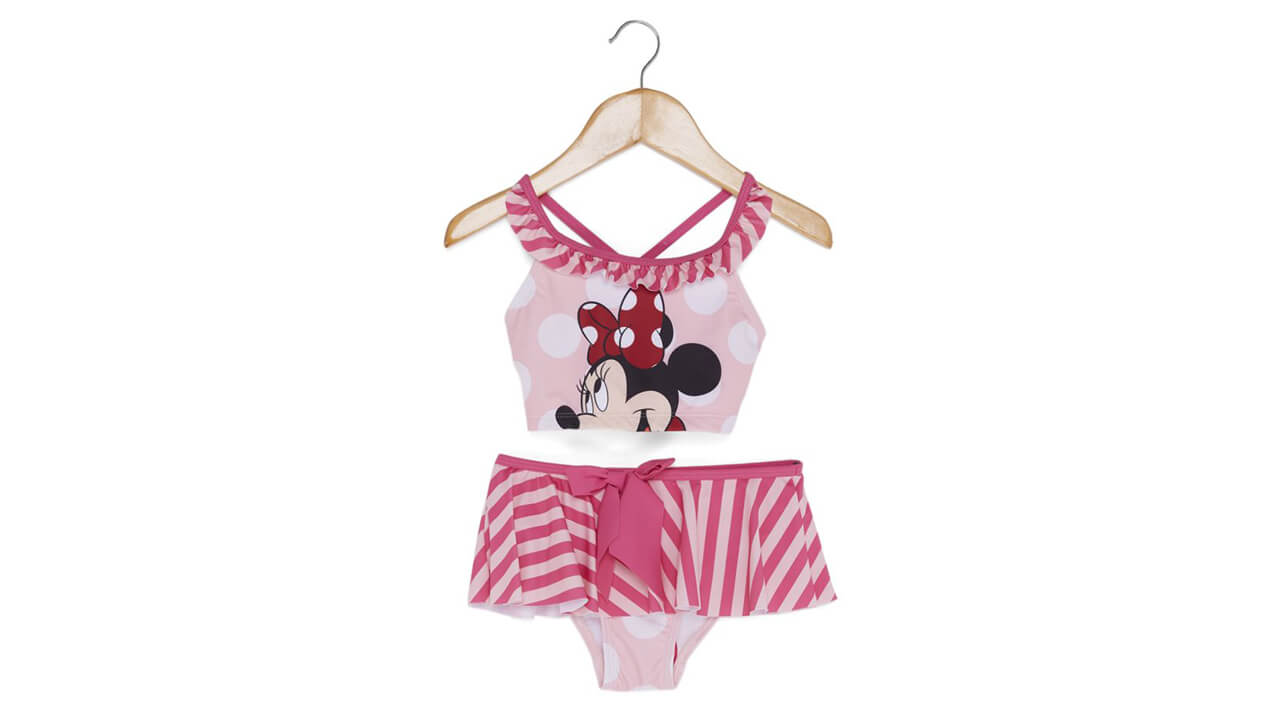 This one is for the little munchkin. If she is a Disney fan, she in for a treat. This swimwear two-piece set has her favourite Disney character 'Minnie Mouse' printed on it. It has a scoop neck, criss-cross straps, cute pink bow on the waistline and "Minnie" name printed on the back. The top and bottom of the swimsuit have a design of bright pink and white which gives it a girly flair. It is made of high quality and durable material making it ideal for swimming and beachwear. Your little fashionista will definitely want this one for the next pool party.
FROZEN Printed Swimwear One Piece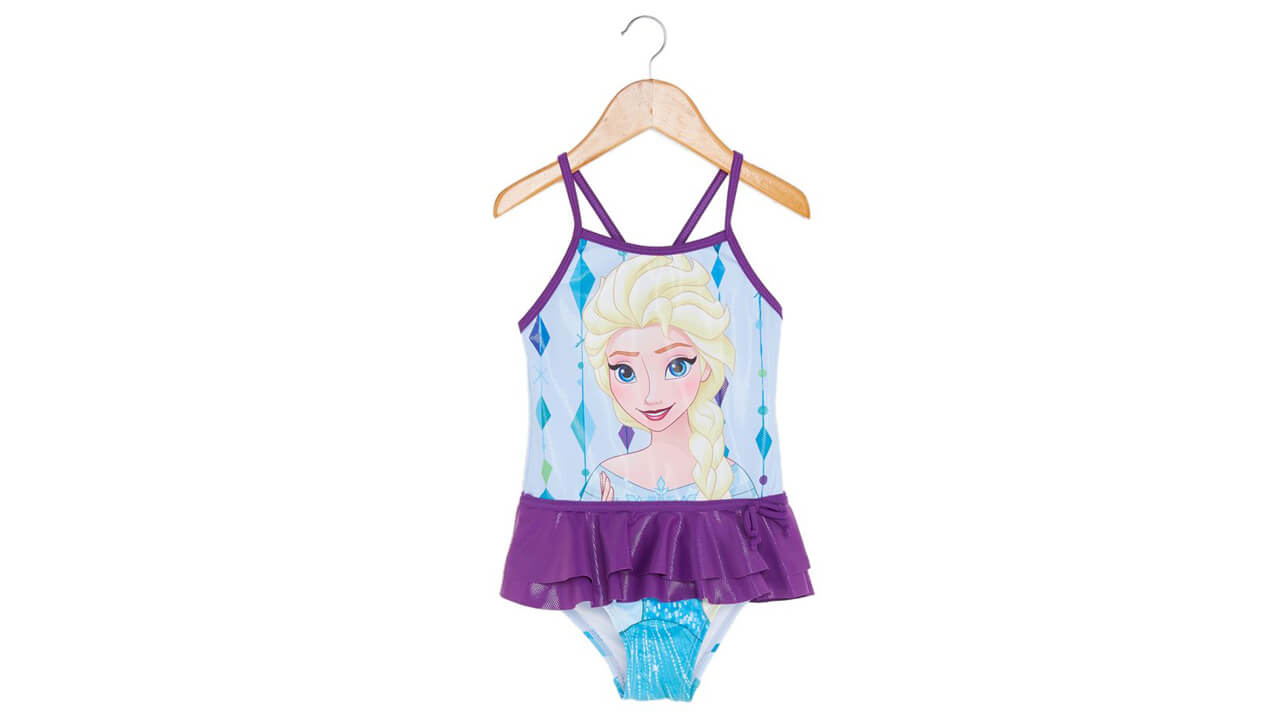 If your little one wants to feel like a Disney princess on the next beach or pool party, buy her this Frozen Printed One-piece swimwear. This fun summery swimsuit has a winter-inspired Frozen theme that features the Disney princess Elsa on the top part. The blue overall prints make the swimsuit stand out from the usual pinks. The purple ruffles along the waist-line add a girly touch to this swimsuit. It has a square neck and purple straps. Your little princess can have fun-filled Frozen adventure in the pool with this cute one-piece swimsuit.