Best Yoga Leggings Collection That Helps Ladies For A Stress-Free Session
Are you ready with your yoga mats to harness the power of yoga? If you are ready, then you also need comfortable clothes that are flexible and breathable. Yoga leggings are a must if you plan to do yoga. Yogis, please take note good quality and comfortable yoga leggings is directly proportional to the performance. There are numerous yoga leggings available online to choose from. You won't be having time to go through each and every website to choose the best yoga pants. We have done that tedious work for you.
ADIDAS High Rise Yoga Leggings
This yoga legging is made of stretchable nylon blend fabric (80% Nylon 20% Elastane) that really flatter your figure. They are machine washable, durable, fully opaque and resilient. These leggings are super flattering on basically any body shape. The thick waistband is particularly a good feature of this leggings because when you sit down, no lower back or crack show is there to embarrass you. The smooth and flattering waistband keeps everything tucked in and make your muffin top disappear. The elasticated waistband is to easy to wear and these pants put.
REEBOK Yoga Lux BOLD High Rise Tights
Be bold in every yoga routine with Reebok Yoga Lux Bold Tights. These bold tights let you stand out from the rest with bold prints. Crushed cobalt and Mineral mist are the available colour prints. These leggings have everything you look for in a yoga pant: stretchy fabric, elastic band and moisture-wicking ability that won't irritate your skin. These yoga tights are made of a recycled polyester blend that makes the fabric moisture-wicking and durable. It is smooth, stretchable and wicks moisture away keeping your skin dry. The flat elasticated waistband provides an adjustable fit and comfort. The high-rise waist gives you the most coverage and support.
ADIDAS BY STELLA MCCARTNEY Essential 3/4 Leggings
When it comes to yoga leggings, 3/4 length leggings are a very versatile length. They're made with a stretchy, smooth and breathable rich polyester fabric. Along with this, the cropped tights have breathable mesh panels for ventilation. The fabric has special Moisture-wicking Climalite technology used to help keep your skin dry. The sleek fit yoga pants keep you dry and comfortable throughout your high-intensity workout. The elasticated waistband for easy wear adds convenience for wearing and keeps these pants put. You get a handy zipper wallet pocket in the back area for keys or any small items to be kept. It has adidas x Stella Mccartney branding on the hip area.
ADIDAS WOMEN'S ALPHASKIN BADGE OF SPORT LEGGINGS
Most yoga leggings out there is just an item of clothing to cover your butt and legs. What if they could help you in a better workout. The Adidas Alphaskin Badge of Sport leggings for women offers a compression fit to deliver a supportive feel and manage heat and moisture. They increase blood flow to your lower muscles during exercise and thereby bring more oxygen to that area. This increases muscle energy to maximise power and acceleration. It also wraps your body for a locked-in and supportive feel. The compression doesn't in any way make you uncomfortable instead keeps the shorts in place so you don't have to constantly readjust. The leggings are made of 50% Polyester, 33% Recycled polyester and 17% Elastane double knit. The stretchy double knit leggings have mesh inserts at the calves to wicks away heat and moisture to keep you dry and comfortable throughout the workout routine.
NIKE WOMEN'S SPORTSWEAR HYPER FEMME GRAPHICS LEGGINGS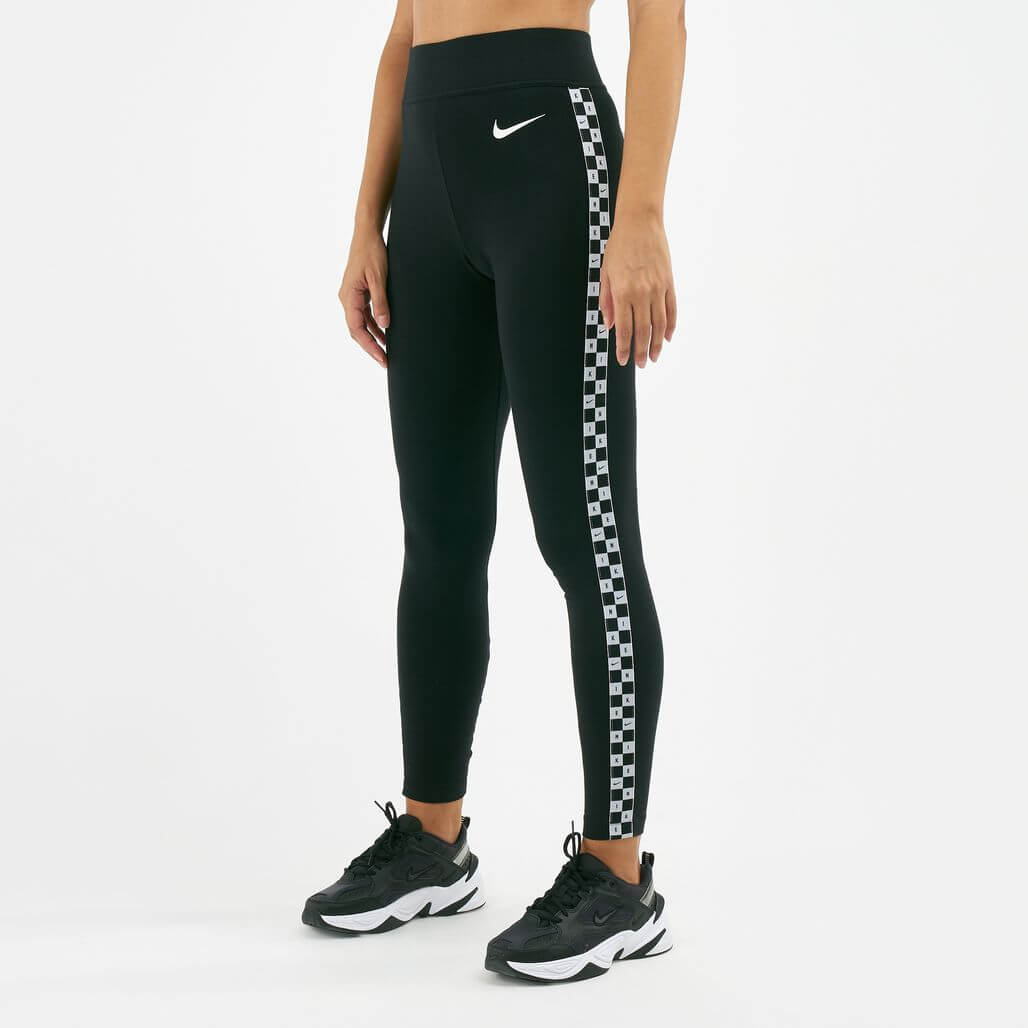 Nike Hyper Femme Graphics leggings are a comfortable choice for any style of yoga you practice. Made with cotton and elastane, these graphics leggings can also opt to lounge around the house in addition to wearing it during yoga sessions. They are soft and comfortable to wear also a little bit stretchy. It has a fun sporty look with checkered taping print bearing the Nike name on the left leg. There is Nike's swoosh logo on the hip area. The comfortable fabric has a good fit to the body but isn't tight. This legging is high-waisted with the flat band for a snug fit. The high waist stays up through all kinds of movement. You don't have to readjust every time you do yoga.
IVY PARK WOMEN'S ACTIVE LOGO ELASTIC TAPE LEGGINGS
If you prefer skinny-leg, pocket-free yoga leggings, go for the Ivy Park Women's Active leggings. It is a full-length legging made of 79% Nylon and 21% Elastane. It's lightweight, stretchy and breathable. The moisture-wicking and quick-drying make it a good option to be worn for hot yoga sessions. This full-length and high-waist legging gives you the most coverage and comfort. It looks seamless and flattering to make you feel stylish even in yoga classes. It features IVY PARK logo taping on the left leg. They are available in different colours like red, black. blue, orange and olive green.
UNDER ARMOUR WOMEN'S BREATHELUX PRINTED CROP LEGGINGS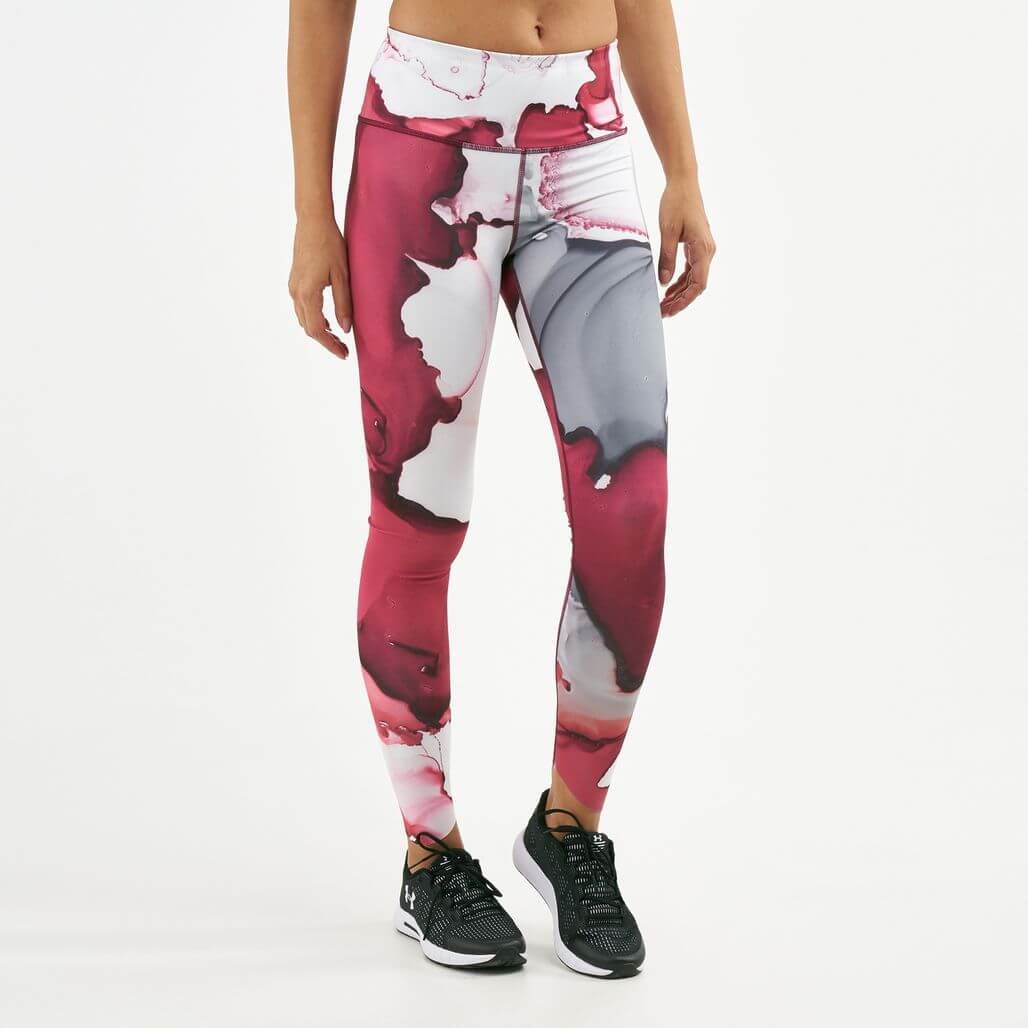 The moisture-wicking capability of this leggings wicks away sweat and dries really fast keeping you dry and comfortable always. One best thing about this leggings is that no two pairs look alike. Different prints show up on each and every pair of leggings. They also have a high-rise, wide, and elasticated waistband with Envelope back pocket designed into it for storage purpose. The high waisted leggings have a next-to-skin fit that won't squeeze you. Made of smooth and structured free fabric, it feels comfortable and delivers most coverage. These bold printed yoga pants feature angled cuff hem and advanced seam placement to prevent chafing. Its 4-way stretch construction allows you to move better in every direction.
UNDER ARMOUR WOMEN'S HEATGEAR ARMOUR ANKLE CROP PRINT LEGGINGS
Become the most stylish yogi by adorning the Under Armour Heatgear leggings. Available in different colours and subliminal prints, this yoga legging is as stylish as they are comfortable. The sweat-wicking properties and anti-odour technology of the fabric keep you fresh at all times. Also, the strategically placed mesh panels keep you cool even in hot weather and looks stylish. It has a wide waistband that keeps the leggings fit and secure during all kinds of movement. The flatlock seams on the inside provide chafe-free comfort. It is made of 87% Polyester and 13% Elastane.