Tips to Light Your Kitchen Aesthetically and Optimally
Your kitchen is your home's heart. From listing the grocery items to buy, prepping and cooking meals, helping your child with homework, and doing office work to entertaining guests and eating with the family, your kitchen helps you handle multiple roles. As a result, this absolute workhorse in your home needs to be well lit. Be it LEDs under the cabinet, wall-mounted sconces for extra lighting, or recessed downlighting, there are a lot of options to choose from. If you feel overwhelmed with such varied choices, the following tips and tricks can help you select the best lighting fixtures for your dream kitchen.
Types of Lighting to Learn About
Expert kitchen designers often say that the best and quickest way to give your kitchen a makeover is with the right lighting. Whether you want to transform your ordinary kitchen with a statement light or add a wow factor to the space, you can do it all and even more with diverse lighting options. Before you start your search to buy kitchen lights, you need to know about the three types of lighting:
Ambient lighting: Also called general lighting, it provides consistent illumination throughout your kitchen, independent of other lighting sources, thus letting you navigate throughout the space. Ambient lighting acts as your chief source of light, either in addition to natural light or to make up for its lack. Since ambient light bounces off the kitchen walls to illuminate the space as much as possible, you should try to cast it uniformly from your ceiling. To do so, you can use a mixture of (but not limited to) wall-mounted and ceiling-mounted fixtures, pendant lights, chandeliers, track lighting, LED downlights, flush mounts, and recessed lighting.
Task lighting: Your kitchen lit up by ambient lighting will often need focused lighting in particular areas to complete specific tasks. By lighting up your cabinetry and work surfaces, task lighting facilitates spotting the ingredients on your shelves, reading recipes, and rustling up meals. Puck lights and strip lights are popular task lighting options.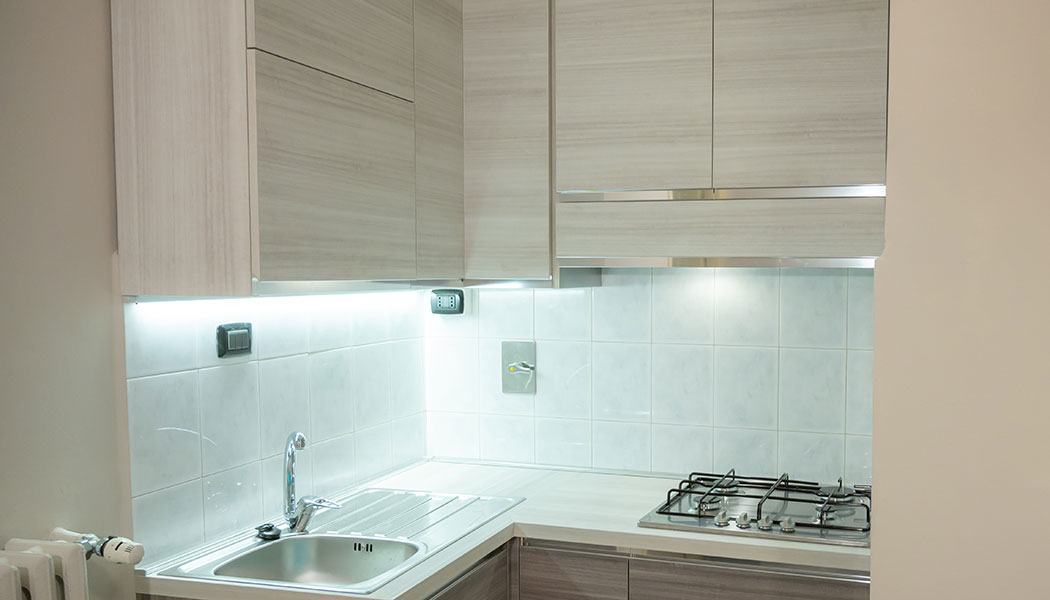 Accent lighting: With accent lights, you can illuminate particular points of interest, like your kitchen's architectural feature or decorative artwork. These lights could even help make your space appear bigger and enhance or complement your kitchen's overall decor. Depending on where you position your accent lights, they could even double as ambient lights or cross over into task lights as well. Cabinet lights, toe kick lights, sconces, track lights, and picture lights are common accent lighting options for your kitchen.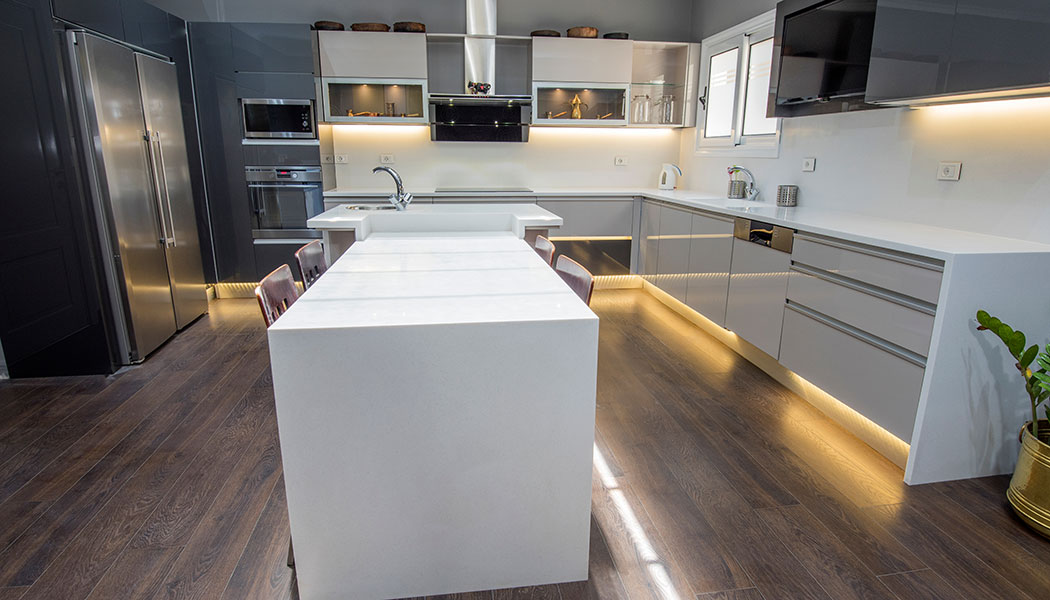 Tips to Light Your Kitchen's Key Areas
Now that you know the basic types of lighting, you should go ahead and light up under your cabinets, over your island, and find more ways to layer light in your kitchen to make the space feel inviting and bright.
Light up your kitchen uniformly with ambient lighting
The brighter and higher you go, the better it is to light up your kitchen evenly. Recessed downlighting is perhaps the most popular ambient kitchen lighting. Though a smaller kitchen can do with a solitary large flush mount ceiling light positioned in the heart of this space, those looking for a more customized lighting scheme should opt for recessed lighting.
If you need even lighting throughout your kitchen with high-use areas being well lit, you can grid out the lights in a linear fashion along the axis of your counters. For kitchens that are lit too bright, installing dimmers will be good as they let you exercise control in different lighting situations. If you don't want to light up a large space, flush mount or semi-flush mount lights can work well and even add a dash of style to your kitchen.
Illuminate key areas with task lighting
Under-cabinet lighting with focused light fixtures can act as task lights in the kitchen and illuminate the sink, over counters, and prep areas. With in-cabinet lighting, you can make it easier to search for pans and pots or showcase a collection of beautiful kitchenware housed inside open or glass cabinetry.
To illuminate your kitchen island, you can hang island pendants over the area, which typically come in a group of two or three. You may even hang a chandelier over your kitchen island as it provides direct task light to one of the most important prep areas in your kitchen. Usually, task lights hang directly from the ceiling and can be used with dimmers for enhanced functionality.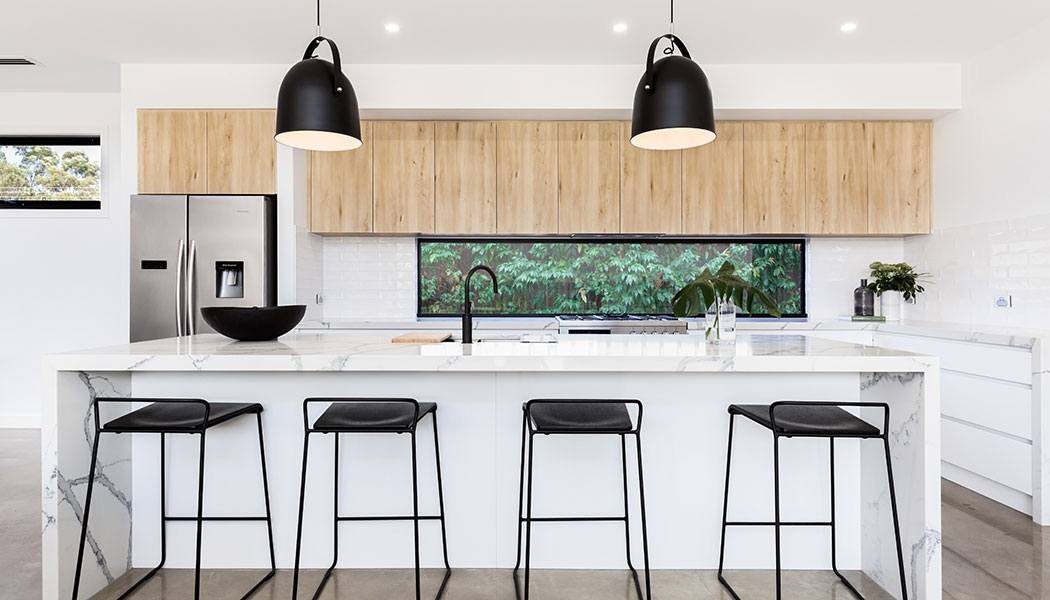 Add a gracious charm to your kitchen with accent lights
When positioned correctly, accent lights can help to highlight your favourite elements. If you plan to illuminate regions of visual interest, such as glass cabinets or open shelves in your kitchens, recessed lighting is the way to go forward.
To light up your space's accent decor and architecture, you can consider over-the-cabinet lights. Positioned between the ceiling and cabinet, these lights help add a dramatic touch to your space.
If you have an open kitchen layout that you want to distinguish from the rest of the room or need to illuminate a pathway in your kitchen, toe lighting through LED tape or rope lights is worth considering.
Use layered lighting to create a great ambiance
No solitary lighting fixture provides you with everything you require to illuminate your kitchen properly. That's why you need to use proper light layering by combining ambient, task, and accent lighting to bring your kitchen to life and enjoy every meal you have.
Since you already know the fundamentals of lighting, you can decide on the right layering layout and pick your light bulbs and lighting controls (such as dimmers) based on the type of mood you want to create.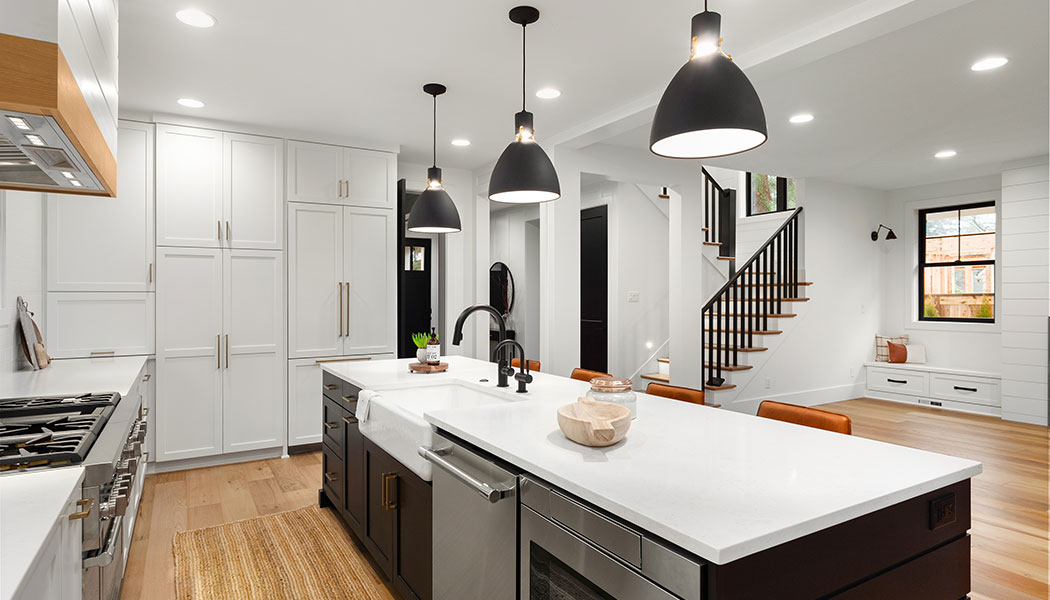 With these lighting tips and tricks, perhaps you already have adequate inspiration to light up your space aesthetically and even add to its functionality to make the most of your kitchen.