The Best Electric Cookers for Preparing Delicious Foods in the UAE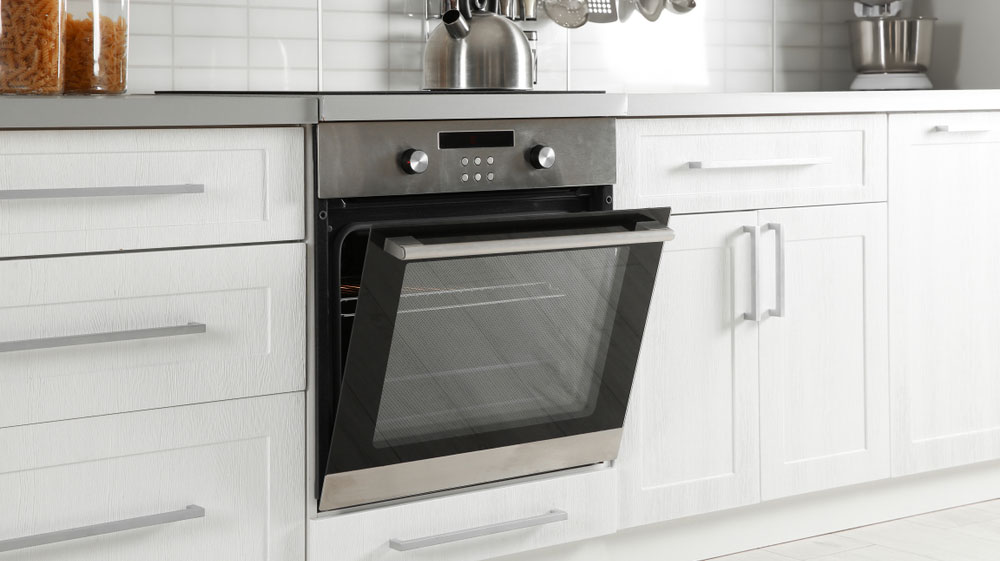 Cooking homemade food is both healthy and easy on the pocket. But homemade food shouldn't be bland and boring. By choosing the right electric cooker to fit your budget and meal preferences, you can cook a wide range of delicacies quickly with minimal sweat and mess. We bring you a list of some of the best electric cookers to buy in the UAE to ensure your healthy home-cooked meals deliver some much-needed variety to your table. But before getting down to business, you need to know how to choose the right electric cooker and use it optimally while focusing on its long-term maintenance.
Tips to buy
Type: Freestanding electric cookers are the easiest to install and most widely sold in the UAE. But you may even opt for slide-in ranges if you need a custom look and don't have budgetary constraints.
Size: Most pro-style ranges measure 90×60 centimetres and come with 5 different cooking zones. Some of these models even feature an extended cooking zone and a dual circuit. If you have space constraints, you should take the measurements to ensure your chosen cooker fits in your kitchen.
Capacity: If you want to grill or roast large food portions or often bake and entertain guests, you should select a cooker with a spacious oven – typically having a capacity equal to or more than 100 liters.
Other features: For ease of use and cleaning, you should look for features like timer, thermostat, roaster, rotary spit, multiple cooking functions, and self-cleaning with high heat, to mention a few.
Tips to use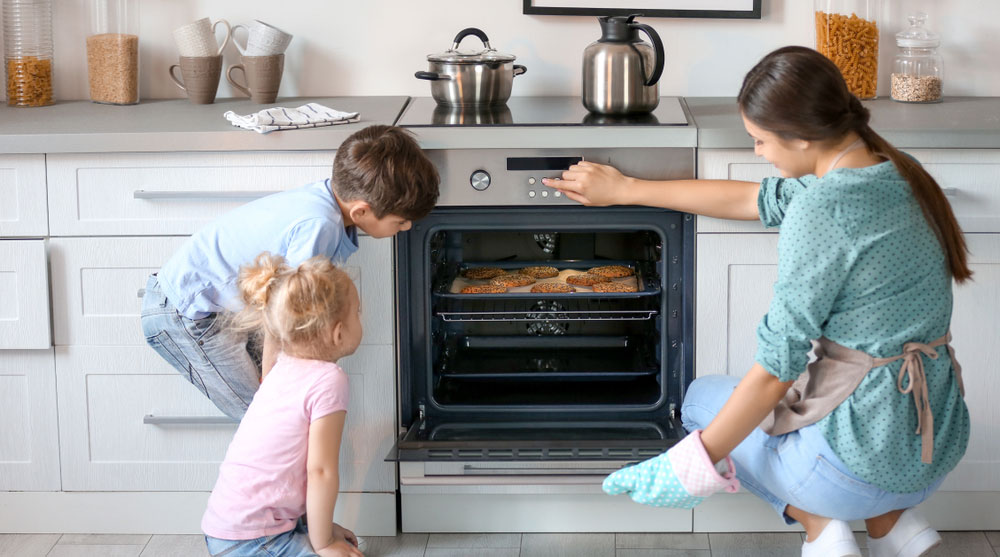 Use appropriate pans and pots: You should only use cookware that's compatible with your electric cooker. Typically, flat-bottom utensils made of copper, cast iron, aluminium, or stainless steel would be good to use though you should check the user manual to be sure.
Avoid sudden jumps in the heat range: You should avoid cranking the heat too low or too high all of a sudden. For instance, when trying to simmer your bowl of soup on the lowest heat setting, don't crank it to the highest setting suddenly because it could make the soup too hot and even boil over. It's ideal to work your way up or down gradually to ensure the burner has adequate time to adjust properly.
Be cautious with the burners: Since electric cookers don't have flames or smell of gas, you may not know if the burner is still hot. Accidental touching of hot burners could scald and burn. Thus, it's best to hold your hand several inches above the burner to feel if it's hot or not.
Tips to care
Avoid using cookware with sharp edges or dents as they're likely to scratch your ceramic or glass cooktop. You should clean your electric cooker's cooktop using a cleaning spray and wiper when it's completely cold. Avoid using abrasive powders or metal pads for cleaning. For knobs, nooks, and crannies, a damp brush or cloth would be ideal. If your oven has a high-heat self-cleaning feature, you can use it by keeping the oven on at the desired temperature that would burn or loosen the cooking spills and splatters, which can then be wiped clean once the oven is cold.
Here's a list of some of the best electric cookers to buy in the UAE that would definitely make things easier for you in the kitchen.
Seimens 90x60 CM 5 Ceramic Hobs Stainless Steel Cooker Oven with Large capacity oven 112 Liters HK9K9V850M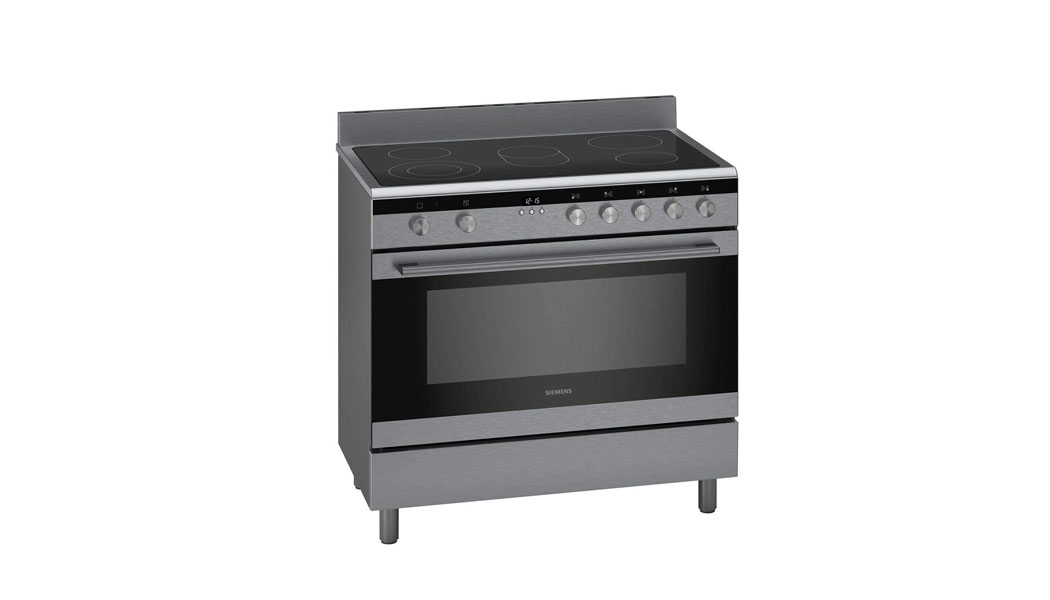 This glass-ceramic hob with adjustable feet from Siemens is made in Turkey and has 5 high-speed cooking zones, which include 1 extendable oval zone and 1 dual circuit zone of 2KW and 0.7 KW in the front left. Featuring 8 cooking functions along with a 5-stage residual heat indicator, this 112-litre multifunction oven with rotary spit is sure to make your kitchen duties faster, easier, and more efficient.
Bosch Serie | 8, 90X60 cm, 5 High Speed Ceramic Cooking Zones Electric Range Cooker, Stainless Steel - HKK99V850M, 1 Year Warranty
This freestanding full electric cooker from Bosch has 5 cooking zones with 1 extended zone and 1 dual circuit. You can use these 5 cooking zones simultaneously to cook different recipes quickly. For the oven, there are 8 cooking modes to let you rustle up various delicacies to satiate your taste buds. Thanks to the self-cleaning catalytic panels, cleaning the rear and side surfaces would no longer be a headache.
Beko 90 X 60 cm, 5 Ceramic Burners, Electric Multifunctional Cooking Range, Inox - GM 17300 GX
Made in Turkey, this 112-litre electrical cooker with 5 ceramic zones and a 111-litre oven designed for multifunctional cooking is sure to make your life in the kitchen easier and fun. With user-friendly features like a triple glass door, a digital timer, and interior lighting, this cooker takes care of safety, functionality, and ease of use to ensure you no longer dread stepping inside your kitchen.
Bertazzoni 90x60 Ceramic Cooker, PRO905VMFELXC, 1 Year Warranty
This ceramic cooker with a stainless steel square cooktop is made in Italy and has 5 individually-controlled cooking zones along with a multifunctional electric oven having a single fan. Features like a digital clock, knob controls, and self-cleaning make this device a must-have in every high-performing kitchen.
Terim 90X60 Ceramic Cooking Range, 9 Oven Function with Turbo Fan, TERVC96ST, 1 Year Warranty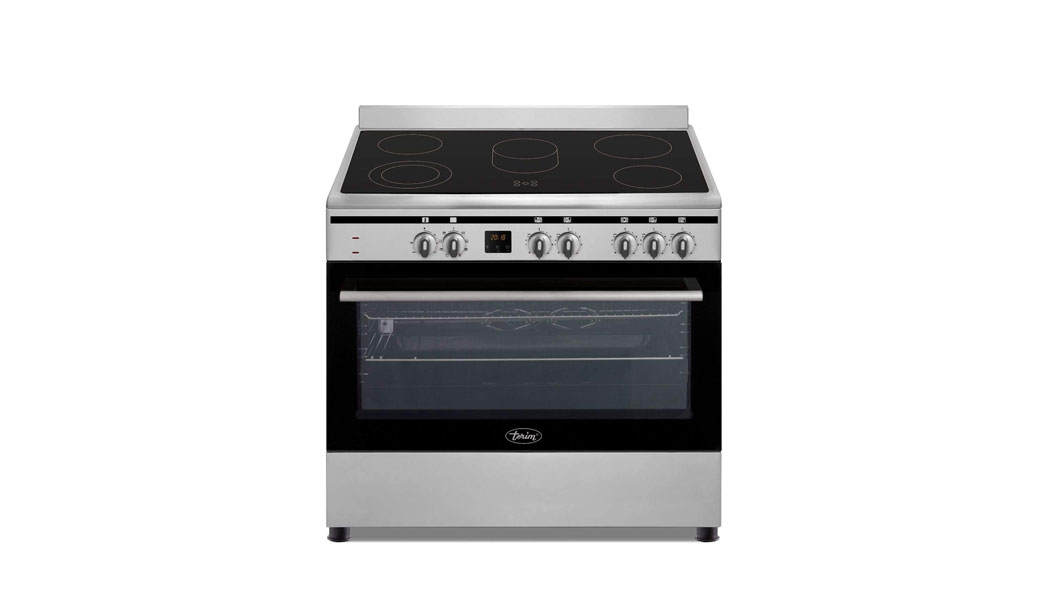 Featuring a 90X60 centimeter ceramic cooking range and a 100-liter oven with 9 cooking functions, this device can make you rustle up delicious dishes for both your family and guests with ease. There's a fan in the oven for quick and even heat distribution and a digital timer for setting your cooking time and getting alerted by the beep once the cooking cycle ends. Thanks to its catalytic/self-cleaning feature wiping away the greasy deposits is a breeze. With this cooker in your kitchen, you may start enjoying your kitchen duties rather than dreading them.
Bompani Stainless Steel 5 Ceramic Rings - Bo683dx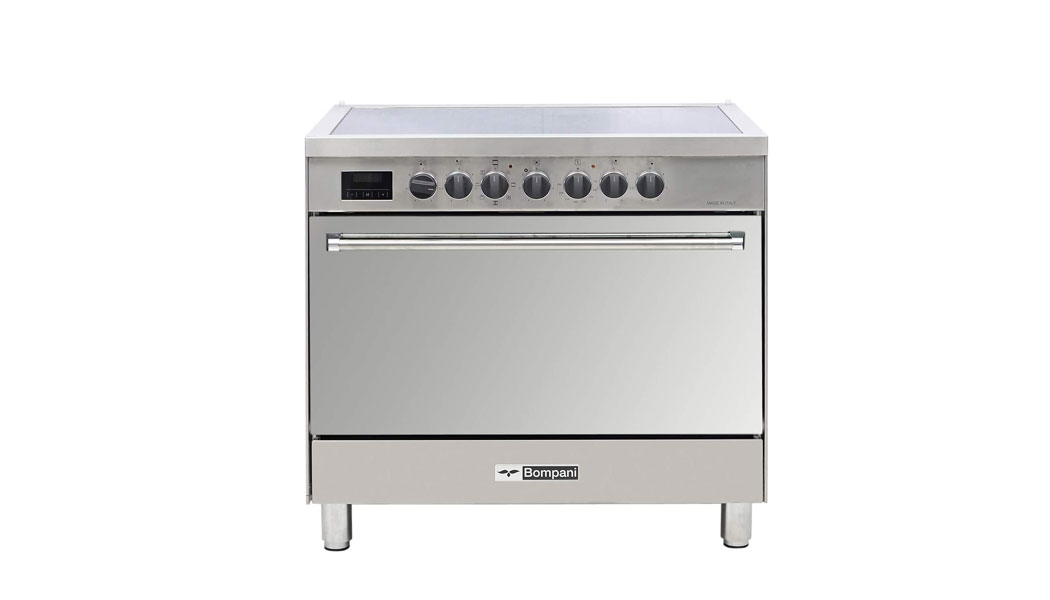 Made in Italy, this 90×60 centimeter ceramic cooker with a stainless steel finish comes equipped with 5 electric heating zones along with a built-in multifunctional gas oven and grill. With this cooker in your kitchen, you can prepare delicious dishes without sweating it out. To make your kitchen duties easier, this electric cooker features an oven grid, oven light and thermostat, roaster, digital timer with touch screen, a dripping pan, and a chafing dish compartment.
Tecnogas Superiore - Ceramic Cooker 90/60cm|133L Electric Oven With Convection Fan|N1X96EVTC |1 Year Warranty|Made In Italy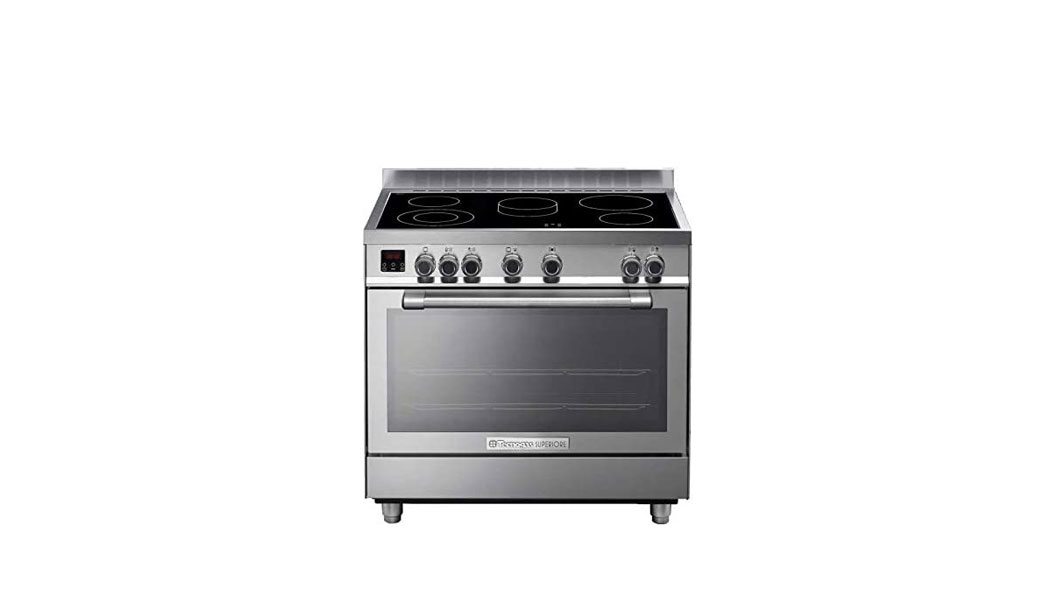 This freestanding 90/60 centimeter ceramic cooker is made in Italy and has 5 cooking zones. It features a 133-liter electric oven with convection fan for safe and closed-door grilling. Take your cooking to the next level safely with its useful features like 60-minute minder, digital timer, chrome side-racks and knobs, and removable oven glass. This cooker comes with accessories that include a dish warmer, an enamel tray, and two wire shelves.
Bosch Electric Cooker 90 cm, Glass ceramic hob, HCB738357M, 1 Year Warranty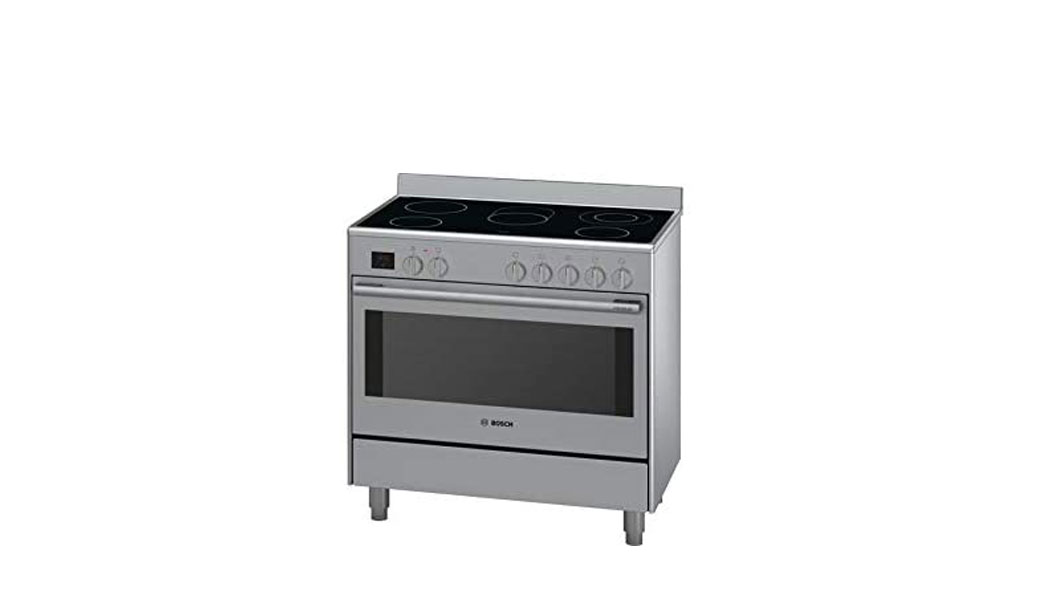 The electric cooker has 5 high-speed ceramic cooking zones with an extendable oval zone and a dual circuit zone for faster and efficient cooking. Its 112-liter multi-function oven has 8 cooking functions to make cooking massive quantities of dishes at one go a simple affair. For ease of use, this cooker features a rotary spit, electronic clock, oven interior light, shelf support rails, and catalytic back and side liners.