The Best Cookware Organising Solutions For a Neat and Uncluttered Kitchen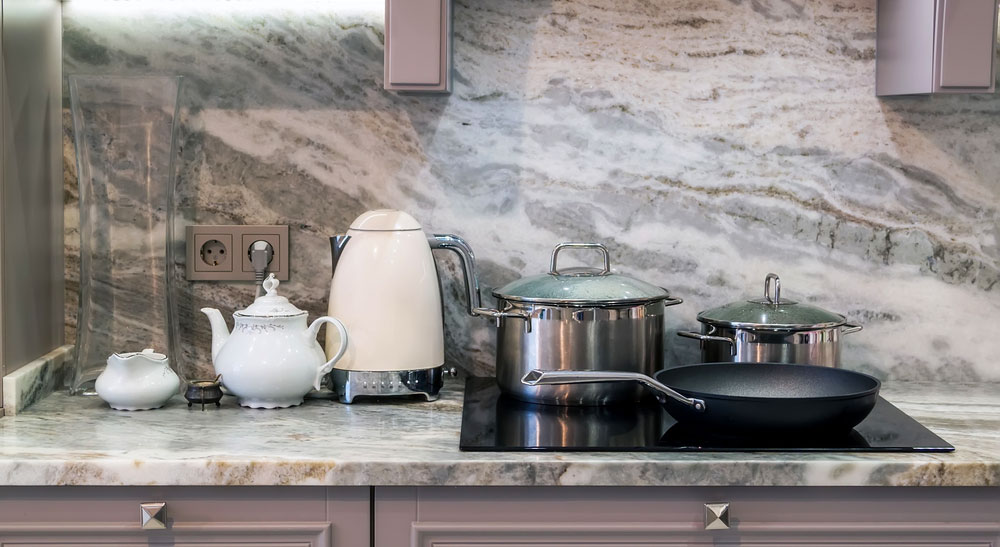 Cookware is available in a variety of shapes and sizes and keeping them organised is often a big challenge. They are large and bulky and it takes a bit of creative thinking to get all your pots and pans tidied up so you can work in the kitchen easily. Given below are a few organising ideas which will help you to store your pots and pans for a neat and uncluttered kitchen.
Organising tips for a tidy kitchen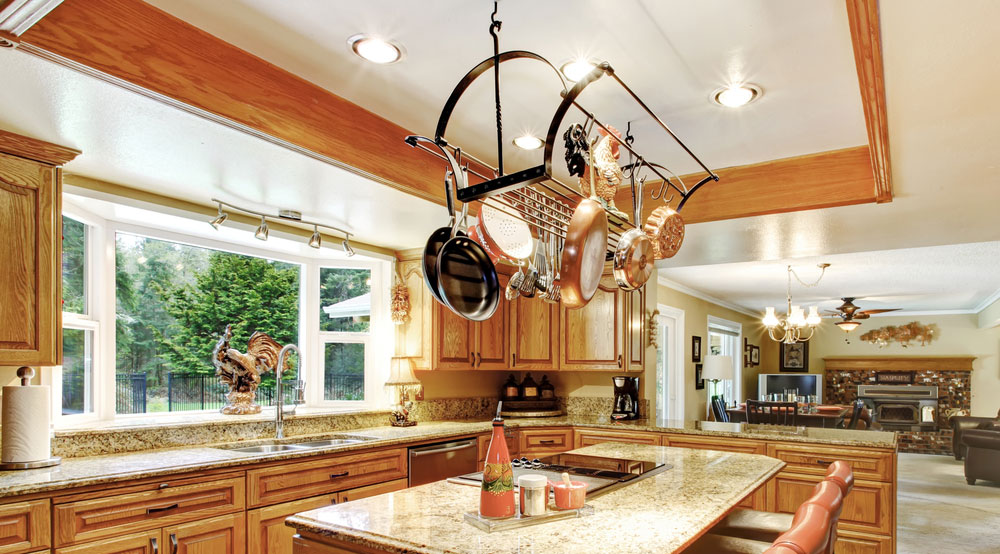 Sort the items – A lot of times we have quite a few kitchen equipment which we rarely, or never, use but are not willing to part with. The first step to organising all your cookware is to sort through these items and make sure you keep only those items which you use most often. There may be a few pots and pans which are required for special occasions. These can be stored away until they are needed. For the rest, donate or recycle.
Invest in pot rails – Pot rails are bars which can be fixed on your wall, ceiling, door or even across your window to hang pots and pans without taking up cupboard space. Hang pot rails and slide the lids onto the rails too to save space and hang your pots and pans without fuss.
Stack lids and pans separately – Nesting your cookware with the lids sounds like a great idea to get organised but does not work well in practice. Stack the pots and lids separately for maximum space utilisation and better organising.
Use hooks to your advantage – Hooks stuck or inserted into walls, by the side of cabinets or behind doors are great for hanging all kinds of cookware so that they can be stored neatly and can be accessed easily too.
Install a slide-out drawer – A slide out drawer is great for keeping all your utensils neatly out of sight without making it difficult to access them.
How to maintain your pots and pans
Once your kitchen is organised, it is time to turn your attention towards maintaining your cookware so that they last longer. Here are a few useful tips for doing that:
Consider the cookware material – The maintenance of your cookware depends on the material. Hard stains will need to be removed by hand using a scrub pad and detergent. Stainless steel is quite safe to put in a dishwasher. Cast-iron cooking utensils should never be cleaned with soap. Use salt to scrub off stains and rinse. Ceramic or other coated cookware should be soaked to loosen food particles. Avoid using scrub pads on coated cookware. It is better to wash them in a dishwasher.
Avoid metal kitchen tools – Metal tools can scratch cookware. Use wood or silicone tools instead.
Don't put acidic foods in cast-iron cookware – Acidic foods such as tomato or lemon can eat through cast-iron. Avoid cooking such acidic foods in cast-iron. It is better to use stainless-steel instead.
Store coated cookware without stacking – Don't stack coated cookware on top of one another as it can scratch or chip the coating. It is better to hand them. If at all you need to stack your cookware, use a protector such as a piece of cloth or paper towel in between.
Good quality pots and pans are an investment and proper care will ensure that they last for a long time.
The best cookware storage options in the UAE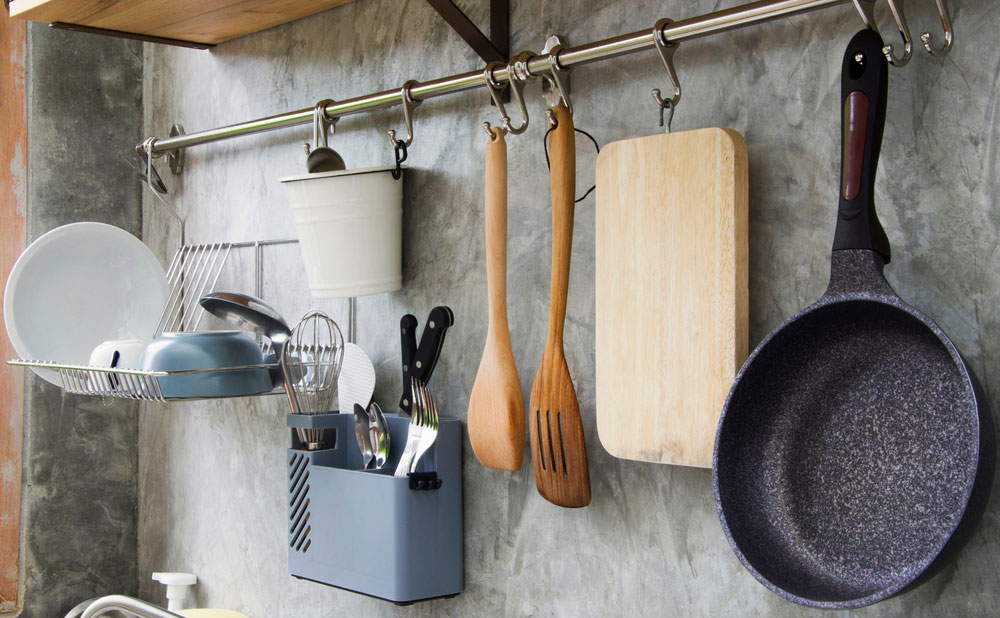 Keeping all this in mind, take a look at some of the best storage options for pots and pans in the UAE:
Goolsky Pan Holder Pot Lid Rack Pan Organizer Pan Lid Cover Cabinet for Pots and Pans 5-layers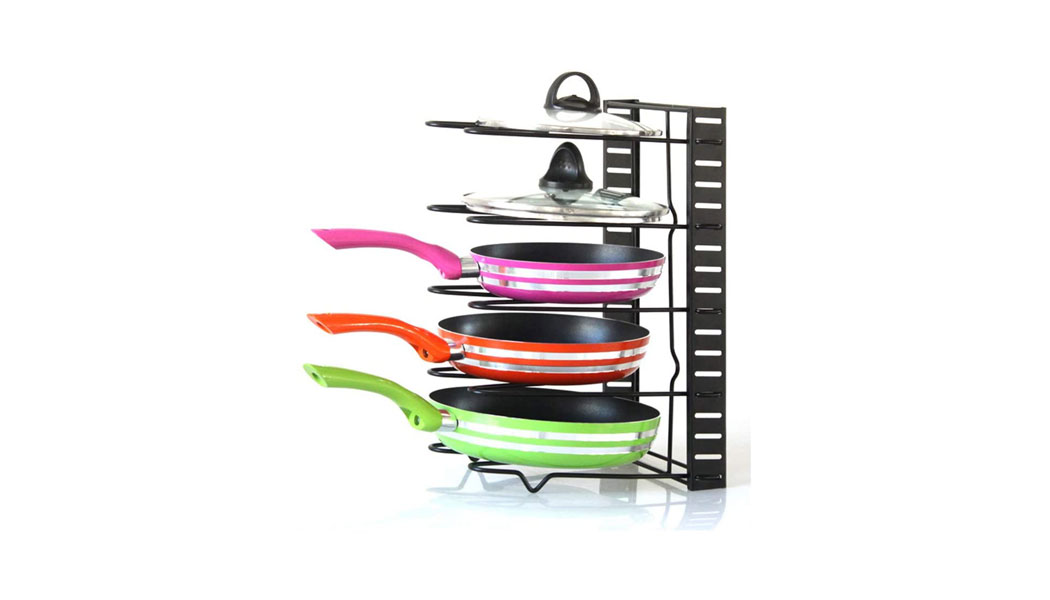 This cookware organiser from Goolsky features several racks which can be used to store pots, pans, lids, cutting boards and other kitchen tools in an organised manner. Made from iron with a non-scratch coating, this is perfect for small kitchens.
Rness Pan Organizer Adjustable Holder, Pot Stand for Cabinet and Counter 3 DIY Mode 8 Tiers Non-Slip U Shape Groove with 3 DIY Mode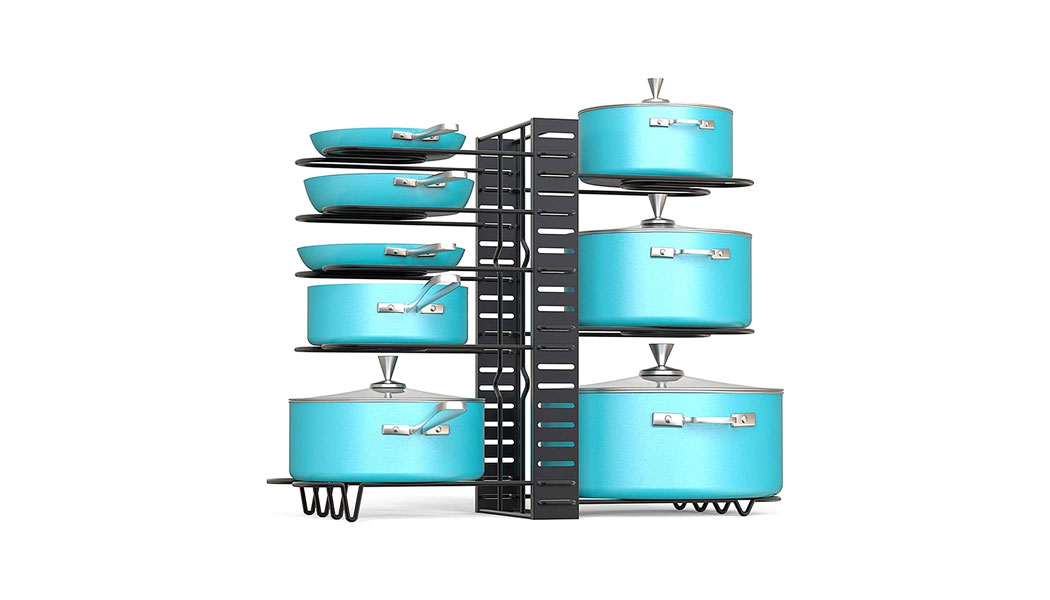 This 8 tier organiser from Rness features adjustable racks so you can use it to keep pots and pans of various sizes neatly. It is easy to assemble in 3 DIY methods and comes with non-slip brackets which ensure your cookware is secure.
mDesign Pot and Pan Rack - Versatile Kitchen Organiser Suitable for All Homes
Keep a Tidy Kitchen with this Dynamic Saucepan Storage Unit – Chrome/Silver – This handy saucepan rack offers easy storage in a minimalist style. The space-saving design features 6 slots to hold pots, pans and lids. It can fit into cupboards or shelves easily and is made of durable materials for long-lasting use.
The best cookware options available in the UAE
A kitchen is incomplete without the right set of cookware for all kinds of dishes. Here are a few great options in pots and pans for you to choose from:
Brabantia Sapphire 5 Ply Stainless Steel Fry Pan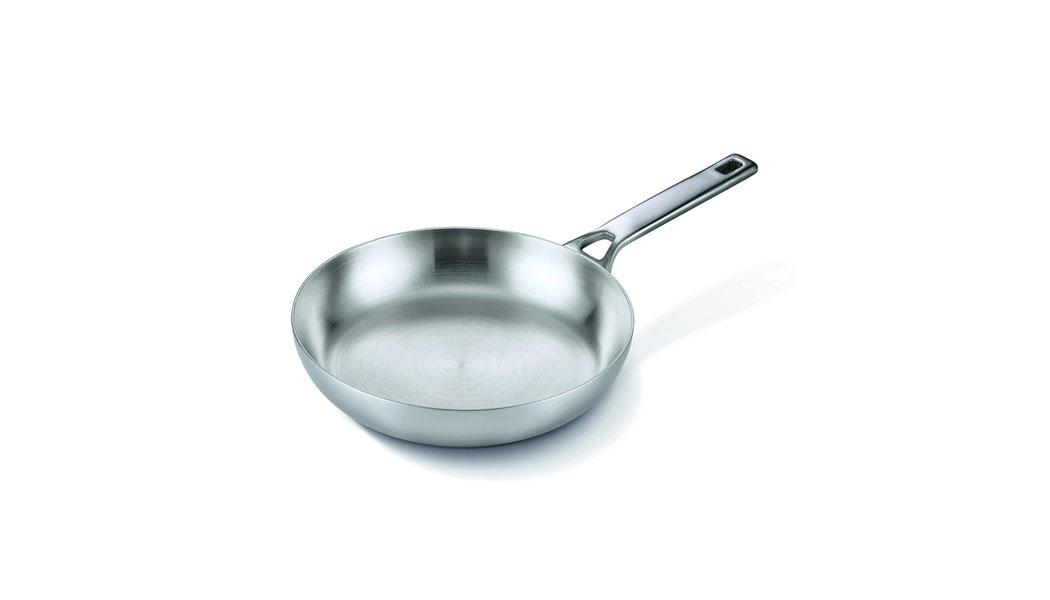 This Brabantia frying pan is made of 5-ply stainless steel which ensures easy and even heating without sticking. It is oven and dishwaser safe making cooking and maintenance very easy.
Tefal Expertise 20 cm Casserole Stew Pot/Cooking Pot With Lid, C6204472, Black, 2.9 Litres, Aluminum Non-Stick Induction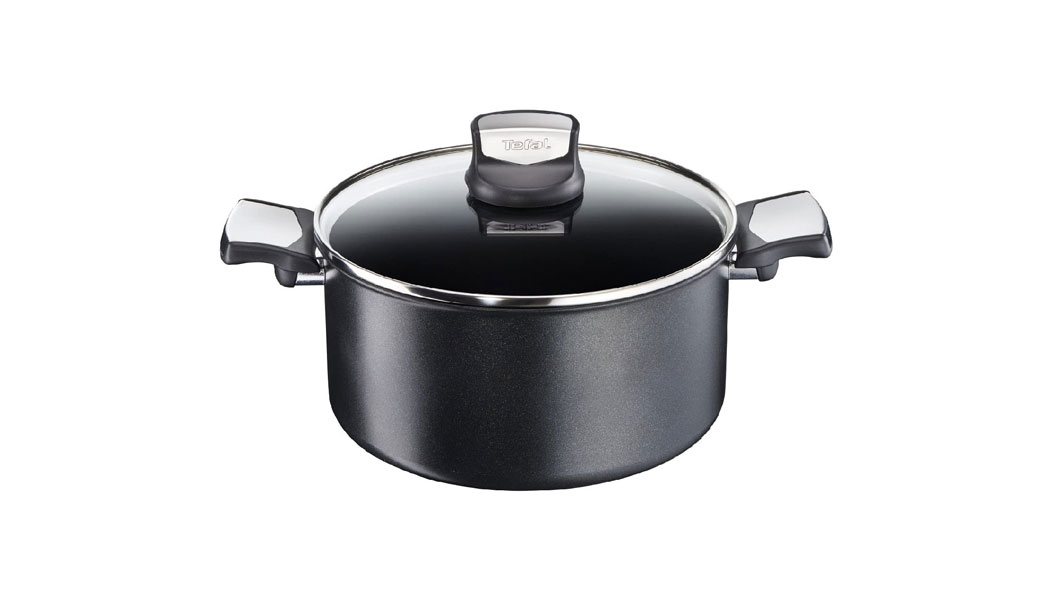 This stewpot features Thermo-Spoit technology which notifies you when the vessel has reached the optimum temperature for cooking. The technology ensures perfectly cooked food with better taste, colour and texture. This stewpot can be used on gas as well as induction stove. It has a 100% safe non-stick coating which is also easy to clean.
Puricon 5.5 Quart Enameled Cast Iron Dutch Oven, Round Ceramic Enamel Dutch Ovens Pot -Red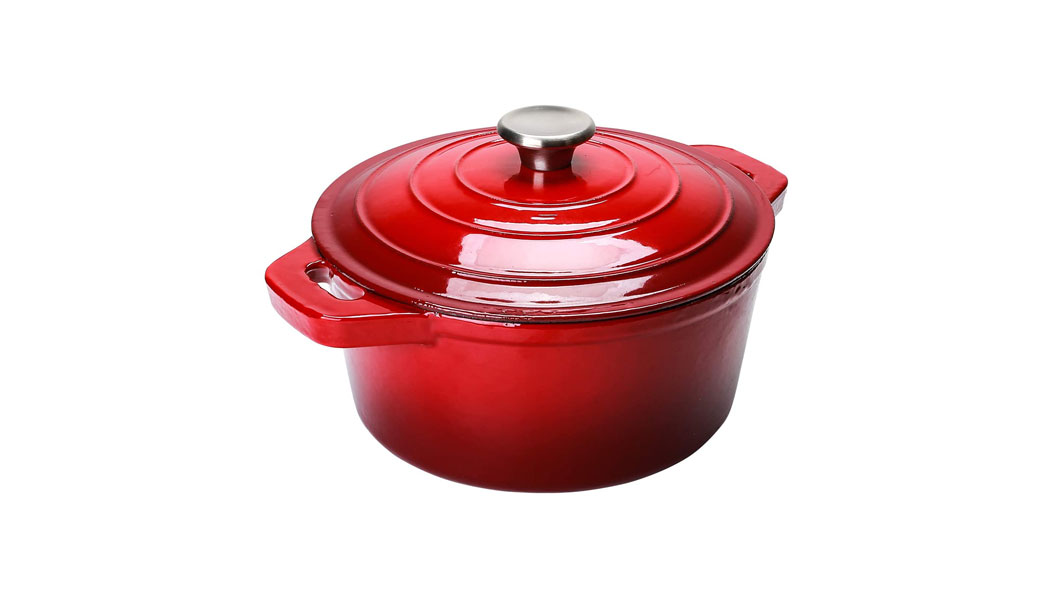 This enameled cast-iron dutch oven is perfect for braising, baking, broiling and satueeing. A heavy-duty core provides excellent heat distribution and retains heat for longer. The enamel surface is non-reactive making it perfect for storing food too.
Lodge 5 Quart Cast Iron Double Dutch Oven, Black
A double Dutch oven works as a roasting dish and a skillet in one pot. This cast-iron piece from Lodge has excellent heat distribution and retains the heat consistently for even cooking. This double Dutch oven has a easy-relase finish and comes seasoned for use as soon as you purchase it. It is versatile and durable and will last for generations.
Berghoff covered stay-cool 2-handle sauté pan grey 28 cm
Bring home this Berghoff saute pan for use on all kinds of stovetops. It features a cast aluminium body which heats quickly and gives you energy-efficient cooking. The stay-cool handles makes the pan easy to handle during cooking. The lid is integrated with different sized straining areas and the lid can be placed vertically so your hands are free to cook.