How To Choose The Best Juicer For Your Kitchen
Juicing is a viable means of fitting your recommended intake of fruits and vegetables into your daily diet easily. The best juicers are easy to operate therefore encouraging you to try out a variety of produce by combining flavours and trying out new and delicious drinks. While you can always buy fresh juices from juice bars or shops, it always pays to have a juice extractor machine at home so that you can drink your favourite beverage at any time of the day. So, shop for the best-rated juicer in the uae to enjoy the taste and health benefits of fresh juices daily.
Buying a juice maker machine is an investment in your health. With a huge variety of models available on the market, you need to be sure that you buy the best juice extractor machine in the uae to meet your needs. Well, our buyer's guide will help you in identifying the best juicer for home use for you.
How to choose the best juicer for your kitchen
Drinking fresh juice has several benefits. Not only does it allow you to increase your fruit and vegetable intake easily, the micronutrients and antioxidants of the ingredients used are more readily absorbed by the body in liquid form. Regular consumption of freshly-made juice helps in building a strong immune system, boosting energy and goes a long way in helping with weight management.
Types of juice makers in Dubai and the UAE
There are four main types of fresh juice machines available. To make an informed choice you need to know the functions and features of each type.
Citrus juicers – citrus juicers are the simplest type of small juicer machines, meant for pressing out juice from citrus fruits. Citrus juicers are extremely affordable but limited to juicing citrus fruits only. Also, citrus juicers can make only single portions of juice at once.
Centrifugal juicers – also known as juice extractors, these are the most popular type of juicers available in the market. Centrifugal juicers use sharp blades which move extremely fast to chop up the ingredients. The chopped pieces are passed through a mesh filter to remove the pulp from the liquid. The amount of juice yielded in a single batch is low, but the machine allows you to continuously add ingredients thereby getting the required quantity of juice. Centrifugal juicers work fast, but they are not good at extracting juice from herbs or leafy vegetables. Also, the heat used in the juicing process destroys many essential nutrients present in fruits and vegetables.
Cold press juicers – also known as masticating juicers, cold press juicers are single gear juicing machines that are popular due to the high amount of nutrients retained once the juice is extracted. This type of juicer works by crushing the fruits and vegetables to squeeze out the juice. Cold press juicers work slowly but are better at getting juice out of a wider range of ingredients including leaves and herbs. They can also be used to make nut butter or baby food. Juice from cold press juicers are better for health but these juicers are quite expensive to purchase and time-consuming to operate.
Twin-gear juicers – twin-gear juicers, also known as triturating or dual-gear juicers, produce the best quality of juice with the highest amount of nutrients. This type of electric fruit and vegetable juicer uses two interlocking gears to press the ingredients and squeeze out the juice. They work even slower than cold-press juicers but the yield is quite high. The juice extracted from this type of juicer stays fresh for longer. Twin-gear juicers are the most expensive kind of juicer available and they have a limitation when it comes to citrus fruits which cannot be properly processed by these machines.
Features to look for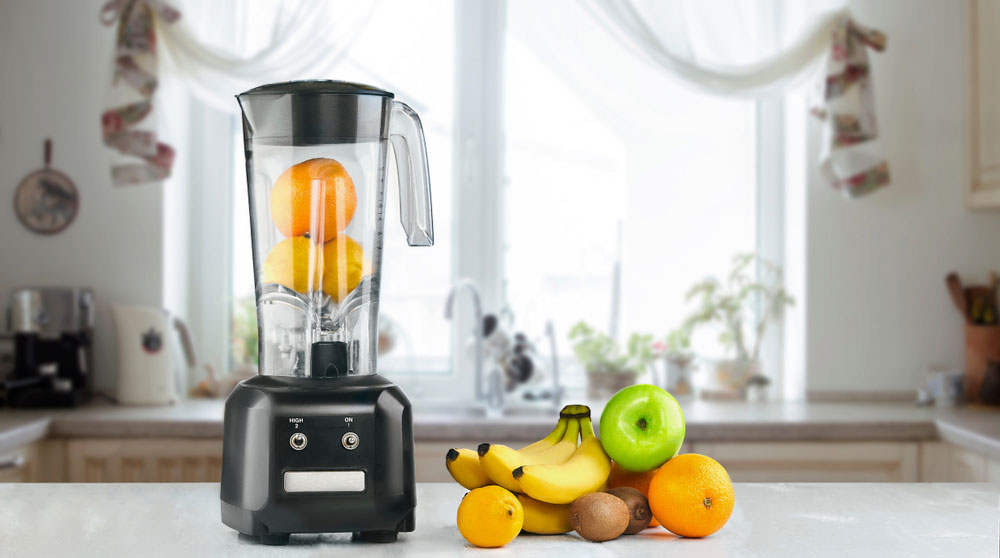 The best fruit juicers available today come in varied makes and models. Here are a few key features you need to consider when buying a fruit juicer online in Dubai or the UAE.
Juicer type – your juice drinking habits is the determinant of the kind of juicer you purchase. If you are someone who loves orange juice but is not interested in any other kind of juice, then a simple citrus juicer should suffice for you. If your family is very health conscious and regularly juices all kinds of fruits and vegetables to meet their nutritional requirements then a cold-press juicer or a twin-gear juicer may be what you need.
Size and capacity – counter space is an important consideration in most kitchens. The juicer model you purchase shall need to fit into the allotted space. Additionally, the machine should be able to yield enough juice to meet your family's requirements.
Maintenance – despite all the benefits of having a juicer, cleaning it is quite a task. The best juicer machines usually involve several small parts which need cleaning individually. This is especially true of high-end models which have numerous small parts that need to be taken apart and cleaned. Juicing any ingredient will also leave you with a good amount of pulp and bits of leftover skin. While some juicer models require the user to scrape the waste out of the main juicing unit, other models come with a collector bin which makes clean-up easier. Your choice should be made keeping in mind how much time you can devote towards maintaining the appliance.
Speed – cold press and twin-gear juicers take a lot of time to extract juice but give you more nutritious juices. Centrifugal juicers are fast but the juices lack many essential nutrients. Citrus juicers are usually manual which means you need to put in some hard work into getting the juice out. These are important points to keep in mind when choosing a juicer.
Multiple settings – different fruits and vegetables require different speeds for juicing. Soft fruits such as grapes and citrus fruits give the most yield at a slow speed. Firmer vegetables such as carrots and cucumbers need higher speeds. A juicer which has multiple speed settings will let you get the juice out of a wider variety of fruits and vegetables.
Noise – usually centrifugal juicers are quite loud whereas cold press and twin-gear juicers work silently. Citrus juicers make little to no noise at all. If you are easily disturbed by noisy appliances then these are things you need to consider as well.
Price – as with any appliance, the juicer you choose should fit your budget. Keep in mind the upfront cost of the appliance versus the amount of juicing you will do. If you are an occasional juice drinker then it makes no sense to invest in a high-end juicer. However, if health is your main concern and you drink juice every day, then investing in a cold press, or twin gear juicer makes perfect sense.
The best juicer brands in the UAE
No matter what type of juicer you choose, you can get the best-rated juicer machines in the uae. The most noted brands include names like philips, smeg, black & decker, kenwood, braun and bosch. You can get any model of your choice at the best juicer machine price in Dubai and the UAE.
Panasonic 800W, Juicer with full metal spinner, glass blender jug and mill (Model MJDJ31)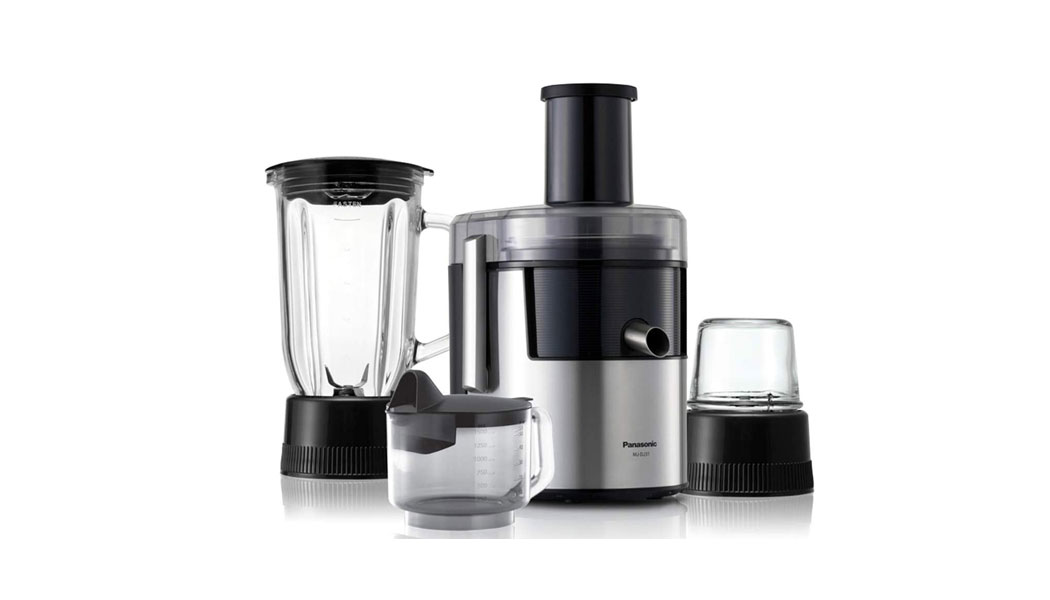 This 3-in-1 juicer combines a juicer, glass mill, and glass jug blender in a stylish stainless-steel body to become a useful addition to your kitchen. It features a 1.5-liter juice cup and a 2-liter pulp container. Its feeder tube with a 75-mm diameter can accommodate whole fruits and vegetables to deliver healthy, refreshing juices for you. To facilitate powerful juicing, it comes with a maximum locked wattage of 800W. Thanks to its 2-speed juicing, you can now juice both soft and hard fruits easily. This juicer's S-shaped, low-angle cutter holds the fruits firmly in their place while the centrifugal force at work helps eject the pulp, which is separated from the juice by the fine filter mesh. With a 120-degree anti-drip rotatable swivel sprout, this juicer lets you pour the juice easily in different directions.
Kenwood Pure Juice Pro Slow Juicer, Silver, JMP800SI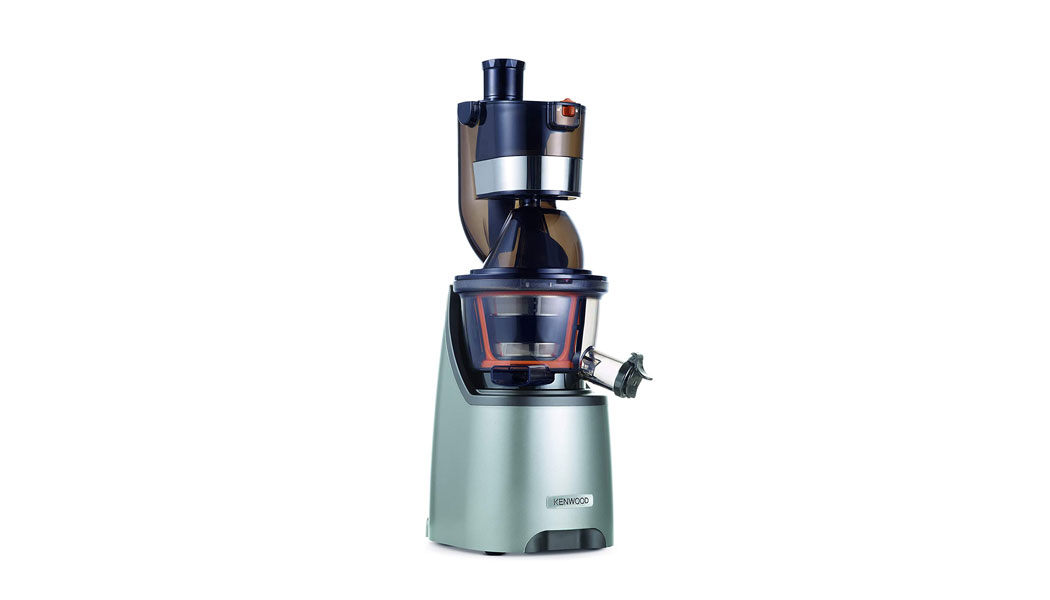 With this Kenwood juicer having a two-way rotation facility, you can now enjoy delicious and refreshing juices where 40% more nutrients are preserved in their natural states than traditional juicers. Featuring a 60 RPM low-speed motor, this juicer helps preserve the natural flavor of fruits and vegetables that are being juiced while preventing heat and oxidation of crucial nutrients even when it's in use for a long duration. Equipped with a powerful 240W motor and having a capacity of 1.5 liters, it boasts of a high extraction rate of up to 80%, which is 30% more than traditional juicers. For easy separation of pulp from the juices, there's a pulp ejection system and a pulp container. This juicer is easy to clean and comes with an anti-drip design to facilitate safe use.
Braun Juice Extractor, Silver, 75 mm, J 700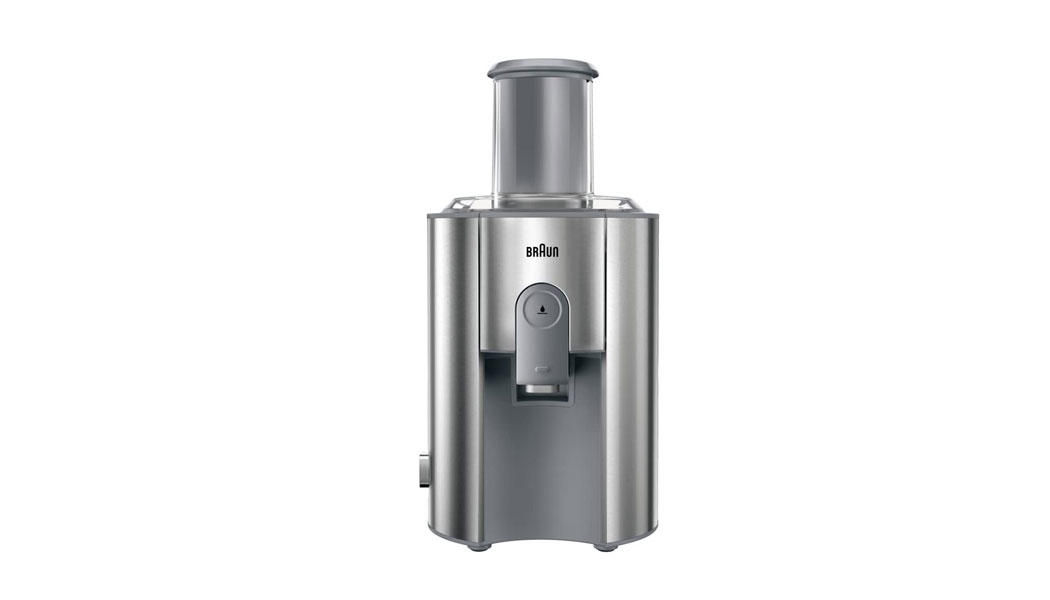 You can now switch to a healthier lifestyle by having fresh fruit and vegetable juices made using the Braun J700. Powered by a 1000W motor for efficient and quick juicing together with a 4-way automatic safety switch-off to prevent accidents, this device is a joy to possess. As this juicer comes equipped with a large 75 mm chute along with a drip stopper, spout, pulp container, and 'pusher', you can juice whole fruits and big vegetable chunks without the need of cutting them. The presence of a foam separator and micro-mesh sieve made of stainless-steel help remove any foam and pulp, thus ensuring you can easily separate the juice from the foam while pouring. To facilitate minimum mess in your kitchen and easy cleaning, this juicing system comes with a unique anti-grip system and dishwasher-safe components.
Philips Avance Collection Juicer 1.5 Liter, HR1922/21, Grey, 1 Year Brand Warranty, UAE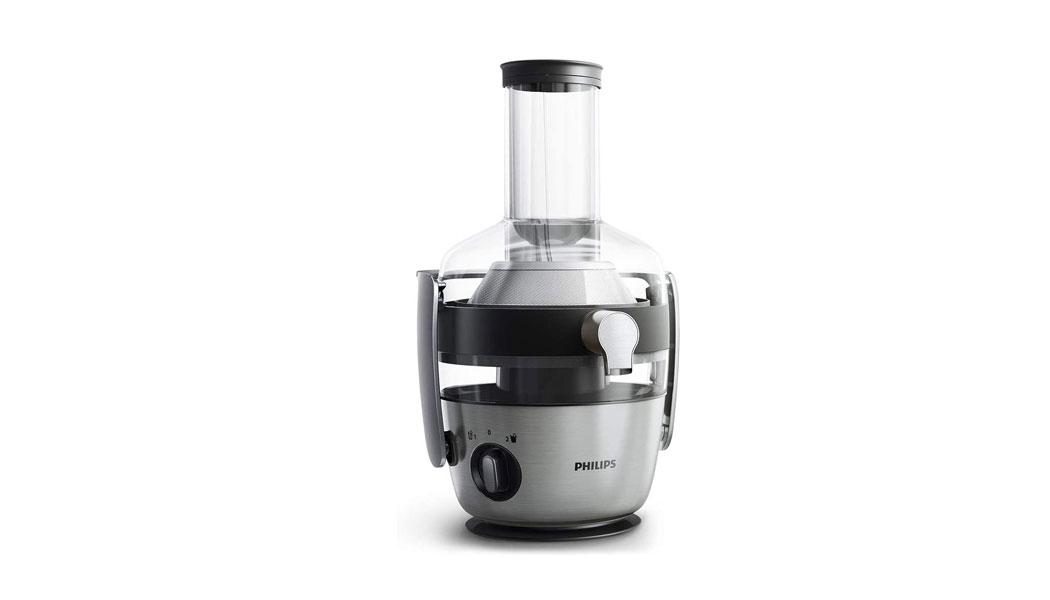 Enjoy healthy and refreshing juices and smoothies made from some of the toughest vegetables and fruits with this juicing system powered by a 1200W motor. With an 80mm XXL feeding tube suitable to fit large fruits and vegetables, it lets you enjoy quick juicing. Armed with ProBlend 6 blending technology, this juicing system delivers finer results. Its FiberBoost technology lets you choose your juices' texture and have up to 50% additional fiber. While multiple juicing speeds help you enjoy juices from both hard and soft ingredients, the pulse function facilitates smoother blending. Philips' unique pre-clean function makes it easy to rinse your juicer clean with water after every use. The polished sieve too is easy to clean with a kitchen sponge. An easy-grip control dial and an integrated drip stop ensure safe usage with minimal mess in the kitchen.