How to Choose the Best Food Chopper to Meet Your Needs
A good food chopper is an indispensable tool in the kitchen. It can be used to slice, dice, chop, shred and perform many other functions within a short time which would take much longer if done manually. It does not matter if you are a seasoned cook or just learning the basics of cooking, putting aside the time to chop up and prepare daily meals can get tiring. Food choppers tackle the problem by taking care of the meal prep in an easier manner. From herbs to meat, food choppers make quick work of all ingredients saving you tons of effort.
Benefits of using a food chopper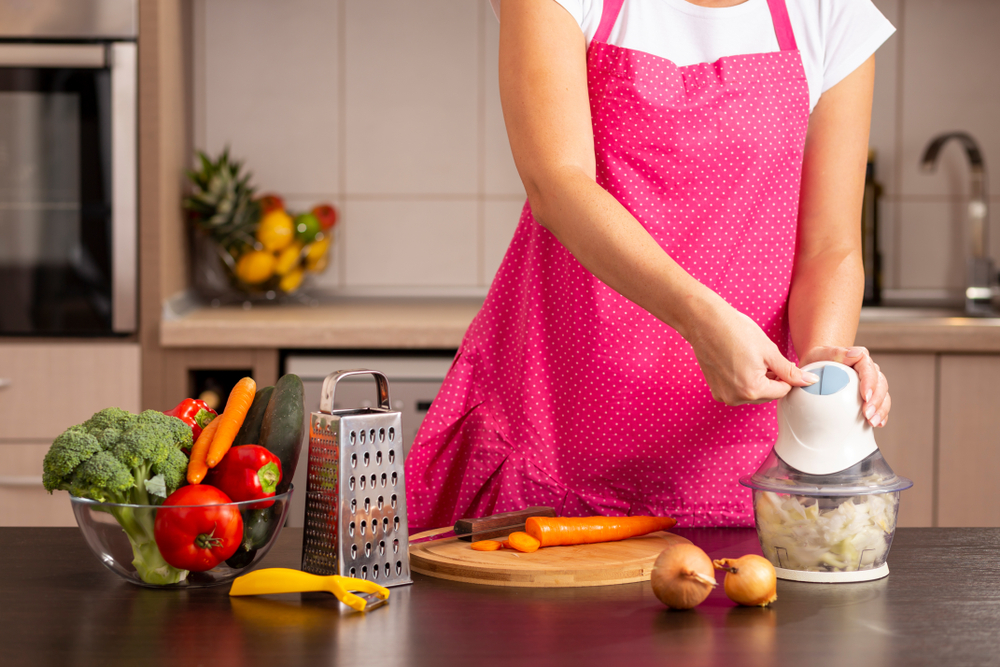 Owning a quality food chopping device has many benefits. Given below are a few ways in which having a food cutting machine can help you:
Time-saving: Cutting and chopping tasks take longer by hand than when done mechanically. Using an electric vegetable chopper helps reduce the time spent in the kitchen by almost 50%.
Mess reduction: The mechanical action of a food chopper can perform many tasks such as kneading or whipping without making a mess.
Allows more varieties of cuts – The best kitchen choppers available in Dubai and the UAE can not only perform the basic dicing and chopping jobs but also create spirals, juliennes, fine slices and other fine cuts which require loads of practice otherwise.
In today's busy lifestyle, devoting time to cooking can get very tiresome sometimes. Often, we rely on takeout and pre-packaged foods to fulfil our needs. Since a food chopper can make cooking easier, the reliance on packaged or restaurant food is also reduced. In the process, the family gets to enjoy healthier meals.
Points to consider when choosing a food chopper in the UAE
If you know how to use a food chopper effectively, you can prepare many types of dishes and in larger quantities. But, similar to any important kitchen appliance, you have to be sure that you are purchasing a product which provides quality and convenience. Here are the points to consider if you want to buy the best kitchen chopper in the UAE:
Electric vs manual – Manual food choppers need to be operated by you rather than by electricity. These kinds of food choppers are cheaper since they do not require complex motors to operate. The best manual vegetable choppers sold in the UAE use turning mechanisms, pull-cords or a lever press to do the job. On the other hand, electric food choppers utilise a central blade powered by an electric motor to do all the chopping. All you need to do is push the start button. Evaluate your cooking needs to decide whether you want to buy a manual food cutter or an electric chopper for your kitchen.
Multiple function capability – The basic food choppers have a single blade to perform the primary cutting functions. However, some of the best electric food choppers in the UAE or even the manual ones may have additional blades for kneading, julienning, grating and other fine cuts. Do you cook a lot of fancy meals? Then perhaps you shall benefit from a food chopper having advanced function capabilities. Those models come with additional blades for a wider variety of tasks.
Size – Bowl capacity is a very important consideration when choosing a food chopper. If you have a large family or entertain a lot with homemade food, then it is necessary to purchase a unit which can handle the necessary volume of vegetables and fruits. Conversely, a small and handy food chopper is better for small families or single people.
Build – Vegetable choppers are usually made of stainless steel or plastic. The best vegetable choppers available in Dubai and the UAE are made of stainless steel for the blades and bowl and plastic for the rest of the body. At times, thick glass is also used in making the bowl. This combination of materials is the best option since the food is not tainted by harmful plastic in any way. A vegetable chopper made entirely of steel is also good, but it can be too heavy to operate. Other safety features such as a lockable lid and rubber grips should also be taken into consideration.
Cleaning and maintenance – Food choppers need to be cleaned properly else there will be mould and bacteria build-up from leftover food particles. Look for a chopper which has removable parts to make cleaning thorough and easier. Having dishwasher safe parts is an additional advantage.
Power – If you are an expert on how to use a food chopper and use the appliance for heavy-duty tasks such as kneading dough, chopping nuts and shredding hard cheese, then you need an electric chopper with the right power to handle these jobs efficiently. Look for a motor that is 600 watts at least so that the chopper works properly without the risk of the motor burning out.
The best-rated food chopper brands available in the UAE
If you are looking for a food chopper in the UAE, then there are plenty of brands for you to choose from. Top-rated brands such as Philips, Kenwood, Black+Decker, Bosch and Moulinex have the best manual choppers in the UAE and the best electric food choppers too. These brands have a wide range of options with the best prices in food choppers in the UAE. The numerous food chopper brands in Dubai and the UAE will meet all your requirements to make cooking an easy and enjoyable activity.
Whether you use a manual device or an electric one, no doubt owning a food chopper is a necessity. The many varieties of food choppers available in Dubai and the UAE offer improved options for all your culinary demands. Use our guide to purchase the best food chopper to suit your needs perfectly and enjoy delicious home-cooked meals every day.