How the best cookware sets help you prepare your favorite dishes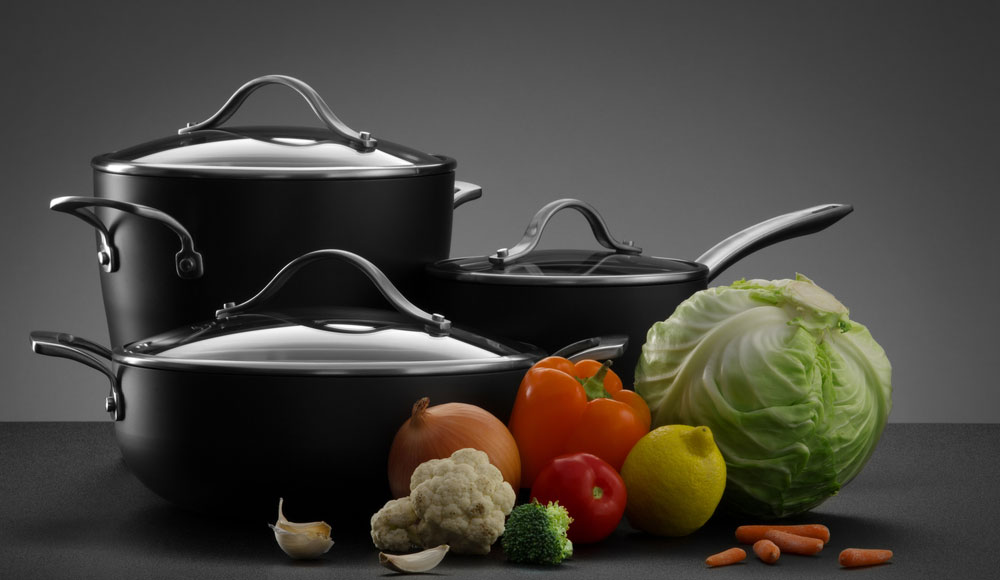 As a wide variety of cookware brands are available in the market today, choosing the right cookware set to rustle up your favorite dishes can seem like a tough task. To help you make an informed decision, we have compiled a list of the best choices in the UAE. But, before we get to the list, here are a few pointers to help you buy, use, and care for your chosen kitchen utensils to make your investment in them count.
Tips to buy
Type of food you cook: Soups, stews, roasted meat, stir-fried vegetables, deep-fried snacks – all these dishes are best cooked in particular types of cookware. For instance, shallow frying pans are best for sautéed or stir-fried items while deep-bottomed pans and pots are best for soups and stews. You should select a cookware set based on the kinds of food you cook most frequently.
Material: You can have these sets in stainless steel, cast iron, aluminium, or hard anodized. If you want the inner surface to be non-stick, sets with a ceramic or Teflon coating could be worth buying.
The number of pieces in the set: Most standard cookware sets have 5 to 10 pieces that are adequate to fully equip your kitchen. But, if you cook food in large batches or often entertain guests, you can opt for sets with 15 or more pieces.
Ensure variety: From stewpots, frying pans, saucepans, and skillets to sauté pans and more, you should buy sets that have different types of pans and pots, preferably with lids, spatulas, etc. to let you cook different recipes with ease.
Budget: You don't necessarily need the costliest or the brightest set in the market. When purchasing a cookware set, consider how the set meets your cooking needs rather than being guided by the fancy bells and whistles.
Tips to use
It's best to use wooden or heat-resistant silicone spoons and spatulas in your non-stick pots and pans. Some varieties of nylon and plastic could also be used provided they're manufactured to withstand the heat and won't melt or release chemicals in your food.
Before the first use, you should clean your non-stick pots and pans with hot soapy water to remove any dirt, oil, or residue from manufacturing and shipping.
Use low to moderate heat for your pots and pans as using them consistently on high heat may discolour them and could even start damaging the quality of coating of your non-stick utensils.
Tips to care
Avoid using harsh dish-washing detergents or metal scrubbers as they could harm the coating of your pots and pans. Before putting your cookware in the dishwasher, you should ensure it's safe to clean them this way. When storing your non-stick pots and pans, you should insert a paper napkin between them to avoid the coating of one getting scratched by the bottom of another placed above it.
Now that you know how to buy the right set of cookware and use them carefully to ensure they last for long, here are the top choices to bring into your kitchen.
Ballarini Parma Forged Aluminum Nonstick Cookware Set, 10-Piece, Granite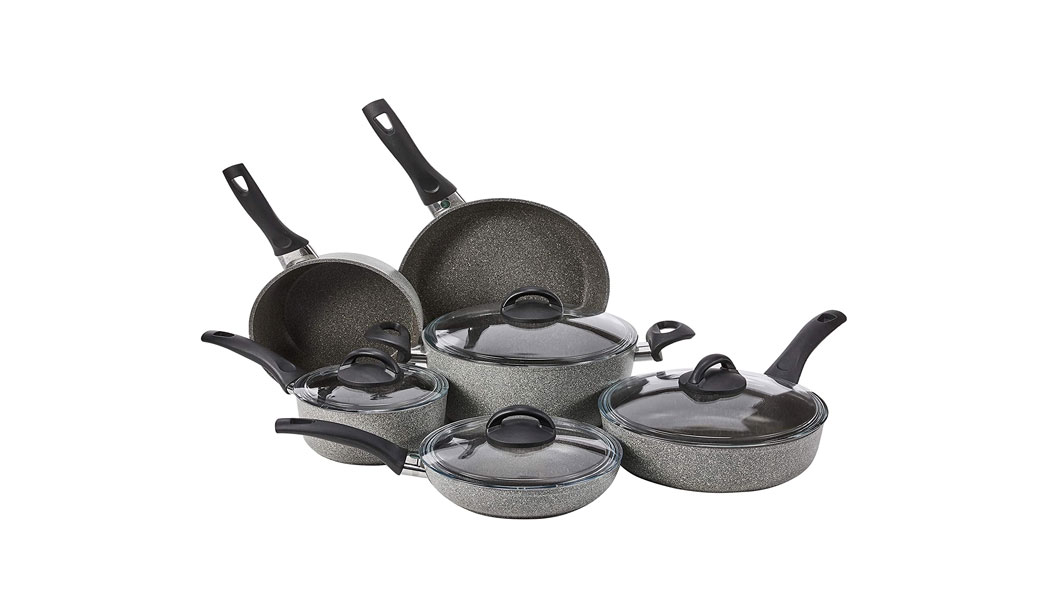 This 10-set Ballarini cookware features PFOA-free, Granitium non-stick coating to facilitate quick release and excellent browning along with lower oil requirements for healthier and effortless cooking. Since the non-stick coating is reinforced with ceramic particles and revolutionary speckles, you have a durable set of scratch-resistant kitchen utensils. Thanks to the cold forged aluminum body, every utensil in this set delivers uniform heating across the entire pan's surface. Due to their heat-sensitive handles that leverage the innovative Thermopoint technology and change colors (from red when they're hot to green on being cold), you can avoid under-cooking or overheating of your food and even ensure safe cleaning when the utensils have cooled off properly.
Tefal B143S984 9pieces Super Cook Non-Stick Cookware Set, Black, Aluminum
This 9-piece cookware set includes a 24-centimeter frying pan, 28-centimeter wok pan, two stew pots (24 and 22 centimeters respectively) with lids, a spatula, and two slotted spoons. Except for induction, you can use these utensils for all heat sources. The pans and pots have a non-stick powerglide coating that's free of PFOA, cadmium, and lead to facilitate ease of cooking and cleaning. To ensure you have the right temperature to cook your food, the pans have thermo-spot marking that turns red once the pan reaches the correct temperature. For a comfortable grip, the pots and pans come equipped with ergonomic handles.
Korkmaz Cookware Set A1900
You can bring home this prized 18/10 stainless steel set that includes a 9.5-inch fry pan; 6.5, 3.5, and 2-quart casseroles with lid; and a 3.5-quart low casserole with lid. All these utensils are rust, scratch, and corrosion-resistant. They feature eye-catching lines and highly polished exterior surfaces, triplex heavy bounded capsule bottom to facilitate uniform heat distribution, and user-friendly stainless steel knobs and handles to let you cook large quantities of food with ease.
Black+Decker 15-Piece Non-Stick Cookware Set (2 Fry Pans, 2 Casseroles, Saucepan, Kadai, 4 Lids & 5 Spatulas) with 5 Layer PTFE Non-Stick Spray Coating BXSGS15BME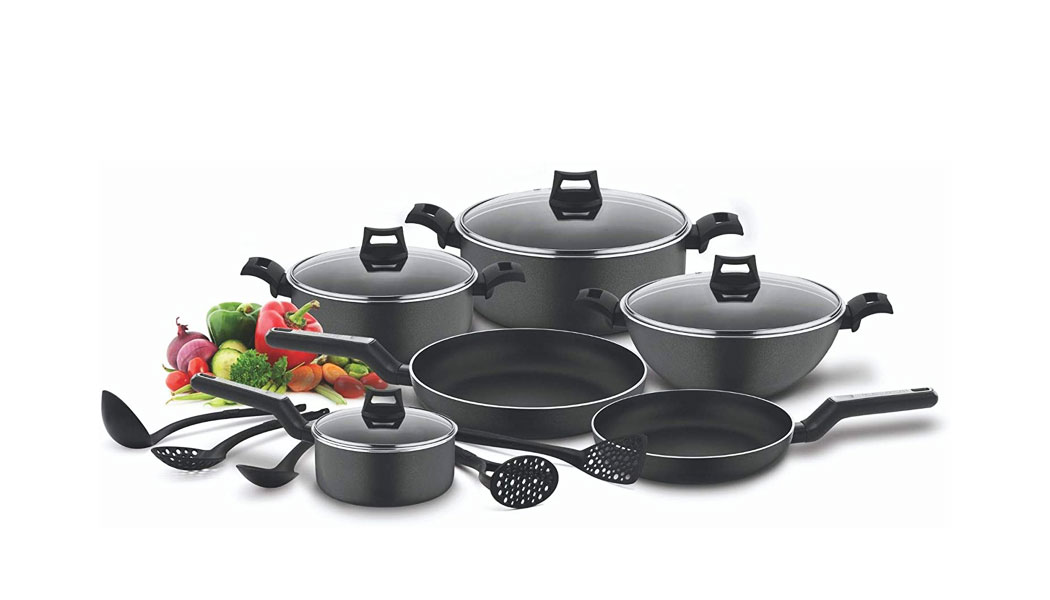 Rustle up a variety of delicacies with this 15-piece cookware set that includes two casseroles (20 and 26 centimetres respectively) with lid, two frying pans (24 and 26 centimetres respectively), a 16-centimetre saucepan with lid, a 26-centimetre wok/kadhai with lid, and five spatulas. This set features a safe and durable non-stick coating that has been reinforced by PTFE coating for effortless cooking and cleaning. The deep-shaped pans and pots are made from high-quality material with 3-millimetre thickness to minimize splashing. Thanks to the Bakelite handles that are soft to touch, easy to handle, and stay cool, you can forget the risk of getting your hands burned while cooking. Go ahead and enjoy this dishwasher-safe set that can be used for all hobs except induction
BergHoff 12-Piece Long Handle Cookware Set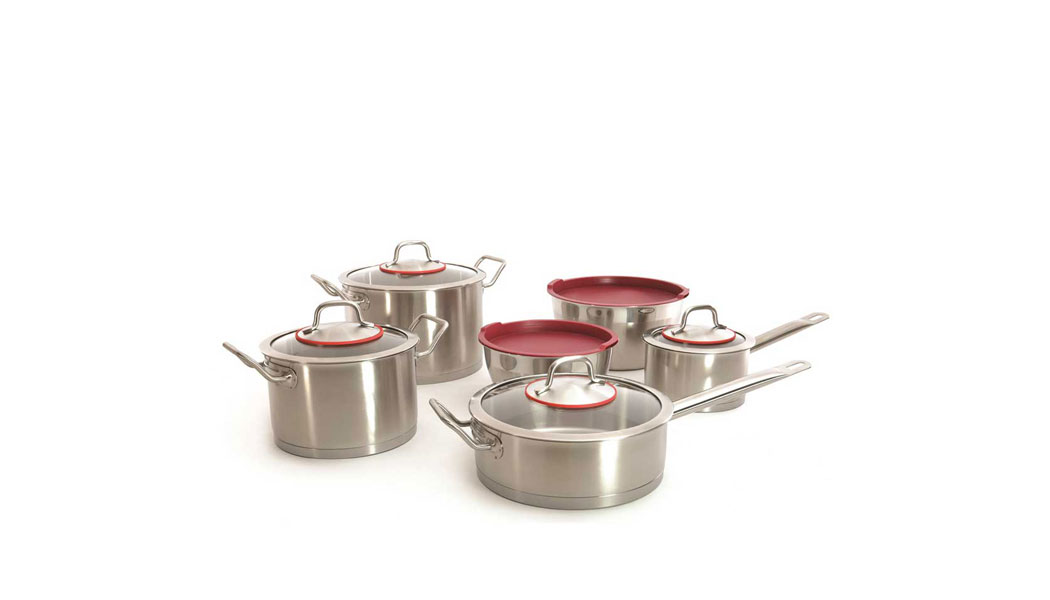 This durable 12-piece cookware set is made of 18/10 stainless steel with an attractive brushed steel finish to make your daily kitchen chores an enjoyable experience. In this set, you'll get two saucepans with long handles, two cooking pots, and two mixing bowls, all of which come with lids. While the pots and pans have glass-and-steel lids to let you check on your food, the mixing bowls come with silicone lids to deliver an air-tight fit. Bring this BergHoff cookware set home to enjoy your chef's duty in style.
Korkmaz A1046 Goldia 8 Pcs Cookware Set, Stainless Steel, Nonstick Cookware Set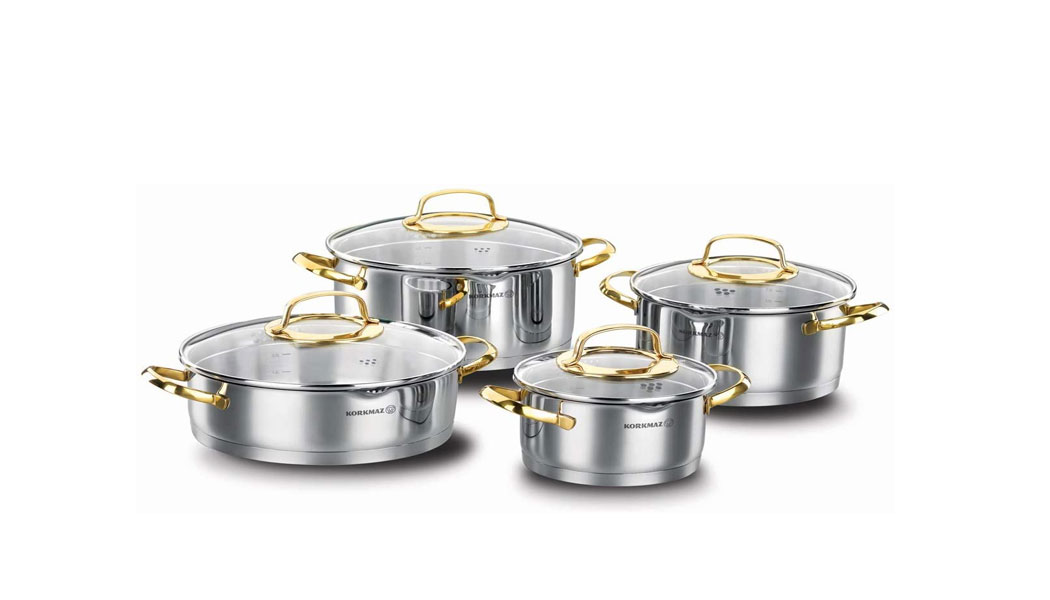 This set includes four pots and pans with varying dimensions (16×8 centimetres – 1.6 litres, 20×10 centimetres – 3.0 liters, 24×12 centimetres – 5.5 litres, and 24×7 centimetres – 3.0 litres respectively). Each of these pots and pans has lids. With this cookware set in your kitchen, you can save maximum energy and time as the utensils feature a super capsule base that facilitates homogeneous heat conduction and a solar base for optimal heat transfer on all types of ovens, including induction. This visually appealing set has a durable and bright polished exterior surface. For ease of handling and safety, while cooking, these pans and pots come with sturdy ergonomic stainless steel handles. This set is dishwasher-safe but you should use hot water and washing liquid to clean it before you use it for the first time.
TST 10 PCS S/S COOKWARE SET
In this 10-piece durable and scratch-resistant stainless steel set, you'll get five pots and pans of different sizes with tight-fitting lids to suit all your kitchen needs. With dimensions measuring 20×11.5 centimetres – 3.3 litres, 22×12.5 centimetres – 4.5 litres, 24×13.5 centimetres – 5.5 litres, 26×14.5 centimetres – 6.8 litres, and 28×15.5 centimetres – 8.6 litres respectively, you can cook meat and vegetables, prepare soups and stews, fry snacks, or even reheat food easily. With two sturdy and wide-grip handles on the sides of the pans and pots along with one over the lid, handling them while cooking is made convenient and safe.