Handy Tips to Keep Your Glassware Sparkling and Clear At All Times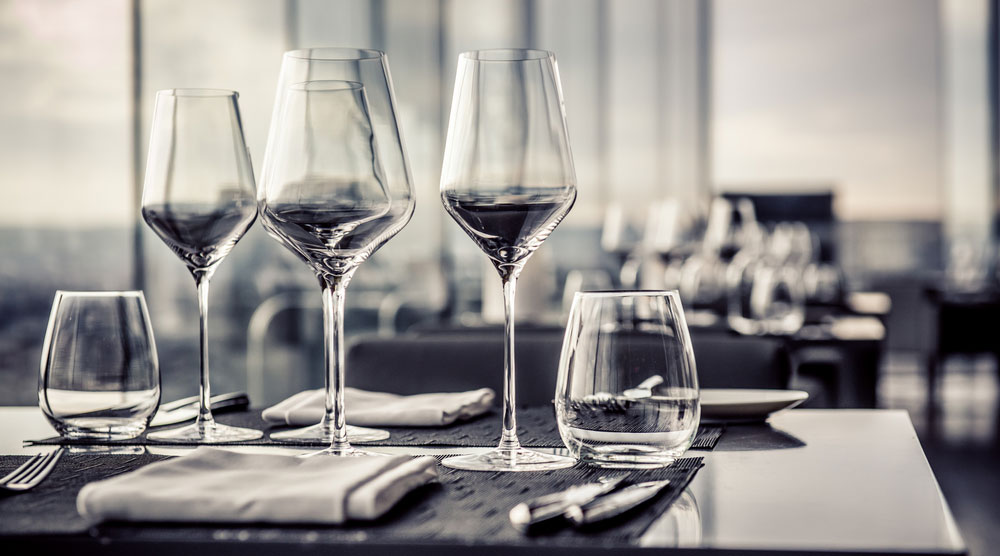 A piece of delicate glassware is a work of art be it a decorative showpiece or your fancy drinkware. While it is easy to maintain decorative items, caring for glassware so as to retain its shine and sparkle for a long time is quite difficult. With constant use glassware acquires stains, mineral deposits and scratches all of which turns the item cloudy and diminishes the aesthetic factor of the product. However, there are certain measures you can take to prolong the looks of glassware so that they look as good as new for a longer time.
To wash and care for your glassware you need to know the main varieties of glassware available in the market. Glassware may be made of three types of materials; crystal, borosilicate glass or soda glass. Of these, crystal glassware is a luxury item that is usually hand-blown and therefore expensive to produce. Soda glass and borosilicate glass are machine-made and is more commonly used for daily purposes. Regardless of the material of the drinkware, anybody would want the items to retain their original look for a long time.  Given below is a guide for glassware maintenance so that they last longer.
How to care for crystal glassware
Never service acid-based foods or beverages in crystal. Protect your crystal stemware from acidic wine or juices by rinsing the drinkware immediately after use. Never leave it overnight or else the crystal will be damaged permanently.
When carrying crystal drinkware or stemware do not try to carry too many pieces at once. Hold one piece of the drinkware in each hand. Holding multiple in your hand will cause the crystal to rub against each other and damage the product.
Hold your stemware by the stem. Stemware is made in two or three parts which are then assembled or joined together to form the whole glass. If you hold it by the bowl or base the resulting stress can cause the parts to get detached.
When washing crystal drinkware make sure you are not wearing a watch or jewellery of any kind. Crystal is quite soft and the surface may get scratched easily.
Place each piece of your crystal drinkware in the sink separately and then wash each piece individually.
Know the correct method on how to clean crystal glasses. Hand wash the crystal drinkware in warm and soapy water. Use a mild detergent to clean as crystal contains lead which is a soft metal. Harsh detergents will scratch the material and ruin the finish of the drinkware. A small amount of soap may also be used to clean crystal drinkware.
Using a dishwasher to clean crystal is an absolute no-no. The hot water used in dishwashers will damage the surface of the crystal. Also, if your drinkware has metal accents, the hot water will cause it to rub off or fade.
Do not exert pressure on the crystal when washing it. Since crystal is very delicate, the glass may break or crack with the pressure.
Use a folded cloth or towel to drain washed crystal drinkware. Do not use rubber pads or drainboards. These items have a high sulphur content which can discolour the crystal and darken precious metal accents.
Once drained, dry your crystal drinkware with a soft lint-free cloth. A tightly woven soft towel can also be used to wipe the drinkware dry. Never use a rough fabric which may scratch the crystal.
Water spots on crystals leave a permanent mark on them. Before storing your crystal drinkware hold them up to light to check for any water residue. Wipe off the spots with a lint-free cloth immediately.
Exposure to heat causes condensation to form inside crystal glass which in turn scratches the surface of the glass. Never leave an empty decanter or other drinkware in sunlight or near a heat source. The heat will cause vapours which will etch and reduce the appearance of the item.
Caring for borosilicate and soda glass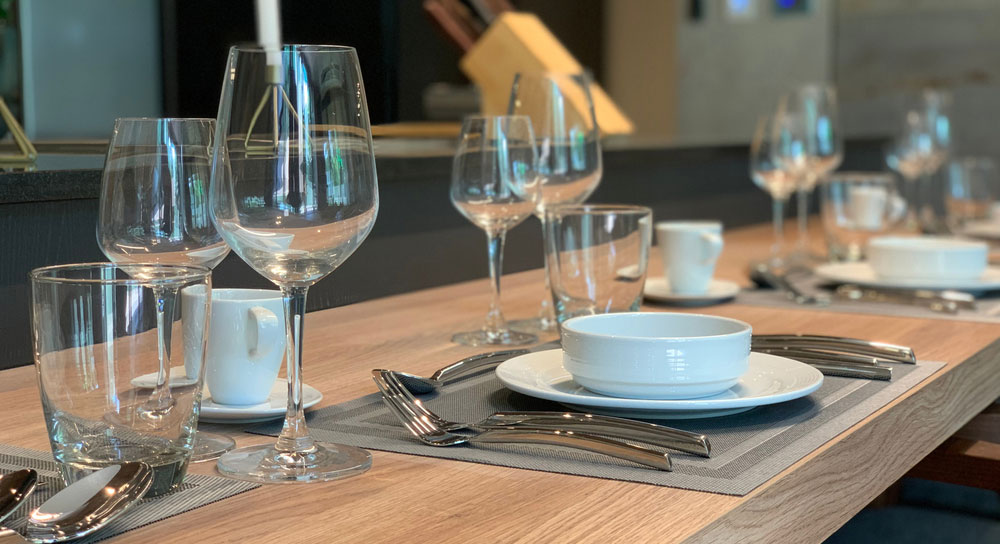 Glass is very sensitive to temperature changes so never immerse a cold or chilled glass into hot water. Or pour very hot or cold water into a glass which has been sitting in room temperature.
Metal will conduct heat away from glass. Before pouring any hot liquid into a glass stick a metal spoon or stirrer in it to absorb the heat and prevent the glass from cracking. And when adding ice cubes to a glass pour some room temperature water into it first to allow the glass to cool down gradually and prevent cracks from developing.
Borosilicate and soda glass drinkware can be washed in a dishwasher but keep some gap between each piece when stacking them in the washer. The water in the dishwasher will make the glass vibrate and if the drinkware is packed together the items have a risk of becoming chipped or cracked.
Mineral deposits in water clouds the clarity of glass. To prevent mineral deposit on glass drinkware skip the drying cycle on your dishwasher or reduce the temperature during the drying cycle.
Wipe borosilicate and soda glass drinkware with a soft lint-free cloth to prevent water spots from developing on the glass.
Storing drinkware
Proper storage of drinkware is essential to ensure their long life. Given below are a few pointers on storing all types of glass drinkware.
Glass drinkware that is used rarely should be kept in a covered case with dividers in between the pieces. Store the case or box away from grease and damp.
Store crystal drinkware only after it is completely dry. If the glass is damp or warm the surface moisture will form a film on the glass which is very difficult to remove.
Do not store crystal drinkware on a glass shelf. Crystal can stick to other crystal or machine-made glass.
Stemware should always be stored with the bowl facing up. The rim of stemware is fragile, and if they are stored with the bowl side down, moisture will collect inside the bowl, and the glass will crack.
Store glass drinkware away from sunlight or heat sources such as AC vents, heaters, stoves etc. The constant change in temperature will crack the glass.
You go through so much deliberation during choosing and buying the right drinkware to suit your taste and purposes, it is worth putting in that extra effort to ensure the longevity of these cherished items.
These are the best glassware products you can select from our collection:
ECLAT L9755 Longchamp Crystalline Glass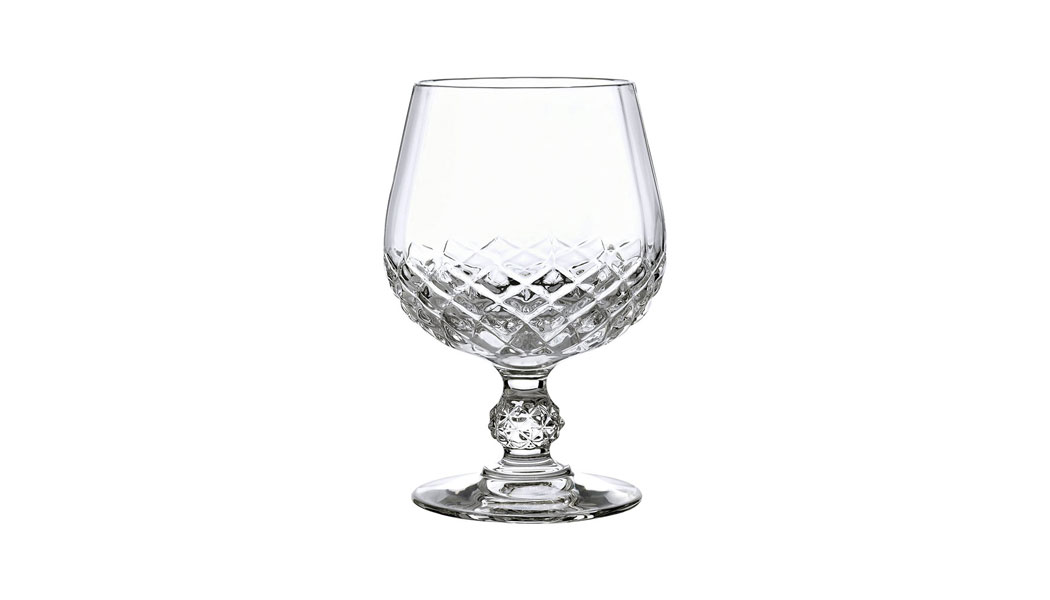 Eclat Longchamp crystalline glass is sure to be an elegant and stylish addition to your drinkware collection. These brandy glasses from the collection are made from Diamax crystal which is a specially manufactured crystal which is lead-free and 50% tougher than regular crystal. It is also known for its high transparency index of 98.9 which gives it a stunning shine. Diamax crystal is extremely durable and retains the original shine even after multiple washes. Each glass has a capacity of 320ml making them perfect for serving any kind of beverage. The pack consists of 6 crystalline glasses.
Eclat Cristal D'Arques Longchamp Wine Glass
Eclat Cristal D'Arques Longchamp Wine Glasses sport an eye-catching faceted design which are made to reflect light so that the glass sparkles for a brilliant look. This box set of 6 glasses is made out of specially developed crystal which is known to be 50% more resistant to chip and damage than ordinary crystal. This crystal, known as Diamax, is also lead-free and has a transparency index of 98.9 making it one of the clearest crystals on the market. The shine of the crystal wine glass remains undiminished even after multiple washes so that you do not have to deal with cloudy crystal glasses for a long time. Each Eclat Cristal D'Arques Longchamp Wine Glass holds 250ml of liquid.
New America 10 Oz Tumbler by Luminarc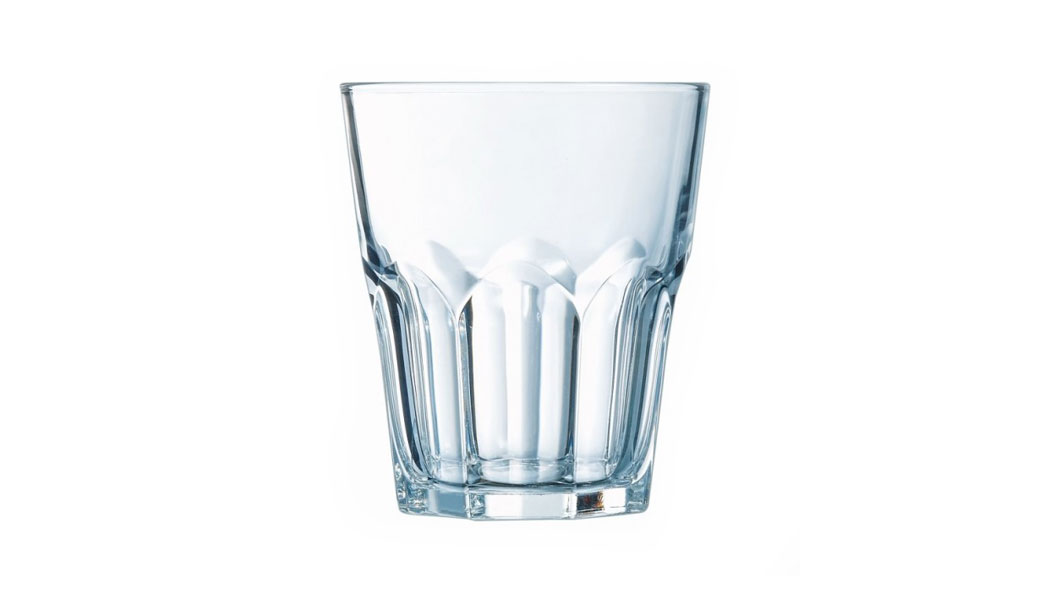 Luminarc is one of the leading brands of glassware and is known of high-quality drinkware made from durable and impact-resistant glass. This set of 3 New America tumblers from Luminarc brings in an added vibrancy to your table setting with its classic design. These crystal-clear tumblers are the perfect size for serving water, juice or any other beverage your guests may prefer. The design of the tumblers makes them easy to hold and use. The tumblers are dishwasher friendly making them easy to clean and maintain. The glass used to make these tumblers do not cloud, discolour or acquire unpleasant odours even after years of use.
Luminarc Wine Glass 19cl by Amélia
Small-stemmed glasses usually give off a casual, every day use vibe as compared to long-stemmed glasses which look fancier and more formal. These small-stemmed glasses from Luminarc's Amelia collection are excellent for everyday use and will last you for a long time to come. They are made from fully-tempered glass which have a high resistance to pressure, impact and thermal shock give them long-term durability. These glasses are easy to store as they take up minimal space. Each set of these small-stemmed glasses has 3 pieces in it with every glass having a capacity of 190ml each.
Eclat Longchamp Tumbler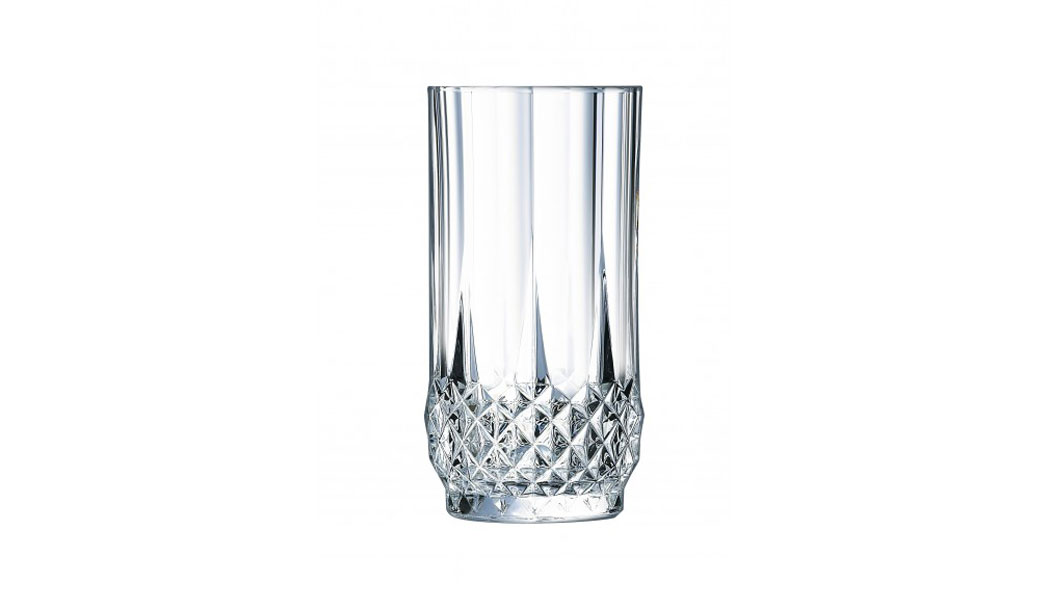 The Longchamp collection from Cristal d'Arques is notable by its diamond-patterned cut glass details which give it a sparkly look. The crystal used in making these glasses is a specially developed variety by the Arc International Research Center in France. This type of crystal is 50% more resistant to breaks and cracks than other kinds of crystals available in the market. The transparency index of this crystal is 98.9 and it produces very clear acoustics. The crystal is lead-free and eco-friendly. Each of the crystal tumblers from this range holds about 280ml of liquid. Available in a set of 6 pieces, the Eclat Longchamp tumbler is a drinkware essential for every home.
Eclat Champagne Flute Cristal Glass – Lady Diamond
These champagne flutes by Eclat are made of specially manufactured lead-free crystal by the Arc International Research and Development Center, France. This variety of crystal has clear acoustics and boasts a transparency index of 98.9 which marks it out as one of the purest types of crystals available. The crystal is also very tough as it is 50% more resistant to shock and damage. These champagne flutes are made in a contemporary design which will appeal to everyday. The faceted glass reflects light to make it sparkle like jewels. These champagne flutes are not only a great addition to your household but are also excellent for gifting.
Eclat Cristal D'Arques Longchamp Champagne Flute Crystal Glass, 14 cl, Pack of 6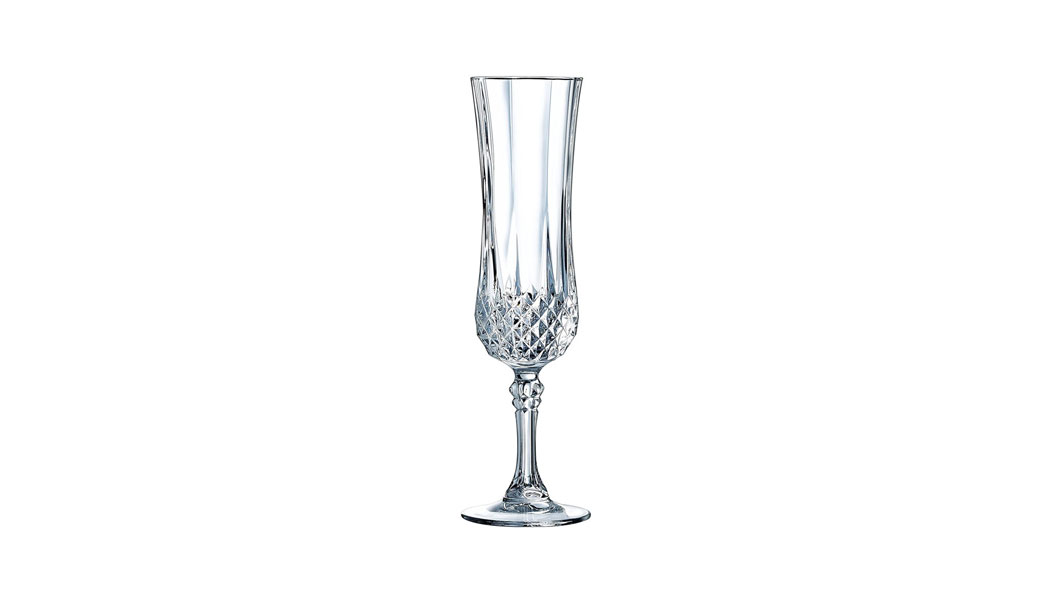 Longchamp champagne flutes from Eclat Cristal D'Arques give your home a touch of luxury courtesy high-quality crystal drinkware. These elegant looking champagne flutes feature a faceted design which catch the light and make the glasses sparkle like diamonds. The crystalline material used to make these glasses are specially developed in France. This kind of crystal is lead-free, has clear acoustics, has a transparency index of 98.9 and is more resistant to shock and damage than other varieties of crystal. These champagne flutes are dishwasher safe and retain their original shine and looks even after multiple washes. This set of 6 flutes is perfect for gifting too.