Guide to choosing the perfect dinner sets that will make any occasion memorable
Stylish dinner sets are more than just plates and bowls for serving food. Beautiful dinnerware complements your meals and sets the tone for an enjoyable dining experience at home. Dinner sets are available in a variety of materials, styles and number of pieces. Knowing and understanding the different types of dinner sets available is the key to selecting the perfect one to meet your needs. Given below is a complete guide to choosing the perfect dinner set in the UAE for your home.
Types of dinner set materials
Choosing the perfect dinner set starts with knowing all about the various options in dinner set materials. Bone China, earthenware, stoneware, melamine and porcelain are the most common materials used for making dinner sets. Among these, bone china, earthenware, stoneware and porcelain are ceramic dinnerware sets while melamine is made from resin. The difference in various ceramic dinner plates come from the firing process used to make them. Every type of material has its pros and cons and knowing all about them will help you in making an informed choice.
Bone china – If you want a dinner set that is durable enough for daily use yet elegant enough to be used for special occasions as well, then go for bone china dinner sets. Bone china is chip-resistant and microwave-safe. It has a glazy finish because of which it is advised to wash them by hand. Bone china items are recognisable by their attractive, semi-translucent and delicate appearance.
Porcelain – Porcelain dinner sets are heavier than bone china. Porcelain has a non-porous surface and can be moulded into more varied shapes. Porcelain lacks the glaze of bone china but has a similar translucence while having a more durable construction. Porcelain dinner sets are usually oven and dishwasher safe. But, some porcelain sets may be decorated with metallic accents which make them unsuitable for microwave use.
Earthenware – Earthenware dinner sets have a very casual appeal making it a popular choice among the youthful crowd. It is moderately durable with heavier construction. Earthen dinner sets are very porous because of which they are sealed with a glaze. The glazy surface makes it unsuitable for washing in a dishwasher. The glaze can also be damaged by unexpected temperature changes such as high heat on the microwave or oven.
Stoneware – Stoneware is also very popular for its casual appeal. Stoneware has a glazed finish which gives it a smooth appearance. Stoneware dinner sets are ideal for everyday use. They are thick, heavy and more durable than earthenware. However, stoneware should not be used to reheat food and should be hand-washed.
Melamine – Melamine looks similar to ceramic but is made of very durable resin. It is shatterproof, chip-resistant and break-resistant. Melamine stands up well to regular use and is versatile enough to be used for casual as well as semi-formal settings. Melamine dinner sets are usually dishwasher-safe but not suitable for use in an oven or microwave. Melamine is available in a wide range of colours and patterns so you have a wider range of design options to choose from.
Types of dinner set place settings
Dinner sets are sold in place settings that consider all the pieces that a single person would need. The most common place-settings include five pieces per head; a dinner plate, a side plate, a soup bowl, a teacup and a saucer. A five-place setting for 4 people would have 20 pieces in total. Sometimes the side plate and/or the soup bowl is not included in which case the whole set would be a 16-piece dinner set or a 12-piece dinner set. Most dinner sets for everyday use are 30-piece sets with place settings for 6 people. Other common dinner set sizes are a dinner set of 36 pieces with 6 pieces for 6 people, dinner sets with 48 pieces having 6 pieces for 8 people.
If you have a larger family or regularly entertain more people then going for open stock dinner sets is the most viable option. Open stock dinner sets are sold piece by piece. You can mix and match the number of pieces you want within a collection to get as many place settings as you want.
Caring for dinner sets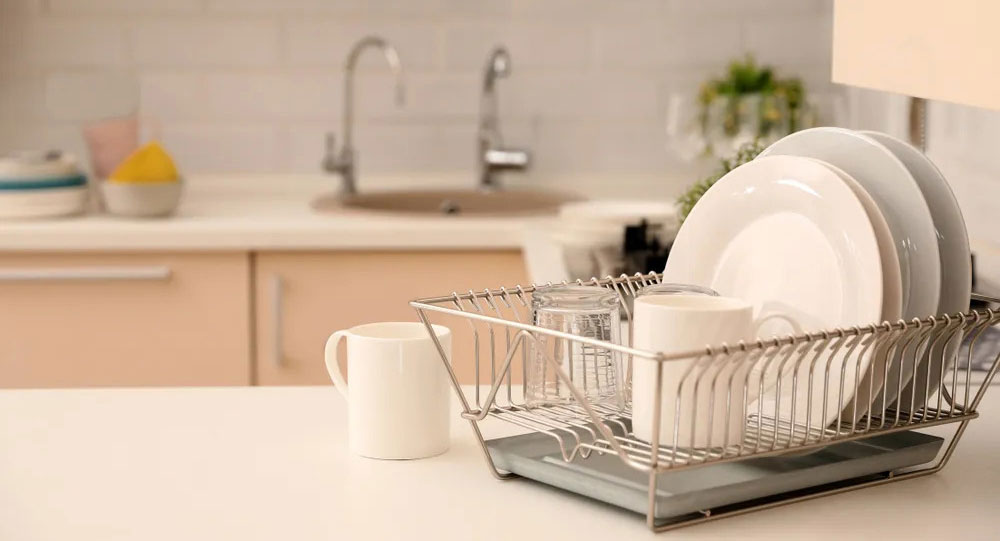 Your dinner sets can last for several years as long as you take proper care of them. Here's how to keep your dinner sets looking great for longer:
Always check the manufacturer's instructions to know if your dinner set can be cleaned in a dishwasher or needs to be hand-washed.
Once you finish washing your dinner set, soak the pieces in white vinegar for a couple of minutes. This will help remove hard-water spots from the surface. Rinse and towel dry before storing.
If your cups and saucers are stained from coffee or tea, apply a paste of baking soda and water over the stained area and rub. The stain will come off easily. Rinse and dry before storing.
Stack your formal dinner sets with a piece of felt in between the pieces to prevent them from getting scratched and damaged.
Buying crockery online in the UAE gives you plenty of options in tableware dinner sets. From mixing and matching casual dinnerware in new designs to having elegant formal dinner sets, you can get the best dinner sets prices in the UAE online. Choose from the wide range of dinner sets online in Dubai and the UAE. Get the latest dinner set designs at the best prices in the UAE and brighten up your dining space with style!
Complement your dinner sets with the right kind of cutlery for a table setting that is sure to stand out. Here are a few options to consider:
TST 72pc cutlery gold sj-1210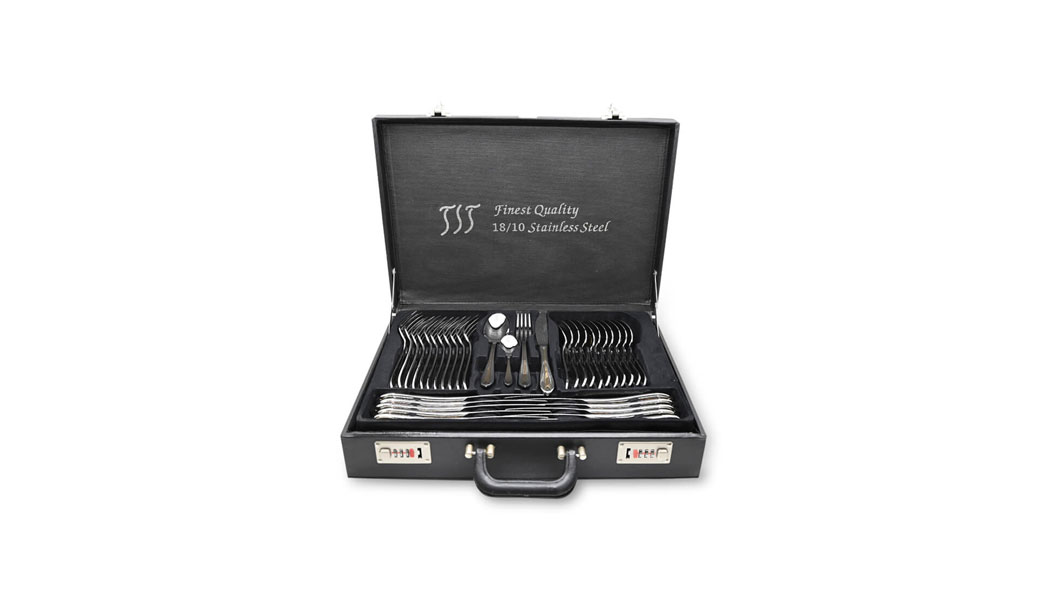 This 72-piece cutlery set from TST is suitable for use during any special occasions or serves its purpose as a memorable gift to someone. Every piece of cutlery in this set boasts a unique silver-coated design that brings out its elegant look. Whether you want to enjoy a warm bowl of soup, dig into a deliciously healthy salad or indulge in a tender meat, this cutlery set has all the required pieces to cater to your needs. The full set comes in a handy storage case with a combination lock so that your cutlery can be stored away neatly when not use.
TST 72pc cutlery gold sj-1701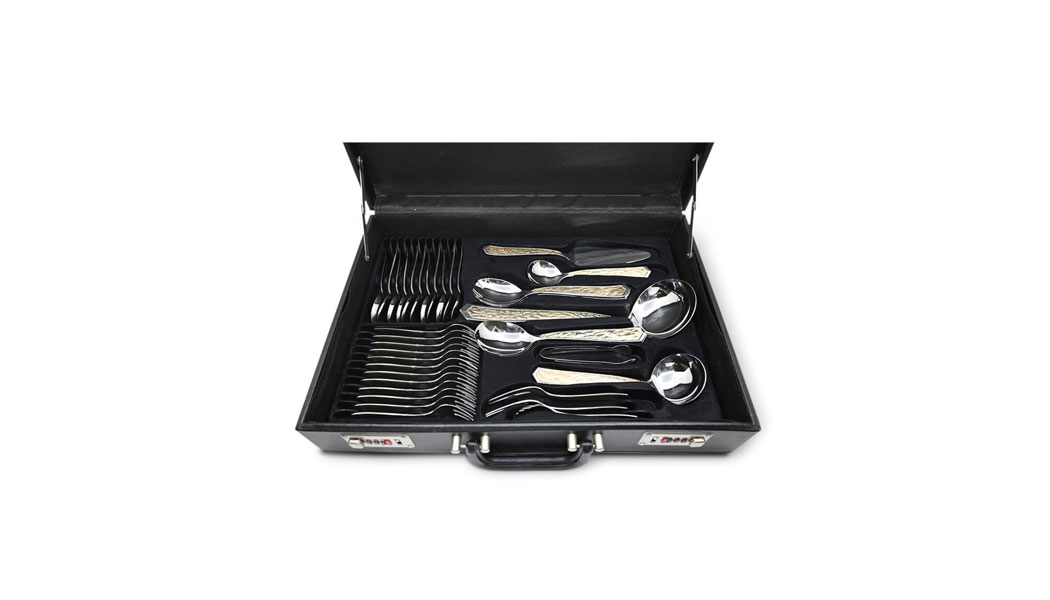 Impress your guests with this stunning 72-piece gold detailed cutlery set from TST. Each piece in this set comes with elegant gold carvings on the handles which contrasts well with the gleaming silver construction of the pieces. The gold and silver combine to give the cutlery set a very luxurious appeal. This cutlery set has a well-proportioned design which is also very symmetrical making it easy to hold and use. It has a sturdy build to ensure long-term use without losing its shine or getting bent or deformed in any way. This set is a great investment for your home or as a thoughtful gift.
TST 72pc cutlery croise (sj-802)
Take your table décor to the next level with this elegant cutlery set from TST. This set of 72 pieces features a minimalist look with a detailed edge around each handle and a polished mirror look finish. The edges of the cutlery handles are accented with gold to make them look elegant and sophisticated. This set from TST is made from high-grade materials to prevent any sort of food contamination and is also sturdy enough to be used daily. The entire set is packed into a box to make storage easier. This 72-piece cutlery set will transform an ordinary meal into a fancy affair.
TST 72pcs Cutlery Gold Indiana
Are you looking for a long-lasting, rust and corrosion resistant cutlery set for daily use? Consider the 72pcs Cutlery Gold Indiana set from TST. This set is made from rust-resistant and corrosion-resistant 18/10 stainless steel with 18% chromium and 10% nickel which gives the material strength and durability. Each piece is perfectly proportioned to make it easy to use. The set has a mirror shine finish and gold accents on the handles to make the simple design stand out. This cutlery set looks stylish without being over-the-top and can not only be used every day, but is also perfect for when you are entertaining guests and want to make your table setting look eye-catching.
TST 72pc cutlery gold sj-1702
When entertaining guests it is not just about the food you serve but also how you present it. Make your food presentation look outstanding with this cutlery set from TST. This 72-piece set has all the flatware you need to serve and eat all kinds of foods be it salads, soups, cakes or meat. Each piece from this set has silver on silver detailing with subtle gold accents which look very sophisticated. Even ordinary dishes will get an elevated look when you present them alongside this beautiful cutlery set. The set is also an excellent consideration if you are looking for a memorable gift for someone.
Queen Anne cake server/knife fork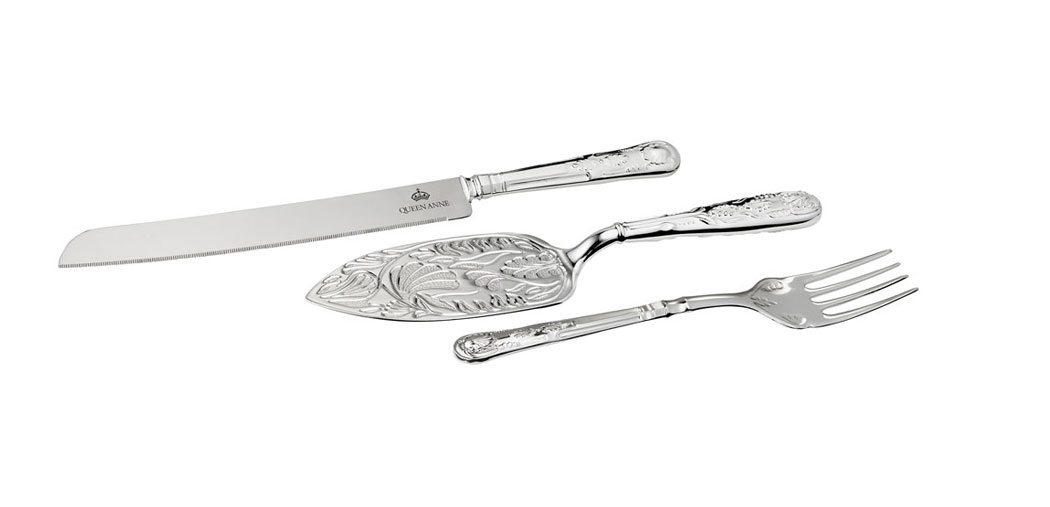 If you are someone who loves desserts then having a full set of dessert serving, cutting and eating accessories are a must-have in your home. Get this set of cake server with a knife and a fork for serving delicious pies, cakes and gateaux efficiently. The individual pieces are made in just the right proportion so that you can cut and serve a variety of items without wastage. The server and fork both are die-cast with the fork handle decorated in a king's pattern design. The cake knife is made of stainless-steel to make it easy to clean and maintain. The entire set is durable and maintains its original shine even after prolonged use.