Buying guide for the best frying pans for your home
Buying a frying pan or skillet can be a difficult venture. With numerous options in materials, each claiming to be better than others, deciding on the frying pan which will be most suitable for you can indeed be confusing. There is a lot to consider when it comes to buying frying pans. If you want to determine the best frying pan in the UAE for you, then we have a frying pan buying guide to help you out.
Comparison of different frying pan materials
The first and foremost consideration when buying a frying pan is the material used to make it. This will have a big impact on your cooking and should be chosen with care.
Uncoated aluminium frying pans– Aluminium is lightweight and heats very quickly. But, the heat distribution in aluminium pans are uneven and they also react with acidic food substances such as tomatoes or lemon juice.
Non-stick frying pans – Non-stick frying pans are made of aluminium with a coating of polytetrafluoroethylene (PTFE), commonly known as Teflon. This coating renders the pan non-sticky. Non-stick frying pans are lightweight and heat up quickly. The non-stick coating ensures that very little oil is used to cook the food. Delicate foods such as fish, eggs or crepes come out well-cooked without any bits sticking to the pan. However, these pans require proper maintenance. Even the best non-stick cookware tends to wear out easily if you do not follow proper maintenance rules. Non-stick pans should always be hand-washed with a sponge since metal or abrasive substances will cause the Teflon coating to come off.
Ceramic coated frying pans – Ceramic coated frying pans are coated with an organic silica-based gel which creates a non-stick surface without the addition of chemicals. This coating is also known as thermolon ceramic non-stick coating. Frying pans with ceramic coating are good for cooking food at a low temperature but will not sear the food. They are lightweight and easy to clean but must be hand-washed to ensure that the coating does not come off.
Hard-anodized frying pans – Hard-anodized frying pans are another non-stick option. The non-stick property comes from the way the pans are manufactured rather than having any coating. Hard-anodized pans are very durable and are capable of giving a good sear to foods. They are good all-purpose cooking utensils though on the more expensive side.
Stainless-steel frying pans – Stainless-steel frying pans are another great all-purpose option. Tri-ply or multi-ply stainless steel made by fusing several layers of metal are the best options since single layer stainless-steel does not conduct heat well. Stainless-steel frying pans are good for searing meat and making sauces. They can also be used in an oven. They are durable, non-reactive, rust-resistant, scratch-resistant and dishwasher safe. However, you need to use adequate amounts of oil or the food tends to stick to the pan.
Cast-iron frying pans – Cast-iron pans are heavy-duty pans suited for a wide range of cooking. They are excellent at distributing heat to cook food evenly, good for searing meat and vegetables perfectly, making pan bread and much more. Cast-iron frying pans hold onto heat for long and can be used to cook on stovetops and in ovens. The only care to take with cast-iron pans is that they need to be properly seasoned before use otherwise they may react to acidic foods.
Carbon steel frying pans – Carbon-steel is similar to cast-iron in many ways. They require seasoning before use and become more and more non-stick with constant use. Carbon-steel frying pans are good for cooking all kinds of foods. Since it is lighter than cast-iron, the heat retention of this material is not that good. It heats up quickly but cools down just as fast.
Frying pans do not have any one-size-fits-all option. Different materials are suitable for different households based on their cooking and eating habits.
Things to consider when buying a frying pan
There are many great options in frying pans sold online in the UAE and to get the right one for you there are a few things you need to take into consideration.
Material: As already mentioned, frying pans are available in various kinds of materials each of which are suited to specific kinds of cooking. Carefully assess your cooking habits to determine which frying pan material will be best suited for it and then go ahead with the other considerations.
Size: The size of your frying pan is relevant not just in terms of quantity of food being cooked but also the kind of food you will cook. If you use it to cook only simple items such as eggs and sausages then a mini frying pan is enough to fulfil your needs. If you cook stir-fries, crepes and other dishes then you need a larger pan based on what you will cook.
Handle material – The frying pan handle material may seem like an insignificant point but it is not so. Most frying pans have handles made of metal, wood or plastic. Wood and plastic handles are easy to hand since they do not heat up during cooking. But, wooden handles eventually suffer from water damage and plastic can melt if you are cooking on high heat. Metal handles are sturdy and long-lasting but they get heated and will burn your hands if you are not careful. You can get metal handles with a rubber or silicone coating but even those will disintegrate with use. Choose the handle option which you think will be the best fit for you. Also, check that the handle is securely attached and balances the pan properly. Some frying pans come with removable handles too. This is done for easy storage and is worth a consideration for those with a space crunch.
Leading frying pan brands in the UAE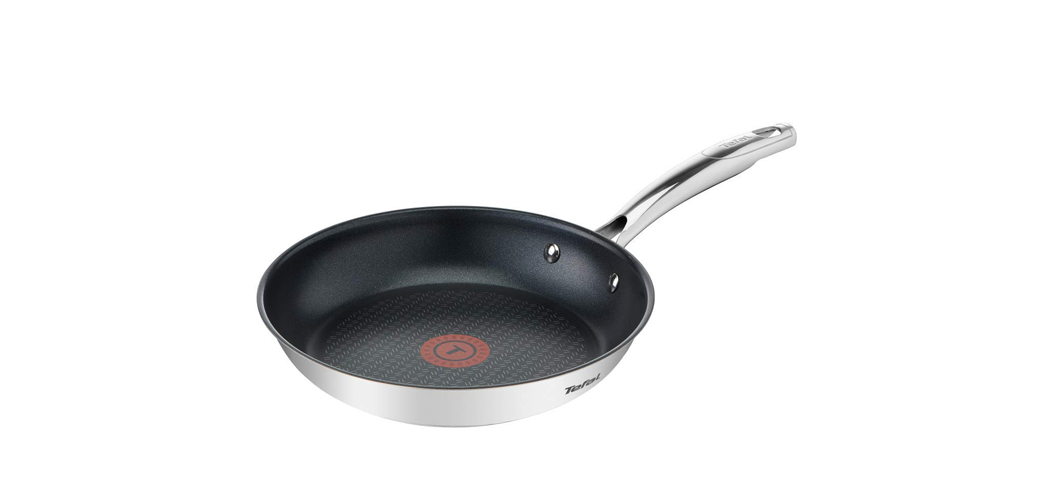 You can get a wide variety of frying pans online in the UAE. Pick from among noted names such as Tefal, Prestige, Dessini, Royalford, Bergner and more for the best skillets and frying pans in Dubai and the UAE.
Whether you are looking for a frying pan with lid, a frying pan with ceramic coating or any other kind of frying pan, you can get exactly the one you want. You can avail the best frying pan prices online in the UAE for quality cookware which will last you for years.
If you are looking for a new frying pan, then we have a consideration for you:
Brabantia Sapphire 5 Ply Stainless Steel Fry Pan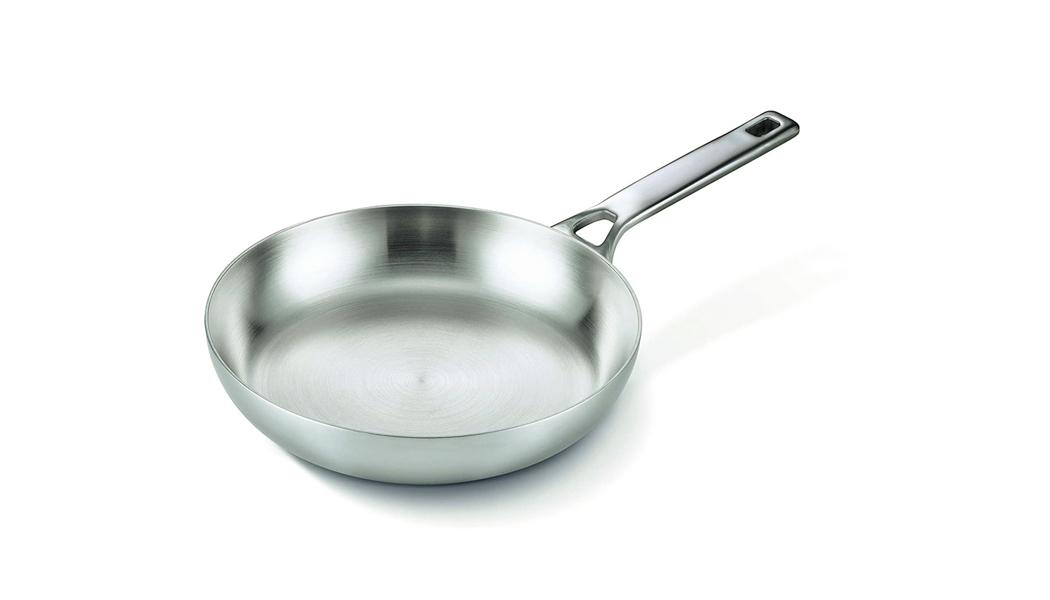 Brabantia products are known for their commitment to quality and durability. This stainless-steel frying pan is one such top-of-the-range kitchen product from the brand. The frying pan has a 5-ply bonded construction of a thick copper core with stainless steel, aluminium to facilitate even heating for better cooking. The bonded construction of the frying pan makes it a very good heat conductor providing reliable responsiveness during heating without the risk of the pan warping. The steel used in making this frying pan is 18/10 stainless steel which is known for being non-reactive. The inside has a starburst finish to give better resistance to sticking and makes maintenance easy. This frying pan comes with riveted handles having a contoured grip for comfortable handling of the utensil.