Best Options For Kitchen Lighting That Blend Beauty and Functionality
Your kitchen lighting should be functional and stylish. Often kitchen is used for various purposes – from relaxing and unwinding to cooking and entertaining, your kitchen's lighting should be apt to set the right mood.
Often, lighting in the kitchen is done as an afterthought without adequate research and planning. However, you shouldn't make the same mistake. Instead of waiting until your cabinetry and appliances are in place, you should plan your lighting beforehand. That's because once the cabinetry and appliances are positioned, they could be harder to alter to make way for your light's sockets, wiring, and cables.
Since the materials your lights are made from create a big impact on how the place looks, you should invest in high-quality finishes and fixtures. But instead of bland and boring lights, it pays to blend practicality with aesthetics.
To make your kitchen lights the focal point of your space, don't be restricted by just the downlights and spotlights. Chandeliers, statement pendants, and ornate sconces too can have a reasonably huge impact just like your worktop material or cabinet colour.
Before you look for favourite kitchen lighting ideas from our experts to update your current space or give it a beautiful refresh, you would do well to know about the two primary functions of kitchen lighting.
General Lighting Vs. Work Lighting In Your Kitchen
General lighting is also known as ambient lighting. It refers to powerful lights that are sufficient to illuminate your entire kitchen area.

Work lighting is also known as task lighting. It refers to lights that illuminate specific zones that are smaller in size, such as the kitchen countertop, sink, island, etc.

While some lights work well for the purpose of general lighting, others are suitable for work lighting. However, you won't find lights that do both equally well. This means you will have to mix and match different types of lights to illuminate your prep and work areas and the entire space.
Kitchen Lighting Categories
Recessed Lighting
If you are looking for general lighting ideas, these are the "Holy Grail," especially if you don't like hanging lights much. These lights are concealed into your ceiling and give the entire space an extremely sleek look while providing plenty of illumination for the space.
If you have a medium-sized kitchen, installing three to six recessed lights should be enough to illuminate the entire area. Just make sure to always choose white light bulbs inside your recessed lights and position them in a visual-appealing grid for the optimal effect.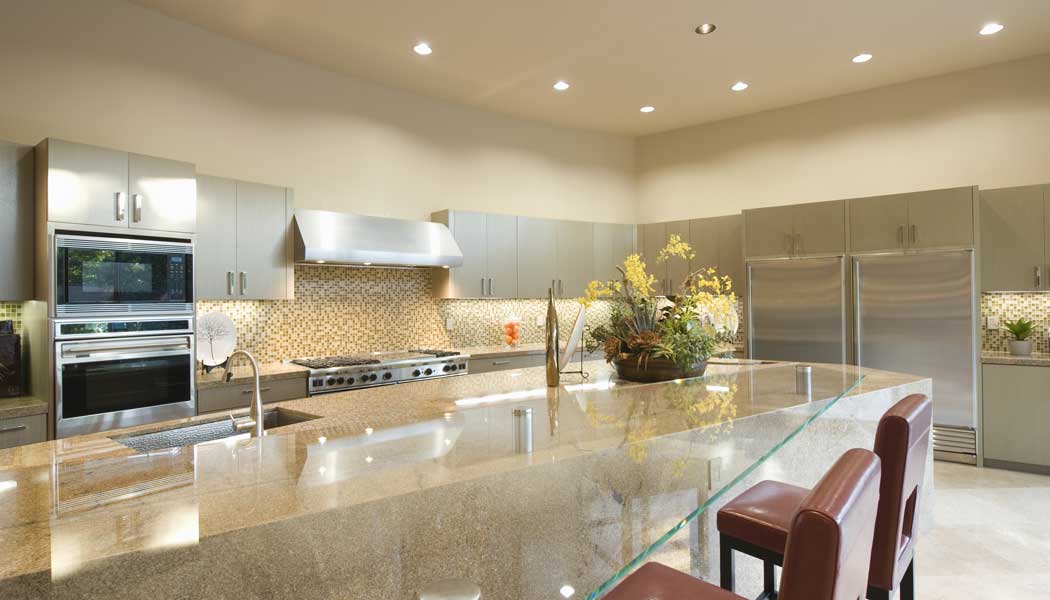 Task Lighting
After you have planned your general lighting, you should focus on task lighting in the kitchen. It will be guided by the type of tasks you plan to carry out in the space.
Since general lighting often cast a shadow when you stand in front of the sink, counters, island, or any other location in your kitchen, you will need designated task lighting to illuminate your specific work areas. These could be the sink, kitchen stove, countertop, etc.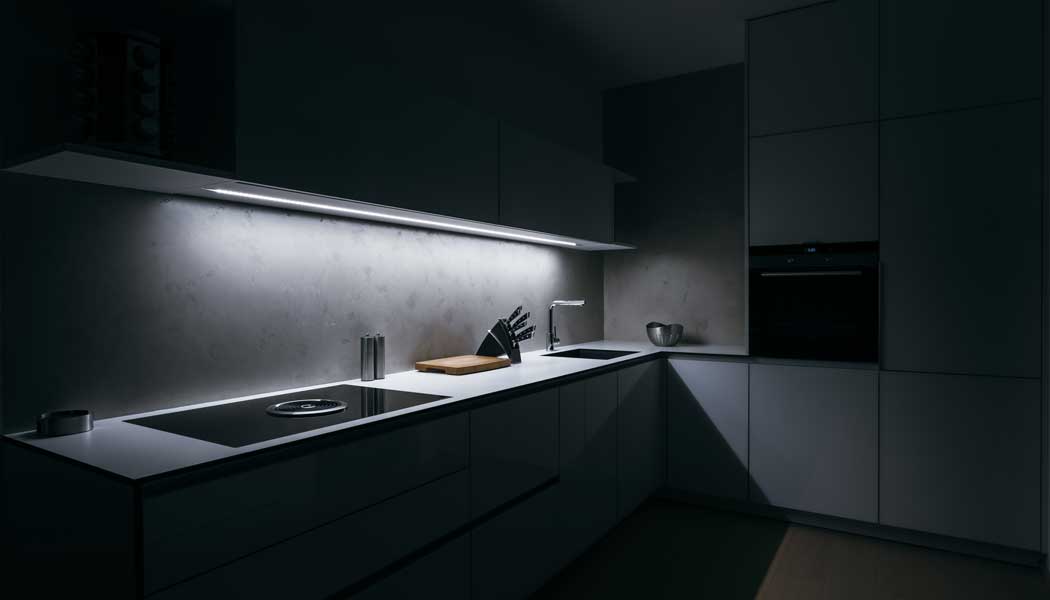 Track Lighting
A strip of lights positioned in a linear pattern on the ceiling can act as excellent focus lights. For instance, if you need more illumination for your breakfast corner, kitchen island, or countertop, placing a series of track lights over the particular area could be the ideal solution.
Remember to ensure you position your track lights at the correct angle. Else, they will cast shadows over the specific area you want to be lit up and thus, won't be of much help. To create a cosy ambiance in your kitchen, you can pick up warm light bulbs for your track lighting plans. If you want to save energy and lower your electricity bills, LED bulbs would be a wise choice.
Pendant Lighting
A majestic chandelier above your dining table or hanging from the centre of the ceiling can add a regal charm to your space while also lighting it up adequately. You could even hang one big or a few smaller pendant lights from the ceiling.
These lights aren't meant to bring an abundance of brightness to your kitchen. Yet, they can be beautiful additions to bring a little extra light to a particular surface, say your kitchen island.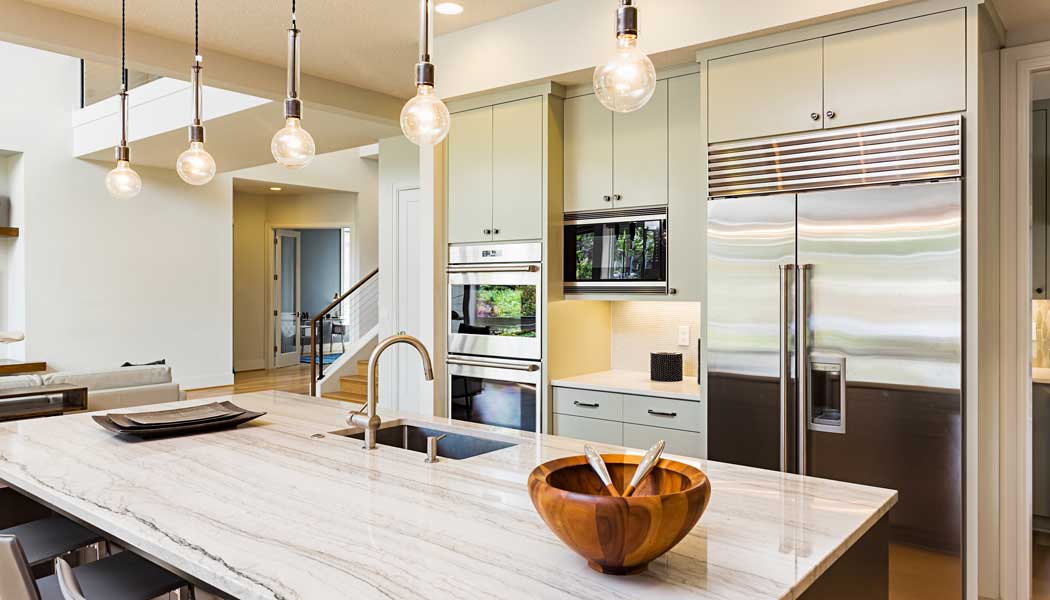 Under-Cabinet Lighting
This lighting is common in modern and contemporary kitchen designs. Under-cabinet lights could be LED strips or light bars that are ideal when you need some task lighting to illuminate your workspaces directly underneath the wall cabinets.
These lights are sleek and invisible when installed. Yet, they are bright enough and focused to light up specific areas in your kitchen without illuminating the entire space.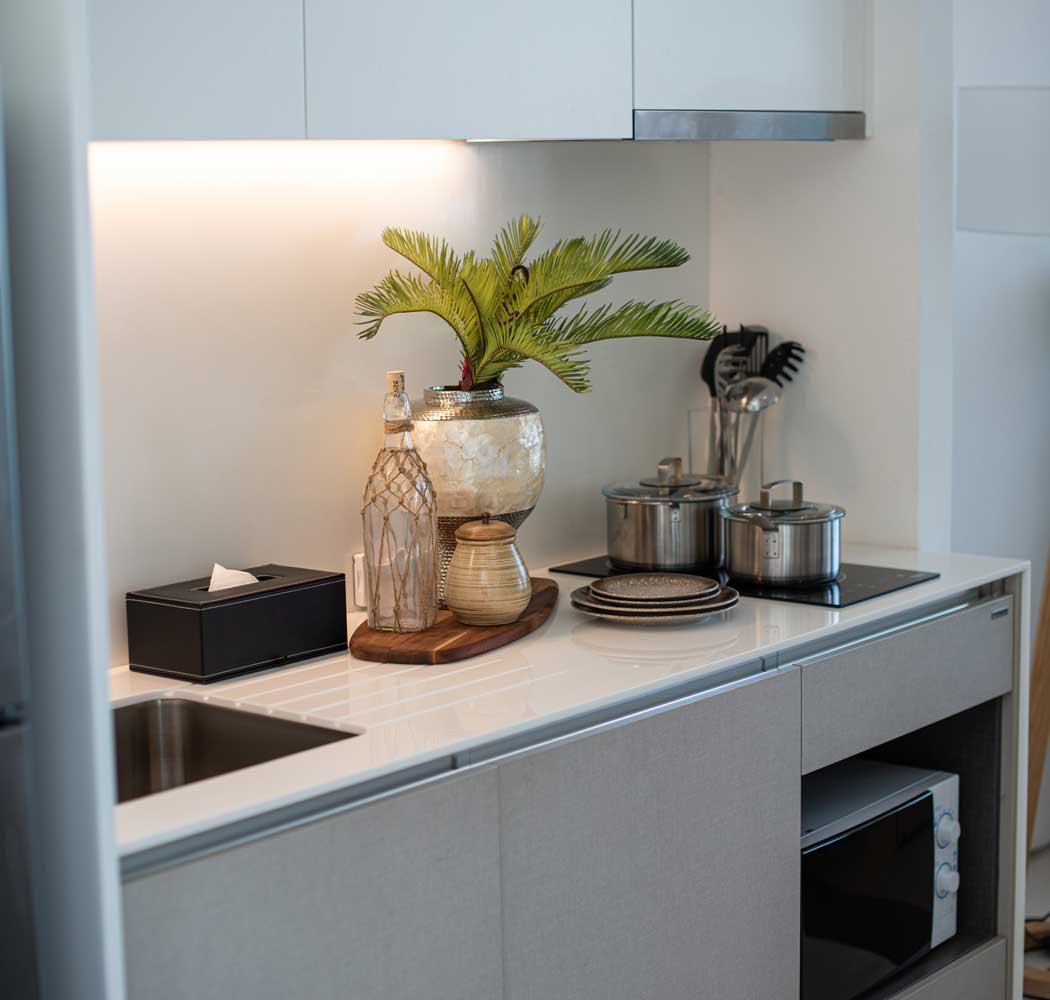 LED Strip Lighting
You can use LED strips as under-cabinet lights. If your kitchen has notable architectural details like a beam, a lofty ceiling, or something similar, you can draw attention to them by using subtle LED strip lighting that also adds a lovely glow to the space.
LED strip lighting can work well around alcoves, beams, or even around the edges of your kitchen to add a dramatic effect.
The difference between a great kitchen and a good kitchen comes down to lighting. Instead of thinking about kitchen lighting at the last, make sure to plan for them during the initial design or renovation stages. This way, you can ensure they integrate well with your other interior design elements and are functional and high on aesthetic quotient.