Advantages and Disadvantages of Kitchen Marble Floors
Once upon a time, marble was the material of choice for kings and queens. However, this elegant and classic material can now be used in your household to add a touch of glamour to your interior. In the kitchen, the use of marble flooring can trigger an instant elevation of appearance. If you plan to install a marble floor in the heart of your home, here are a few things about the advantages and disadvantages of marble flooring that you need to know.
Advantages of kitchen marble floors
Magnificent aesthetic impact:
Marble's unique style and elegance are vital factors that set marble flooring above all others. By using marble for your kitchen's floor, you can instantly make the space seem stylish and upscale. Since marble is a natural stone and no two marble tiles are the same, you can give your kitchen a unique look with marble flooring. When you use a solid-coloured marble stone for your floor, the difference in colours and shades will be subtle though it will stand out for you and your guests to appreciate. If you use multi-coloured marbles for your kitchen floor, the shades and patterns are more pronounced and become visible in each tile.
Polish and play of light:
Polished marble is extremely smooth and shiny and gives an attractive look to your kitchen. Since your polished kitchen marble floor reflects light, it creates the illusion of being translucent. A polished finish also helps bring out the stone's colours. If your kitchen floor has darker marbles like Bardiglio or Nero Marquina, it will let light glimmer on its surface, thus presenting a dramatically elegant look. In contrast, light-coloured marbles like Calacatta or Carrara present a classic and clean look that will remain aesthetically relevant for a long time.
All-natural material:
If you prefer your kitchen flooring to be environment-friendly and made of an all-natural material instead of artificial elements, marble fits the bill just right. This 100% natural metamorphic rock is formed when limestone is subjected to high pressure and heat, which is why you will notice veined and/or wavy patterns in it.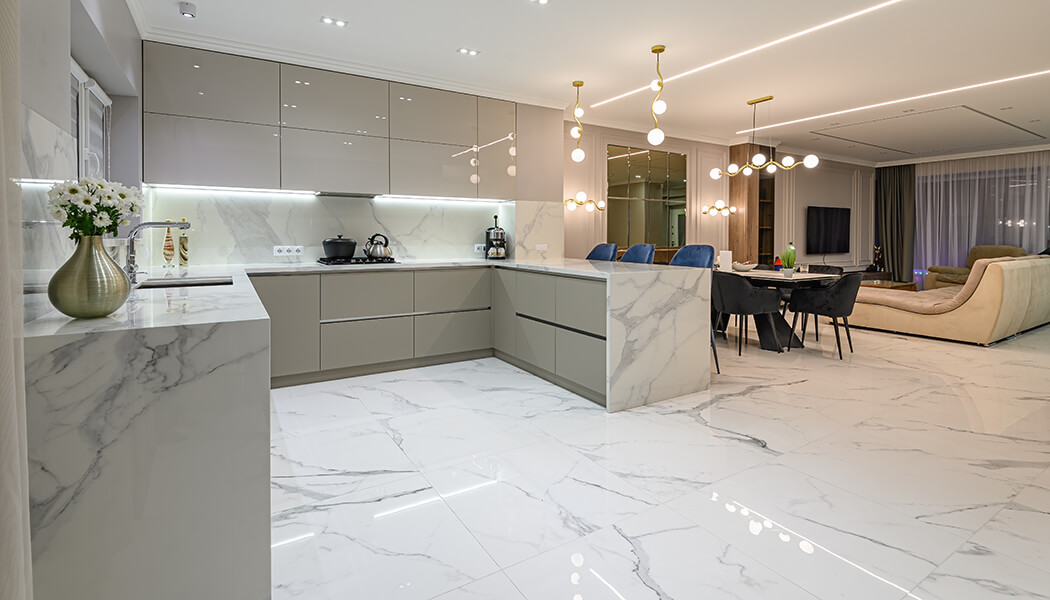 Good for radiant heat:
Though marble, like other stones and ceramic tiles, is cold underfoot, it can also act as a good base for your radiant floor heating system. Through the underlayment, you can get your electrical wiring or hydronic tubing networked, which will help convert your normally cold kitchen floor into one that's remarkably comfortable. This can be especially helpful during the winter months.
Disadvantages of kitchen marble floors
Complicated maintenance:
Your kitchen's marble flooring needs regular upkeep. Due to its alkaline composition, it's susceptible to stains from acidic substances that are available aplenty in your kitchen, such as fruit juices, beverages, sauces, etc. You need to remove the stains immediately, or else, they might become permanent. The choice of cleaners is a tough decision, as using cleaners that are too alkaline or too acidic can be harmful to marbles. You will also have to reseal your marble floor periodically. To know when it's time to reseal, notice if water is lying on your floor's surface like a recently waxed car. If it's not, it's time to get your stone resealed. Regular polishing is yet another task you need to undertake, without which your kitchen's marble floor will turn yellowish.
Prone to scratches: Due to it being a soft stone, marble is prone to scratches. Polished marble tiles are relatively easy to scratch. Your pets or moving of furniture can ruin your kitchen's marble flooring with scratches over time. And if your floor gets scratched, repairing it will be a challenging task, as you will typically need the expertise of a professional to repolish it.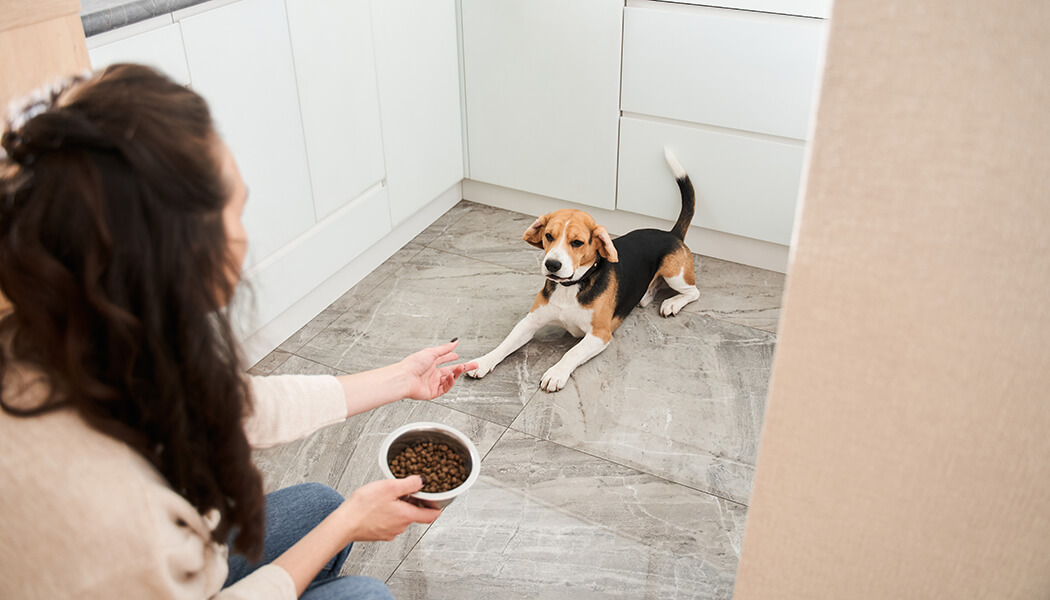 Can be extremely slippery
Your kitchen's polished marble floor can be perilously slick and slippery. Due to the presence of water, oil, and similar substances in your kitchen, this can be a big problem since slips and falls on the kitchen floor can be unforgiving to your joints and bones. If you must use marble flooring in your kitchen, you should either stay away from highly polished marble or choose varieties that are less polished.
There's no doubt that marble flooring in your kitchen can give the space an added dash of glamour and elegance. However, you need to know its limitations before deciding to spend money on buying and installing it.