A Guide to Using Rice Cookers for Easy Meal Preparations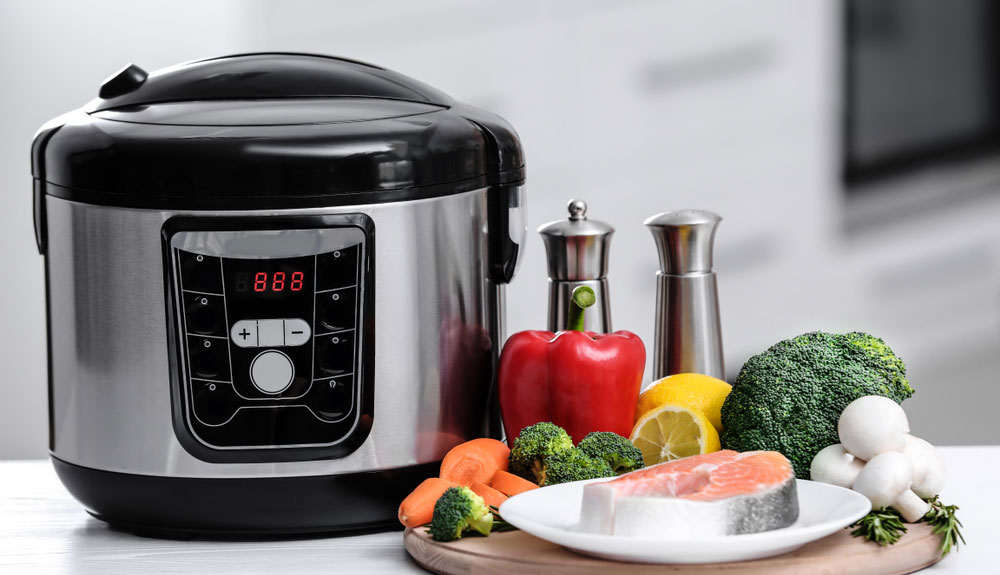 Having an electric rice cooker can be very useful for making rice, boiling lentils, steaming vegetables and many other delicious foods easily. It is a smart cooking appliance that is beneficial for small families, students and singles. For those who eat rice and rice-based foods regularly, having an electric cooker is a necessity. However, buying the right rice cooker for your needs is a little complicated and there are many things you need to consider before buying this appliance. Given below is a guide to choosing the perfect rice cooker.
Tips to buy the perfect rice cooker in the UAE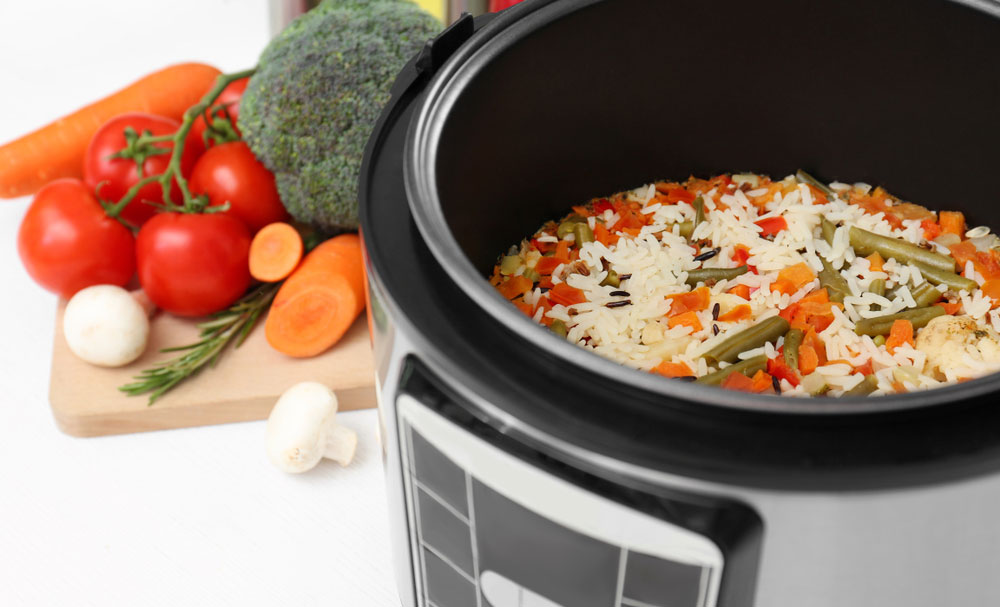 Capacity -Depending on the size of your family you can choose from several capacities in rice cookers. A rice cooker of a capacity of 3-5 litres is sufficient for a family of 5-6 people.
Ease of use – Basic electric cookers are available with one-touch operational buttons. You simply need to add the required quantity of rice and water and press the cook button for the rice to get ready. But some advanced models come with digital controls which offer a lot of options in cooking several dishes.
Delay-start functions – Having a delay-start function is a must for an electric rice cooker. This allows you to set the cooking time according to your convenience.
Cooking mechanism – Most rice cookers use either of two mechanisms to get the work done; thermal convention cooking or heat induction cooking. The heat induction mechanism is better than the thermal convention one as it makes perfectly cooked rice every time.
Auto-warm function – Having an auto-warm function in your electric rice cooker keeps your food hot and fresh till the time you need to eat it.
Detachable power cord – While having a detachable cord is not a necessity, it does make storage easier since the cord can be unplugged and stored without being dragged behind the unit.
Cook and serve options – An electric rice cooker having a cook and serve design gives you the advantage of serving the rice straight from the pot without messing up too many dishes. All you need to do is remove the cooking compartment once the rice is done, and carry it to your table.
Design and build – The outward design of your electric cooker should have a stay-cool handle so you can use the appliance without fear of burns. A glass top lid is an advantage so you can check your food occasionally. The inside of the cooking vessel needs to have a non-stick surface so that washing and maintenance are easy.
Warranty – Before investing in an electric rice cooker, check the warranty period for the appliance. As far as rice cookers are concerned, a longer warranty period generally means the product is well-built and long-lasting.
Keeping these factors in mind will help you in choosing a high-quality appliance to take care of your requirements.
Tips to use an electric rice cooker efficiently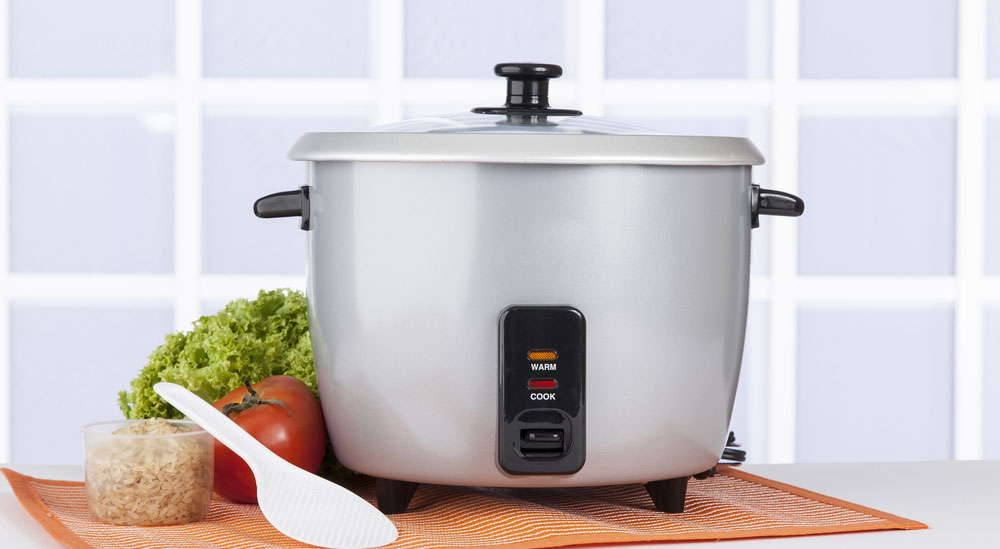 Electric rice cookers work on the simple principle of boiling water to cook rice. If you are using a rice cooker for the first time, avoid experimenting with its functionality on your own and go through the manual to know all about its operations. Here are a few basic tips to keep in mind when using electric rice cookers:
Fill up the water in your cooker as per the recommended scale. Usually a cooker comes with measuring cups which you can use to measure out your rice and water.
If you are adding vegetables, make sure they are cleaned and cut into even-sized pieces.
Do not place the cooker near any water-based surface or you may run the risk of suffering electric shocks.
Keep the lid, pan and other inner parts clean to avoid corrosion and odours.
Do not use sharp or metallic objects on the inner cooking pot. The non-stick surface will be damaged.
Be careful when using the rice cooker as they may emit steam when the cooking process is going on.
Do not use the cooker without the inner pot.
Always clean and dry your electric rice cooker before using it again.
How to care for your electric rice cooker
Caring for an electric rice cooker is pretty easy and straightforward. Disconnect the rice cooker from the power source before cleaning it and allow it to cool completely. Wipe the outer surface with a damp cloth. If there is food debris on the heating plate, clean that too using a damp cloth. Remove the inner vessel and use a mild soap or detergent to clean the vessel. Use a sponge to scrub the pot so as not to damage the non-stick coating.
Allow the appliance to dry thoroughly before reusing.
With the proper use and care tips your rice cooker will make a lot of tasks easier. If you are considering buying a new rice cooker, here are a few excellent recommendations
Nutricook Smart Pot Prime 1200 Watts - 10 in 1 Instant Programmable Electric Pressure Cooker
The Nutricook Smart Pot is more than just a rice cooker. It also functions as a pressure cooker, a slow cooker, an egg cooker, yogurt maker, steamer, soup maker, cake baking oven and food warmer. It comes with 10 one-touch presets to make your favourite food items without the need to figure out temperatures or timings. It is made from high quality 18/8 stainless steel and is dishwasher-safe.
Russell Hobbs Rice Cooker with Steamer 19750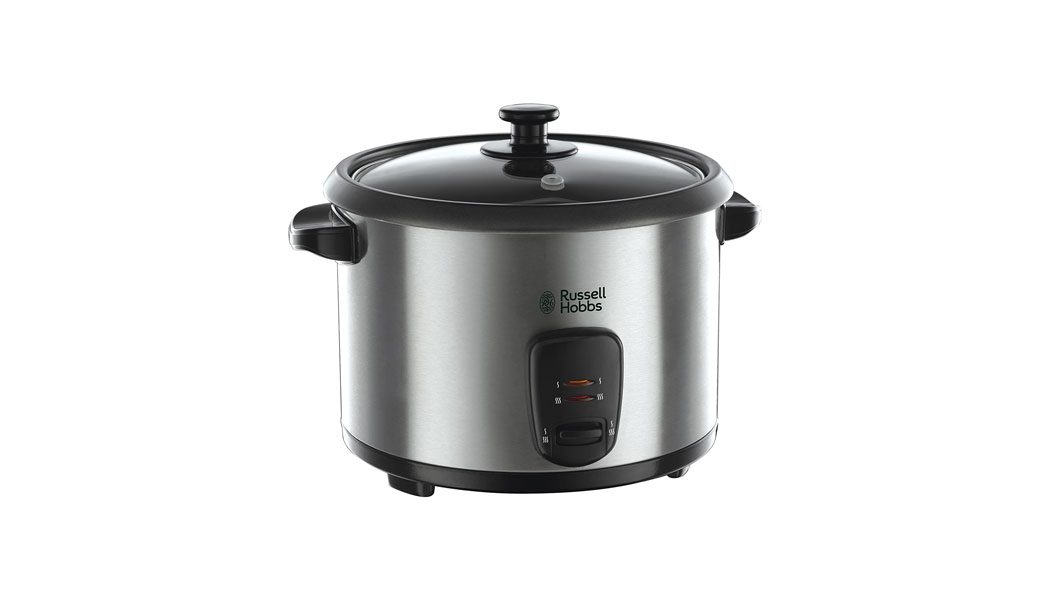 The Russell Hobbs 19750 rice cooker and steamer gives users an easy and hassle-free way to cook rice. The appliance has a 1.8 litre capacity which can cook up to 10 cups of rice at a time. It comes with a warming function which maintains the temperature of the food until it is served. The appliance includes a spatula, a measuring cup and a separate tray for steaming vegetables or fish. It has a glass lid for monitoring the food and a stainless-steel base which is easy to clean.
Philips Stainless steel RiceCooker 1.8L 980W HD3038/56
This rice cooker from Philips is a stylish looking appliance which also provides great performance. The cooker has a durable 5-layer build of the inner pot and conducts heat evenly to cook food perfectly. It can cook up to 8 cups of rice at once and has an ultra-fast cook function for emergencies. The appliance comes with a plastic steam basket, scoopers and a measuring cup.
Kenwood Rice Cooker with Steamer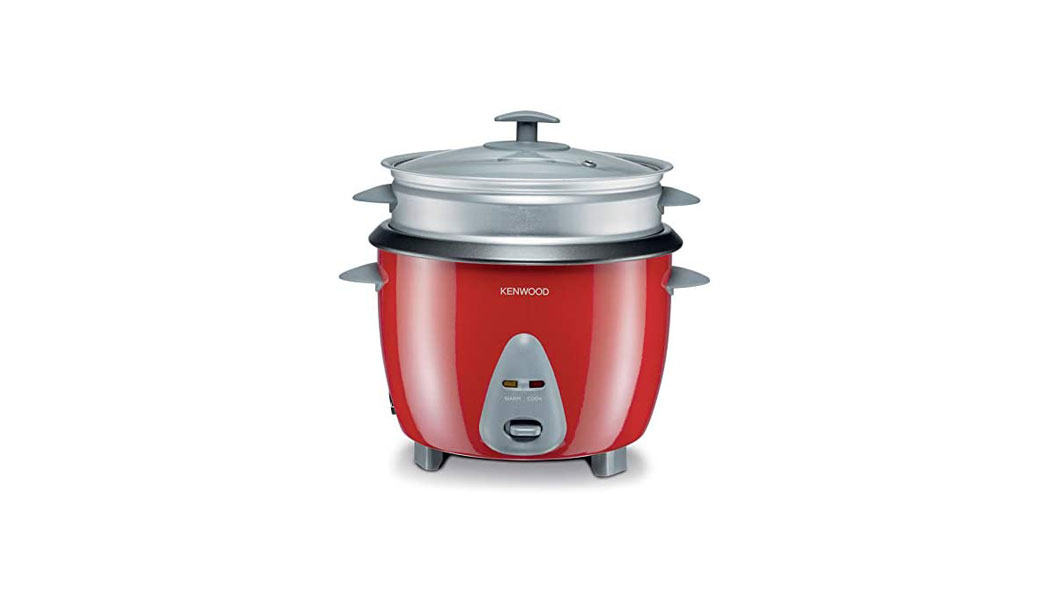 The Kenwood RCM44.RD Rice Cooker and Steamer is a great option for large families since it can cook up to 12 cups of rice at once with its 1.8 litre capacity bowl. The cooker comes with a non-stick removable bowl for rice, a steamer tray for fish and vegetables, a spatula to serve the food without damaging the non-stick coating and a measuring cup. The appliance has a glass lid which allows food monitoring. It has an elegant design and is easy to clean and maintain.
TEFAL Easy Cook 1.8 Liter Rice Cooker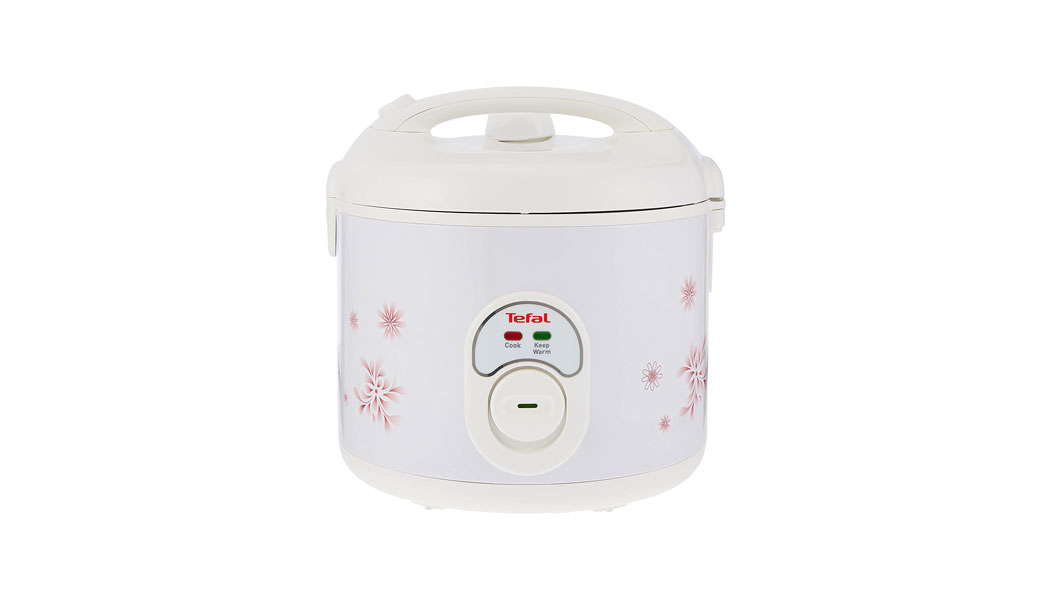 The Tefal RK101827 is a large 1.8 litre rice cooker capable of making 10 cups of rice at once. It comes with a micro pressure valve that prevents overflow of food. 10 preset options allow you to cook various rice based dishes at the push of a button. There is a keep warm function which maintains the temperature of the food for a long time. The rice cooker comes with a steaming basket and is a compact and lightweight appliance that can be used with ease.
Russell Hobbs 21850 Multi Cooker, 11-in-1
The Russell Hobbs 21850 Multi Cooker is a one-stop appliance that takes care of multiple cooking responsibilities in your kitchen from making porridge and stews to steaming rice and even making bread. The capacity of this cooker is 5 litres which is enough to make meals for a small family. You can choose from pre-set 24-hour timers for the program of your choice to make any number of foods such as rice, soup, yoghurt, bread and more.
Russell Hobbs Slow Cooker, 3.5L, Silver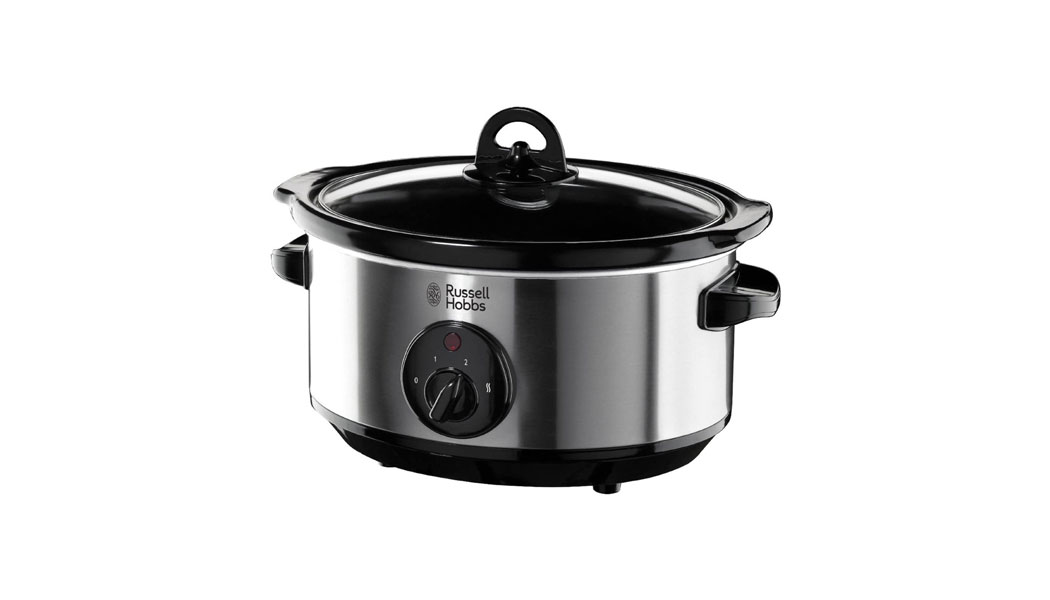 This slow cooker from Russell Hobbs is perfect for making casseroles, stews, slow-cooked meat and lots of other dishes which typically require hours of cooking time. The 3.5 litre capacity is ideal for making 4-5 portions of food at a time. The cooker looks very stylish and is easy to use with simple settings that can be handled by everyone. The inner pot is removable and is dishwasher safe making it a breeze to clean and maintain.