8 Creative Ideas to Up the Style Game of Your Dining Room Walls
Your dining room should be warm and welcoming, where your family members or guests can eat and have conversations with ease. Whether you have a small dining room or a big one, you shouldn't skimp on style. To up the style game of your dining room wall décor, there's no dearth of ideas to implement. From painting the walls to using some décor accents, there are several no-fail options to enliven your dining room walls. To make your choice easier, we present eight creative ideas to help you create your dream dining room wall.
Invest in wallpaper
If you plan to add visual detail to your dining room, you shouldn't leave it all down to your decorating ideas for the dining table. Instead, you should invest in wallpaper to take the coloured accents and floral patterns to your dining walls too. You can choose simple wallpapers with a lot of texture like grasscloth if you prefer to keep the décor minimalistic. Else, you can get one with a detailed trailing design, which will work especially well if you have a high ceiling.
Add a mirror
A mirror on your dining room wall is an excellent way to reflect low light or candlelight. If your dining room is small, you can consider putting up a round mirror that creates an illusion of space, reflects flattering light on your guests as well as around the room, and creates a welcome contrast to the room's sharper lines. For a larger dining room, a large mirror will work the best as it'll create an elegant, visually appealing setting.
Opt for classic panelling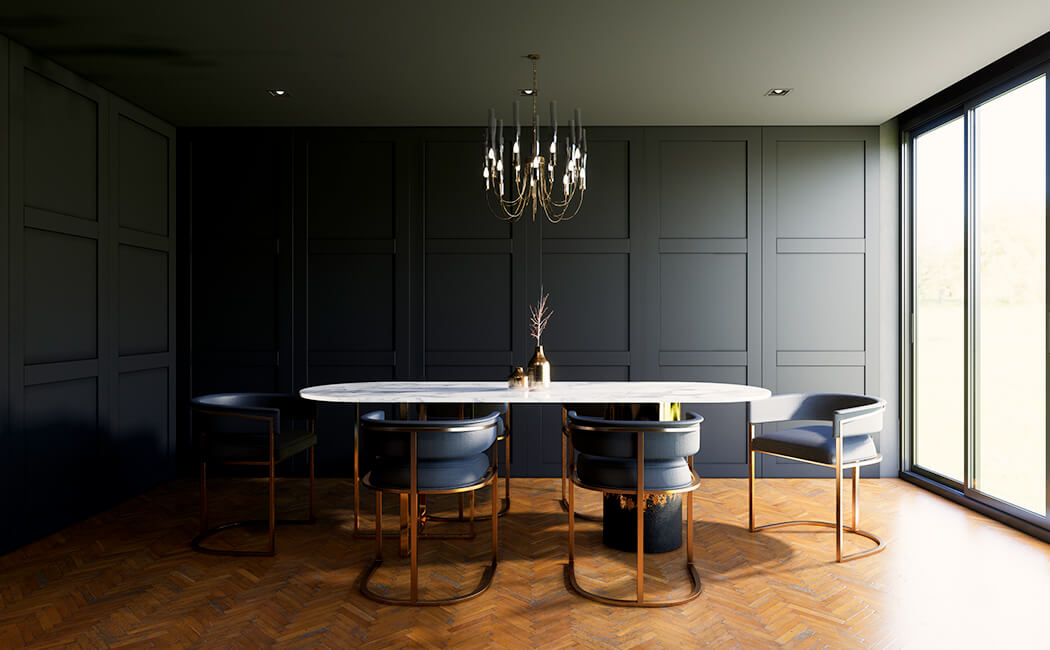 If you want to bring a classic, traditional vibe to your dining room wall, you can choose panelling ideas. You can opt for panelling all the way up to your ceiling to create an illusion of height. Panelling under chair rails is also worth a try if you're looking to create added interest in the space. Whatever panelling you choose, it should match your dining room's furniture and overall décor.
Choose a dramatic wall art or quirky painting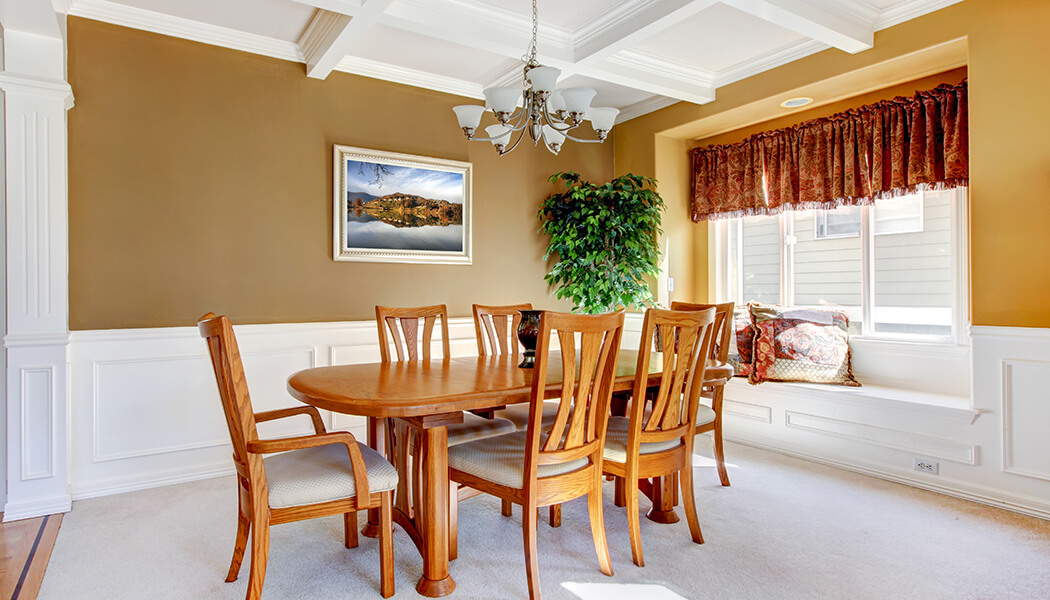 To jazz up your dining room wall, you can hang on it an artwork, a split painting, a quirky illustration, or even a framed picture of yourself or your family. Setting up a mini blackboard on the wall where you can draw, doodle, or scribble recipes often is another way to easily lend a personal touch to the space and elevate its décor.
Use statement pieces
Hanging a solitary statement piece on your dining wall can set the tone of the area. For example, if you want to give the area a bold update, you could choose an antler wall mount. A stunning piece of art hung on the wall that complements the dining room's furniture and helps create a cohesive look is another good design idea to implement.
Paint the wall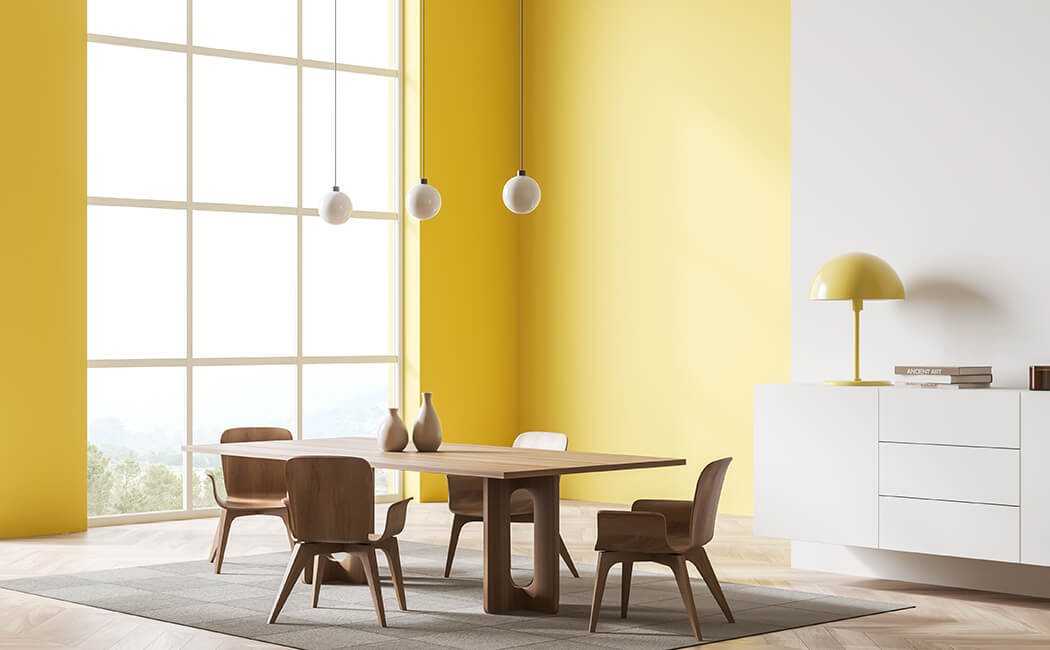 You could either paint all your dining room walls or paint just one in a colour different from the others to up the space's aesthetic quotient. By simply painting one wall of your dining room in a different colour, you can alter the mood of your space. You can be bold with appetizing reds or electric blues, go bright with happy yellows, or choose safe neutrals based on whatever reflects your personality the best.
Install a colourful bookcase on the wall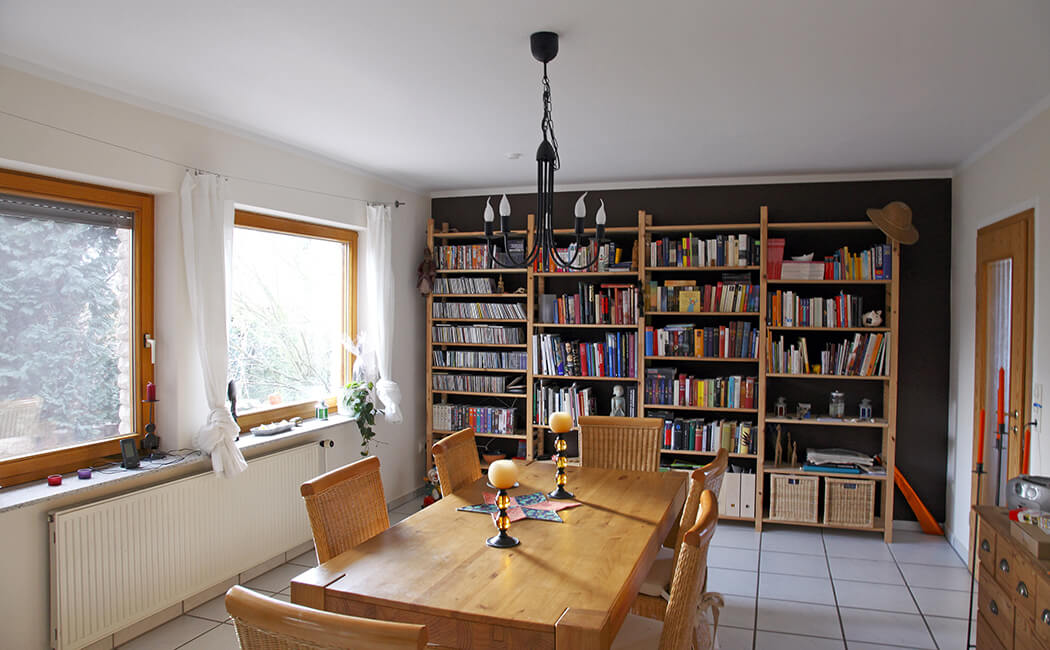 A colourful, built-in library that runs from floor to ceiling on one of your kitchen walls can act as a vibrant décor idea to up the space's style game. If you want to give the traditional décor items a miss, this can be what your modern dining room walls need. If you don't have ample books to fill the bookcase, you could display other décor items and potted plants on some of the shelves.
Keep it cosy with curtains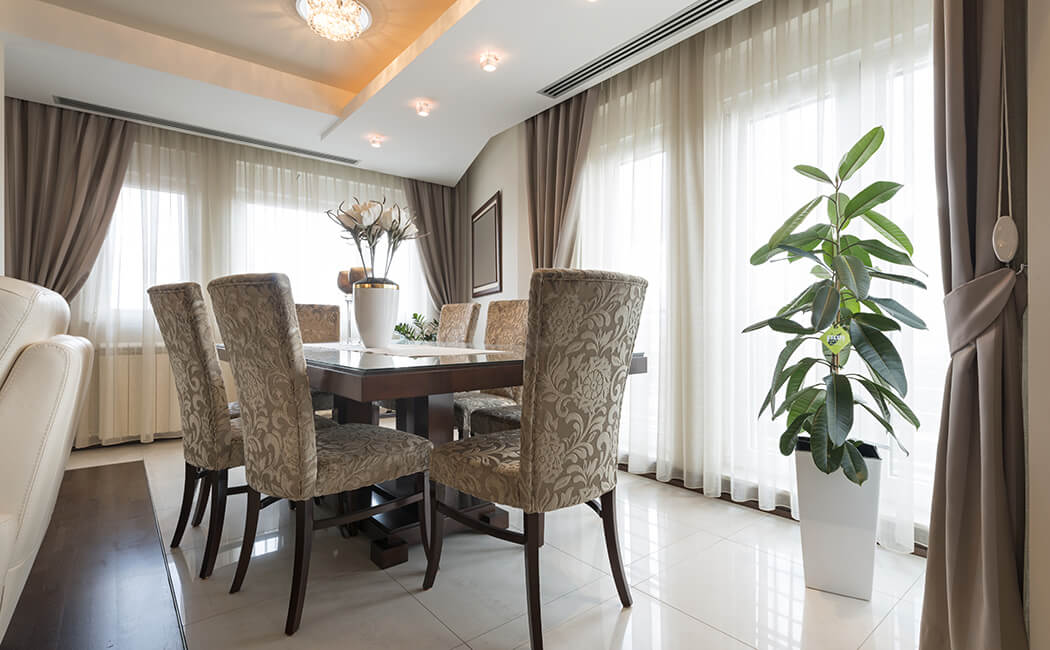 Curtains are crucial wall décor elements you should consider. If your dining room wall has windows, you should hang curtains that let sunlight in during the day but offer enough privacy for a cosy, intimate dining area at night. If your walls are printed in simple or neutral shades, having striking drapes can compliment them to enhance the space's glamour quotient.
With these stylish, easy-to-implement designs for your dining walls, you can easily create the ultimate spot for enjoying your meals and entertaining guests.