6 Easy and Effective Suggestions to Hang Your Kitchen Towels
Despite being a common element of most kitchens, kitchen towels are often neglected when it comes to positioning them right. You need your kitchen towels to be dry, organized, and handy. These towels play an incredibly useful role in almost every kitchen and signal the functionality of your space. The heart of your home would feel incomplete without colourful and clean kitchen towels. Since they are available in a wide variety of colours, sizes, and styles, they can add a pop of colour to your kitchen and even transform your space from boring to attractive. If you need creative and effective ideas to hang your kitchen towels, we bring you the top six worth a try.
On your sink edge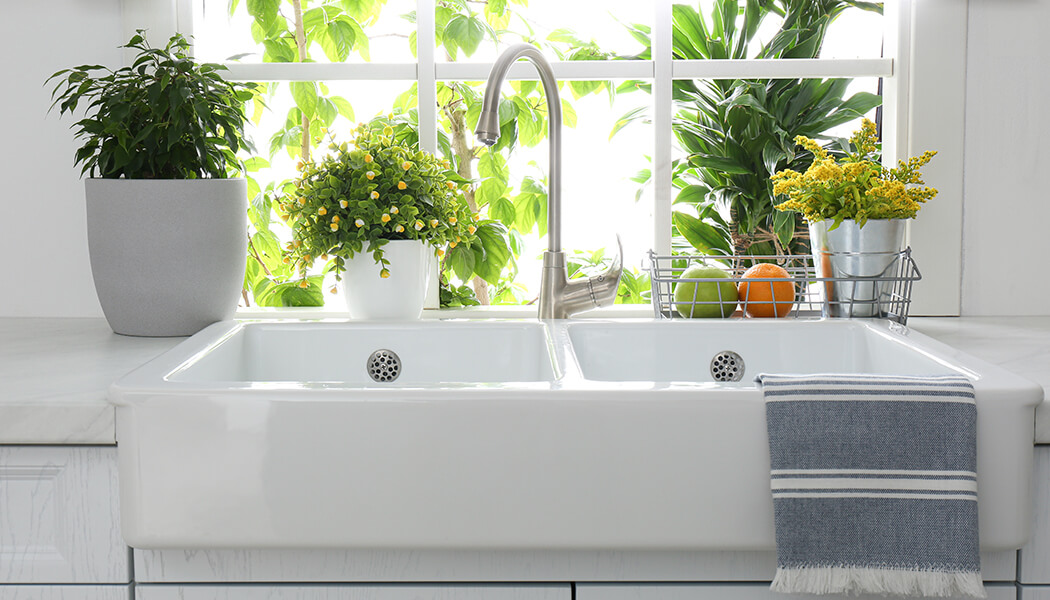 If you have a divided sink where the faucet's flow is directed at the other half, you can hang your kitchen towels on the edge of your sink. However, this idea won't work for a single-bowl sink because your towels will get wet every time you turn your faucet on.
Above or beside your kitchen sink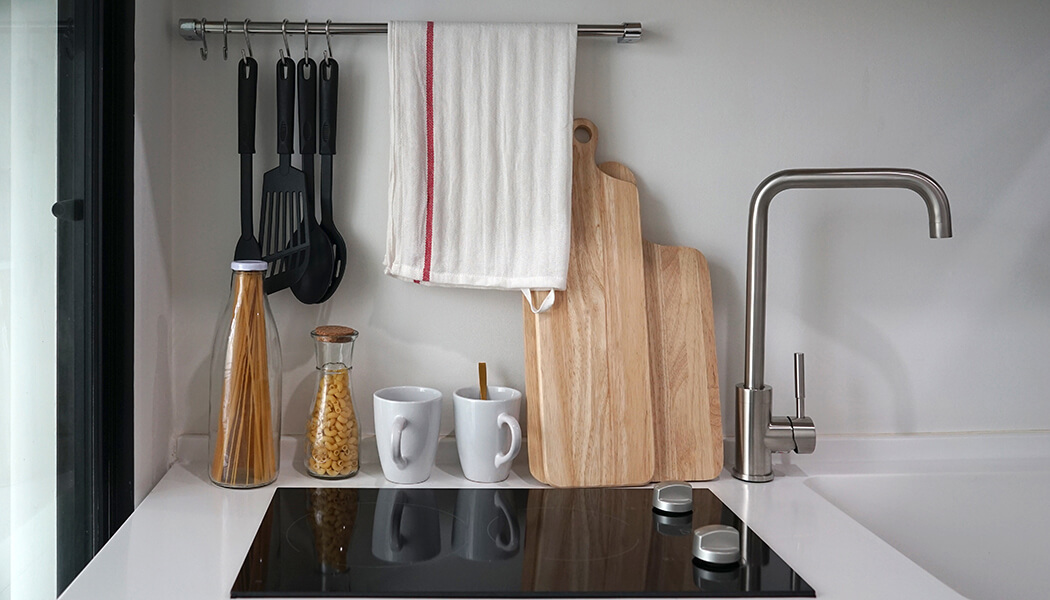 Hanging your kitchen towels on a designated towel holder right next to your sink, albeit at a height, is another good idea as it will make them easily accessible. If you don't have space for your kitchen towels beside the sink, you can install a towel holder just above your sink to hang your kitchen towels in an assortment of different colours, sizes, and styles.
On a kitchen shelf with railing
This can be a great space-saving idea to hang your kitchen towels. While the shelf can hold your kitchen utensils, the railing can be used to hang two or three of your kitchen towels.
On towel rings or hooks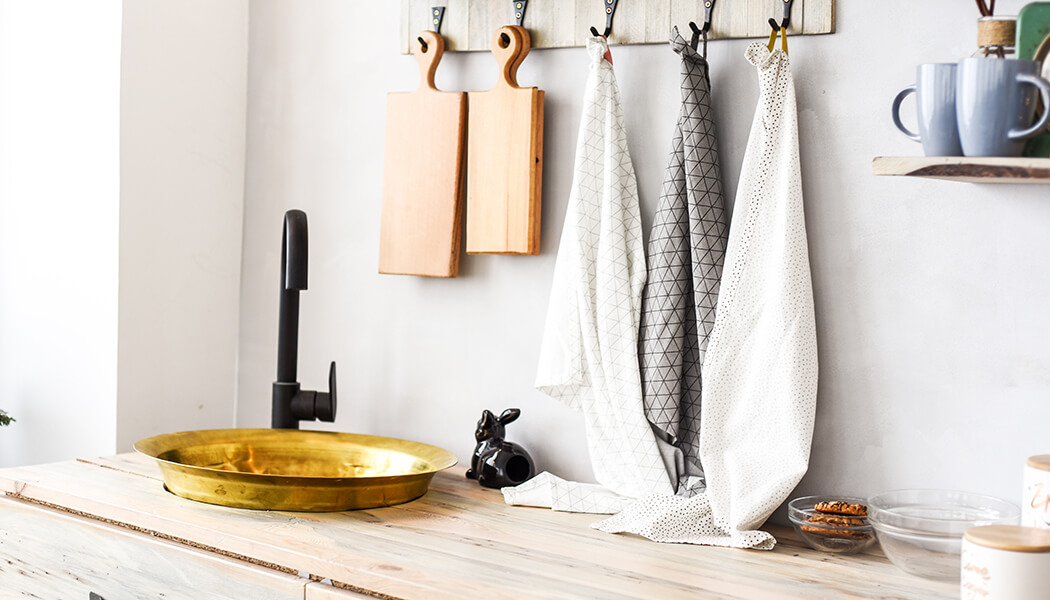 You can install a towel ring or hook on a wall near the sink or under an upper cabinet or shelf. You could even have multiple rings or hooks if you like to use separate towels for washing hands, drying your utensils, cleaning the kitchen countertop, etc.
On appliance handles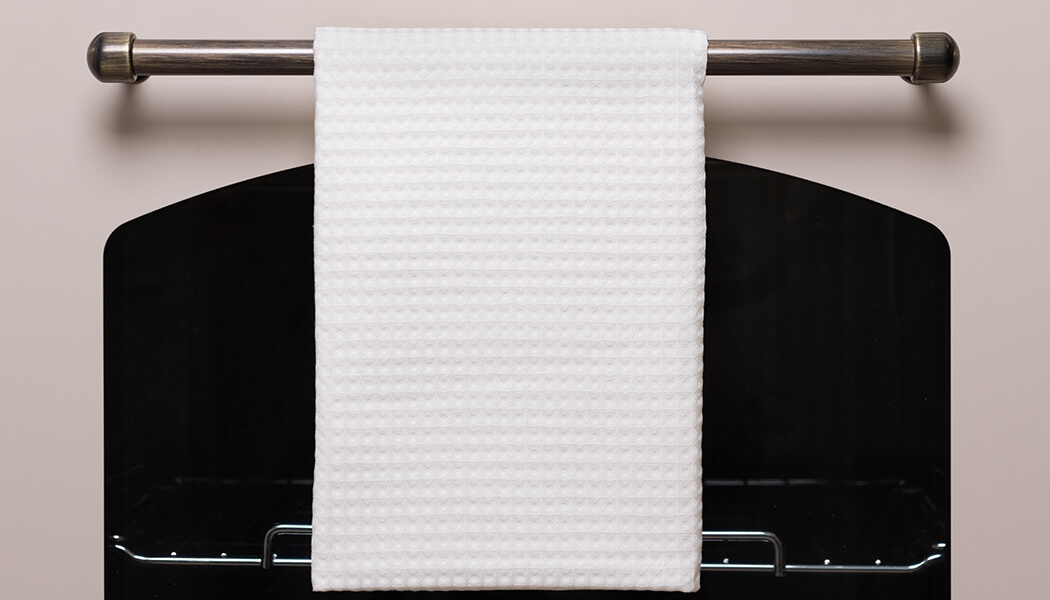 If your oven or dishwasher in the kitchen has handles, you can use them to hang your kitchen towels. This idea can suit almost any kitchen, irrespective of its size or décor. It can also help you avoid driving screws into cabinets or walls to install towel hooks or bars.
On a ladder
If you want to give the kitchen towel rails, hooks, and rings a miss, you could try using a ladder instead. A small or big kitchen towel ladder could be an innovative way to hang and show off some of your most colourful and quirky kitchen towels.
With some thinking and online research, you can find other ideas like installing a towel bar on your kitchen island, under the sink, or having an over-the-cabinet towel bar. The key is to find innovative and effective ideas to hang your kitchen towels without sacrificing aesthetics and convenience. Do you already use any of these ideas or have another favourite place to hang your kitchen towels? Don't forget to share it with us.