15 Stunning Dining Room Decorating Ideas to Make the Space Your Home's Ultimate Gathering Spot
If you love your meals and enjoy spending time with your family and friends sitting at the dining table, there's no doubt that your dining room is a happy place and your home's centre of attraction. Whether you want to give the space a stylish makeover or keep it ready for everyday use and dinner parties without digging a deep hole in your pocket, we have got you covered. We bring you 15 dining room décor ideas in a variety of styles, from traditional and modern to eclectic and more. Whether you plan to redecorate your dining room or simply need a little inspiration to give the seemingly bland space an interesting spin, these ideas are easy to implement at home.
Bring in some rustic charm
If you prefer an out-and-out rustic dining room, you can opt for a log-cabin-like style with a white oak table. Complement it with wooden chairs and images with wooden frames hanging on the wall to create the right set-up. With bright coloured table mats, you can even add a pop of colour and style to the rustic setting.
Mix-and-match rustic and modern elements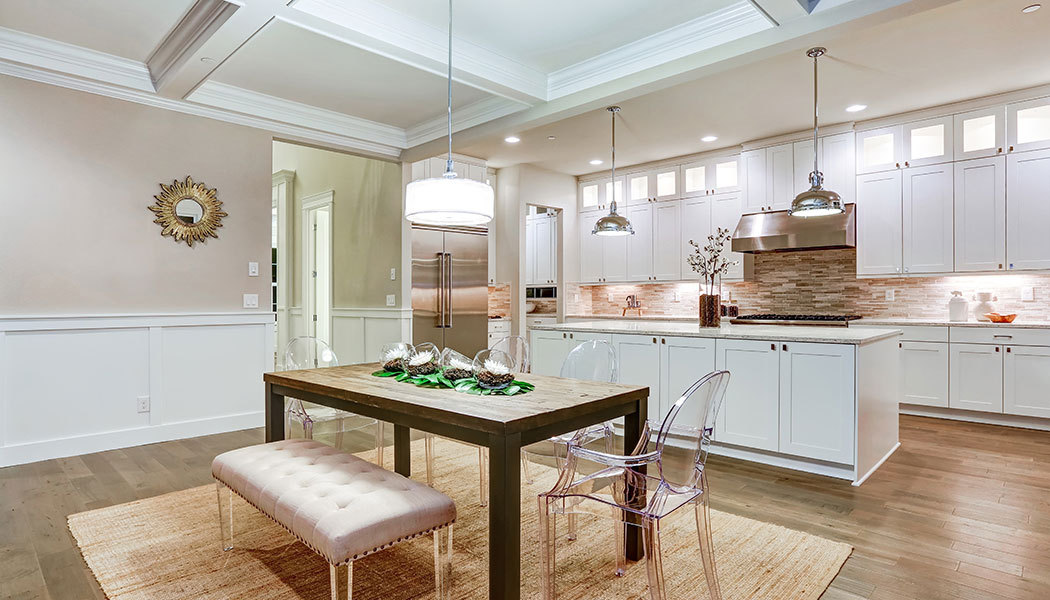 If you have a rustic, wooden dining table, you can give the dining space a modern twist by having glass chairs. A tufted bench with glass legs can also fit the setting well and enhance the style quotient of your dining room. You just need to ensure that the colour scheme of these pieces of furniture complements each other and goes well with your overall kitchen décor.
Choose a balanced style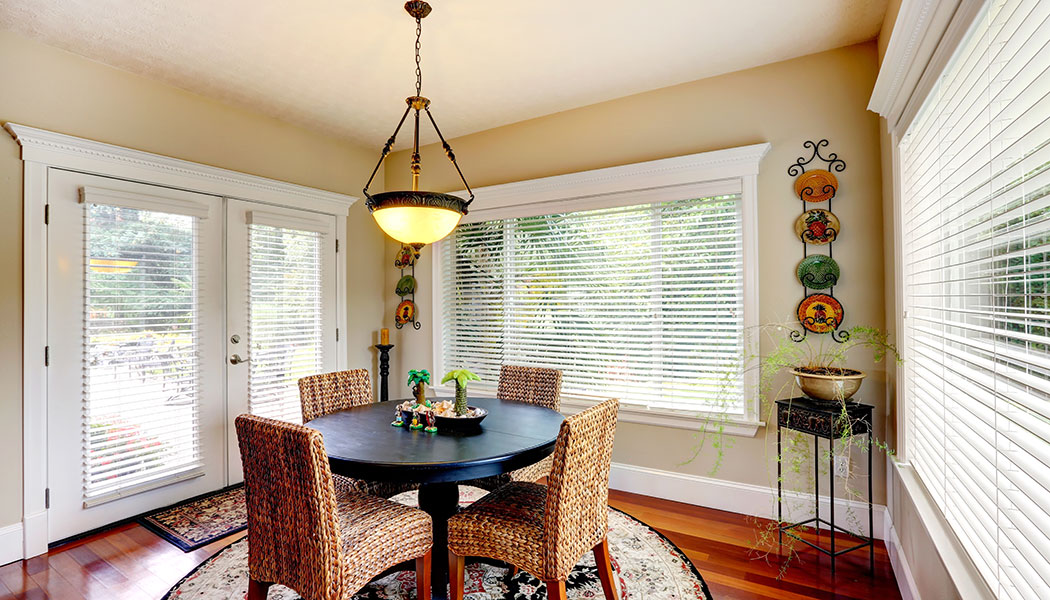 If you want minimalistic décor for your dining room, you can opt for a streamlined look and balance it by bringing in natural furnishings. For instance, a wood dining table surrounded by wicker chairs can give the space a balanced style. To give a personal touch to your dining room, you can even hang some photographs on the wall to create a photo gallery or showcase a wall-hanging artefact you had picked during your travel.
Create a space that works for all occasions
When designing your dining room, you shouldn't think only about your daily family meals. Instead, you should also consider how the space will fair when you host larger celebrations or parties for friends and neighbours. A dining room with a majestic chandelier hanging above a wood dining table and adequate seats around it to make everyone feel welcome is just right for family dinners and lavish parties.
Don't be afraid of using colourful wallpaper
If you want to have some serious fun with colours in your dining room without painting the walls, you can consider wallpapers. With gorgeous and fresh floral designs, the right wallpaper can give the space a colour burst and make it feel beautiful and welcoming.
Use curtains and valences for your dining room's window treatment
If your dining room is a brightly lit space with one or more windows, you can dress them up with curtains and valences. This way, you can add to the space's aesthetic appeal and even create privacy by drawing the curtains when needed. You could even use a dining table cloth in colours matching your window curtains and valences to give the space a certain degree of uniformity.
Create a laid-back space with a coastal colour palette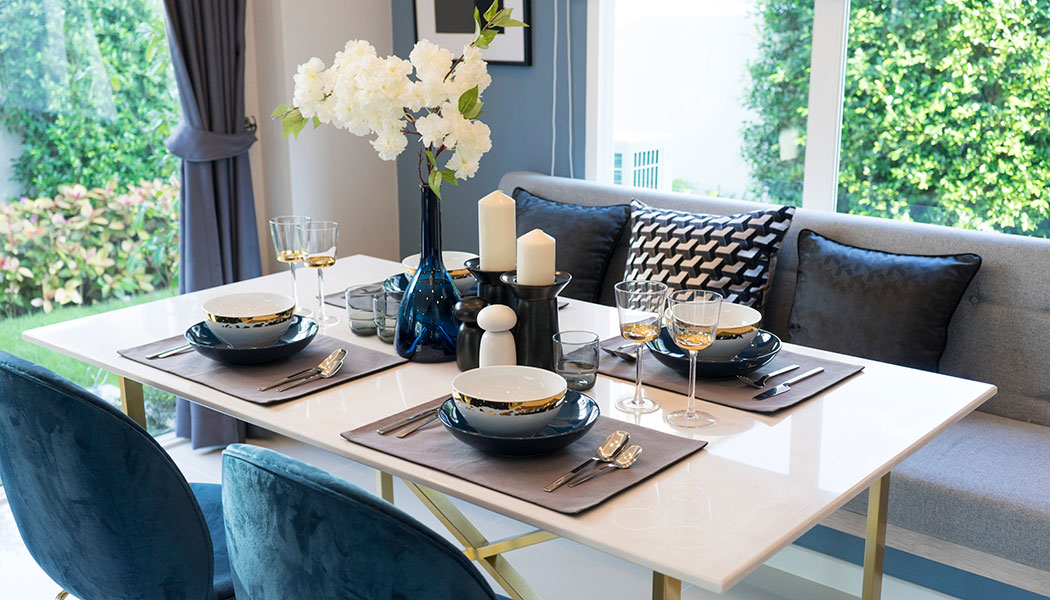 Not everyone hosts lavish dinner parties in their dining rooms. If your space is reserved strictly for family, you can use a relaxing blue-and-white colour scheme reflected in comfortable chairs, sofa, cushions, and curtains to create a textural backdrop for a laid-back space where all family members can feel at home.
Use artwork on the walls
Your dining room is the place to showcase your personality to your guests and visitors. To give this space a unique touch, you can showcase your favourite pieces or artworks. For instance, hanging a big, solitary artwork by your favourite artist or a group of smaller frames can bring alive the space and enhance its style quotient.
Invest in sleek lighting options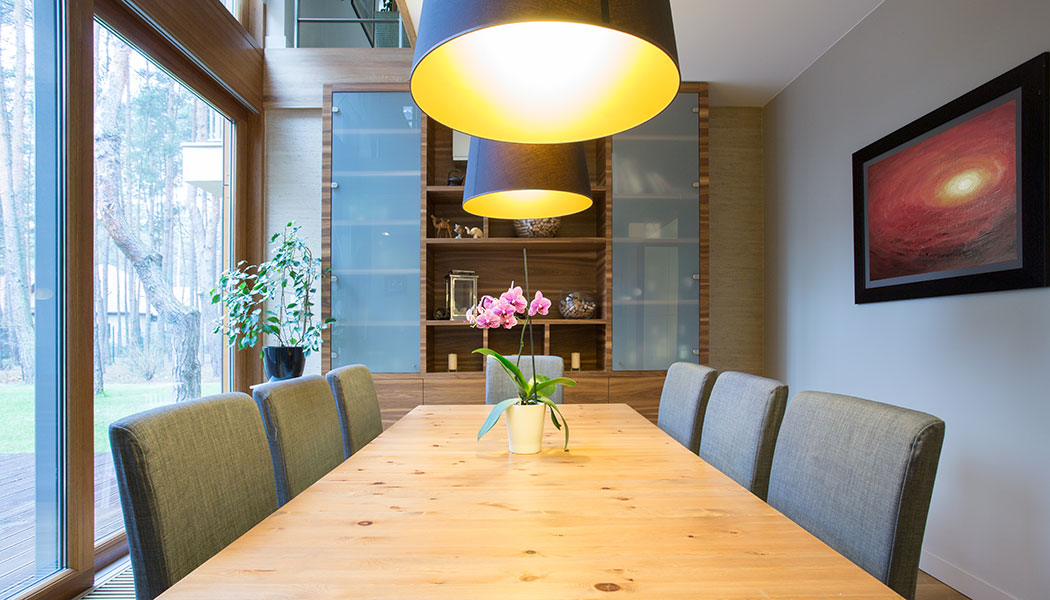 Though chandeliers are the preferred choice of many when decorating dining areas, you can give your dining room a more contemporary look with sleek lighting options, such as pendant lights, lanterns, or cascading bulbs. You will get a diverse range and different styles to choose from. The soft light emitted by these lighting fixtures will make them a stunning focal point in your dining room.
Set your dining table in style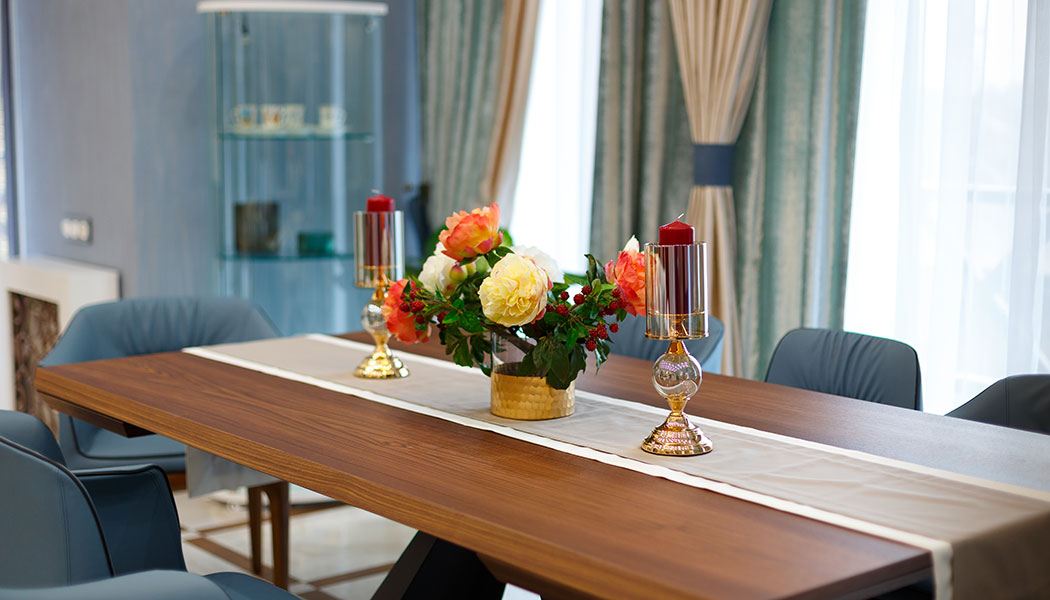 When deciding how to dress your dining table, you should select a centrepiece that's either well above or lower than the eye-line, as visual communication is an integral part of lunch and dinner parties. Almost anything can work, from a chandelier above the table to candles and floral arrangements or existing ornaments. However, your centrepiece(s) shouldn't distract. Instead, they should help keep the focus on the table.
Zone your dining space right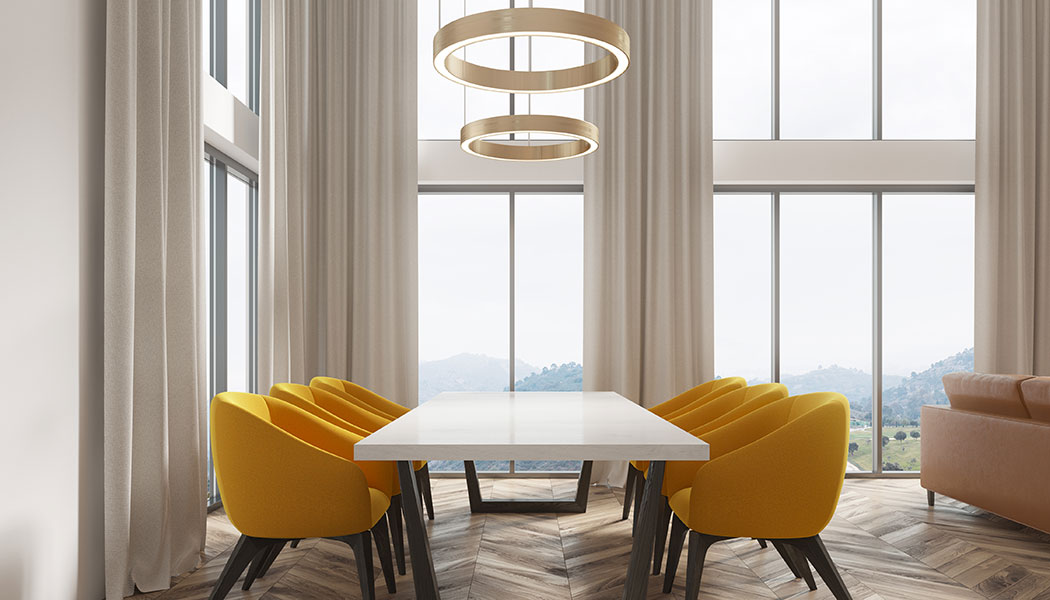 If you have an open plan kitchen, dining, and living space, zoning each space by choosing the right location is crucial. For instance, if you have a large windowed area, you can set up your dining table to harness natural light and give your guests a view of the outdoor.
Use oversized mirrors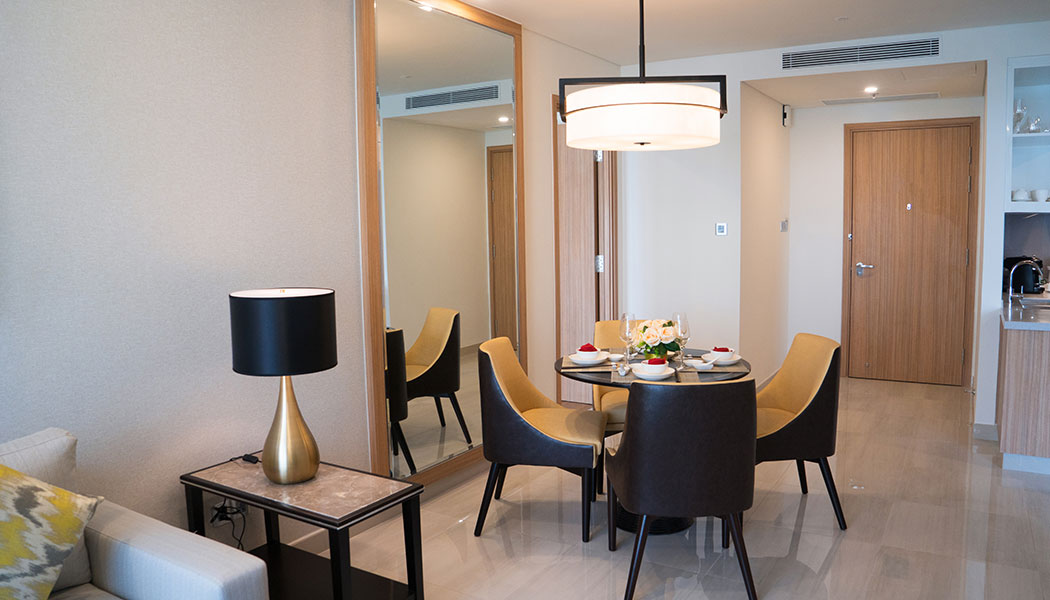 By positioning an oversized round or square mirror on your dining room's wall, you can visually expand the space. This is especially helpful if your dining room is small, as the mirror on your wall will make the space seem more spacious than it actually is.
Make your dining room sociable with a round dining table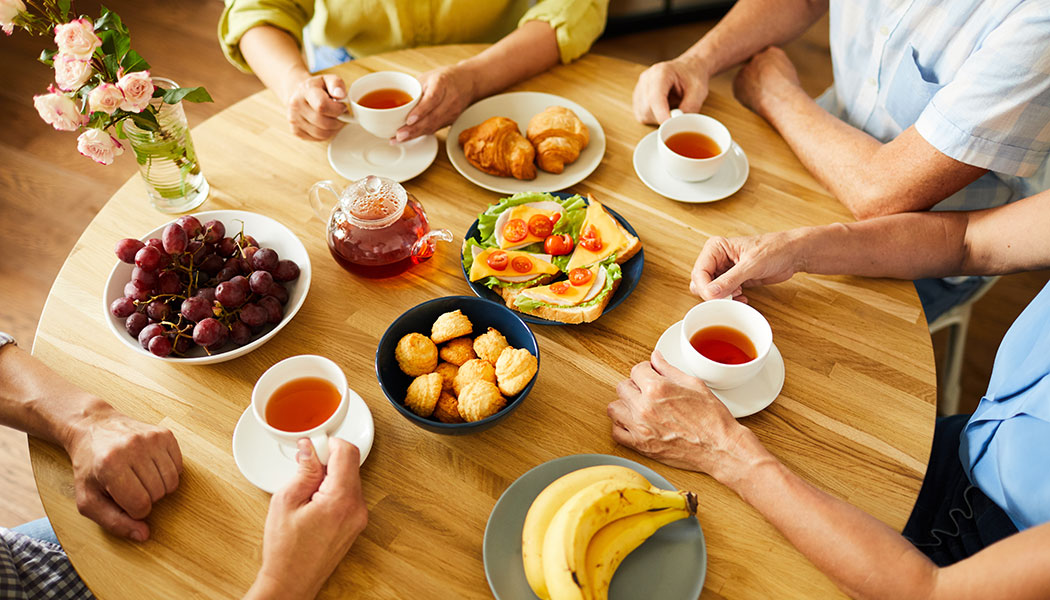 Unlike square dining tables that are more formal, a round dining table helps create a relaxing and sociable ambiance in your dining room. When you have a circular table, you can even add a few extra chairs and stools around to accommodate your guests, if need be. And once you have finished eating, you can tuck the table away in the corner of your room, making such a table the ideal choice for a small dining room.
Use space-saving furniture for small dining rooms
If you have space constraints, you can use a dining table with nested stools or benches. You can position them under the stairs, beside a study, or in a corner of your kitchen island to create a cosy dining spot while making the most of a narrow space.
Use layered lighting
How you decorate your dining room will depend on how you intend to use the space. Those preferring to use it for informal snacks, a cup of coffee, or reading the morning newspaper will invariably give the room a laid-back vibe. Others intending to entertain guests will go for more elaborate and eye-catching décor ideas. You need to consider what suits you the best and implement some of these design and decorating ideas to make your dining room stunning and inviting.