10 USER-FRIENDLY IDEAS TO GIVE YOUR KITCHEN AN APPEALING MAKEOVER
The kitchen is the heart of your home. This is where you chart out your meals, eat with your family, and even entertain guests. Whether your kitchen is small and cosy or a lavish one with a dreamy layout that has top-of-the-line appliances, a massive marble island, and spacious cabinets, there's always an opportunity to do something more. If you are looking for creative design ideas to put on your vision board that can let you enjoy your kitchen duties a little bit more, we bring you inspirations from the industry leaders.
CREATE A DÉCOR SCHEME WITH CHARACTER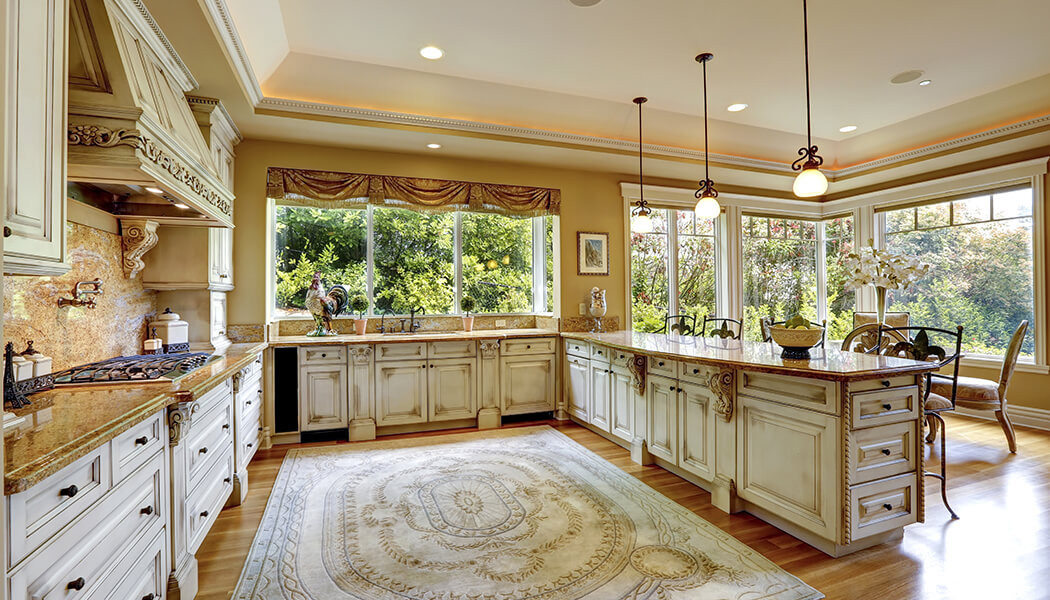 Your kitchen should have a homely feeling that makes you happy. You can showcase your personal style to add character to the space. For instance, you can keep your countertops clear, use a valence on your kitchen window, position a rug, a unique tray, or a vase of flowers, and choose cabinets with a striking character. The key is to impart a unique character to your kitchen décor that resonates with your personal style.
CREATE A BREAKFAST CORNER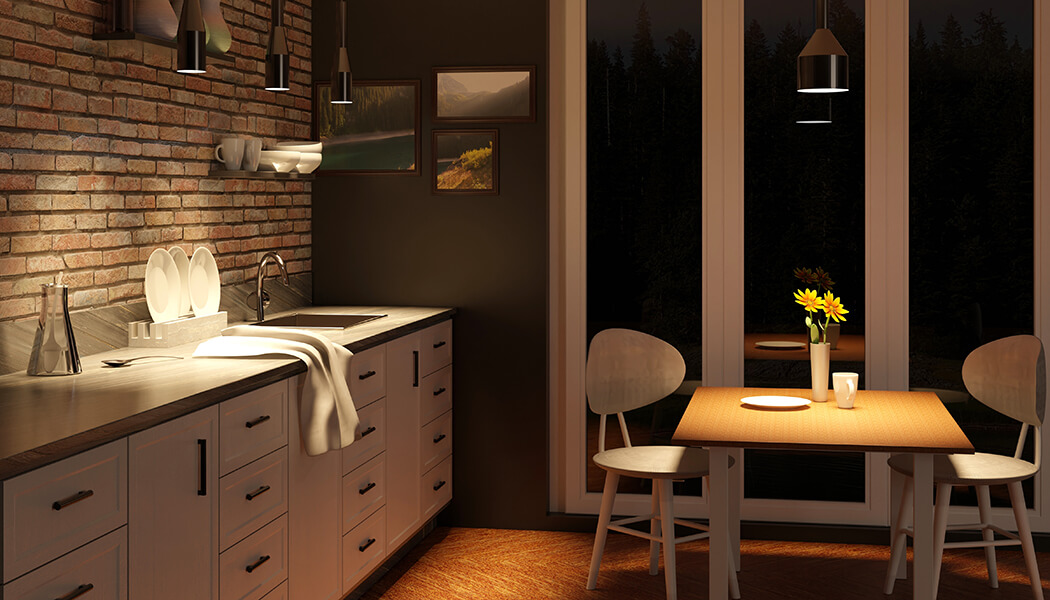 If you have a small nook or an under-utilized spot in your kitchen, you can turn it into a breakfast corner. A tiny round table with two or four chairs would be just what you need to create your cosy breakfast nook. If your kitchen is roomy, you can use a wide range of lavish elements, like chandeliers, scones, and pendants, to create a stunning effect.
INVEST IN COLOURFUL STOOLS
Though kitchen island stools in black, white, beige, or other neutral and monochromatic colours seem to be preferred by many, you can bring home a few in vibrant colours. You may either buy stools in a bright finish or give a fresh coat of paint to your existing stools to revamp them.
USE AN AREA RUG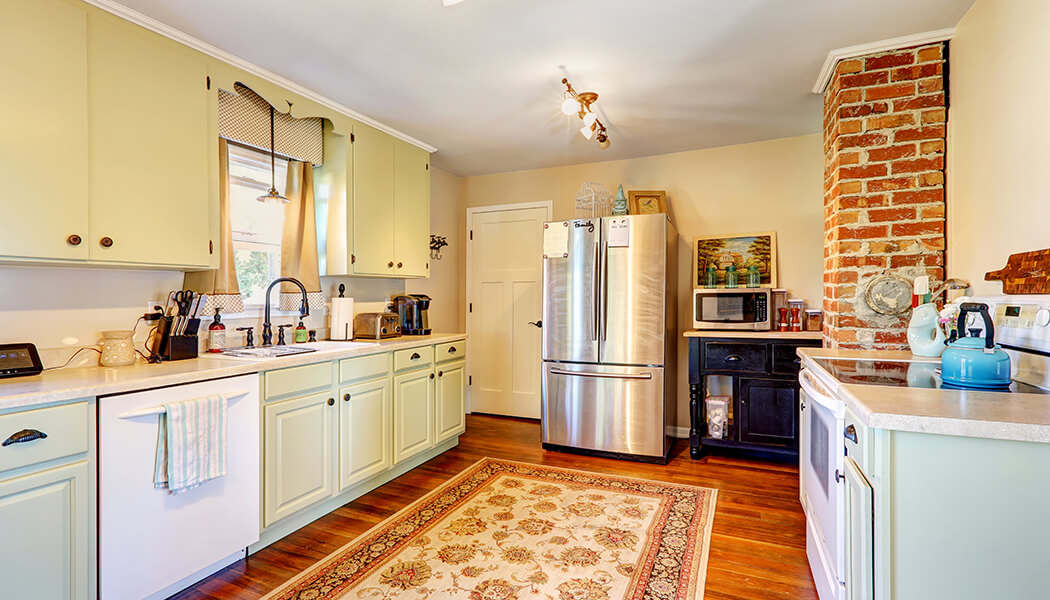 You can infuse a happy dose of pattern and colour in your kitchen with an area rug. You can position your rug in the middle of the kitchen to make an impactful statement. If it's a runner rug, you could even place it along your kitchen's main pathway. Without hogging any precious counter or wall space, area rugs give the space defined otherwise by appliances and cabinetry a cosy feeling.
DECORATE YOUR OPEN SHELVES
Open shelves are especially good for small kitchens as they give the space an airy look. You can decorate them with a blend of beautiful dishware, drinkware, spice containers, and even use accessories like wood cutting boards, spoons and spatulas, potted plants, small vases, and framed art. However, you shouldn't clutter up your shelves with a lot of items. Keep them limited and see how your open shelves enliven the space.
SOFTEN THE SPACE WITH NON-UTILITARIAN ACCESSORIES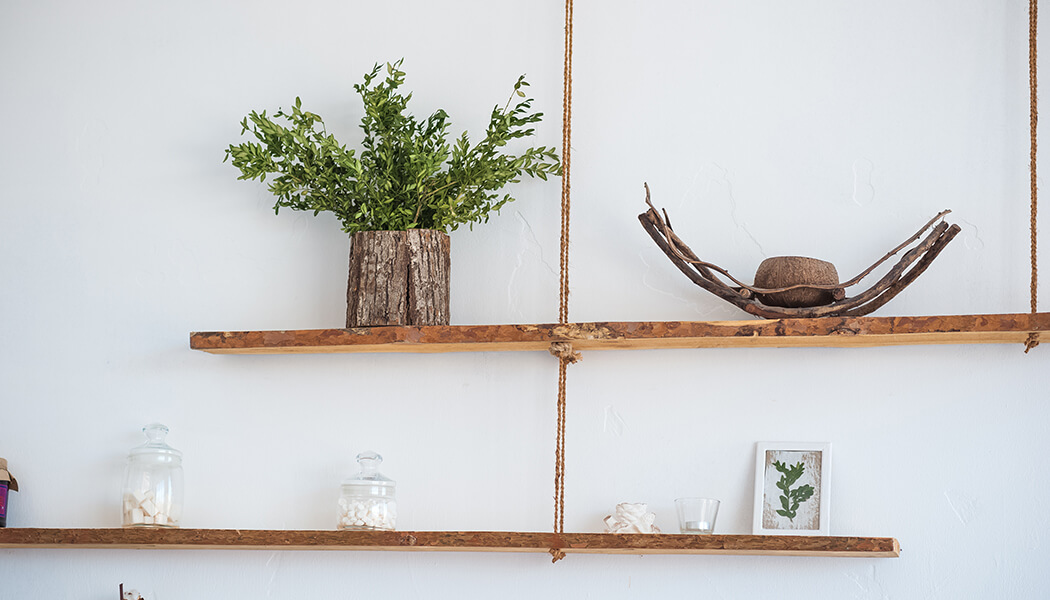 All your kitchen cabinets don't necessarily need to be utilitarian. You could reserve an upper area or two for books, vases, leaning frames, decorative items, flowers, and other objects of interest. Since your kitchen is full of cabinetry and appliances, such non-utilitarian accessorizing will help soften the space and enhance its appeal.
IMPART A RUSTIC CHARM
To give your kitchen a rustic appeal, you can use wood accents in various shades. From your kitchen cabinets and shelves to chairs and window frames, the charming wood details can help create a welcoming and cosy space. You could add a pair of pendants in glass or metal to create contrast and complete the look.
USE CHALKBOARD
You can add a chalkboard panel to your refrigerator's side or paint a kitchen wall in chalkboard paint. If you have kids in your family, this will delight them as they can draw or write to their heart's content on the chalkboard. Even you can put it to great use by writing down your weekly grocery list. This will help personalise your kitchen and add an unmatched charm to it.
BRING IN STYLISH LIGHT FIXTURES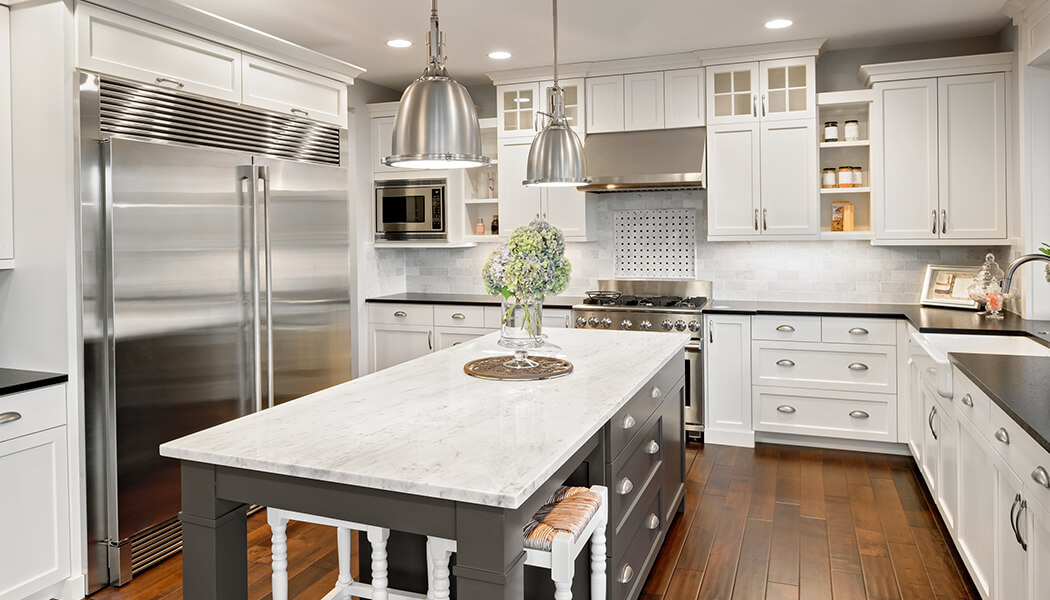 To spice up your kitchen décor, you can use stylish light fixtures. From chick shades and a pendant above the counter or sink to a statement chandelier, hanging orbs, or ceiling lights, you can pick several interesting light fixtures to make your kitchen feel unique and sophisticated.
USE WALLPAPER AS YOUR KITCHEN'S SHOWSTOPPER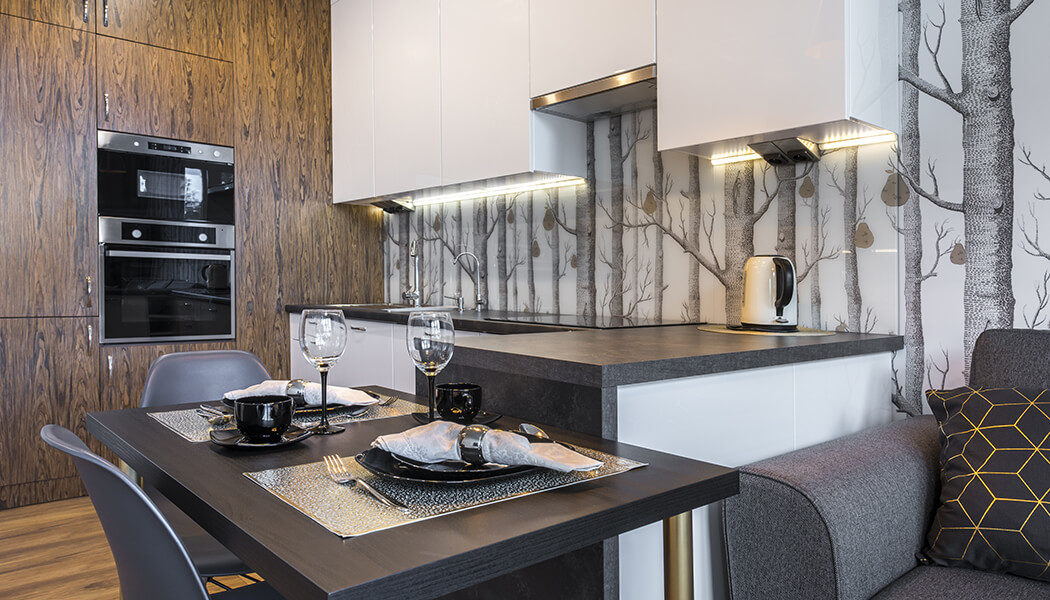 Wallpaper that mimics materials like marble will make your kitchen flourish. You can also use wallpaper on your accent wall or backsplash. Using a wallpaper that's in contrast to your overall kitchen decor to create kitchen borders or wrapping it around a butler's pantry for a little hidden pizzazz are other effective design ideas worth a try.
Go ahead and utilise some of these ideas to give your kitchen a visually appealing makeover.