10 IDEAS TO MAKE YOUR KITCHEN COUNTERTOPS VISUALLY APPEALING
Kitchen countertops serve two key purposes. They help in food preparation and support your other kitchen-related chores. So, it's no wonder your kitchen counters are a clutter magnet and are typically filled with coffee makers, dishes you have forgotten to put away, small appliances, etc. As your focus is mostly on making your kitchen countertop functional, probably you're neglecting its aesthetic appeal. Though it may appear difficult to strike the right balance between visual appeal and functionality, it's not impossible. You just need some actionable ideas to get the job done, and this post essentially aims to do just that.
Before contemplating décor ideas for your kitchen countertop, you need to decide the amount of space you have to decorate. If you have an extensive countertop design that wraps around two or three walls in the kitchen, you'll have to consider more decorative flourishes or should create separate decorative zones. In case your counter space is smaller, a few subtle décor items would be enough to make the space attractive and inviting. Read on for some simple yet effective ideas to make your kitchen countertops Instagram-worthy and functional as well.
DECLUTTER YOUR COUNTERTOP
Your kitchen countertop probably is choc-a-block with a lot of things like small appliances, jars, crockery, coffee maker, pepper mills, and bottles of salt and other spices and herbs. In the homes of pet parents, these counters could even have food items or treats for the pets. So, your first job when decorating your countertop is to declutter it. Unless you use the thing multiple times every day, it should be cleaned and stocked away.
CREATE STATIONS ON YOUR COUNTERTOP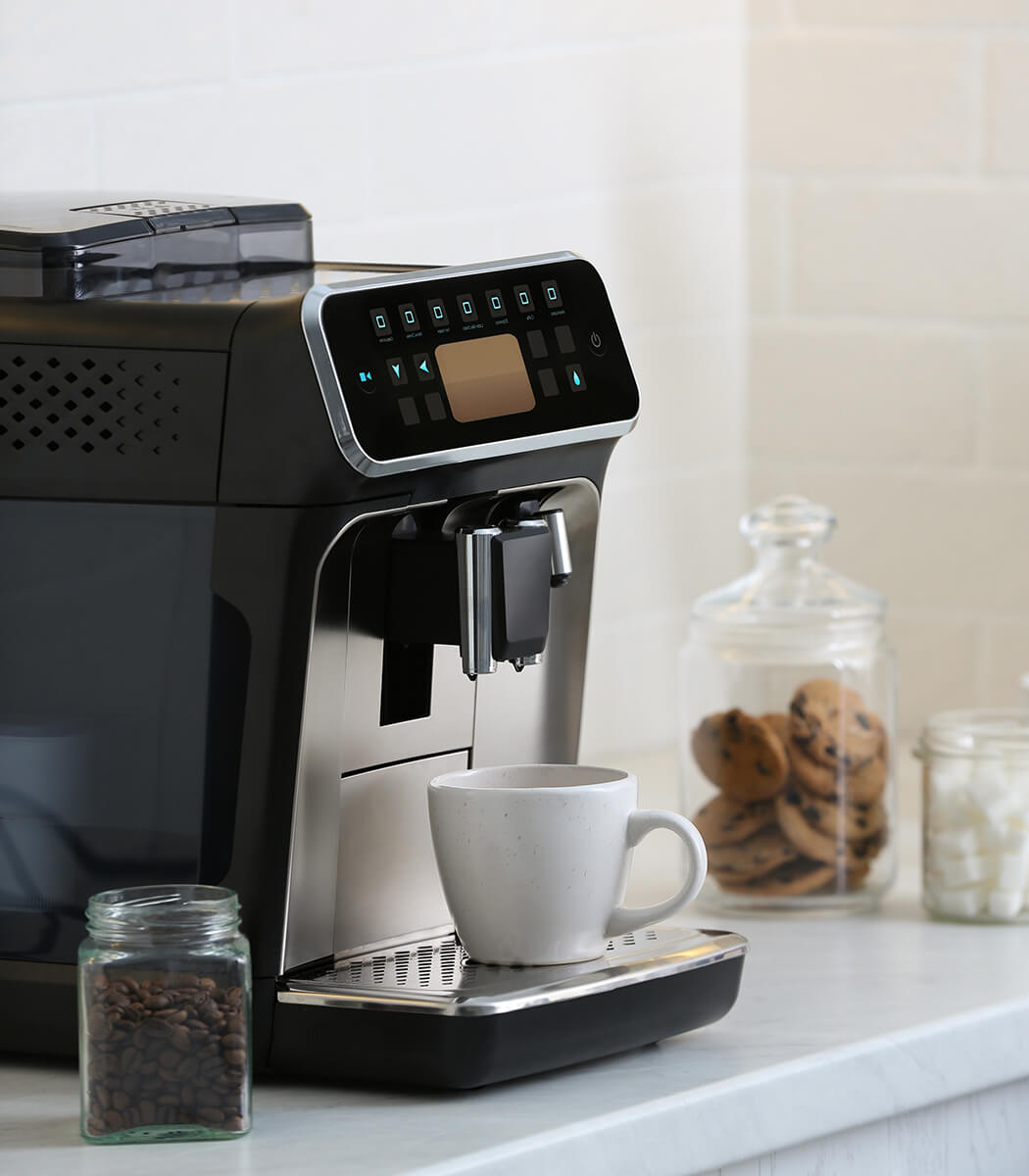 If you're a teetotaller or coffee drinker, you can create a simple beverage station that's attractive and stocked. You could also build a cooking station to keep the most fundamental things you'll need every day while cooking at your fingertips. For instance, you could have a galvanized metal tray to hold 2-3 spoons or ladles, an oil dispenser, and a pepper and salt mill. Creating stations on your counter can clear up significant space and even minimise clutter.
ADD SOME WOOD OR WICKER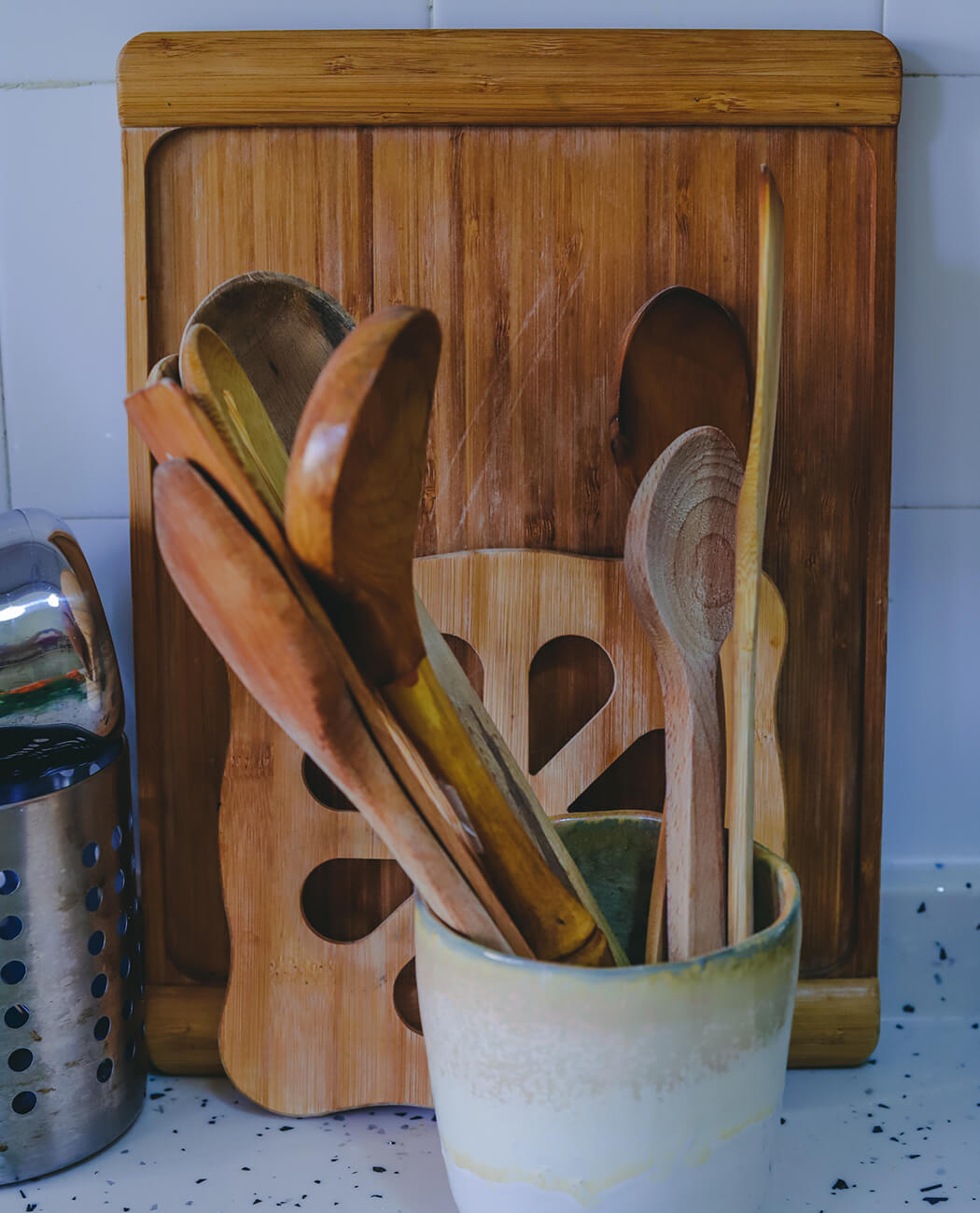 If your countertop surface is made of stone, granite, quartz, etc., adding a bit of wood to the décor will enhance the space's beauty. You could position your wooden chopping board, spoons, rolling pins, and ladles to add a warmer, softer element. If your cabinets above the counter are painted, you could even add wicker baskets to your countertop to decorate it.
POSITION A FRUIT BASKET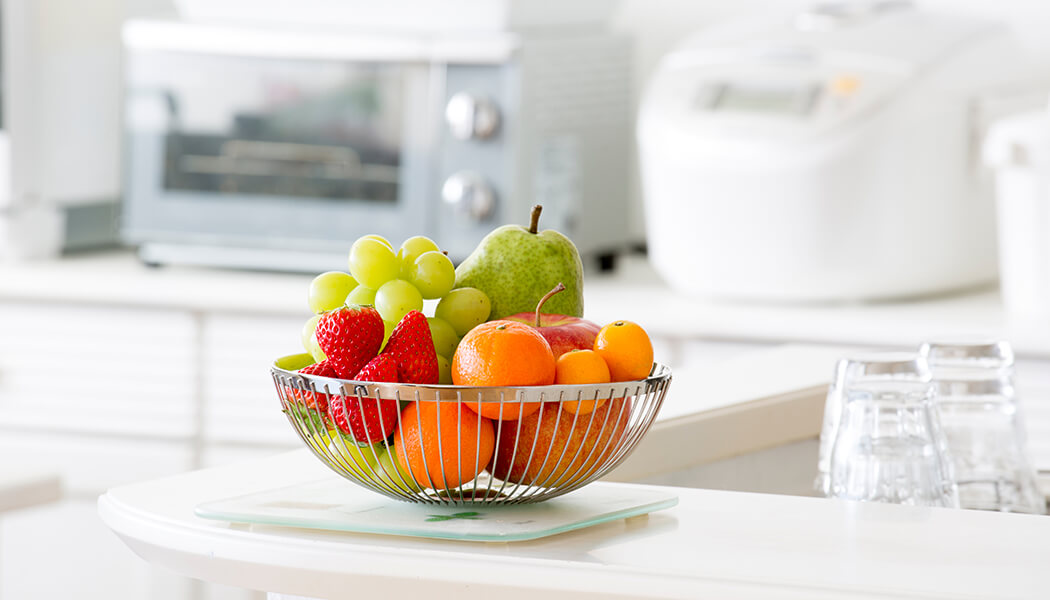 A fruit basket or bowl looks like artwork and sits pretty on your countertop. Leaving a fruit basket on the counter will encourage the home's inhabitants to have a healthy snack anytime they feel hungry. Thus, it's a healthy way to decorate your kitchen counter.
BRING HOME SOME FLOWERS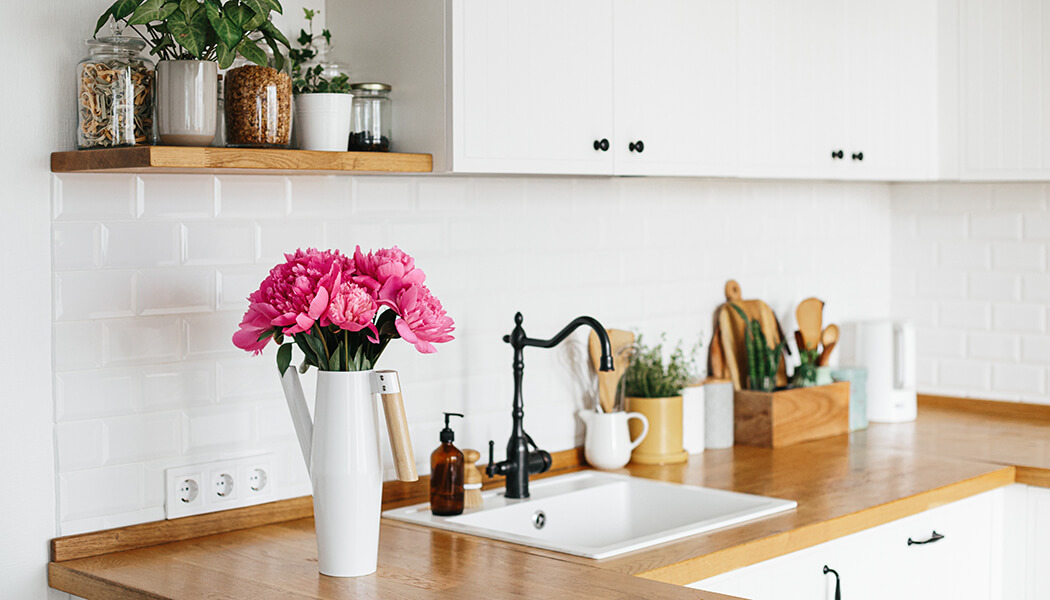 Your countertop will look beautiful if you add a bouquet of seasonal flowers to it. If you have a garden, you can cut the blooms and add them to your countertop. If not, you can depend on a store-bought bouquet to enhance the space's visual appeal.
DECORATE WITH PLANTS AND HERBS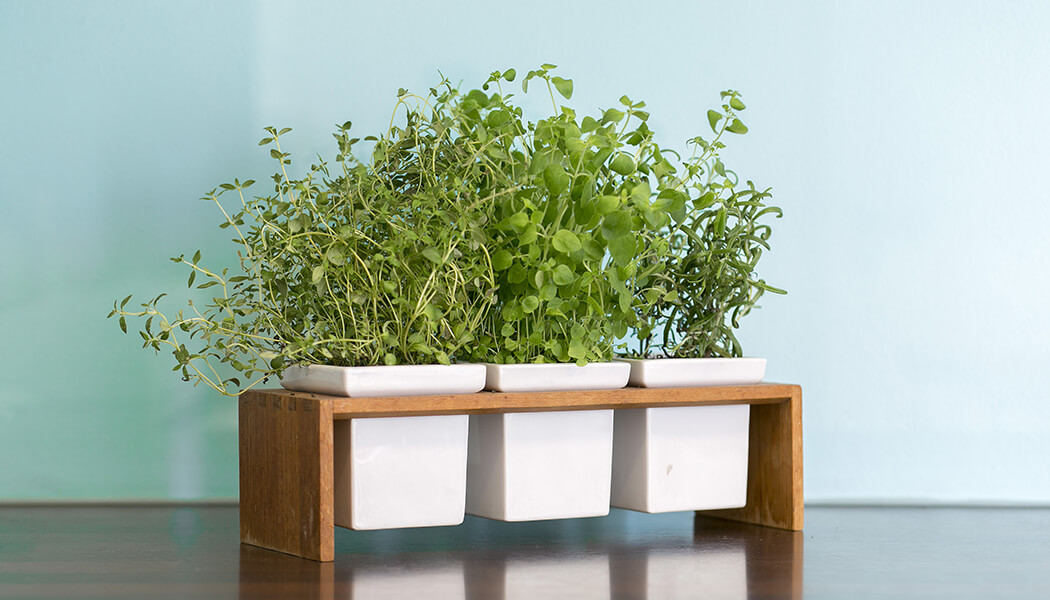 Potted plants, particularly herbs such as parsley, thyme, mint, oregano, coriander, and basil, can be eye-catching additions to your kitchen countertop. However, you need to ensure your plants are small. Else, your counter would look like a jungle, which probably isn't what you're looking for.
USE PRETTY SOAP DISPENSERS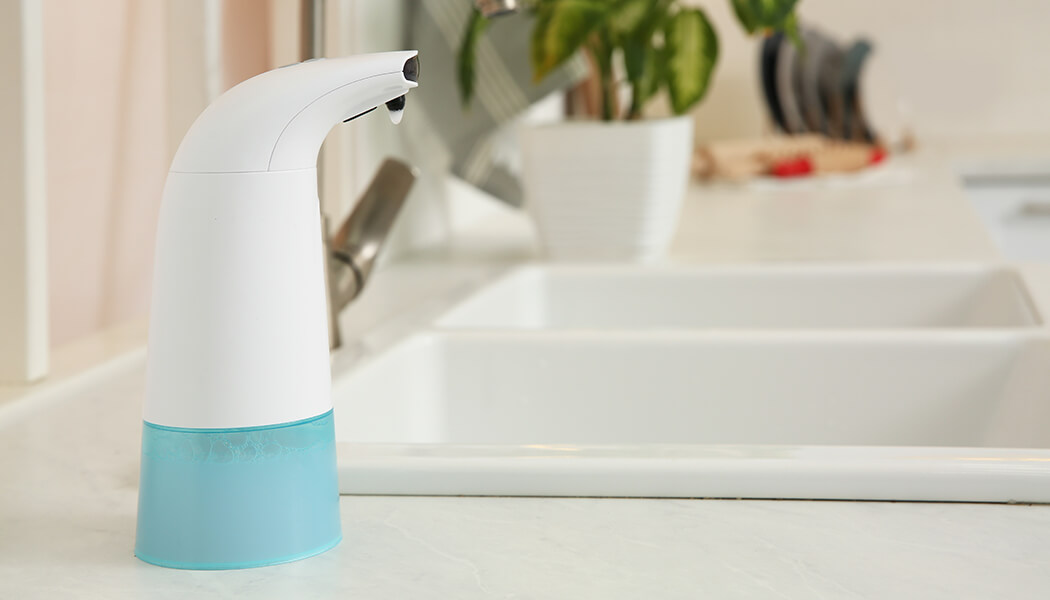 Instead of a plastic soap dispenser, you can have its glass counterpart on your counter, beside the sink, to make the space look nice. You could even have two instead of one and label one for "hands" and another for "dishes." You may also display your pretty soap dispenser with a funny message or an apt image.
INVEST IN DECORATIVE STORAGE
You can store your sugar, flour, tea, coffee, or salt in pretty canisters and put them on the counter as decorative and functional items. Even your mundane items like a knife block or dish rack can be decorative instead of being eyesores. And when you use colour-coordinated storage, your countertop will appear beautiful and a lot less cluttered.
UTILISE TRAYS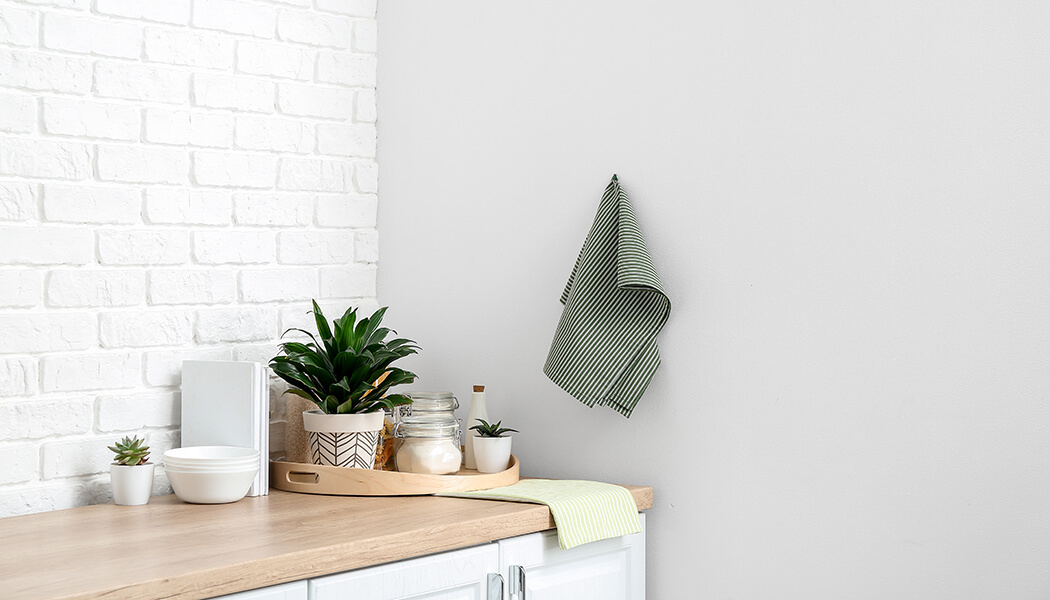 Trays are great for keeping things on your kitchen counter organised and even help create stations. To leverage your love of trays, you can use a lazy Susan or a roomy tray to organise multiple things, from cups and plates to oil bottles, salt cellars, plants, etc. You may even use smaller trays to hold your keys and other tiny bits.
LIGHT UP THE COUNTER
By adding lighting fixtures to your kitchen countertop, you can create visual interest in your kitchen and add warmth to the space. You can install recessed lighting over the countertop edge or use accent lighting to light up darker countertop corners or under the bottom of your cabinets that are positioned above the counter.
We hope the décor ideas shared above have inspired you to declutter your kitchen countertop and make it aesthetically pleasing. Go ahead and use them to ensure you have a beautiful and functional kitchen that makes your kitchen duties easier and fun.