Top 5 Ways To Get Creative With Windows During Your Kitchen Remodel
When planning a kitchen remodel, most people focus on the cabinets, countertops, and appliances. If you too are walking down the same path, remember to use your kitchen's brightest spot – the windows. Whether your kitchen has one window or more, they help bring in natural light, give welcome relief to your eyes by offering a view of the outside, and even add architectural interest to the space.
If you need ideas to get creative with kitchen windows while remodelling the space, we bring you the top five that you can use as-is or tweak a bit to add your personal touch to them.
Go Bigger
A kitchen with just cabinets will make the space feel smaller and the design boring. If your kitchen offers an interesting and amazing view outside, going big with your kitchen windows will mean more light into the space, which will transform your kitchen instantly.
Whether you position the windows just above the sink, which is traditionally the favourite place, or frame it with cabinets or floating shelves, extra large windows will open up the space and make your kitchen chores enjoyable with an excellent view outside.
Use Your Windows To Frame A Focal Point In The Kitchen
Do you have a distinctive feature in your kitchen like a custom cabinet, stylish backsplash, designer range hood, industrial shelving, or commercial-grade cooking range? If yes, you can draw the eyes to these features by framing them with your windows.
When framed by windows, such a unique feature in your kitchen gets highlighted as the space's focal point and enhances the visual appeal.
Leverage Window Treatments
You shouldn't forget the impact of window treatments. Even when you have a lone window, you can style it with curtains or blinds to add privacy to your space while softening the appearance of your windows.
You can consider different types of window treatments, such as pleated curtains, colourful sashes, shutters, or wooden blinds to give your kitchen window a decorative touch and bring in a pop of colour and pattern. Just remember that your chosen window treatment should complement your window's style and go well with the space's overall décor.
Install Cabinets Or Hanging Shelves Around The Window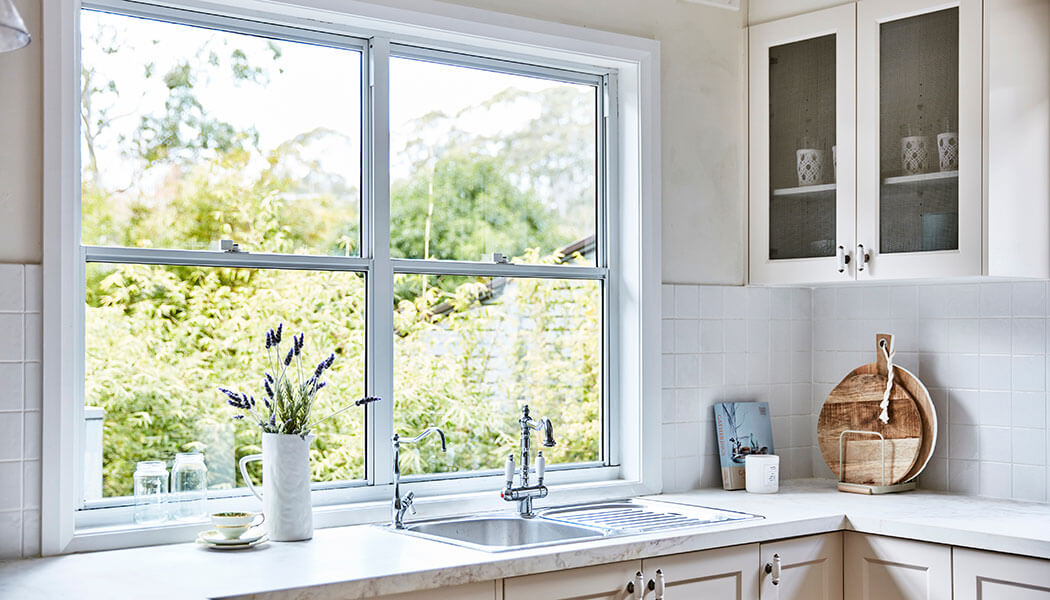 Cabinetry has always been an essential element of kitchen remodels. You can position them around your kitchen window to create a bespoke, flawless appearance.
You may even position a cabinet bridge above the window that mimics the window's curvature. Installing hanging shelves on both sides of the window to create visual symmetry without interrupting the natural light coming in is another design idea worth implementing.
Add A Sleek Look With Metallic Windows
You can add a dramatic effect to your kitchen by using windows framed with steel-look aluminium or steel itself. These windows go well with modern as well as traditional cabinetry and accents. For example, if you have light-coloured cabinets, you can bring in a striking contrast with black metal windows.
If your kitchen remodelling budget doesn't allow steel-framed windows, you can achieve a similar visual effect by painting your wood window's existing mullions.
Windows are your kitchen's vital design elements that can brighten the entire space while providing visual interest. With a bit of creativity like the above ideas, you can easily use your windows effectively to update the look of your kitchen.
Go ahead and try these design ideas when remodelling your kitchen!