Shop the right wooden utensils and make them last longer with these tips
If you're looking for durable and functional kitchen utensils, nothing beats classic wooden ware. From chopping boards and stirring spoons to rolling pins, spatulas, measuring cups, and dough bowls, wooden products bring an air of rustic charm to your kitchen. When you buy high-quality wooden ware for your kitchen, it will not just be comfortable to use but can even become heirloom pieces that you can pass on to the next generation. Another advantage of using wooden utensils is their natural antibacterial properties, which help protect your food from bacteria and germs.
If you have non-stick cookware, you can get your nylon and silicone utensils replaced by eco-friendly, heat-resistant wooden utensils that won't damage the non-stick coating, unlike their metal counterparts. However, since your wooden utensils are crafted from actual wood, the type and level of care they need will be quite different from most other kitchen tools. Though such kitchenware is crafted to last in the long run, it won't serve you well if you fail to take proper care of it. If you're still not sure why buying wooden utensils is a good idea, let's check how it'll benefit you.
Benefits of using wooden utensils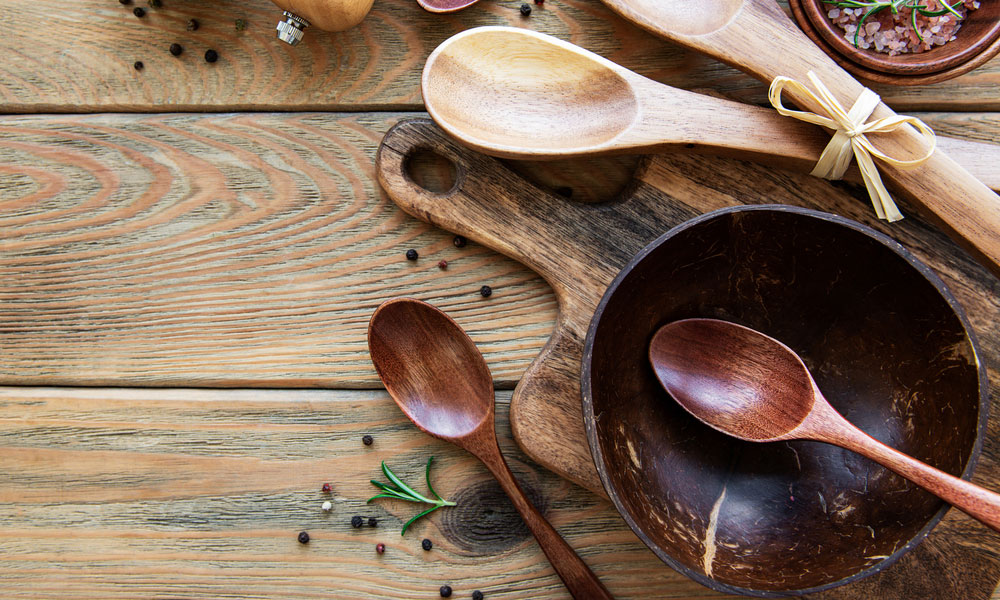 Antibacterial properties: Trees naturally fight bacteria, infection and germs. Wood retains the same properties even though it's not a living organism any more, as its cells don't allow the growth of bacteria. Thus, it won't be wrong to say wood (and wooden utensils) are naturally more antibacterial than any artificial object. Moreover, most wooden ware gets treated with mineral oils, which form a neutral and inert surface that won't let bacteria survive.
Sturdy tools to handle various kitchen tasks: To make your dishes delicious, often what's needed is just a good flip, stir, or scrape to get the flavors balanced and give all the ingredients the attention they deserve. With wooden tools like spoons and ladles that are strong, you can stir, flip, or scrape food particles off the bottom and sides of your pans without the fear of breakage.
Poor conductor of heat: When left in the pots and pans for even a short time, metal spoons and ladles heat up and could burn your hand. Their plastic counterparts could start to melt. But since wood is a poor conductor of heat, you don't need to worry about either when using wooden spoons and ladles.
Wood is inert: Since wood is non-reactive, your wooden utensils won't react with the acids present in foods, leach harmful chemicals into your dishes, or leave a metallic taste that metal spoons sometimes do.
Durable: Wooden utensils are extremely durable. With proper care, they'll serve you for long. If it gets stains and burn marks from time to time, you can remove them easily with a little bit of sanding.
Ideal for delicate cooking surfaces: Wooden spoons, spatulas, ladles, etc. won't scratch the finish on your non-stick cookware. Wooden utensils won't scratch your stainless steel or cast -iron pots either.
Look beautiful and feel great: Wooden utensils are classic, elegant, and could often be the key factor that separates a good kitchen from a great one. With a strong and smooth grip, wooden spoons, ladles, spatulas, etc. feel comfortable in your hands and let you cook more efficiently and in style, thus enriching your kitchen experience.
Environmental-friendly choice: Since wood is a natural, biodegradable, and renewable resource, using wooden utensils is an environmental-friendly choice. Since such utensils are made of non-toxic materials, unlike their synthetic or artificial counterparts made of harmful chemicals that can leach such chemicals into your food and home, wooden utensils are a much better environmentally
Choosing the right wooden utensils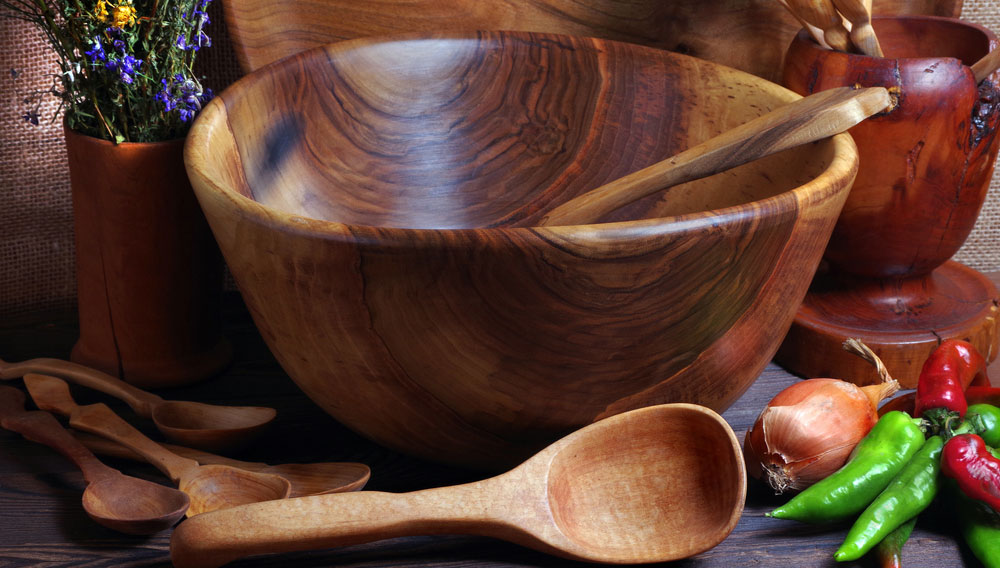 Hardwoods are the best wood for carving kitchen utensils as hardwood is naturally durable and possess the right density. Different types of hardwoods, such as cherry, black walnut, poplar, acacia, and soft maple are used to make cooking utensils. You may even find wooden utensils carved out of oak, teak, olive wood, or pecan. Here are some tips to choose the right wooden utensils:
Check the weight and feel: Not everyone may prefer to handle wooden utensils that are heavy like those made of birch wood. Your chosen utensils should also feel just right in your hand and not too hard (like hard maple utensils). So, you should consider both these factors when buying. If buying online, the product specifications and customer reviews should act as your guide.
Consider the appearance: If you're looking for stylish wooden utensils, those made of olive wood with dramatic dark and light grain patterns could be worth considering. Maple wood utensils too could be a great choice. From those with a clean and white colour to the ones with a deep, reddish-gold colour, maple wood kitchenware is available in multiple texture and colour variations to satisfy your aesthetic yearning.
Focus on durability: For kitchen utensils, your chosen hardwoods should not be very porous. Ideally, they should have a fine grain too. Utensils made of such wood will be more durable and withstand moisture and staining better. Walnut, maple, cherry, mesquite, and olive are often the preferred choice while other woods like beech, sycamore, alder, and apple too would work. However, you should avoid very porous wood, such as softwoods or red oak, as they absorb moisture readily and get stained easily.
Cleaning and care tips for wooden utensils
Here are some useful tips to clean and care for your wooden kitchen utensils properly.
Use hot water and a gentle soap to hand-wash your wooden utensils almost immediately after use. To ensure no leftover food particles stick to the surface, you could use a nylon scrubbing pad or sponge.
After washing, pat down with a hand towel to wipe off the excess water. This ensures that the wood doesn't soak up excess moisture, which could make it expand and thus, warp or crack.
Let your wooden utensils get air-dried before storing them to ensure the water droplets trapped within the gaps in the wood don't accumulate and cause cracking or warping.
Don't put these utensils in the dishwasher because absorbing too much water will make the wood swell and, eventually crack. Additionally, the high heat of your dishwasher can warp the wood and destroy its finish.
Once a month, you can rub a small amount of a beeswax compound or mineral oil on the surface of your wooden utensils to help keep the wood in good condition. This can be done even when your utensils start to look dry and rough.