Learn the tricks for cooking perfectly using stainless-steel cookware
There are several varieties of cookware available in the market. Among them, stainless-steel often draws a lot of criticism regarding foods sticking to the cookware. But, what most people do not realise is that the problem is not in the material used, but in the method of cooking. Stainless steel is by far the most preferred cookware material used by professionals since using stainless steel has a few distinct advantages over other types of cookware. But, not many people are fully aware of how to cook with stainless steel cookware.
Stainless is lighter than cast-iron, more durable than non-stick utensils and has more scope for adjustment for induction cooktop use. Stainless steel is also non-reactive to most foods which makes it easy to cook any number of dishes in these vessels. However, as with any cookware, there are certain things to keep in mind when you are learning about how to use stainless steel cookware for cooking so that the food is cooked evenly and without sticking.
Here are a few handy tips to keep in mind when cooking with stainless steel cookware
Food sticking to the bottom of stainless-steel cookware is a problem that can be easily prevented with two simple precautions. First of all, always preheat the pan before you start cooking. Once the cooking utensil is sufficiently heated, add a thin layer of the cooking oil. The utensil is ready to use when the oil starts to shimmer.
To check if the pan is heated enough is to add a drop of water to the vessel before adding the oil. The water should make a sizzling sound, split into droplets and evaporate immediately. Add the oil only after the water has fully evaporated or else it will splutter.
If you are using a new stainless-steel cookware set then you may want to season it before using. Although seasoning is not required for stainless-steel, doing so creates a non-stick layer on top of the pan which makes cooking easier. To season stainless-steel cookware, add a thin layer of vegetable oil to the vessel. Heat it till the oil starts to smoke. Once the oil is smoking, remove from heat and let the vessel cool down completely. Wipe the surface with a paper towel and your stainless-steel cookware is seasoned.
Any kind of cooking involves temperature shocks and exchanges to get the proper texture and taste of the cooked item. When cooking with stainless-steel the cookware should always be preheated before placing the food or cooking medium in it.
When adding oil, butter or other cooking fat in stainless-steel cookware, the fat should shimmer in the pan. If the fat starts smoking and gives off a burning smell, then the vessel is too hot. Discard the fat, let the vessel cool down a bit and start the process again.
To ensure that the cooking vessel is properly heated, place it over medium-high heat to allow even and gradual heating.
Never cook frozen or chilled food unless a recipe calls for it. Cold food added to the pan will reduce the heat in the vessel. All cooking ingredients should be at room temperature before cooking.
If your food has condensation or excess water on it, wipe or pat it dry. Water combats heat and brings down the temperature of the oil. Wet food will prevent foods from being seared or caramelised which in turn will reduce the taste of the cooked dish.
Clean and care for your stainless-steel cookware to ensure even heating and proper cooking. To care for stainless-steel cookware, wipe off residual oil and crumbs from the cookware while it is warm. Put the vessel on medium heat and once it is heated, pour in a cup of water to deglaze the bottom. Using a wooden spoon scrape away all the stubborn food stuck to the bottom and discard the water. Wipe it clean with a paper towel and then wash the vessel in hot soapy water. It is better to handwash stainless-steel cookware than putting them in a dishwasher. Dishwashing detergent is usually quite harsh and leaves a residue.
Cooking with stainless-steel cookware takes some time to get used to. But, once you get the hang of it you will realise that stainless-steel cookware is not just convenient but is also one of the most harmless materials used for making cookware.
Given below are a few choices in some of the best stainless-steel cookware sets available online:
TST 10 Pcs S/S Cookware Set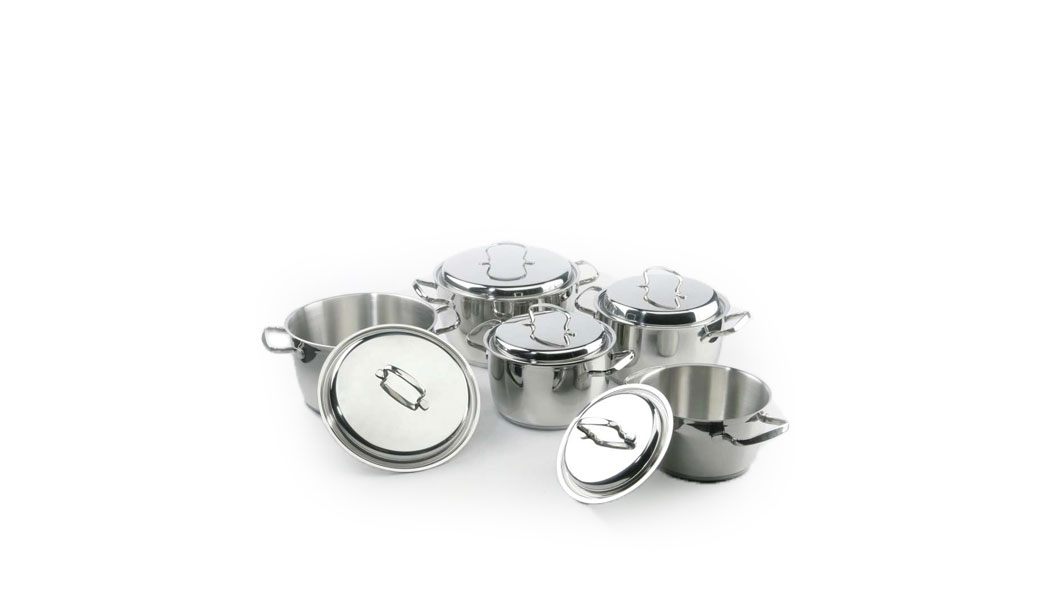 This stainless-steel cooking set from TST is built to make kitchen work easier. This 10-piece set has every equipment you need for preparing a full meal from appetisers to main courses and dessert. The stainless-steel used to make this cookware set is lightweight, durable and corrosion-free. The high-quality steel does not reach to food or fade away with use. Each piece of cookware comes with two comfortable handles on each side and another handle on the lids. The pots and pans can be used to cook on every kind of stovetop. The tight-seal on the vessels retain moisture and nutrition when cooking to give you healthy and tasty meals every day.
BergHoff 12-Piece Long Handle Cookware Set
The brand Berghoff is one of the foremost names in high-quality cookware products perfect for every kitchen. This 12-piece set from Berghoff looks very sophisticated with its silver and red combination. The pop of colour adds to your kitchen décor and makes the drudge of daily cooking and enjoyable affair. This set is built from 18-/10 stainless-steel which gives the user an assurance of durability. The set consists of cooking pots, saucepan and mixing bowls with corresponding lids. The mixing bowl lids are made of silicone for an air-tight fit while the rest of the vessels have lids made of glass and steel which makes it easy to keep an eye on the food while it is cooking. The outer layer of these vessels has a brushed steel look for a contemporary look.
Premier Stainless Steel Multi Steamer 24cm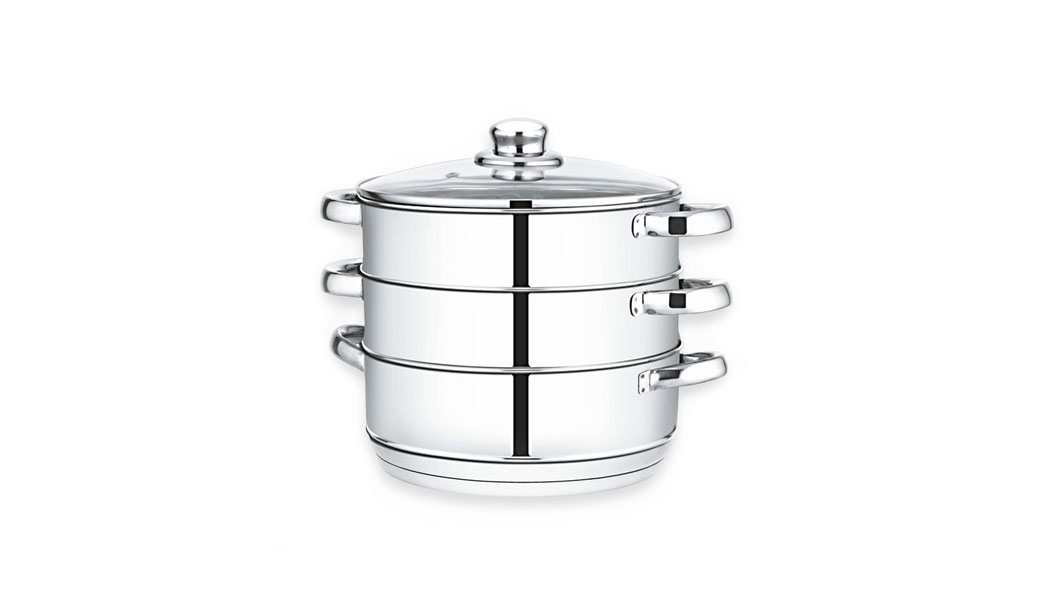 If you are someone who enjoys steamed vegetables, dumplings and other types of steamed foods then this multi-steamer is just the thing for you. This 3-tier piece from Premier is made of high-quality stainless-steel which gives it durability with functionality. The lid of the steamer is made of tempered glass with a vent to release pressure build-up. The lid makes it easy to monitor the food which is being cooked. The bottom tier of the steamer can be used to make broth and soups too. The steamer tiers have hollow steel handles on either side which do not heat up much and can be used to lift and remove each tier individually to check on the progress of each dish. It is easy to clean and maintain so that it lasts for a long time.
BergHoff Hotel Line 12-piece cookware set
Berghoff, one of the leading names in quality stainless-steel cookware, brings you this beautifully crafted 12-piece set to complete your kitchenware collection. The set is made of 18/10 durable steel sporting a brushed steel finish and glossy rim. The entire cookware set consists of a stockpot, casseroles and mixing bowls with lids. The lids for the stockpots and casseroles are made of glass and stainless steel. The mixing bowls have silicone lids for an air-tight fit. The bottoms of the cooking utensils have a thick multi-layer capsule base to get the vessels heated faster and more evenly. Each cookware item in this range comes with handles on both sides for easy handling of the pots.
Brabantia Sapphire 5 Ply Stainless Steel Fry Pan
A frying pan is an indispensable kitchen essential. It can be used to make eggs, fries of various kinds, sauté foods, cook sauces and many other dishes conveniently. If you need a sturdy, long-lasting stainless-steel fry pan to rustle up delicious dishes then this one from Brabantia will meet your needs perfectly. Made of high-grade steel, this frying pan gives you even heating and a superior resistance to sticking. The inside of the pan has a starburst finish and the handles of the pan are contoured to give a comfortable grip to the user. This frying pan is oven-friendly and dishwasher-safe making both, use and maintenance, very easy.
Brabantia Sapphire 5 Ply Stainless Steel Casserole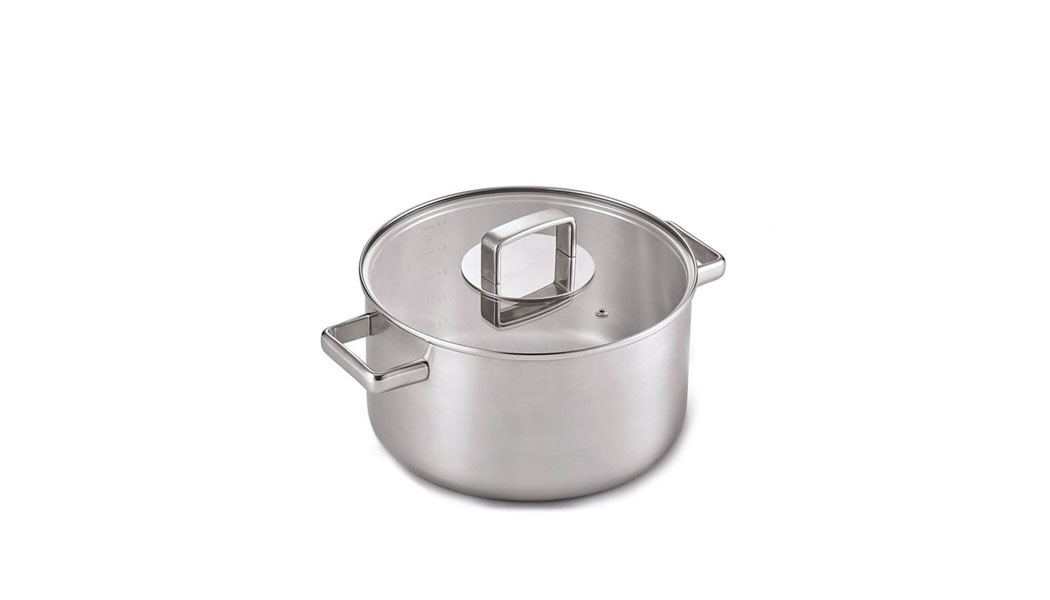 Brabantia brings you top-quality cookware for all kinds of cooking. This stainless-steel casserole is one such stellar offering from the brand. The casserole is constructed of bonded 5-ply steel for extra sturdiness. The high-grade steel ensures that your food does not react with the steel in any way and is free of any unwanted additives. The resultant food is delicious in taste and texture. The casserole has a stainless-steel handle made in an ergonomic design that is comfortable to hold and use. A lid made of steel and glass makes it easy to keep an eye on the food while it is cooking.
Premier Stainless-steel Pressure Cooker 5 Ltr
If you are looking for a high-quality pressure cooker which not only looks good but also offers advanced features then this one from Premier is just the thing for you. This 5-litre stainless-steel pressure cooker offers enough capacity for a medium to large-sized families as it gives you an easy option to cook large quantities of diverse foods within a short time. The cooker comes in a streamlined design with features such as flame-guard and pressure guards which allow quick and even heating while cutting down on risks and accidents. The multiple safety features of this pressure cooker ensure that any excess pressure is safely let out without compromising on the dish being cooked. This Premier pressure cooker is not only affordable but also comes with 5 years of warranty to ensure long-lasting service.
Premier Stainless-steel Idli maker Large 6 plates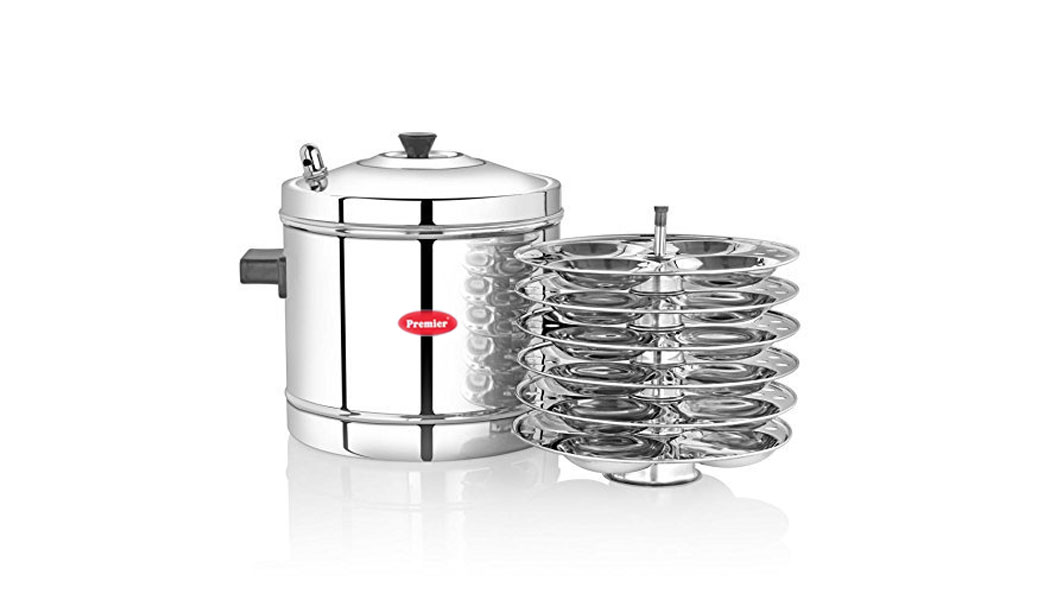 Make authentic idlis in no time with this idli maker from Premier. Whether you want to have idli for breakfast or as a snack, soft fluffy idlis will be available to you any time of the day with this idli maker. This device is made of high-grade stainless-steel and the set includes one steaming pot and 6 idli plates, each plate having a diameter of 10 inches. You can make 4 idlis in one plate which means a total of 24 idlis at a single go. The idli-maker is made to match international standards to ensure that the cookware and the dish meet all customer expectations. Bring home this idli-maker to enjoy the tastiest and most perfect idlis every day.
Premier Stainless Steel Puttu- maker Delight large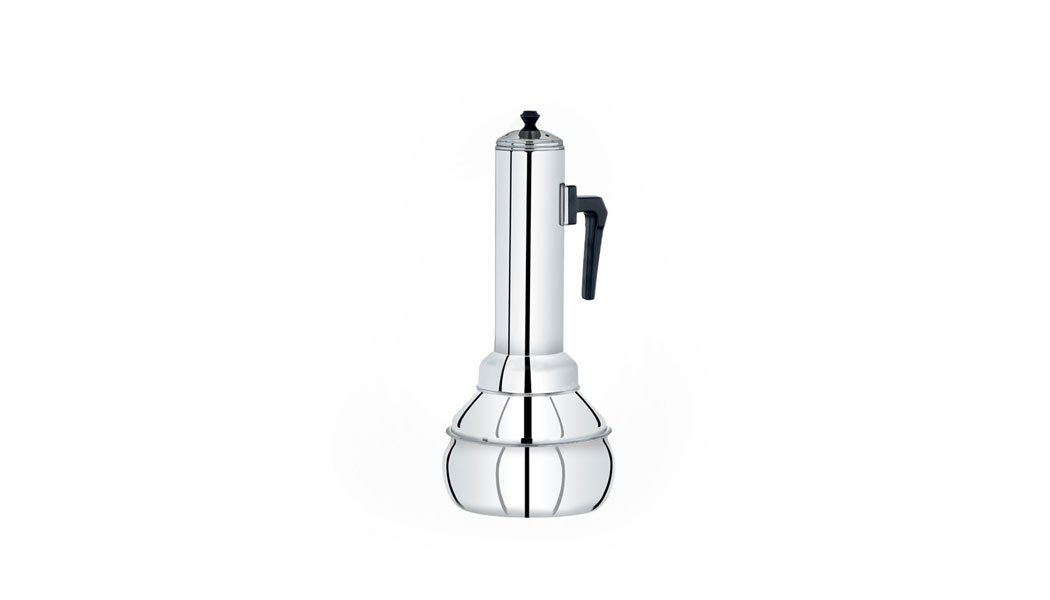 Puttu, a kind of rice cake, requires proper culinary equipment to be made perfectly. If you enjoy making and eating puttu, bring home this puttu-maker by Premier for the most perfect tasting puttu. The puttu-maker allows steam to flow upwards from the base of the vessel through a tube-like container which has two vents on top. The puttu is cooked while the steam flows upwards and out of the vent. This puttu-maker is made of high-quality steel which does not leave any unwanted taste in the food. The entire set has a sturdy build with a heat-resistant bakelite handle for proper handling.