HOW TO CHOOSE THE BEST COFFEE MAKERS TO MAKE PERFECT COFFEE
There are few things better than waking up to the smell of freshly brewed coffee for coffee lovers. The heady aroma instantly jolts you awake and the rich brew fuels you for the day ahead. Coffee is one of the most popular morning beverages consumed worldwide. From die-hard coffee lovers to those who drink coffee as an occasional refresher, there are plenty of takers for this drink.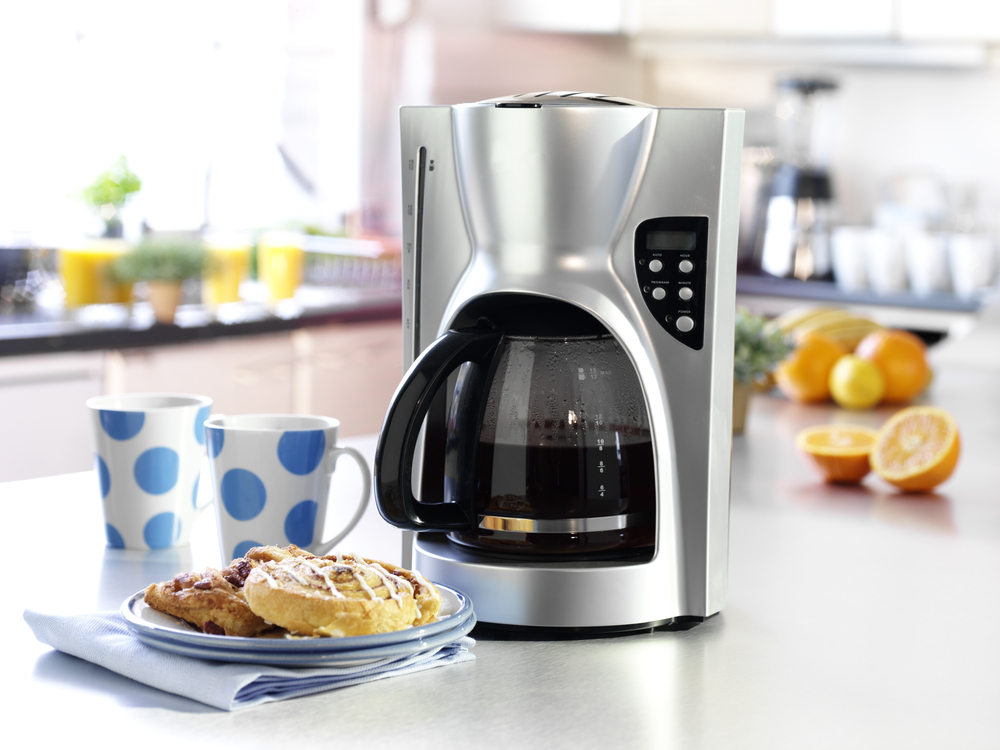 However, to enjoy the perfect cup of coffee anytime you want, you need a good coffee maker which will make your brew just the way you like it. But, with the huge range of coffee maker options in the UAE market, choosing the right make and model seems like a long and difficult process. Well, not to worry! Whether you want a simple drip coffee or a fancy espresso, we make selecting the right coffee maker machine in the UAE easy for you. Read on to learn about the different coffee makers in Dubai and the UAE, and find one which caters to your needs.
Types of coffee makers in Dubai and the UAE
The first step to purchasing this appliance is to know the various types of coffee machine for home use in the UAE. Understanding the differences between various coffee machines will make it easier for you to pick the right make and model.
Drip coffee maker – Drip coffee makers are the most common type of grind and brew coffee makers for family use. They can make multiple cups of coffee at a time ranging from 4 to 20 cups, depending on the capacity of the appliance. This type of coffee maker with built-in grinder uses fresh grounds to make coffee every time the appliance is switched on. Drip coffee makers come with a built-in timer which can be programmed to start the machine automatically at any time of your choosing.
Single-serve coffee maker – Single-serve or pod coffee makers are the latest trend in brewing coffee at home. These machines come with a slot where individually pre-packed coffee pods or capsules are loaded. These pods are similar to packed coffee grounds in espresso makers. Once the pod is inserted into the designated slot, hot water is passed through the coffee pod to make a single cup of coffee. Certain pod coffee machines include a milk frother and/or steam wand to make lattes or cappuccinos too. Pod machines can brew a cup of coffee in minutes as compared to drip coffee makers which take some time to make your coffee. Coffee pods are usually brand-specific though some models of coffee makers can scan barcodes to adjust their setting for different brands of coffee pods. Single-serve coffee makers are quite expensive to purchase and maintain.
Espresso coffee maker- For those who prefer a strong shot of coffee, a steam espresso machine is the perfect coffee maker to buy. Making a cup of espresso usually takes time and effort when done from scratch. Having a dedicated espresso maker gives you the perfect shot of concentrated drip coffee without turning too bitter. The difference between a regular coffee maker and an espresso machine is that an espresso machine forces water to pass through packed coffee grounds at a high pressure, while in a coffee machine with grinder the water naturally filters through loose grounds to make a brew. Some espresso machines come with milk and steam wands so you can use your espresso shot as a base to make other types of coffees such as Americano, mocha, cappuccino etc.
French press – A French press is for those who prefer to brew their coffee the old-fashioned way. This is a manual appliance where you steep coarsely ground coffee beans in boiled water for a few minutes. Once the coffee has reached the desired strength and flavour, a plunger is used to isolate the grounds from the water which is then carefully poured out into a cup. The coffee made using a French press is thick and intense.
Percolators – Percolators are available in both electric and stovetop models. Percolators are precursors to drip coffee machines and brew strong coffee. However, the brewing process needs to be supervised otherwise the coffee tends to turn oily and too bitter. Modern percolators come with a warming function which prevents over steeping the coffee grounds. Percolators lack the ease of use of other coffee makers but are still preferred by some due to being inexpensive and capable of brewing large quantities of coffee at once.
Factors to consider when choosing a coffee maker
The kind of coffee maker you choose depends on several factors. Here are a few things to keep in mind when selecting a coffee machine in the UAE:
Brew type – What kind of coffee you like should be the first determining factor in selecting a coffee maker. Do you like your coffee medium-bodied and flavourful? Then go for a drip coffee maker. Do you like it strong? Then maybe the best option is an espresso machine with grinder. Do all the family members have different coffee preferences? Then a drip coffee maker with a milk frother and steaming wand can cater to everybody's demands.
Quantity – How many cups of coffee per day is consumed in your household? If you are the only one who enjoys a cup a day, then maybe a single-serve coffee maker or a small coffee maker with grinder can take care of your coffee fix. But if you need several cups of coffee for various family members then look for a model which can make larger quantities at a time.
Convenience – While some coffee machines in Dubai can be programmed to automatically make coffee at a pre-set time every day, other coffee makers require to be switched on before it can produce your morning brew. Whichever type of coffee maker you choose depends on your daily habits and the time you can devote towards making the coffee.
Cost – When buying a coffee maker, you should consider not only the upfront coffee machine price in the UAE but also the long-term expenses. Drip coffee maker or espresso makers are expensive to buy but long-term costs are cheaper, pod machines are expensive to purchase as well as maintain. A French press or a percolator is easily affordable upfront and does not cost much in the long run either, but these will require you to devote time towards the coffee-making process. Factor in filter replacements, reusability of coffee grounds and electricity consumption as well when selecting a coffee maker.
Popular coffee maker brands in the UAE
Coffee machines in Dubai and the UAE range in functions and the type of coffee they produce. There are plenty of brands which offer highly rated coffee makers in the UAE. Some of the noted names include Nescafe, Philips, Saachi, DeLonghi and Black & Decker. These brands offer some of the best automatic coffee makers with grinder, the best espresso machine for home use and amazing coffee machines with steamer. You can get the best coffee machine prices in the UAE for these major brands.
Coffee makers are a very common appliance in most homes and since coffee lovers are usually very particular about their preferences, it is important to get the right machine for the perfect brew. Using our guide, you can get the finest coffee machines available in the UAE be it a simple drip coffee maker or the best espresso machine with steamer. So, get the appliance you need and enjoy fresh coffee every day!