Get Inspired With These 7 Contemporary Kitchen Ideas for a modern kitchen
Modern designs defined by clean silhouettes and straight lines often get bad publicity as some people find them boring. But for your kitchens, such functional and easy-to-implement design styles can be a big boon. Simple design elements that are based on the fundamental criterion of "less is more" can give kitchens a contemporary and fresh look and make them functional and easy to navigate.
If you seek kitchen décor ideas to give your home's heart a sleek look, we have got you covered. Here are the top seven ideas that you can implement as-is or tweak a bit to fit your functional and aesthetic needs.
Paint Your Walls And Cabinets
The most cost-effective way to modernise your kitchen is to change the space's colour palette. By just refreshing the colours of your walls and kitchen cabinets, you can transform the space.
You could either opt for a monochromatic colour scheme or go down the mix-and-match route (say, black-and-white or blue-and-white colour combinations that are always a win-win choice) to create a beautiful and modern kitchen.
Pair Marble With Steel
Despite being incredibly durable, stainless steel often feels more industrial than modern, especially when you pair it with wood. But you can pair it with marble for a stunning effect.
For instance, a bright marble island, countertop, or backsplash can go well with stainless steel appliances, thus creating a modern kitchen.
Focus On The Floor
Contemporary kitchen floors need not be boring. You could paint your kitchen floor, say, in blue, or with a sleek wood finish.
You could even use different materials and settings to give it a pop of personality and visually appealing effect, say, by using checkerboard marble tiles, tiles with a concrete effect, brick tiles, etc.
Be Careful With The Lighting
Though modern design experts ask you to focus on natural lighting, your kitchen will still need some light fixtures. From simple yet sculptural designs to geometric patterns, you can find a wide array of light fixtures to give a modern touch to your kitchen.
You may even mix and match different lights for different proposes like ceiling lights for creating the right ambiance, track lights to illuminate dark corners, recessed lights for a warmer and well-lit look, etc.
Install A Multifunctional Island
By installing a multifunctional kitchen island, say a double-tiered one, you can make your kitchen reflect your personal style and cleverly save space by combining an eating table with the kitchen island for your food prep.
You may even have a fridge, wine storage, or cabinets under the island to add some welcome storage space for your kitchen utensils, appliances, and other items that need to be stored away but should stay within your easy access.
Add Vintage Touches
Some ultra-modern kitchens can feel quite impersonal. If you believe your kitchen's contemporary interiors feel like a hospital, you can add vintage touches to the space to make it feel down to earth.
From an old earthenware vase, an heirloom fruit bowl, or earthen cups and saucers to a wood cutting board that you have been using for years, you can take your pick from a variety of things to make your modern kitchen feel lived-in and cosier.
Bring In Eco-Friendly Options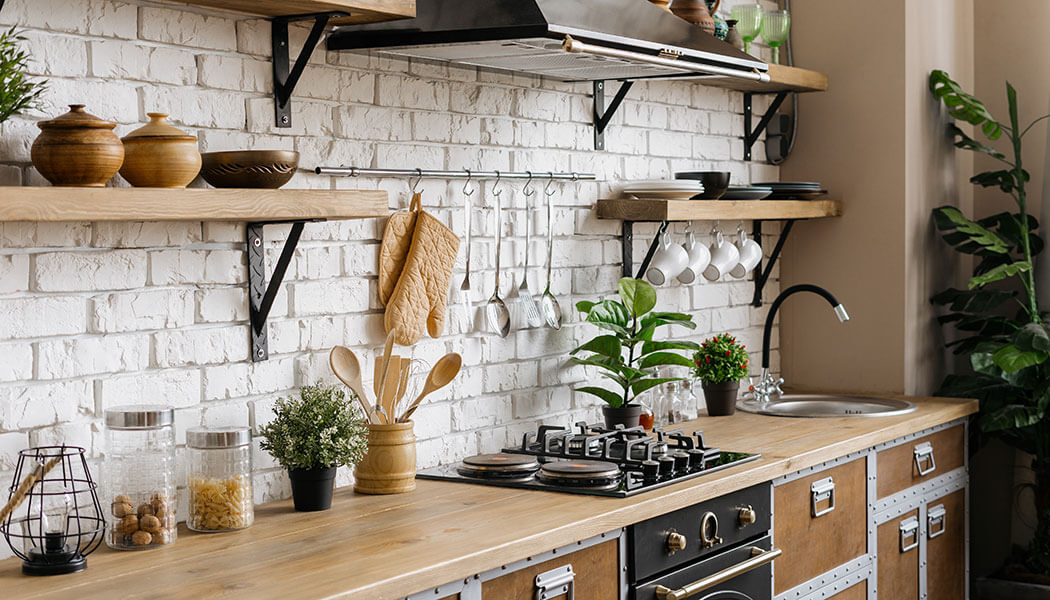 Since adopting eco-friendly measures is in trend today, you can make your kitchen eco-friendly by adopting sustainable practices and materials to decrease your carbon footprint.
From using naturally sourced materials in your kitchen décor like reclaimed wood and recycled glass to selecting zero-VOC paints for your kitchen's walls, drawers, and cabinets and investing in energy-efficient lights and appliances, there are various ways to make your kitchen eco-friendly. You may even add a few potted plants or grow herbs and spices on your kitchen's windowsill if it gets sunlight to add a touch of green to the space.
Whether you want to give your kitchen a modern refresh or need contemporary kitchen décor ideas for the perfect inspiration, the above tips can help you get started with the job. So, go ahead and make the heart of your home feel beautiful and serve you with its optimal functionality.