Best Microwave Ovens for Small and Mid-Size Families in the UAE
Be it grabbing something healthy to eat before heading out for work in the morning or cooking food for your family after a tiring day out, you can do it all easily and quickly with the best microwave ovens in UAE designed for small and mid-size families. Even when you want to break free of routine meals and experiment with your recipes or invite family and friends over for a meal, these microwave ovens can make your kitchen tasks a lot faster and much more efficient with the ultimate results being lip-smacking, healthy dishes on the table.
We have compiled a list of the best models to help you buy the right one. But before that, you have to know some tips to buy, use, and clean your microwave ovens the right way to ensure they continue to serve you for long.
Tips to buy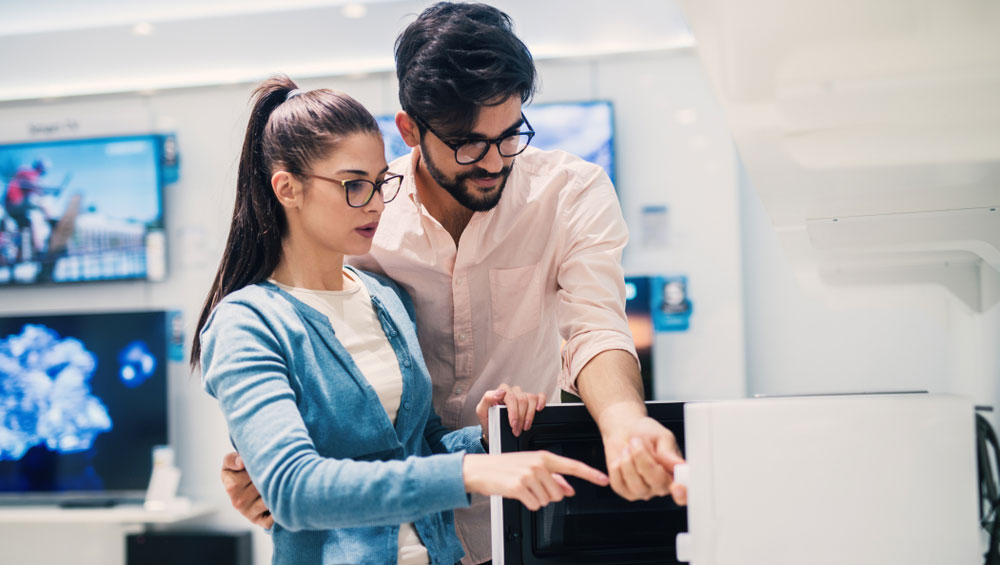 Here are some factors you need to consider when buying a microwave oven to ensure it fits your needs and lifestyle the best:
Size of your family: If you have a small family with four members, a microwave oven with 21 to 30-liter capacity would be ideal to buy. For families with more than four members, it's good to buy one whose capacity exceeds 30 litres.
Types of food you cook: If you prefer simple cooking (like pasta, rice, popcorn, etc.), want to brew coffee/tea/milk, or need to defrost and reheat food often, a grill microwave oven would be good. But if you prefer elaborate menus involving grilling, baking, roasting, browning, and crisping along with defrosting and reheating, a convection microwave is better suited.
Features to look for: Depending on your preferred cooking style, you should look for certain features in your microwave oven that would make your kitchen duties faster and easier. These could typically include auto cook menus, timer, air frying, power saving options, rust- and scratch-resistance, and quick defrosting, among others.
Tips to use
To ensure your food is cooked healthily and you don't endanger yourself, it's important to use the microwave as laid down in the user manual. You should also do the following:
Use microwave-safe containers: You should use ceramic or glass containers that are microwave-safe to cook or reheat your food. Avoid using metal pans or aluminum foils as they reflect microwaves, which could cause uneven cooking and even possible damage to your oven. It's best to avoid plastic containers too as they could melt or transfer harmful chemicals to your food.
Uniform arrangement of food items: You should organize your food uniformly and evenly in pots and pans and even add some liquid, if required, before putting them inside the microwave. In case you cover the container with a wrap or lid, make sure to leave a small vent to avoid steam build-up.
Use even-sized cuts: It's important to cut your foods into even sizes, if possible. Else, you should put the thicker and larger sizes on the sides and cook on medium power to ensure the heat travels to the centre without overcooking the outer areas.
Tips to clean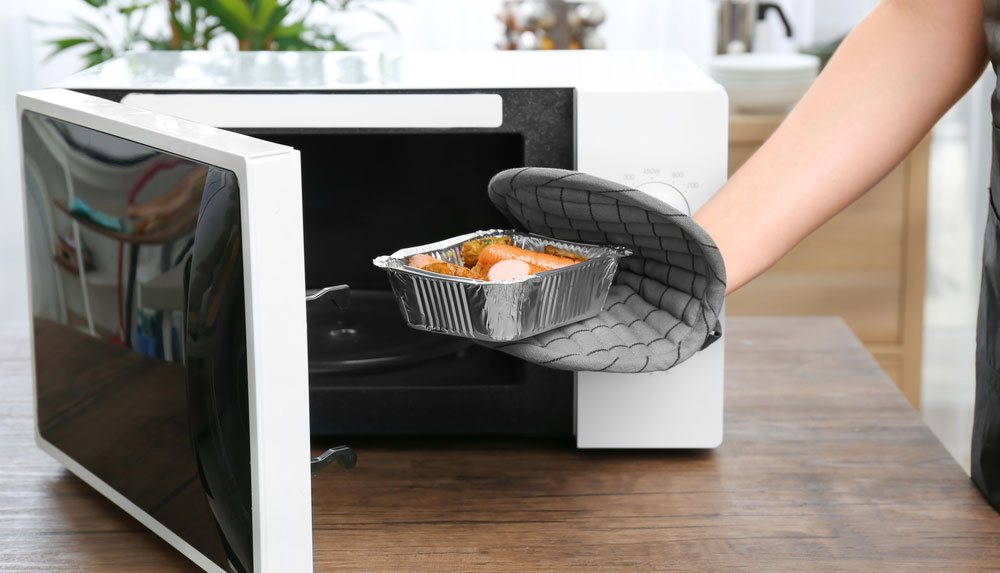 To get rid of a mix of smells and splatters from your microwave's interior, you should add the juice of a lemon and a few tablespoons of apple cider or white vinegar to a microwave-safe bowl of water and heat it. Once the window steams up and the mixture starts boiling, turn the microwave off, let it cool for five minutes, and remove the bowl. You can then use a soft cloth or sponge to wipe the inside clean. For your microwave oven's greasy window, you can use a 1:1 vinegar and water mixture to wipe it clean and dry. To clean the door's edges and sides, a wipe down with a damp cloth dipped in baking soda would be ideal.
Now that you know how to buy a microwave oven and use it optimally while ensuring it stays squeaky-clean, let's help you find some of the best-in-class models designed for small and mid-size families.
Panasonic Convection NN CD671 27 Liter Microwave Oven – Silver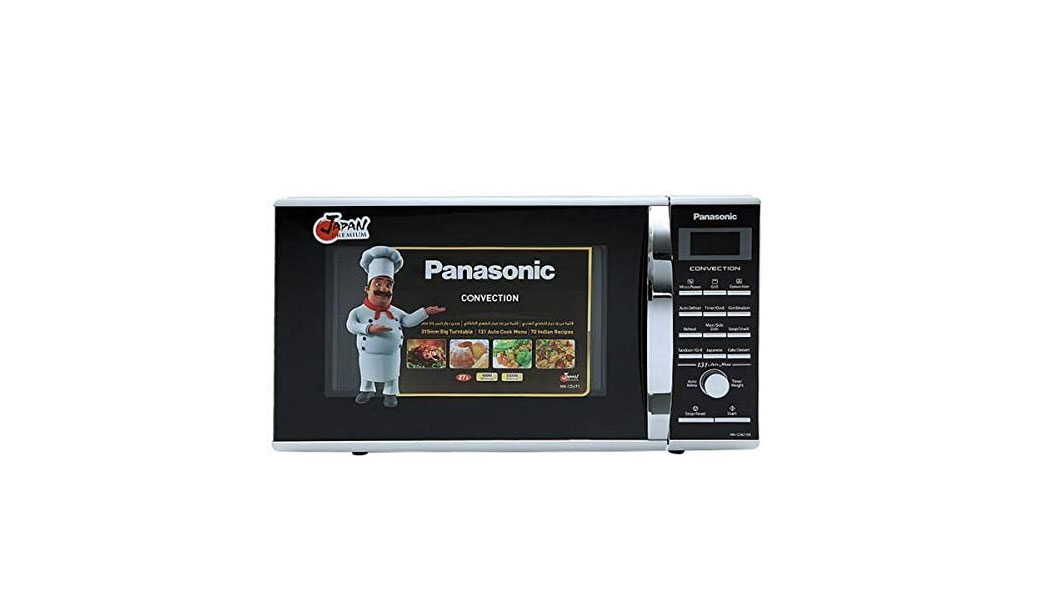 Mid-size families that love elaborate cuisines and prefer to entertain guests with these spreads would find this stainless steel microwave with a 27-liter capacity the ideal choice. With its 1400W Grill along with 900W Microwave Power, this device lets you take advantage of its 131 Auto Cook Menus to grill, bake, heat, or stew a wide range of delicacies.
Panasonic 34L Convection oven, 1300W,NN-CD87, Silver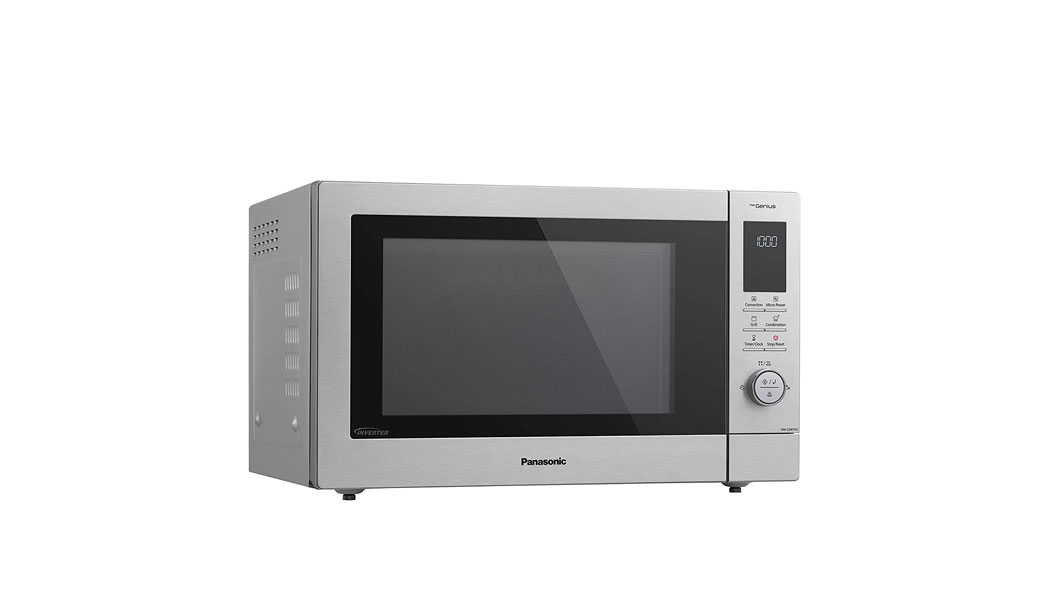 If you prefer to cook healthy food in large batches, this 34-liter Panasonic convection oven with 1300W Grill Cooking Power, 1300W Convection Cooking Power, and 1000W Microwave Cooking Power is just what you need. With 30 Healthy Air Frying auto menus, large interiors to fit 36-centimeter wide dishes, 5 simple combination cooking programs, and re-bake programs for Arabic breads and croissants, this microwave will ensure your cooking is easier, faster, and healthier.
Black+Decker 30 Liter Combination Microwave Oven with Grill, Silver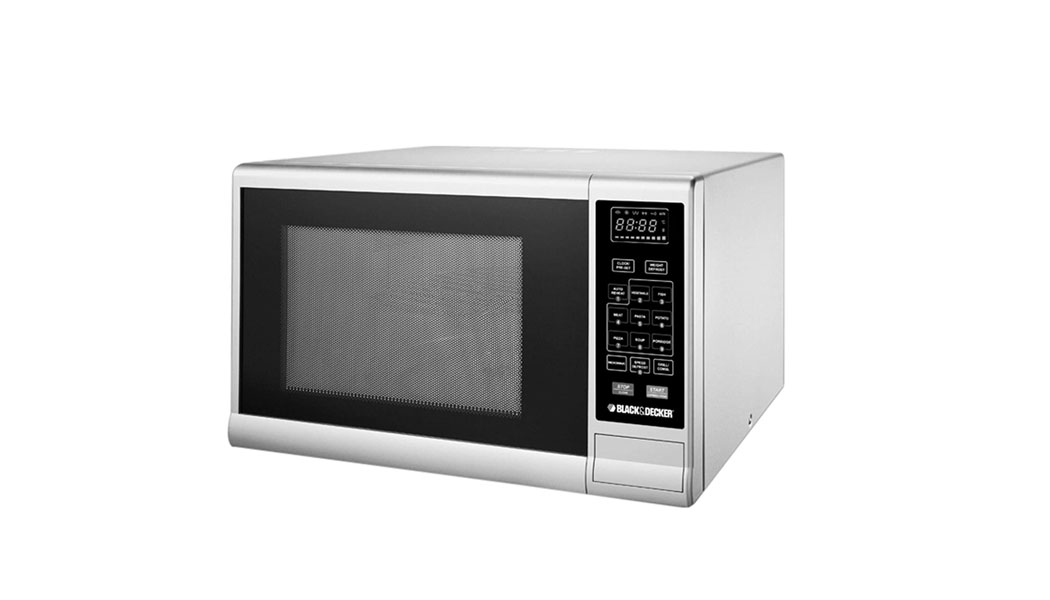 You can cook large batches of food at one go with this 30-liter 1000W microwave oven. Whether you want to cook your food or simply heat it, you can select the suitable intensity using this device's five levels of microwave power. You can even leverage its Auto Menu function to cook your food evenly, precisely, and automatically while you handle other household chores or simply sit back and relax.
Samsung Microwave, 40 Liter, MG402MADXBB/GY - Black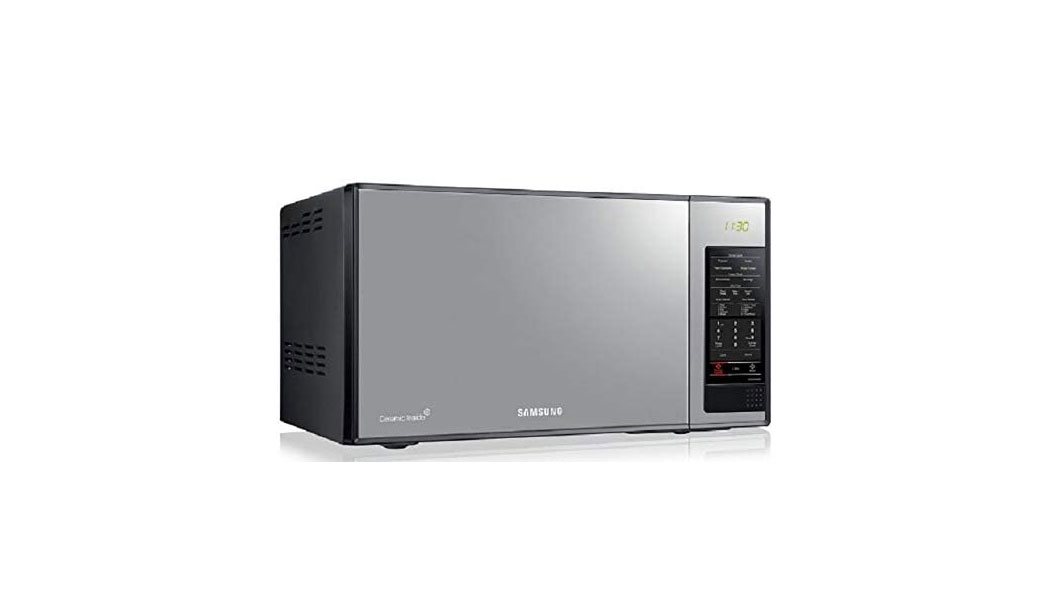 You can enhance the style quotient of your kitchen with this microwave that sports a lavish black mirror design and features three microwave distribution points for thorough and even cooking for every item. When pressed for time, you can use Samsung's MWO Local Recipe menu to rustle up something delicious quickly. In its Eco Mode, this device lets you save up to 40% more power than other microwaves. This sturdy microwave has a ceramic enamel interior that's 7 times more rust- and scratch-resistant than its peers and even prevents the spread of bacteria.
Panasonic 31 Liters Inverter Microwave with Grill, Silver - NNGT67J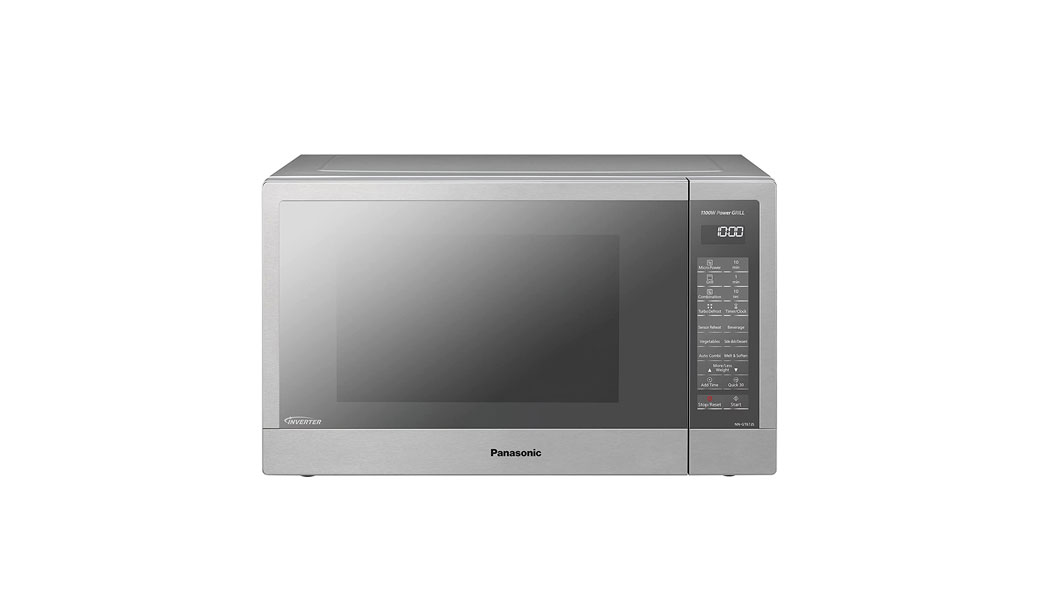 This 31-litre inverter grill microwave oven sports a sleek and compact design and has a 1100W quartz heater to deliver crispy cuisine. It features 1100W Grill Cooking Power and 1000W Microwave Cooking Power. Its Quick30 function lets you cook uninterruptedly for 30 seconds. To make your kitchen duties faster and easier, it also comes with 20 Auto Menus and Sensor Reheat. Using its Inverter Turbo Defrost, you can now defrost your foods quicker and uniformly than ever before
Samsung Microwave Oven 32 Liter Black Inner Ceramic MS32J5133AG
Cook, soften, melt, defrost, or reheat food items easily without losing their flavour and texture with 16 pre-programmed recipes offered by this 32-litre device having 1000W Microwave Oven Power. Prepare food dressings and cook everything easily, from baked salmon fillets and chicken breasts to coffee/tea, and more with this microwave. This device's Eco Mode lets you save up to 40% power in standby mode. It also features a durable, scratch-resistant soft ceramic interior with 99.9% antibacterial protection.