A buying guide for vacuum flasks and bottles to keep warm liquids handy
A vacuum flask or a thermos is an insulated bottle which maintains the temperature of any liquid stored inside. They keep cold beverages cold and hot beverages hot for anywhere between 12-24 hours. Having a vacuum flask lets you store and enjoy your favourite beverage at the desired temperature on-the-go. Having a vacuum or thermal flask is a worthy purchase which delivers year-round returns.
How vacuum flasks work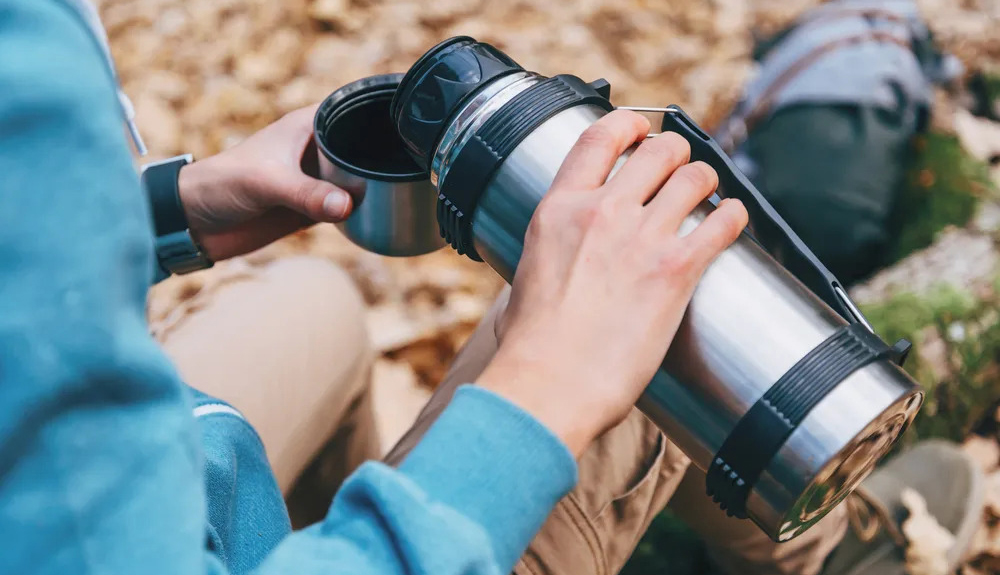 A standard vacuum flask has an inner chamber and case made of plastic or metal. The two chambers are separated by two layers of glass with a vacuum chamber in between. This vacuum chamber prevents conduction of heat. The glass chambers are usually made of reflective metal so that any heat trying to escape from inside the bottle via radiation is reflected back inside. The bottle cap is a tight stopper which prevents heat leakage by convection. The result is a storage device which lets minimal heat in or out, thus keeping the liquid inside at a roughly constant temperature for hours.
Flasks are available in many varieties depending on their use. Here are some of the common types of vacuum bottle available online in Dubai and the UAE:
Dual flasks – Dual vacuum flasks keep liquids hot for 12 hours minimum and cold liquids. These flasks need to pre-heated or pre-cooled before use to ensure the best results. Dual flasks usually come with a sipper on the screw cap and a built-in cup on the lid. The sipper is for cold drinks while the cup is recommended for hot drinks. Dual vacuum flasks are the most common type of thermos flasks available.
Vacuum flasks for foods – Vacuum flasks for food are thermal flasks with dual compartments for stews, soups, pasta and rice. These flasks are great for taking food along on hikes, camps and long journeys. Some of these flasks come with a large lid which can be used as a bowl. '
Pump pot vacuum flasks – Pump pots have a dispensing system on the lid which is very useful if you are using the flask to distribute drinks among several people. The drink is usually dispensed through the pump system which draws the liquid through a pipe and out through a built-in nozzle on the lid.
Things to consider when buying a vacuum flask bottle in the UAE
A vacuum flask is probably the best kind of insulated container you can get. However, there are a few factors you should consider before buying a hot flask bottle online in the UAE:
Purpose – Consider the purpose of your flask. Do you need it for liquids only or do you want a flask which can be used for food as well? Do you need a flask which can dispense beverages for several people? These are the questions which need to be answered before you purchase a flask.
Cost – There is a huge variety of vacuum flasks available and in a wide range of prices from cheap to quite expensive. Yet, it is not necessary that the higher the cost, the better the quality of the flask. Check out the build and features of the flasks you are considering purchasing to get an idea of the features vs price which will suit you best.
Capacity – Flask sizes can range from 300ml to 2litre for larger volumes of beverages. The capacity of your flask will depend on how much liquid you need to carry along with you. For long-distance journeys, you shall need a large flask which can carry enough liquid to last you for several hours. For a trip of one or two hours, a small vacuum flask shall suffice.
Material – Vacuum flask materials can be plastic, ceramic or steel. Ceramic flasks are pretty rare mostly due to their weight and the fact that they are very fragile. Ceramic flasks are more of a collector's item and are quite expensive to own and maintain. Plastic vacuum flasks are cheap and lightweight but have poor insulation. The best vacuum flasks are made of metal. Opt for vacuum bottles made of stainless steel. They are comparatively heavier than plastic flasks but they have very good heat retention, are durable and reasonably priced too.
Heat retention – The heat retention of vacuum flasks varies from around 4-5 hours to up to 24 hours. The heat retaining capacity of the flask will be mentioned in the manufacturer's guide. Pick the heat retention capacity based on your needs.
Warranty – Some vacuum flask makers offer long warranties while some vacuum bottle manufacturers do not offer any warranty at all. If you are splurging on your flask, you should opt for a flask with a decent warranty to ensure you are covered for any problems.
Care and maintenance to make your vacuum flasks last for longer
Once you have purchased a vacuum flask you need to take proper care of it to make sure it lasts. Follow these care tips to maintain your flask:
Always handwash your vacuum flask and use warm water to wash them.
Pre-heating or pre-cooling a flask is not necessary but advised to keep your beverages at a constant temperature. To pre-heat the flask swirl hot water inside the flask and let it sit for 3 minutes. Empty the water and fill up with the hot drink of your choice. For pre-cooling the flask, do the same with cold water.
Never use the microwave to pre-heat the flask or the fridge to pre-cool the flask.
Do not fill the flask up to the brim. Leave an inch for the stopper to get a tight fit.
Do not use chlorine bleach to clean your vacuum flask.
Use baking soda and vinegar to get stains out of stainless steel vacuum flasks. Mix a teaspoon of apple cider vinegar with a teaspoon of baking soda in warm water. Let this mixture sit in the bottle for some time and then scrub gently with a bottle brush. Rinse with warm water.
Best thermal flask brands available in the UAE
You can choose from a huge range of top-rated vacuum flask brands online in Dubai and the UAE. Noted brands such as Atlasflask, Kula, Milton, and more have plenty of options to choose from. You can shop for the best vacuum flask prices offered online to get the best products to fulfil your requirements.
Given below are a few top-rated vacuum flasks options for you to consider for outdoor or indoor use:
Atlasflask Stainless Steel Vacuum Bottles 500 ml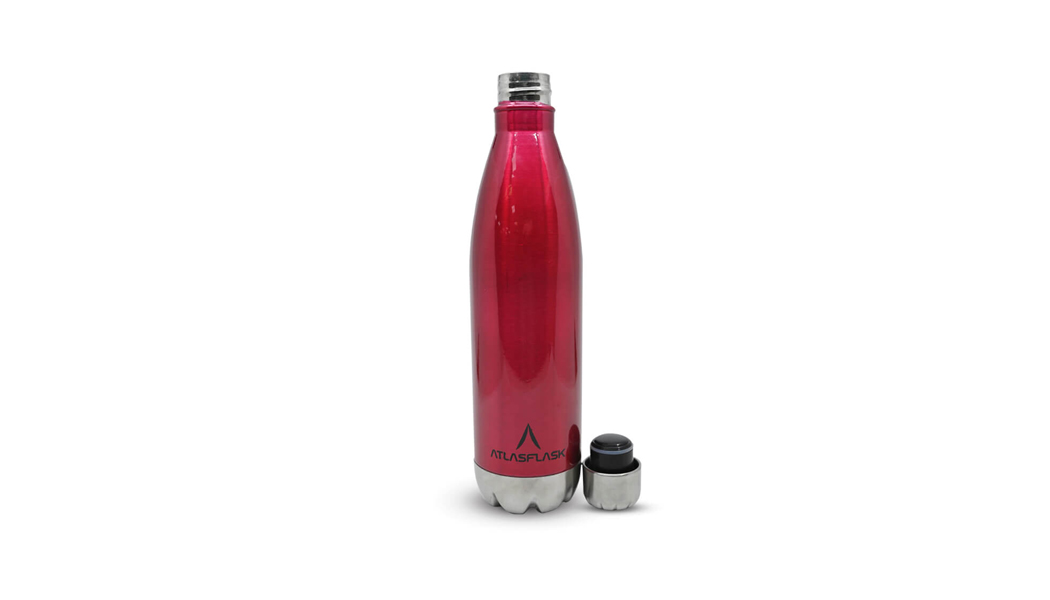 Atlasflask vacuum bottles are one of the best flasks to keep liquids at the desired temperature. These double-walled steel vacuum flasks are made in India using German technology that is designed to keep hot drinks perfectly warm for 18 hours and cold drinks chilled for up to 24 hours. The bottles are made in an attractive ergonomic design with a wide base that prevents it from toppling over. The steel construction uses BPA and lead-free hardened steel that ensures that no contaminants leak from the bottle into the water. These 500 ml bottles are compact and easily portable. Choose from 6 bright colours for a bottle you would like to carry everywhere.
Atlasflask Stainless Steel Vacuum Bottles 1000 ml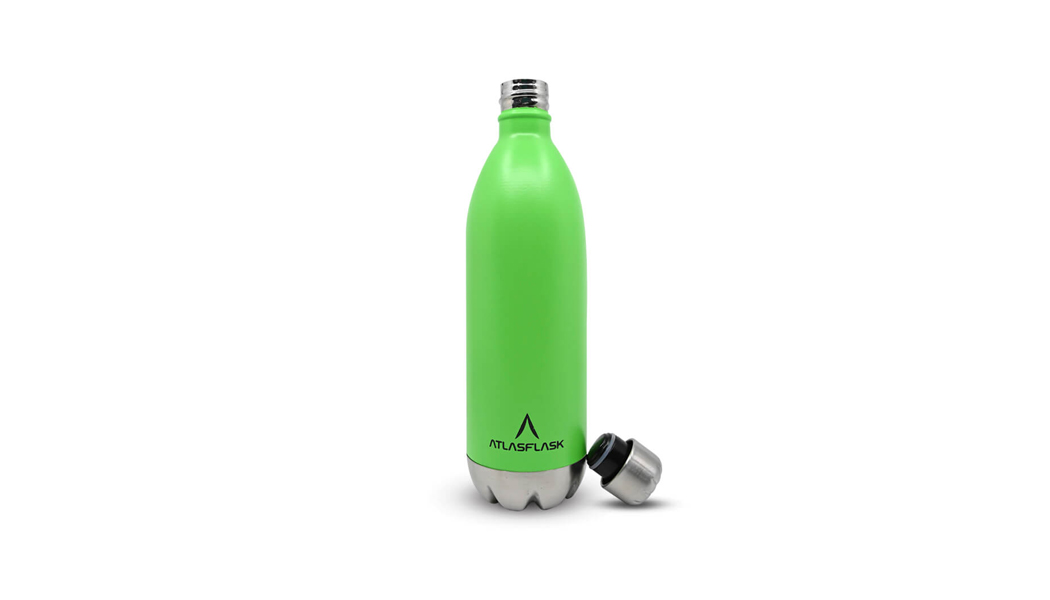 Vacuum bottles from Atlasflask are the best way to ensure that you meet your hydration needs every day. These stainless-steel vacuum bottles are manufactured using a German technology of insulated double walls which can maintain the temperature of hot drink for 18 hours and that of cold drinks for 24 hours. The steel used to make these bottles is hardened BPA and lead-free stainless-steel that is resistant to shocks and dents. The high-grade stainless steel retains the flavour of beverages and even keeps the fizz of sodas intact. The bottle has an easy-to-hold design with a wide stable skid-free base and comes in 6 different colours. The 1000 ml capacity of this vacuum bottle is great for use in offices too.
Atlasflask Stainless Steel Vacuum Bottles 700 ml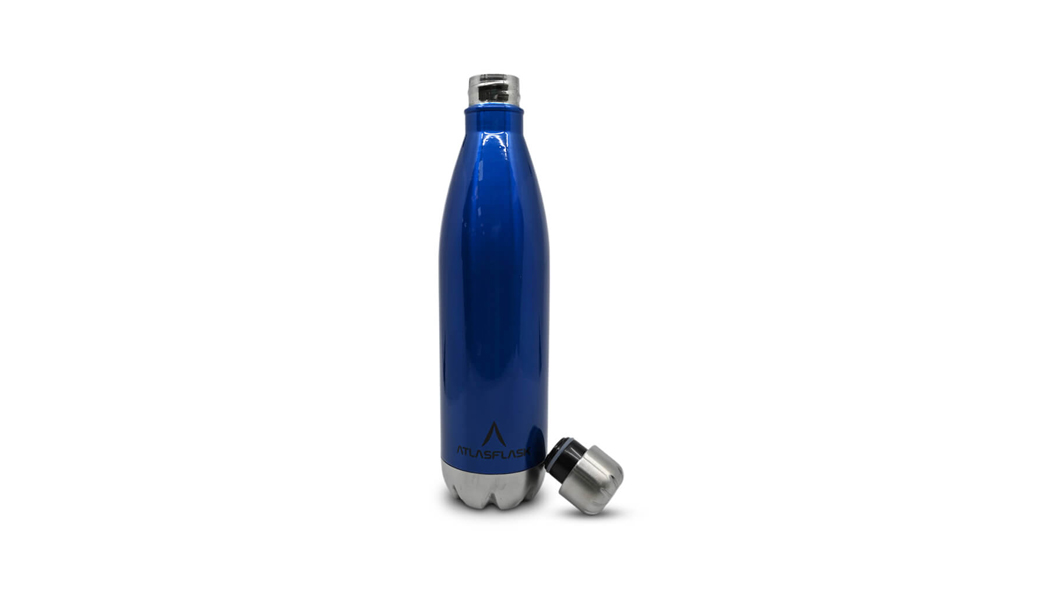 Atlasflask brings you vacuum bottles for storing and drinking your favourite beverages on-the-go. These vacuum bottles are made of high-grade BPA and lead-free steel which have more resistance towards dents and are longer lasting than other materials. Each bottle features a double-walled insulation construction which holds in heat for 18 hours and keeps cold drinks at the right temperature for up to 24 hours. The bottles are leak-proof and do not leach any harmful materials into the beverages stored inside ensuring that the flavour and freshness of your drinks are maintained. The 700 ml capacity of this bottle is perfect for use at work, the gym, in school or most outdoor activities. Take your pick from 6 colour variants for the bottle you want to flaunt!
Kula BPA Free Stainless-Steel water bottles
Make sure you are never without your favourite beverage with stainless-steel water bottles from Kula. Kula water bottles are made from BPA free stainless-steel which are a sustainable and environment-friendly option. The high-quality steel does not leak harmful chemicals into the drinks stored inside keeping them safe. Kula stainless steel water bottles have a double-walled construction which provide superior insulation keeping hot beverages hot for 18 hours while cold drinks retain their temperature for up to 24 hours. The bottles are leak-proof and are made in an ergonomic design which is easy to hold. Kula water bottles are available in 4 colour options in sizes of 350ml, 500ml, 750ml and 1000ml for use in a variety of situations.