7 Country Kitchen Design Ideas to Impart Instant Rustic Charm to Your Space
When you think about creating a country kitchen, perhaps wood cabinetry or classic furniture with a rustic charm comes to your mind at first. But what other elements do you think can make your space quintessentially country in both feel and look? From a big country table to a bunch of warming timber, all can help create the foundation on which you can build your country kitchen. Whether you plan to have a small country kitchen or a smarter and expansive manor house setting, you need to focus on the right elements to get a look that's both rustic and trendy. Here are the top seven ideas to help you get the country kitchen look right.
Invest in a butler's sink
It's difficult to think of a country kitchen without seeing a large white ceramic butler sink topped with a pillar or swan-neck tap. If you prefer minimalistic décor, you can choose a simple, plain-fronted model. Else, you could opt for a luxurious marble sink, surround it with timber worktops, and top it with a stylish swan-neck or traditional pillar tap.
Play with stone, bricks, and wood
To give your kitchen a rustic charm, you can use stone flooring with underfloor heating to ensure it isn't icy-cold to your feet, especially in winter. Wood and bricks are other natural elements that can give your space the ideal countryside charm. For instance, you can use wooden cabinets, shelves, and dining table and chairs, along with brick-lined walls around your traditional range cooker, oven, or induction hobs to create your country kitchen.
Install taps with a vintage look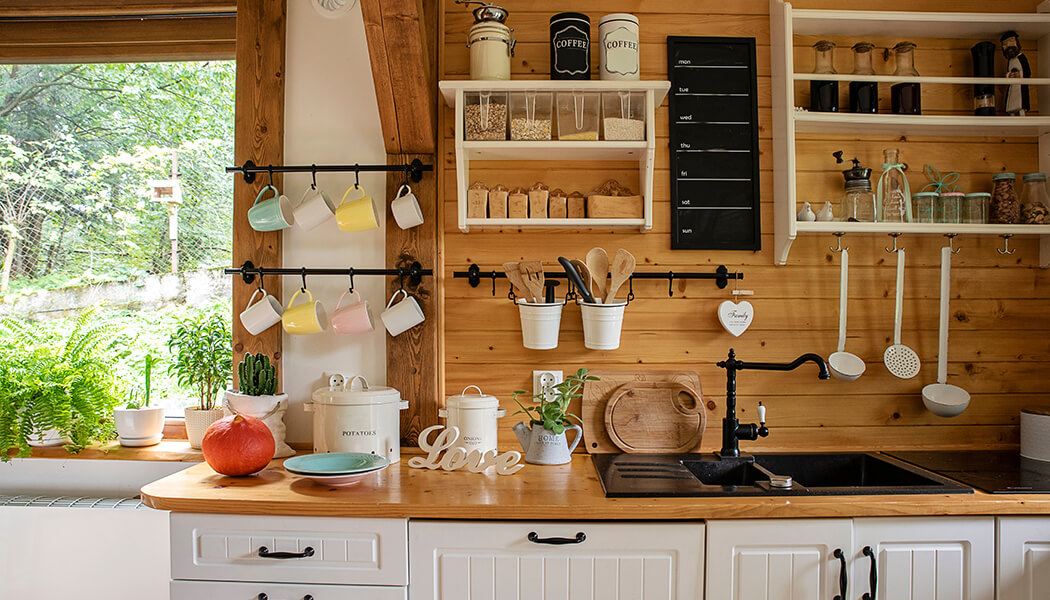 Though chrome and stainless steel have long been the favourite finishes for kitchen taps, your country kitchen will need softer hues to create the right vibe. You can install taps in brushed gold and brass designs with a vintage look to give your kitchen an authentic countryside feel.
Lay down a countertop made of natural stone
Due to its unique and intricate detailing, natural stone lends itself flawlessly to country kitchen settings. When you lay down a natural stone countertop, the stone's crystals and glints of diverse colours will add a unique character and charm to your space. Apart from imparting a rustic essence to your kitchen, natural stone is also an outstanding surface choice for practicality and pairs delightfully with other natural materials your country kitchen may have, such as wood panelling or stone accessories like stone pestle and mortar, bowl, platter, etc.
Try to retain the original features as much as possible
The main attraction of a country kitchen is often the gorgeous original features that typically accompany this type of property. For instance, if your kitchen has stone walls and floors, wooden ceiling beams, arched windows, a fireplace hearth, or a wood-burning stove, retaining some of these would give the space an instant rustic charm. Even if you don't own a property that has such old features, you can always mimic a feature or two of the bygone era by sourcing antique and reclaimed pieces to create a countryside vibe in the heart of your home.
Choose appropriate cabinets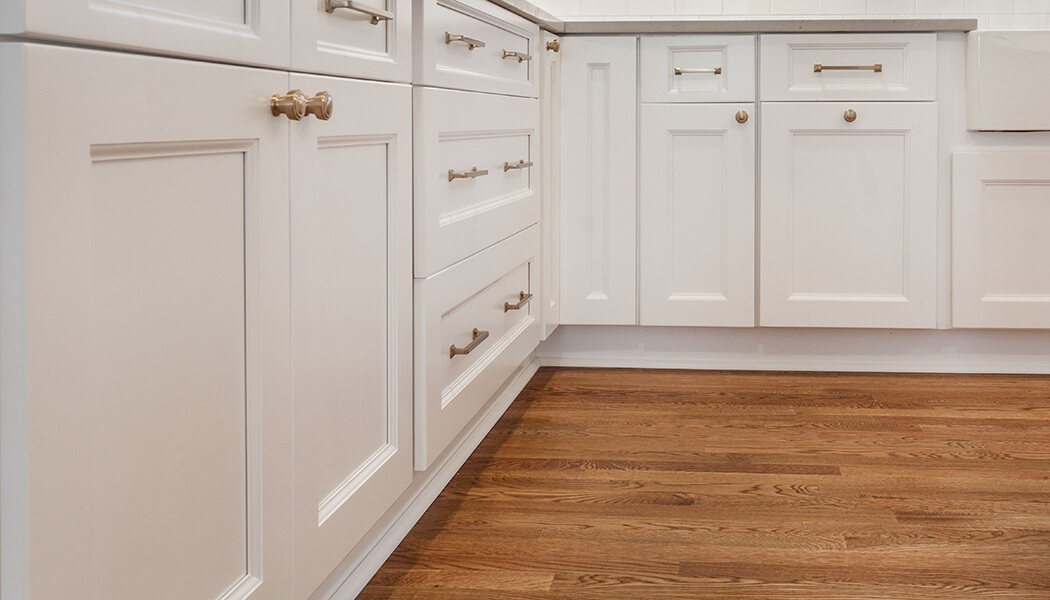 One of the first things to focus upon when creating a country kitchen is your choice of cabinets. Due to their timeless designs that go well with both traditional and modern décor, shaker-style kitchen cabinets are a preferred choice in several country kitchens. These time-tested cabinets are excellent if you want to create a kitchen that will hold well through future kitchen redesigns. You may either leave your shaker-style kitchen cabinets with their natural wood colour having a wax or varnish finish or paint them in a palette of chalky, vintage hues from buttermilk cream, olive green, and sea foam grey to classic white.
Display your pots and pans for a lived-in look
Traditional country kitchens usually don't have their pots and pans neatly stashed away in cabinets and cupboards. Instead, they are placed somewhere that's easy to access. To create a country kitchen with a lived-in feel, you can put your pans, pots, and utensils on display, thus ensuring whatever is useful is handy and looks good as well.
Whether you stay in a secluded region or the heart of a busy city, you can claim the country life with a rustic-inspired kitchen. You will just need to add nature-inspired elements to your kitchen, like stone, wood, etc., along with some vintage accessories as mentioned above to add colour, texture, and style to the space while retaining its countryside charm.