15 Design Ideas to Bring a Colour Renaissance to Your Kitchen
Your kitchen doesn't need to be an all-white space that feels monotonous. Whether you are looking to bring a colour renaissance or add a pop of colour to your kitchen to create a sleek and stylish space that your entire family will love, you aren't alone. From giving your kitchen walls a colourful coat to installing splashy tiles and wallpaper or using a beautiful pattern in your upgraded flooring, there's a lot you can do to make your cooking space cheery and welcoming. If you can't find enough design ideas for your space, we bring you fifteen ideas that will let you brighten your kitchen.
Add colours to your walls
This is the best way to change how your kitchen looks without any new construction or renovation. Whether you love neutral or muted colours or prefer bright colours, you will get various options to take your pick from. Neutral whites and browns, warming earth tones, pastels, and even primary colours can be used to personalize small kitchens. If you need a beach vibe, you can choose the classic blue-and-white combination. Black-and-white is another classic design that many may prefer. Those looking for peppy shades can choose sunshine yellow or pretty pink.
Bring in the blooms
Floral décor is one of the easiest ways to brighten your kitchen. From blooms that contrast your kitchen's overall colour palette to bold and bright ones like red, yellow, or orange, you can select your flowers any way you like. You will just need to choose flowers that don't attract bees, flies, and other insects because you surely don't want your kitchen to be their favourite hangout space.
Implement a medley of colours in the space
You should think about adding some colour to your backsplash, cabinet, countertop, and appliances. Ideally, you should explore diverse colour pairings to decide what colours work best with each other. For instance, minimalist accents like cabinets in natural wood colour will look good with black walls. Again, a unique combination could be blue and brown, where blue's cool and vibrant vibe contrasts with brown's grounding tone to create a unique and colourful melody in the space that enhances your appliance's neutral colour palette.
Add natural (or faux) items
The quickest way to make your kitchen feel lively is by adding a big bowl of yellow lemons, bright red apples, or any other seasonal fruit. It's equally nice to have some greenery in the space. You could position small potted plants on your open kitchen shelves, countertop, or the windowsill. If you have a numb thumb and fail to keep houseplants alive for long, you could simply bring home some realistic faux plants and place them in your kitchen to add a dash of cheer to the space.
Use a colourful area rug
By placing an area rug, you can create warmth in the space. At the same time, a colourful rug will also help with noise control. It will absorb the noise created by the countertop, tiled floor, and appliances. You just need to ensure your rug is washable and has a non-slip backing. You can position it in front of the sink, under the dining table and chairs, or somewhere else that you think is more suitable.
Tile your kitchen floor
You can use colourful porcelain or ceramic tiles to brighten your kitchen. Compared to hardwood or natural stone, tiling your floors is a more budget-friendly option. Though it will be a big project, the durability and easy maintenance of tiled floors make it a good option. And when it comes to styles, you can get diverse choices in kitchen tile flooring to add a sprinkle of colour to the space.
Use wallpaper
If you don't want to paint your kitchen walls, you can use wallpaper as an alternative to enliven your kitchen quickly. You may decide to use wallpaper for the entire kitchen or any one wall. You could even keep it confined to your breakfast corner, backsplash, or home bar. Whether you want to add bold or soft colours to your kitchen or impart a textured or patterned look, wallpaper can be your go-to choice.
Have fun with backsplashes
If you want to take your boring kitchen from dull to interesting, colourful backsplashes are worth considering. From beachy fish scale tiles or colourful tiny tiles to combining different tile motifs in an agreeable pattern, you can experiment to find your favourite arrangements. Thanks to endless tile shape, colour, and pattern possibilities with backsplashes, you will have a wide variety to choose from.
Paint your cabinets
Most kitchens have either the upper or lower cabinets painted. However, you can paint both to inject some energy into the space. If you don't want to go wholly neutral or all-white but still retain a tranquil vibe, soft shades of green and blue can work wonders. You could also go bold with cheerful yellow, bright red, or zesty orange.
Chalk it up
Painting an entire wall in chalkboard paint or having a chalkboard door may not be possible for all. But you can still have a small chalkboard on a bare wall in your kitchen to enliven the space. If you position it low enough for your child to reach it, it can be your little one's creativity corner and add a dash of colour to the space. You could even use it to note down chores, the day's menu, grocery lists, or messages to family members.
Display colourful appliances
You may not see colourful appliances in the kitchen very often, but they can lift your kitchen décor by quite a few notches. It's understandable if you feel jittery about buying a bright green stove. You may start small by buying appliances like a colourful toaster, electric kettle, or mixer and display them on your kitchen countertop to break the space's monotony.
Add a piece of art
A collage of family photos, an artwork by someone you admire, a painting by your child, an old map, or even a cool print displayed in your kitchen can brighten the space. You should be careful not to hang it above or position it close to a hob, radiator, kettle, toaster, or any other appliance that emits heat or steam. Your chosen artwork should also be kept away from the sink to avoid getting damaged by water. Apart from the wall, you can also display your framed art on a kitchen shelf or countertop.
Put your colourful dishes on display
If you have open shelves, floating cabinets, wall hangers, or cabinets with glass doors, you can display your colourful dishes to brighten your kitchen. For instance, if you have treasured chinaware or a collection of antique plates, showcasing them will help add colour and texture to your kitchen. Go ahead and use pots, pans, saucers, glasses, and cups in various colours to add character and happy vibes to the space.
Give your dish towels a bright boost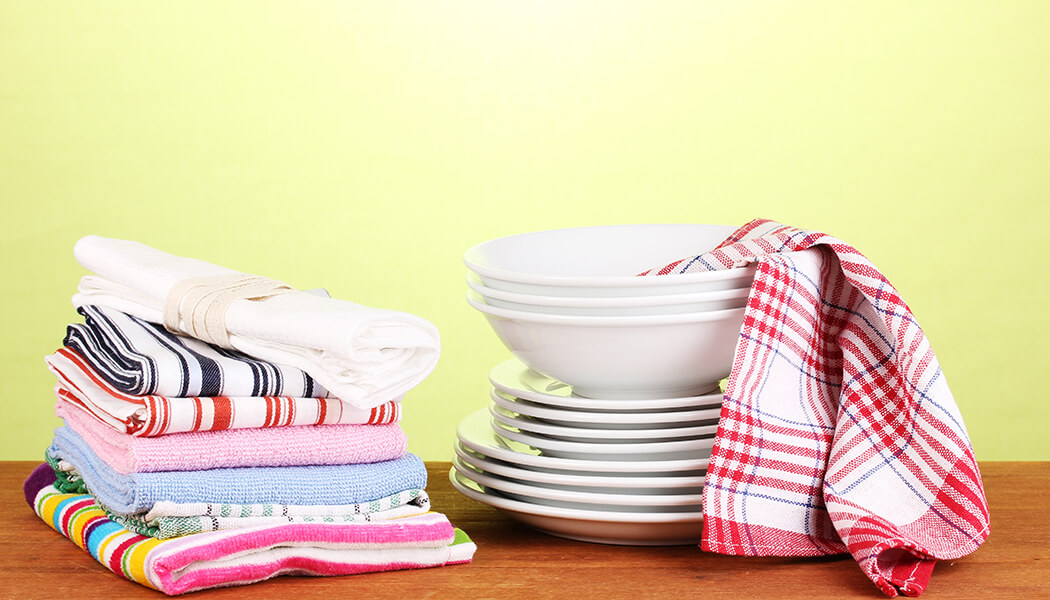 You may not have given much thought to dish towels, but they are inexpensive ways to give your kitchen a colourful boost. Since dish towels are quite accessible, you can buy around half a dozen in different colours. Then you can use a set of 2 to 3 for 3-4 days, followed by bringing in the next set with different colours while the previous set is washed and dried.
Spice up the windows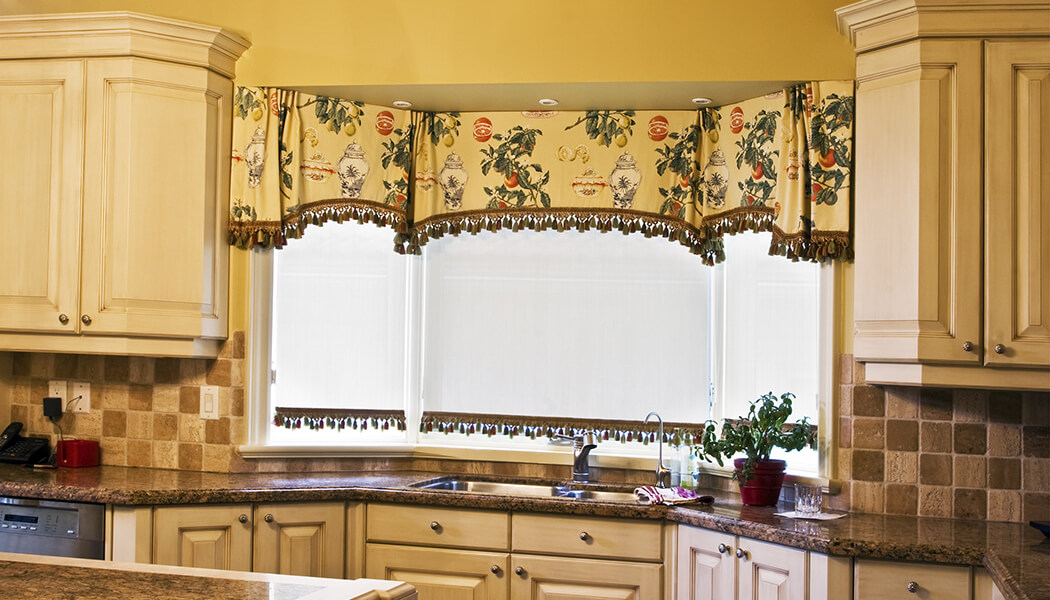 Often, your kitchen windows present an overlooked opportunity to add a pop of colour to the space. With window treatments like blinds, sheer shades, valences, faux wood shutters, or café curtains, you can add colour, softness, and texture to the space. Replacing a small kitchen window with vintage stained glass or positioning colourful plants, herbs, and flowers on the windowsill are other ways to brighten your cooking space.
Since your family members and guests almost always end up in the kitchen, you will like the space to be one of the brightest and most welcoming areas in the house. With the design ideas shared above, most of which are super easy and inexpensive, you can easily give your kitchen a facelift to brighten up your cooking space.