Get Ready Every Time Like A True Diva With These Top 10 Bathroom Makeup Vanity Ideas
Getting your makeup right depends on how well your bathroom vanity is set up and organized. A well-lit surface to perch at is equally essential while applying makeup to ensure even results and not appear funny or embarrassing like Bozo the Clown. A stylish bathroom vanity with a makeup table also helps add some style to your space, thus making it all the more inviting.
Whether you are looking for vanity ideas to fit small or awkward corners in your bathroom, need easily accessible makeup storage solutions, or simply want some actionable plans and design inspirations, the 10 bathroom makeup vanity ideas below will help for sure.
Ready to dive in and take stock of what will work well for your bathroom? Let's begin!
Design The Space With Elements You Love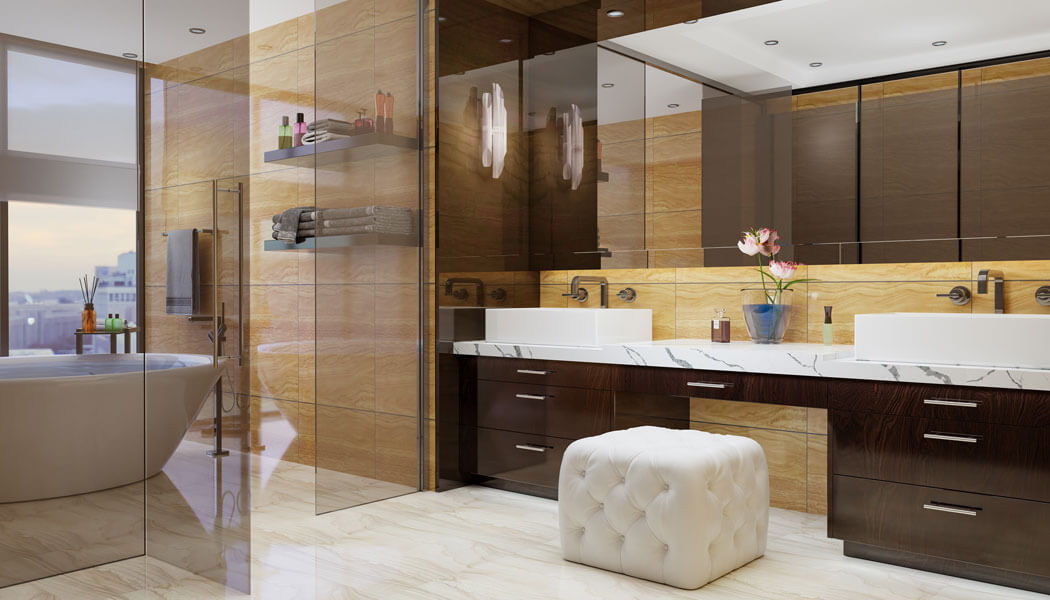 Whether you want to go simple and sleek or prefer a luxurious feel with a makeup vanity that oozes an elegant style statement, it's all in your hands to decide, design, and implement. Whether you love muted colours and neutral shades or need vibrant colours for a bright start to the day, make sure to deck up your vanity with suitable elements to reflect your style preferences.
From a bunch of colourful seasonal flowers and potted plants to framed artwork, figurines, decorative accents, and lighting fixtures, don't skimp on costs if you want the space to become your true personalised relaxing cocoon.
Focus On Proper Lighting
Though natural light is the best to have for your bathroom makeup vanity, you should optimise artificial lighting if you can't have adequate natural light. When choosing artificial lighting fixtures, select those that don't cast unflattering shadows on your face. Make sure to set them up the right way. For instance, instead of positioning them only overhead, having the lighting fixtures fixed on either side of the mirror will illuminate your face better.
If your bathroom doesn't have adequate natural light, you could even mount sconces on either side of the mirrored wall to enhance illumination. However, remember to concentrate on scale when pairing the two sconces.
Plan For Electrical Outlets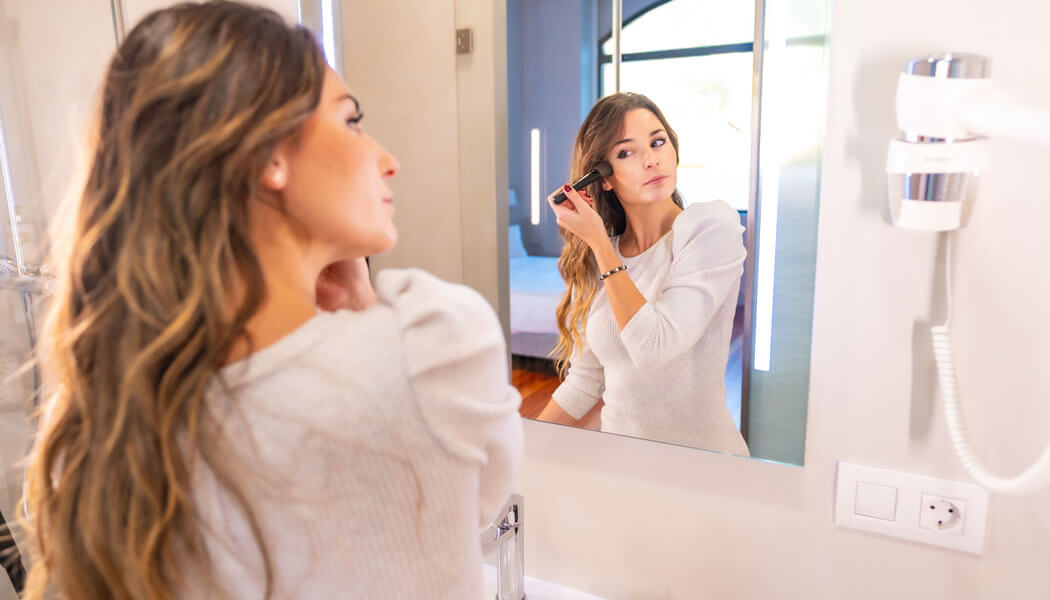 When designing your bathroom vanity with a makeup table, you should take note of your daily routine and ensure it suits the same. For instance, if you typically use skin massagers or hairstyling tools that should be plugged in, you must include electrical outlets close to the vanity.
Again, to store these and other products or accessories, having built-in cabinets, drawers, and other storage solutions will be wise.
Beautify The Space With Diverse Creative Ideas
Even if you have a small vanity or a makeshift one in a tight corner of the bathroom, you can enhance its beauty by using various creative ideas. Using a mini refrigerator to hold your makeup, pretty jars to store and display your jewellery, or positioning a lean surface mirror, a flower vase, a small potted plant, or a bold stool that can be tucked under your vanity are creative ways to jazz up the space.
You could also use wallpaper on the wall that holds the mirror. You may even consider hanging pendants on both sides of the mirror if sconces aren't your preferred option.
Position The Vanity Near A Natural Source Of Light, If Possible
If your bathroom has an airy and well-lit window, placing your vanity beside it will help you get ample natural light. This will let you put up makeup without battling shadows on your face.
If you don't have any natural source of light, you will have to depend on artificial light by installing suitable fixtures as mentioned above that serve your purpose and meet your budget.
Prioritize Storage And Organization Of Your Cosmetics
Bathroom makeup vanities that help you with your makeup item storage and prioritize organization will contribute to streamlining your morning routine. For instance, having drawers fitted with dividers can help sort cosmetics by category. Again, having different-sized compartments can be useful for storing diverse makeup items, including smaller ones like lipstick, nail polish, and mascara as well as bigger ones like eye shadow palettes.
You could also use dividers and organisers in your bathroom cabinets and drawers to keep your makeup items organised and easily accessible.
Consider The Mirror Size
If you need a big, full-length mirror, you could mirror the back wall. Apart from helping you put makeup, it will also make the space appear bigger and brighter. If you don't want to secure a mirror to the wall, a three-panelled mirror that can stand up on its own would be a good idea.
If you already have a medicine cabinet in your bathroom, you could mirror its front. This way, the mirrored cabinet will act as part of your vanity. Even when you have a big mirror, consider installing a smaller one, either mounted on the wall near the bigger mirror that you can tilt outward or positioned on the tabletop to get those eyeliner, lip liner, and other intricate makeup detailing right.
Be Creative With Small Spaces And Tight Corners
You don't always need a lot of space to set up your bathroom vanity with a makeup table. Even tight spaces and corners can be transformed into a cosy makeup area. If you have a tight budget, don't let it stop you either, because with a bit of creativity, you can have your own makeup corner.
For instance, if a desk or built-in table isn't an option, you could use a modestly-sized side table for a makeshift vanity. Position a pouf or side chair and hang up a mirror and you will be ready to go. If this space or corner isn't by a window, adding a small table lamp or two sconces on either side of the mirror would help.
Invest In Accent Seating
When getting ready, you need a comfortable place to sit. It could be a high chair, a velvet pouf, an upholstered stool, or something else you find comfortable, practical, and stylish.
The key is to find something that adds a bit of warmth to your bathroom and helps you sit comfortably while getting ready.
Set Up An Extra Sink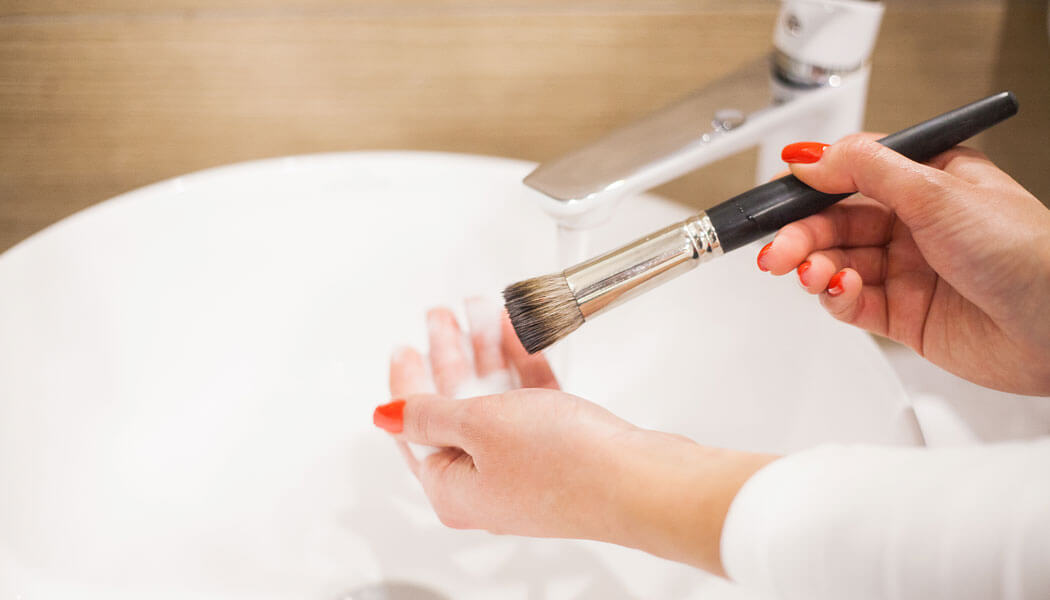 When you apply or remove makeup, you may often need water to prep the skin for the products or take it off quickly and efficiently. Having a sink installed nearby your makeup area can help you conquer your makeup blues easily.
Even if you have a small nook for your bathroom vanity, check if you can squeeze in a petite sink to make your job of getting ready (either to go out or retire to bed) a bit easier.
Now that you are armed with multiple actionable ideas, implement the ones you feel will suit your space the best to make your bathroom vanity with a table serve you well and let you step out in style.