7 Genius Entryway Shoe Storage Tips To Create a Clutter-Free, Welcoming Home
When you have a tidy entryway, your guests and visitors will have a positive first impression of your home. However, it's easier said than done as you may struggle, like many of us, to decide where to put the shoes – yours and everyone else's. If your entryway is small, the struggle to position the shoes so they don't clutter the way inside your abode becomes a lot tougher to manage.
Though it may seem impossible to find an appropriate solution for what to do with everyone's shoes, the battle isn't lost. You just have to remember that the solution you decide to embrace should be highly functional and fit your home's décor and style.
If you need some help with your shoes, irrespective of whether you have limited space or a much larger one, we have got your back. Try using these seven creative tips to ensure your entryway looks clean, organised, and inviting.
An Open Shoe Rack
An open shoe rack that can also function as display shelving or give space atop to keep your shopping bags, umbrella, etc., could be a good entryway shoe storage solution. You could get a wrought iron or wooden shelf based on what integrates well into your home's style and design. The shelf on the top could be either used for a potted plant or flower vase or kept unoccupied to make way for your laptop bag, groceries, umbrella, or other nitty-gritty that you bring home and need to put somewhere to take your shoes off before placing them in their designated places.
Low-Hanging Sandal Rack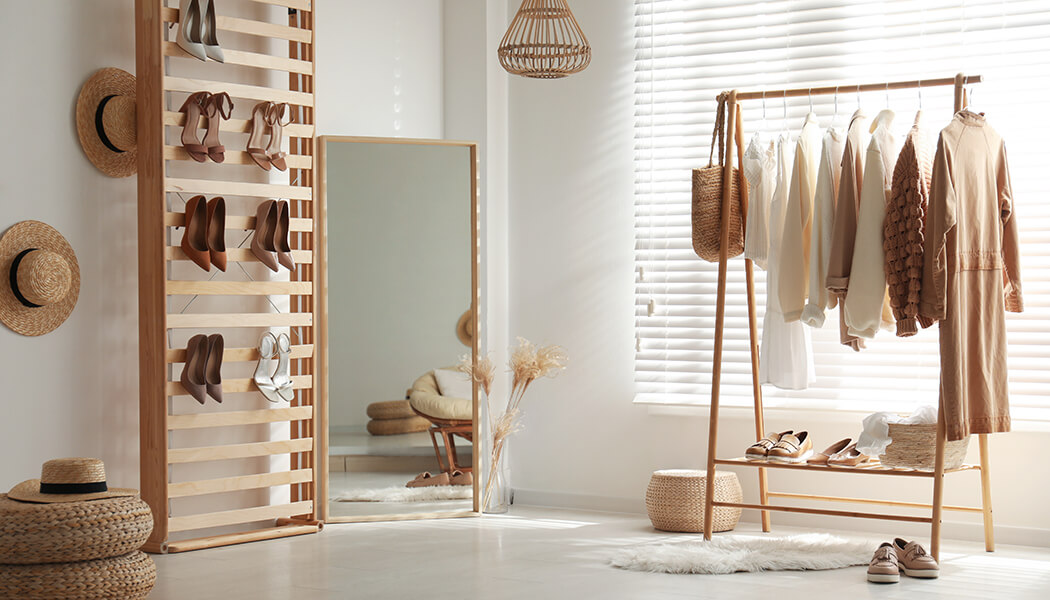 You can take a cue from shopping malls and departmental stores to install a low-hanging sandal rack close to your entryway and use hangers to hang your shoes, sandals, and flip-flops. Different shoes thus organised would add a pop of colour to our space and even make it look clean and organised.
Bench With Seating Arrangement
Want to kill two birds with a single stone? Getting a bench with an upholstered top and a shelf underneath could be all you need. This will give you and anyone who visits your home a place in your entryway to sit and take off shoes and even put them away just underneath. You can play with colours when choosing the bench's upholstery to brighten up your space.
Shoe Cabinet With Tilt-Out Drawers
This can be one of the best entryway shoe storage solutions, especially if you have a small space. You will just need to shop around for a narrow cabinet that comes equipped with three to four tilt-out drawers to arrange your shoes and keep them hidden. With such a cabinet, you will be able to ensure the shoes don't impede the flow of traffic or obstruct the doors.
Pull-Out Drawers
Who says pull-out drawers are just for files and other documents? You can get one positioned in your entryway for storing the shoes too. If you have hard-to-reach storage spaces (under the staircase, for instance), these drawers could ensure optimal use of the space and even help you keep your shoes organised to free up the entryway to your abode.
Wall-Mounted Shoe Cubbies
If your entryway has a narrow and tall cut-out, wall-mounted shoe cubbies could work well. By keeping your shoes off the floor, you can make a big impact on how organized your space appears. With shoe cubbies organised side-by-side in three to four rows, you could even have adequate space to style shoes with eye-catching décor items.
You can buy shoe storage solutions by browsing online or from physical stores. You could even take the DIY route to create one customised to meet your needs, provided you know your way with the tools and techniques necessary to create a suitable entryway shoe storage solution. The key is to research online and blend the results with your signature-style creativity to get a beautiful and functional shoe storage solution designed and crafted.
Ready to act? Get to work now and make the most of these ideas shared above to make your entryway look organised with a fitting shoe storage solution.