Have Fun Preparing Your Favorite Dishes With The Best Hand Mixers
If you're looking for a portable blending and mixing tool for your batters, eggs, gravies, creams, and more, you should look for an electric hand mixer. Instead of doing the job with your hands that would involve a lot of time and continuous power, you can do it more easily and quickly with these mixers. But before you start looking for a hand mixer in the UAE, here are a few important things you should know.
HOW TO CHOOSE
The key things to consider when buying a hand mixer are:
Design, build and frame: While the frames can be made of different materials – from plastic to metals, the blades are typically made of stainless steel or alloys. The design of your hand mixer should be comfortable to hold and use. This means you should check for grip and stability when trying to find the ideal hand mixer.
Power and speed: If you want a hand mixer primarily for baking or confectionery products, one with low power and speed would be adequate. For instance, a 200W device can handle flour mixes, cheese sauce, whipped cream, pancake batter, etc. while those in the range of 400W to 800W can meet all your domestic blending needs. You should ideally select a mixer with both high- and low-speed settings to accommodate different user needs.
Check for appropriate blades and attachments: These should match your different cooking needs like chopping, blending, whisking, and emulsifying.
Budget: Occasional users should choose a 200W-400W mixer that would be economical as compared to their heavy-duty counterparts, which may be able to handle a much wider range of tasks but will cost more as well.
HOW TO CARE
You should always unplug your electric hand mixer before cleaning it. Use a damp cloth dipped in water to wipe the outside of your hand mixer. To clean your beaters, dip them in a bowl filled halfway with warm water and dishwater liquid, turn the speed from low to medium, and let the beaters whip the mixture for 60 seconds. Then, you should turn the device off and rinse the beaters.
You should remove any blades or other attachments from the mixer to wash them separately with water and dish soap – either by hand or in a dishwasher in case they're dishwasher-safe. Lastly, you should ensure water never gets inside the case of your mixer or else, the device would stop working.
BLACK AND DECKER HAND MIXER 300W M350-B5
Featuring 5-speed levels with a Turbo function, the Black and Decker M350 is equipped with stainless steel components to ensure durability. With a ground-breaking 300W engine, the Black and Decker Hand Mixer rapidly whip, whisks, and beats particles to the required consistency. The Black and Decker M350 highlights a speedy and effectively separable, treated steel blender. When you are done whipping ingredients, you just need to press one button to eject the beater for easy cleaning. What's more, when you need to utilize it once more, you should simply join the blender until the point that it secures and the mixer is ready for use. Aside from the dazzling execution of the 300W engine, the hand mixer is likewise agreeable to use because of its minimal yet elegant design. With an ergonomic shape, it guarantees that your hands don't seize up when using it for quite long periods. The Black and Decker Hand Mixer has five adjustable speed levels. With just a press of a button, you can increase or decrease the speed of the mixer up to five levels. It even has a Turbo mode that allows for maximum speed using all the power of the 300W motor.
MOULINEX HM3101 QUICK MIX HAND MIXER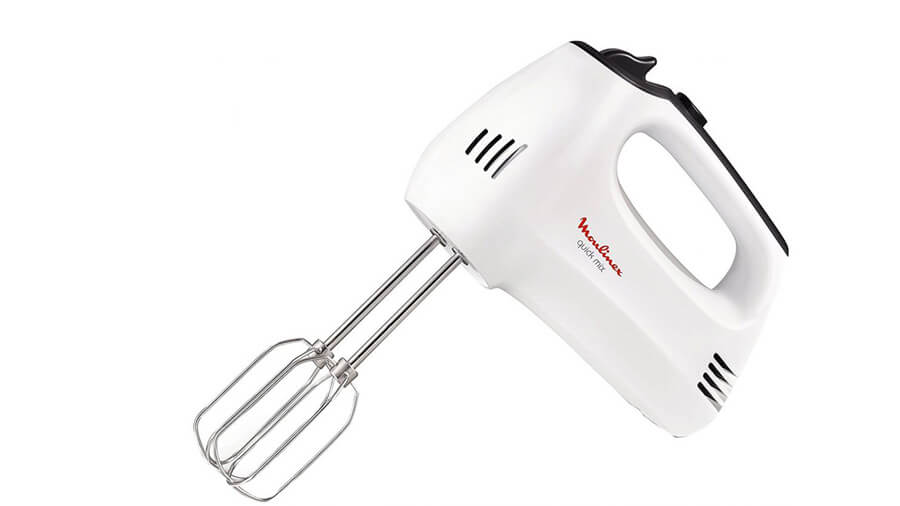 With 2 stainless steel beaters for perfect mixing and beating, the Moulinex HM1301 Quick Mix Hand Mixer satisfies the chef in you. The Moulinex Hand Mixer helps you in making delicious cakes, biscuits, and pastries for your entire family. With its impressive array of features, the Moulinex Hand Mixer gives you numerous baking and cooking options. Whipping cream, whisking egg whites and kneading dough will all become very easy thanks to the effortless performance of Moulinex Hand Mixer. Thanks to its 2.5L auto-rotating bowl for effortless and hands-free beating, you can whip up cakes and pastries in a flash. Thanks to its 450W Motor, 5 speeds and turbo switch, the Moulinex Hand Mixer can easily adapt to your favorite recipes with ease. The five-speed functions enable this Moulinex mixer to adapt to every preparation easily. Furthermore, the turbo function enables it to run at the highest speed. The two stainless steel whisks of this hand mixer can beat egg whites and whip cream in minimum time. Available in a white finish, the Moulinex HM3101 Quick Hand Mixer is a stunner in both performance and looks. In short, the Moulinex Hand Mixer has all the ingredients to make it a successful star in the kitchen.
KENWOOD HAND MIXER HM330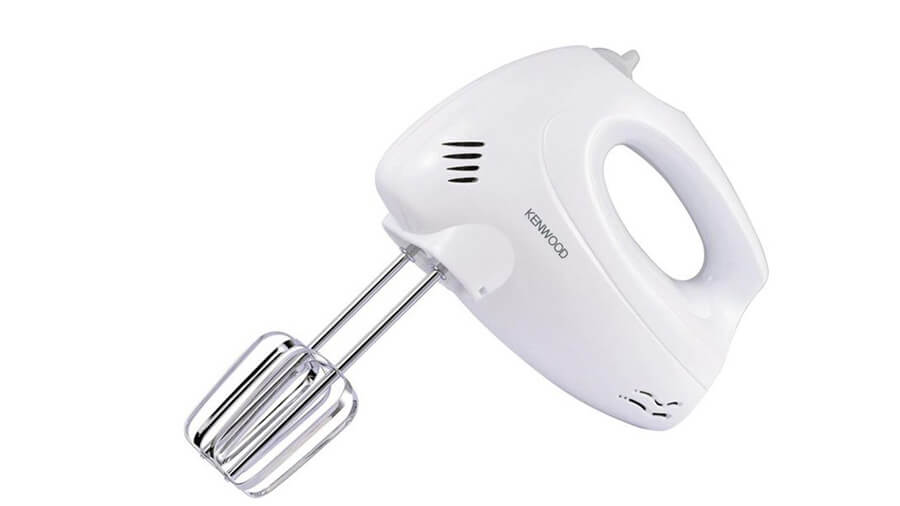 Acquainting a new design with an affordable item, the Kenwood HM330 hand blender is minimal and lightweight, with a dependable 280W engine that is ideal for helping you around the kitchen. With 5 devoted speed settings and an extra heartbeat work, this adaptable hand blender is accessible in white, silver, dark and chrome. Complete with integrated tool storage for the stainless steel beaters and kneaders, the HM330 Hand Mixer will suit kitchens of any size. The mixers and batter hooks are 100% hardened steel and can be placed in the dishwasher or simply hand washed. There are 6 standard speeds which can be effortlessly chosen with your thumb on the handle. There is likewise a pulse mode, which you can activate by pushing the speed selector far from your hand. The HM430 hand mixer comes with a 250W motor, with 6 variable speeds and turbo function for an extra burst of pure power. The large durable capacity bowl rotates to give thorough and consistent mixing. This stylish Kenwood Hand Mixer is suited perfectly for whisking eggs and mixing cakes. Extremely easy to operate and capable of delivering effective results, the Kenwood Hand Mixer can be easily adapted to various recipes of your choice.
PHILIPS VIVA COLLECTION HAND MIXER - HR3740/11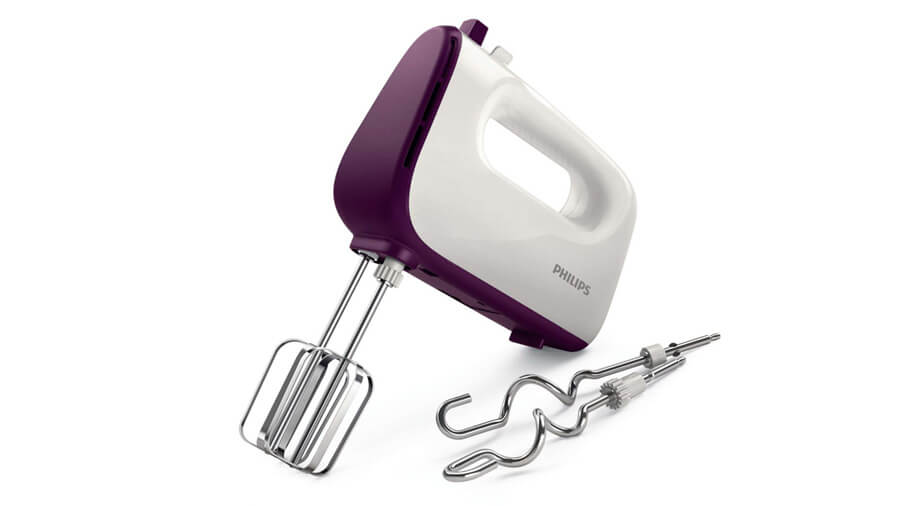 Made in an ergonomic design for comfortable use, the Philips Hand Mixer is a perfect companion for you to make delicious cakes and breads for your family. This electric hand blender is outfitted with a 450W motor. The Philips HR3740/11 Hand Mixer makes yours is an astounding pick for fast blending occupations. Regardless of whether it is creaming together sugar and eggs, or cooking or preparing process, this Philips hand blender easily blends or beats whatever you toss its direction. It has a narrowly molded blender that gives most extreme air joining, which is basic in the heating procedure. Moreover, the 450W engine has enough capacity to beat even the hardest of mixtures. The turbo work gives a lift in blending at whatever point required. Turbo work permits additional blasts of intensity exactly when you require them. The intense 450W engine will easily take care of the hardest of mixtures. Mixers have been planned with an alternate example toward one side to be instinctively amassed for a snappy setup. The extensive variety of speed gives you the best control in blending. Accessible in purple and white colors, the Philips HR3740/11 is blessed with a smooth outlined design.
SIEMENS HAND MIXER MQ96400GB
Designed in a compact and powerful manner, the Siemens Hand Mixer is a handy appliance that serves multiple purposes in the kitchen. Thanks to excellent handling through soft touch handle, large buttons and ergonomic shaping of the handle with special SoftTouch surface, the Siemens Hand Mixer scores way higher than many similar products. The Mixer is equipped with most modern motor technology of 450 watts which ensures that the device is quietly powerful and lightweight at the same time. There is also an additional pulse and turbo setting which helps the Hand Mixer to a large extent. A separate eject button for beaters and dough hooks is a major highlight of the Siemens Mixer. Giving importance to the time of the customers, a blender foot can be attached and detached within seconds due to click system enabled in the Siemens Mixer. The input voltage is estimated to be 220 to 240V. The five speed settings of the device always ensure that the optimum performance and perfect results are achieved with minimal effort. With the help of modern motor technology, use of high-end components and intelligent processing technologies, high power and optimum performance with lightweight components and a low operating noise are guaranteed in the Siemens Hand Mixer effectively and efficiently. The Siemens Hand Mixer comes with a set of accessories including 2X stirrer and 2X dough hook.
BEKO DOUGH HOOK AND BEATER HAND MIXER BKK-3015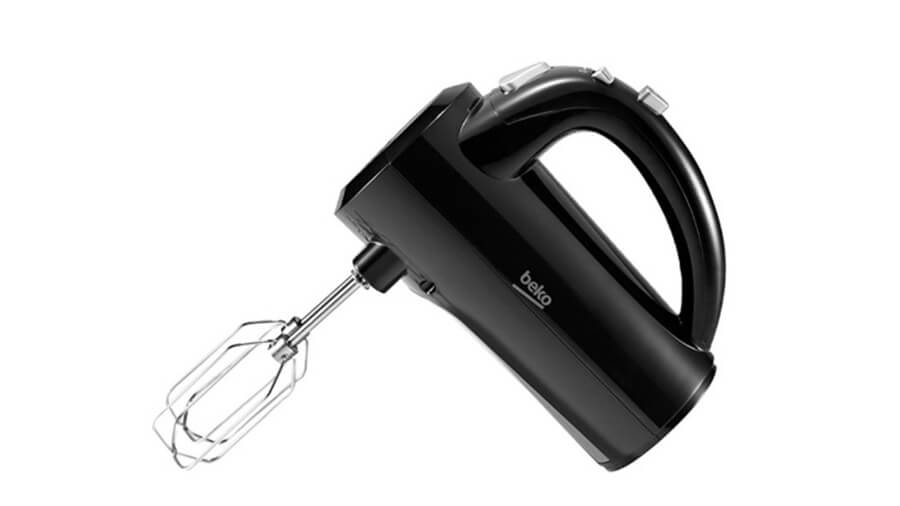 Easy to use and ergonomically designed to suit your cooking needs, the Beko Hand Mixer is a handy appliance to fit perfectly into your kitchen. Perfect for all of your cooking requirements, this hand mixer comes with four-speed settings and a turbo function, giving you more flexibility in the kitchen. The powerful motor makes whisking, mixing and kneading quick and easy. Its soft rubber handle is comfortable for your hands too. A great appliance to bake cakes and breads, the Beko Hand Mixer's special dough hooks can knead even the toughest of dough mixtures. You can blend, chop or whisk your cooking ingredients quickly using the standard or turbo setting. Soft to the touch, the handle's smooth rubber coating makes it more comfortable in the hand. Thanks to the compact and compressed design, the Beko Hand Mixer fits perfectly into your kitchen space without taking too much of storage space. The hand blender is particularly useful at making soup and smoothies at home. The Beko's Hand Mixer's Turbo Button ensures that you have a smooth consistency in your food. The Hand Mixer comes with a 2 whisk and 2 dough hook attachment. In short, the Beko Dough Hook and Beater Hand Mixer is a handy addition to your set of kitchen appliances.
BRAUN MULTIMIX 3 HAND MIXER 3135
The Braun MultiMix 3 HM 3135 Hand Mixer Set is an ideal match for your kitchen, both as far as design and performance are concerned. The Braun Hand Mixer is a multi-utility tool that can whip, knead, mix, and chop ingredients uniformly and rapidly. Helping these set of tasks are the different connections that incorporate a 500ml chopper, measuring utensil, two stainless steel whisks, and two batter hooks. You can whisk and blend with its EasyClick system that gives you a chance to join and confine its different tools rapidly and easily, without much of a stretch. All the accessories highlight ergonomic, non-slip handles that offer a smooth touch and a comfortable hold all through your meals. The gadget is made light by shrewdly setting the powerful engine over the connections, moving the weight off your hands and onto the bowl. The 500W Braun MultiMix 3 Hand Mixer is equipped with the PowerBell technology that is patented and protected by Braun. With its ultra sharp blades and chime shaped blending shaft, your food gets evenly chopped and smoothly blended with great precision and control. In short, the Braun MultiMix 3135 Hand Mixer is a wonderful addition to your set of kitchen equipments.
KITCHENAID HAND MIXER 5KHM9212BER EMPIRE
Best known for mixing on a larger scale, KitchenAid has branched into a new product category with the 9 Speed Hand Mixer. Designed perfectly to suit your requirements, the KitchenAid Hand Mixer has variable speed control, effective attachments and smarter ideas for storage including a cotton bag with internal accessory pockets. There is a tidy strap, preventing unwanted flex from getting in your way while you're cooking and making storage an easy task. Its whisk is made with 16 wires for fluffier whipping and its tempered steel blenders have been specifically designed to adapt to heavy blends.
KitchenAid KHM926ER Empire Red 9-Speed Hand Mixer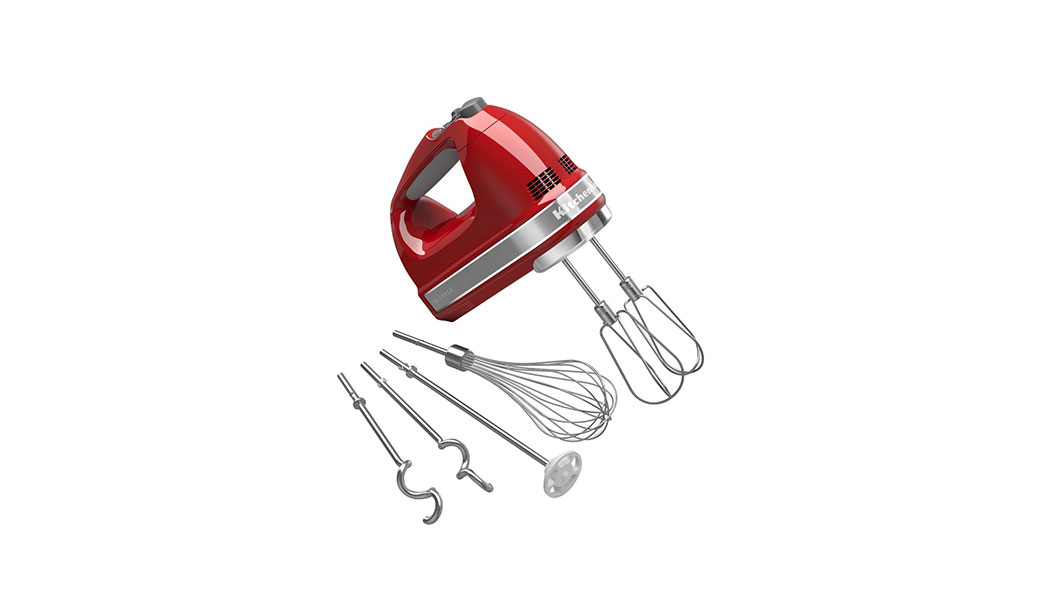 You can use this 9-speed hand mixer to mix, whip, and knead all ingredients of your favorite recipes. This device features 2 dough hooks, 2 Turbo Beater II accessories, a blending rod, and a pro whisk to make your kitchen duties faster and easier. It comes with a 1-year limited warranty.
Hamilton Beach Professional 7-Speed Digital Electric Hand Mixer with Quiet DC Motor, SoftScrape Beaters, Whisk, Dough Hooks, Snap-On Storage Case, 220-240V 50-60 Hz UK Plug, Black (62655-SAU)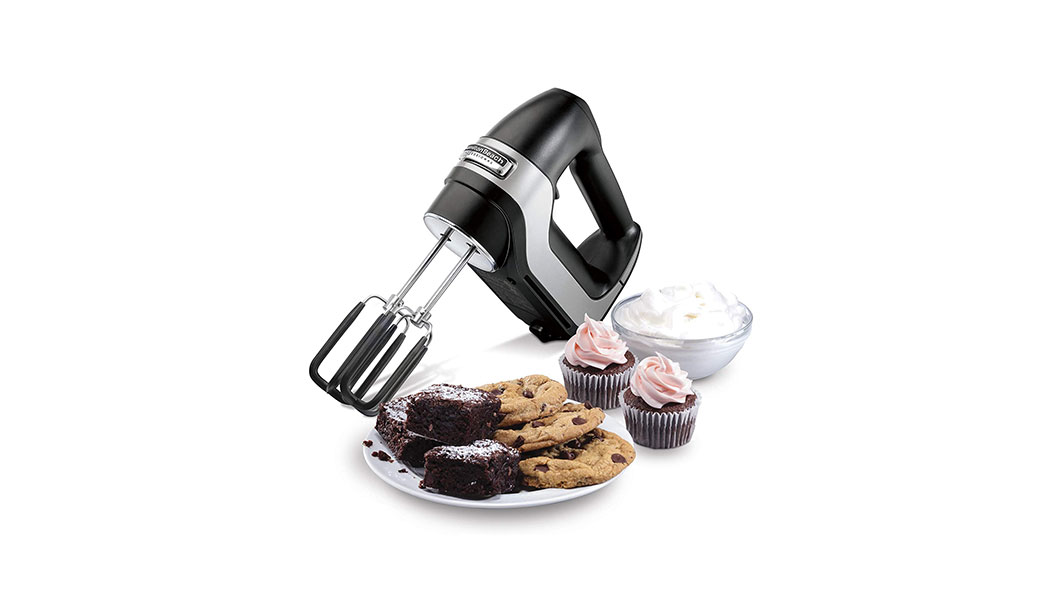 With its 5-year limited warranty, this ergonomically designed electric hand mixer with an energy-efficient, lighter DC motor can be your ideal kitchen companion. It features a 7-speed digital control with QuickBurst at each level, 2 SoftScrape beaters for thorough scraping of pots and bowls for uniform mixing, and a lockable swivel cord to facilitate left- and right-handed use.
moulinex Quick Mix Hand Mixer, 300 Watts, White, Plastic/Stainless Steel HM310127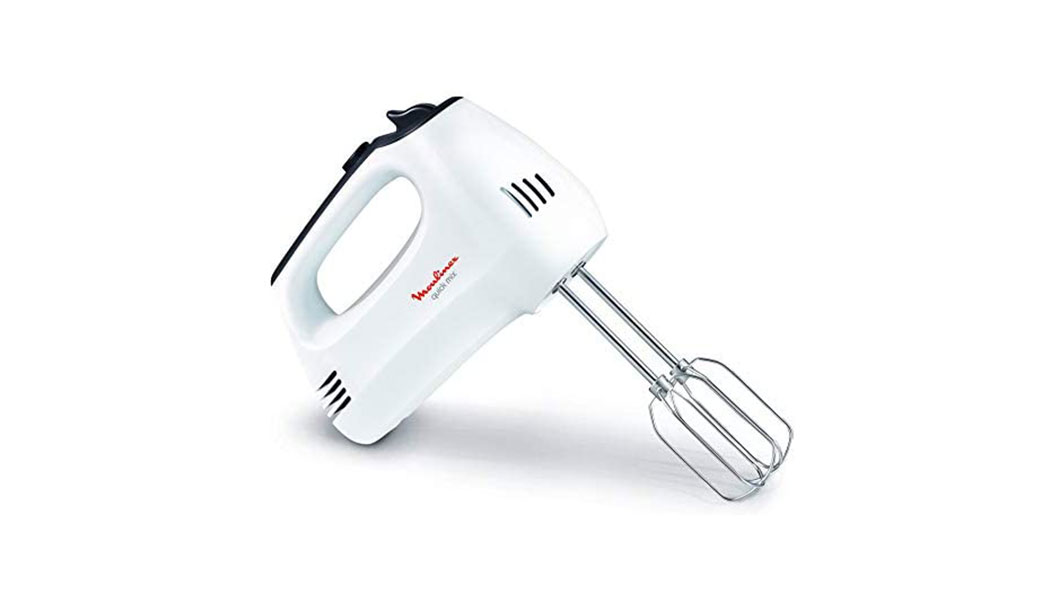 Get home this 300W electric mixer with 5-speed settings and a turbo function to rustle up a wide variety of recipes. It features a set of stainless steel beaters for cakes mixes, batters, whipped cream, and egg whites together with a set of stainless steel dough hooks for easy kneading of bread or pizza dough.
Breville VFM021 HeatSoft Hand Mixer with Whisk, Dough Hooks and Storage Case, 7 Speeds, 270 W Motor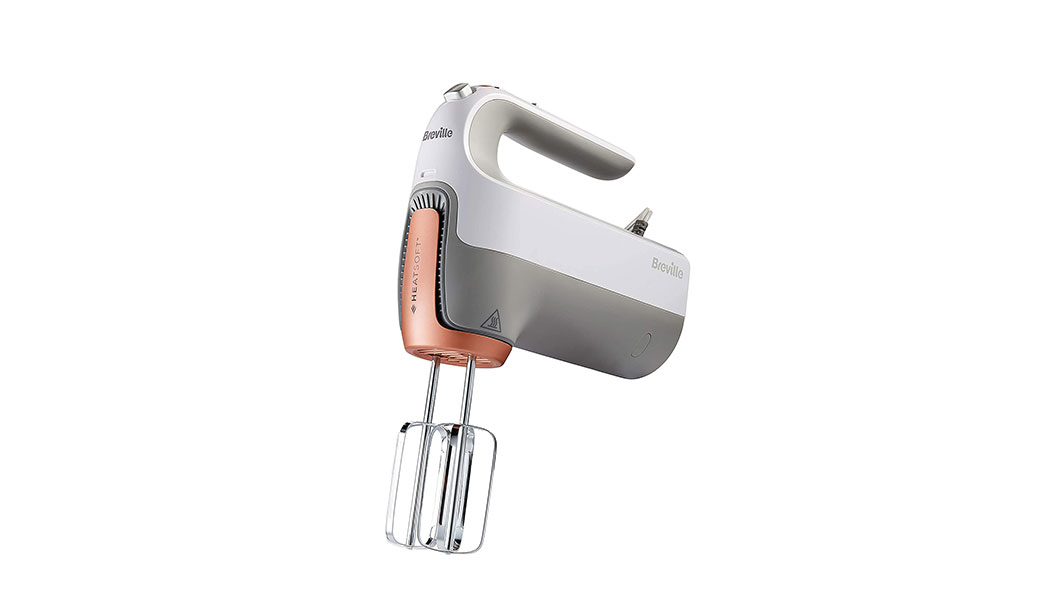 Featuring a powerful 270W mixer motor with 7 speeds, plus boost, this hand mixer is designed to give you complete control. It comes with dough hooks and whisk, stainless steel beaters, and a clear plastic storage case. It facilitates easy mixing of butter by softening it 12 times faster with the use of HeatSoft technology. For ease of cleaning, this hand mixer has a push-button beater eject along with a removable magnetic heat nozzle.